February 3 - 9, 2013: Issue 96
Avpals open day – January 2013
By Michael Mannington
Avalon Computer Pals Open Day at Newport Community Centre was the opportunity to demonstrate some of the new computer tools suitable for Seniors. On Tuesday seventy people attended the Open Day to watch demonstrations on useful computer technologies that are of particular interest. The demonstration drawing the largest crowd was Skype, a means of making phone calls that include video for no cost. Using a computer or tablet, such as an iPad it is possible to phone family and friends anywhere in the world. Avalon Computer Pals president Paul Purvis, a long time Skype user presented live demonstrations how easy it now is to use Skype on mobile devices. Skype is ubiquitous as you can call another Skpe user or for a minimal cost call a remote land line or mobile.
Paul Purvis presents a live demonstration of Skype
The new Windows operating system Windows 8 was demonstrated on a large touch screen desktop along side a touch screen laptop. Perhaps touch screens are set to spread from mobile devices to all computers. Other hands on demonstrations included Mac computers and the popular Picassa photo management system. Tablet devices such as Android, Windows Tablet and iPad are hot items and Pals members were kept busy answering questions on the most suitable choice of device.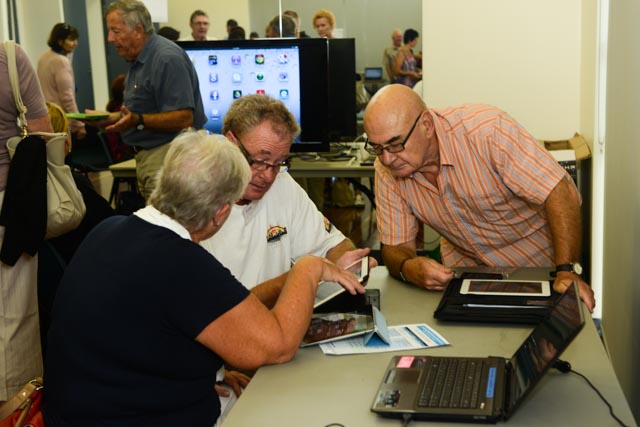 Uta Hoffman discusses tablets
Avalon Computer Pals conducts weekly courses on Skype and iPad and other exciting technologies for both beginners and more advanced users at Newport Community Centre 11-13, The Boulevarde, Newport. The afternoon courses are very popular so you need to check availability and bookings are essential, phone 8064 3574. All courses are for the over 55's only. Full details are on the website www.avpals.com.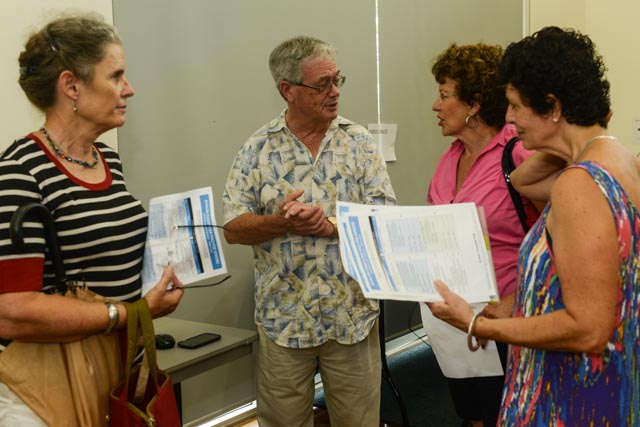 Brian Hines explains the course options to be held in Newport
The next Open Day will be held in the Newport Community Centre as part of Seniors Week on 20th March starting at 1.30pm.
Report and Pictures by Michael Mannington, 2013.