August 21 - 27, 2011: Issue 20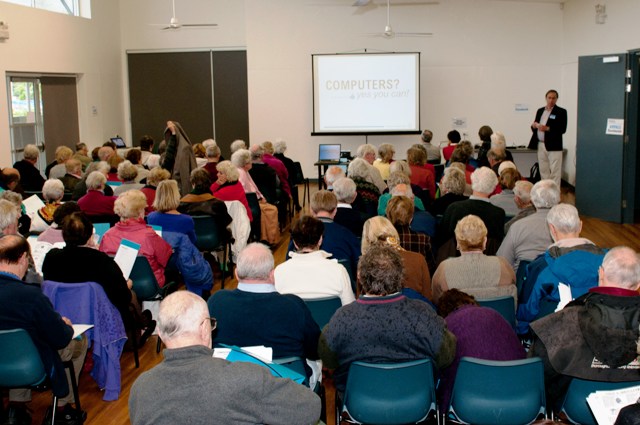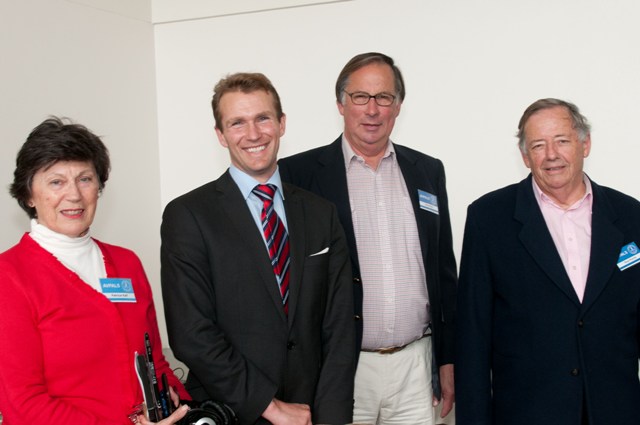 Above: Patricia Kalf, Greg Ross and Paul Purvis of Avalon Computer Pals with MP for Pittwater, Rob Stokes.
Further:
Avalon Computer Pals has a one-off membership fee ($25.00) which would go towards Hall hire fees and overheads. Term fees are restricted to $30.00, certainly a lot less then the thousands some of the staff here have handed over in Uni fees and books. Visit their great website by clicking on their logo: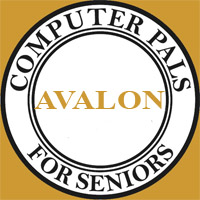 Computers, Yes You Can! Seminar at Newport Community Centre
"Fantastic!" is how one senior described the 'Computers, Yes you Can! Seminar held by Computer Pals for Seniors at Newport Community Centre on Friday afternoon. He thought all the presenters were excellent and the information they provided sparked his interest to learn more in his area of focus, that of photography.
There was a full house for the Computers, Yes You Can! Seminar for seniors held at Newport Community Centre on Friday afternoon (19.8.11). The demand was so large the organisers had to turn people away and begin planning a second event. Each attendee was given a folder filled with notes bullet pointing the subjects each speaker raised for future reference. Paul Purvis, President of Avalon Computer Pals, who had travelled from Scotland Island in dark weather to be here, welcomed all at the door. When all were settled he began by thanking Pittwater Council for their support during the year and the Avalon and Pittwater RSL's for their support. Paul stated we would have 50 minutes of short presentations then an opportunity to confer with the speakers in our various areas of interest.
Six presenters, tutors of Avalon Computer Pals, gave overviews on everything from Facebook to exercises for when you're enthralled and riveted to the screen. Greg Ross opened the afternoon's information session explaining how Facebook is the greatest social media invention since the printing press. He outlined not only that great aspects of this medium, such as connecting with friends or those who share interests but also outlined a few guidelines such as being aware, as US President Obama warned high school students last year, that once you have placed something on Facebook it is very hard to remove. He recommended sharing only with people you know are friends so you don't get people you don't know posting all kinds of things, things you may not want on your page.
Margot Paul followed with an Introduction into researching your ancestors for all those history buffs. She outlined free Internet Resources and recommended how to stay organised, as we all know how easy it is to wander, fascinated, by utilising various aspects of different software. Margot had illustrated with a graph when opening her talk how many people we are related to and how you may get lost following the wrong tracks. Sue Ross then gave us a few pointers on exercises to keep doing while using a computer so you don't end up with aching back, neck and spine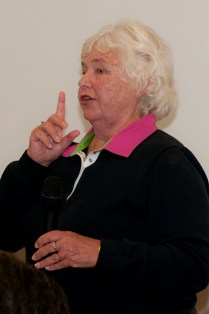 all skew-whiff. She explained how you may get stuck in one position, cramping your posture, and demonstrated a simple 'finger in front of the nose' technique to lift the head back onto the spine. Sue emphasised that all the exercises listed on the handout sheet included in the folder should be done 'carefully, gently and slowly'.
Brian Heinz then demonstrated a few basic for photos and enhancing your images. He went through demonstrations of everything from cropping to removing red eyes. He showed how to adjust colour and when toi use special effects. Making Collages caused a few 'oh yes!' to come, quietly, from the audience.
Patricia Kalf then shared information about how to play Bridge Online, stressing you didn't need to limit yourself to this if your interests lay elsewhere as there were all sorts of games, to suit every individual, available. Patricia too outlined which Programs may work best for Learners and also went through those you can download for free. Tablets and iPods were nominated as great devices for those who don't like sitting at a desktop and want something that's fun, portable and can be used for other applications too; such as checking on traffic jams before heading home.
Michael Mannington spoke last, but not least, explaining how the Avalon Computer Pals had more then 10 years experience in helping others on a one to one or class basis learn what they want to do with computers. He emphasised this volunteer organisation focused on what the individual wanted to learn whether that be learning to send emails to reconnect with friends overseas, video chatting on Skype or working out the nuances of Photoshop or the free to download Picasa program. He stated their aim is to help each person do whatever they wish to do with these devices and also have some fun. The personal growth you achieve each time you figure out a new bit and go 'aha!' proves, as one speaker said earlier, that this stuff is not just for seventeen year olds.
Avalon Computer Pals Lucky Door Prize of a whole year's tuition was won by an Avalon local. Andrew and Linda from Exran Computer Systems (9918 0480)provided lucky door prizes in the form of a Microsoft webcam and 'comfort' mouse. It was altogether a great few hours learning all you can do with computers and good inspiration to get involved in the 'technology age'.
Local representative, Hon. Rob Stokes probably put it best as he spoke a few quick words before afternoon tea "the computer is a device for communication and Community is about communication. Harnessing this power is not restricted by age, disability or language. It's encouraging to see so many people here."