March 24 - 30, 2013: Issue 103
Australia's Wooden Boat Festival 2013
by Robyn McWilliam
Every two years in February Hobart's waterfront is a boat lover's dream. From Tall Ships to sailing dinghies, the gleam of glossy wood grain is ever present. Over 600 vessels are moored around Sullivans Cove this year for the tenth Australian Wooden Boat Festival.
Limited to a few hours on the Sunday I experience a mere taste of this free event, the largest of its kind in the Southern Hemisphere. Inspired by a visit in 1994 to the Maritime Festival in Brest, France, local yachtsman Andy Gamlin with sailors Ian Johnston and Cathy Hawkins planned a similar event for Hobart, Tasmania. Attracting 160,000 visitors in 2011, this amazing festival continues to celebrate our maritime heritage and culture and the enduring beauty of timber boats.
Fishing boats fill Victoria Dock. These vessels bring in much of the state's famous seafood served at the various eateries in the area. Rows of glistening lights designate the squid boats.
Sailing dinghies, varnished to perfection, show the craftsmanship of building in timber continues. Old salts share their tales with admirers. On the water a shrill whistle announces a steamboat puttering past.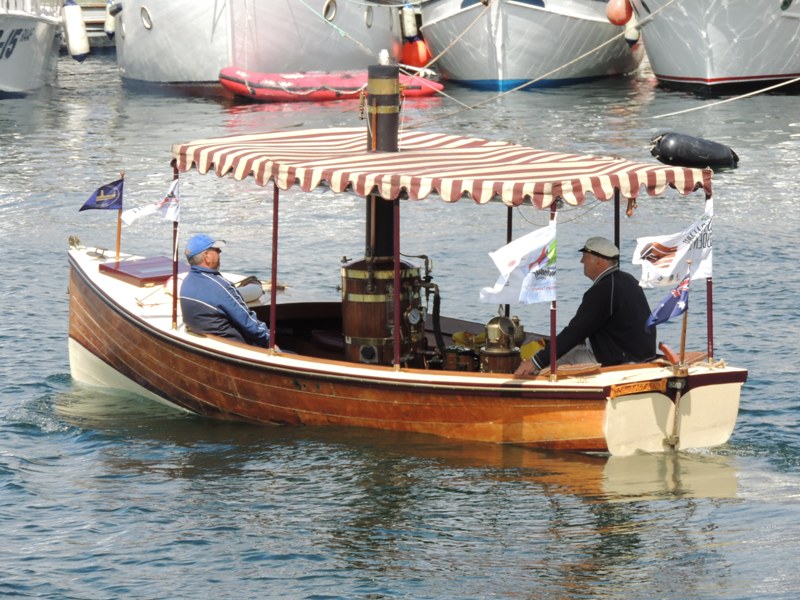 Steamboat
Beyond is the James Craig, one of the Tall Ships attending the festival. You can purchase a ticket to cruise along the Derwent River, see a square sail set and experience the thrill of these historic vessels.
Sculptures of seals and birds adorn the rocks below the walkway. Kayakers and dinghy sailors battle the breezy conditions in the cove. There's even a cruise liner berthed in the distance.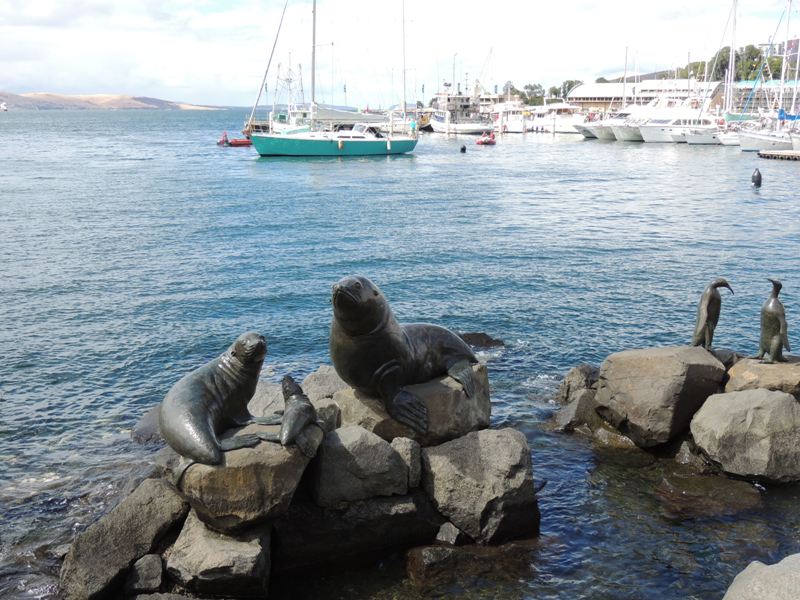 Foreshore sculptures
Crowds clutter Franklin Wharf; multi-coloured flags flutter from boat rigging. There are food stalls, a play performance and more ships such as the black-beamed Notorious. This is like a fantasy pirate ship for adults and children to clamber over with its resident dog peeping from an aft porthole.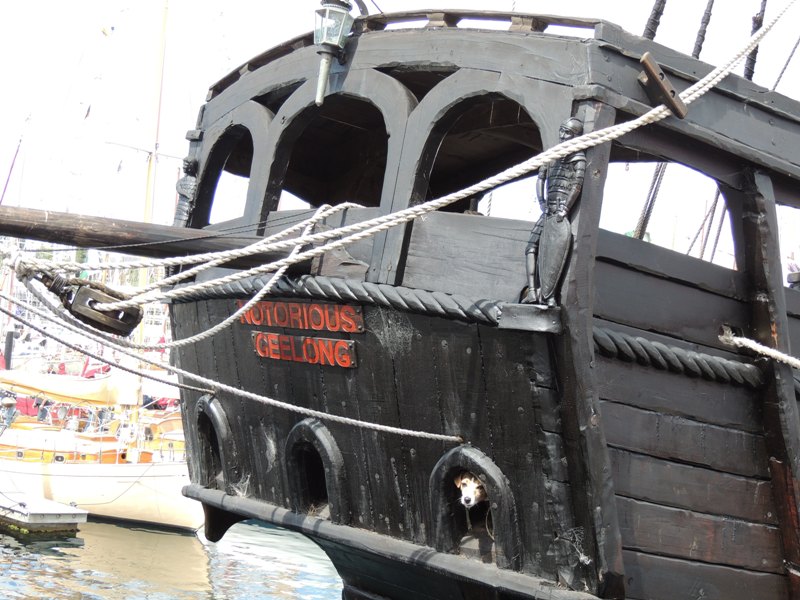 Notorious
On Kings Pier Marina masses of timber boats are on display. People shuffle past; names of yachts like Huon Mistress pronounce they're made of Tasmania's well-known timber huon pine. I recognise Keith's face from Eye of the Wind sailing days. 'Come aboard,' he says, 'Maggie's below.' I climb onto Tawhiri, their cruising yacht to briefly reminisce our Tall Ship sailing in the Pacific.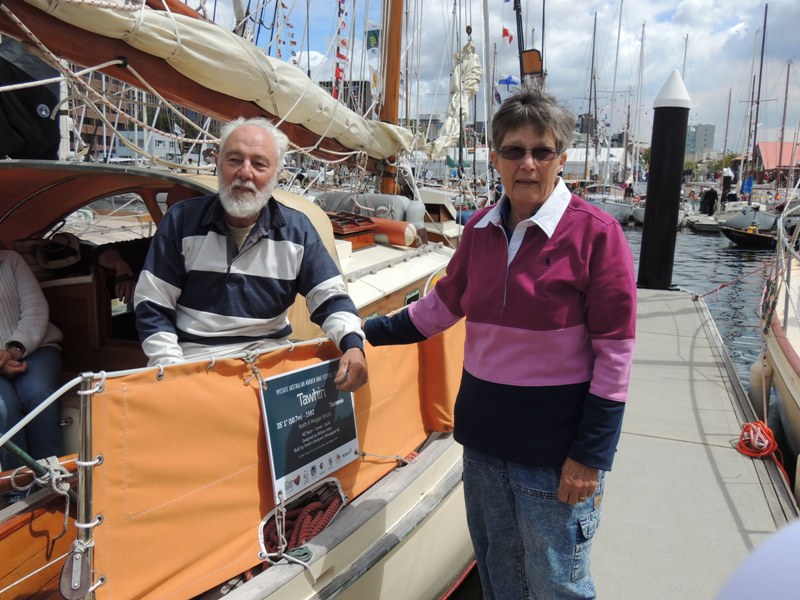 Tasmanians Keith and Maggie with Tawhiri
That's another thing this festival is all about: meeting up with friends, chatting about boats and shared experiences. I continue my search for Fare Thee Well, a timber yacht we race against in Pittwater. Finally I hear four yachts sailed from Pittwater to be part of this year's festival. Fare Thee Well didn't make it after hitting a bar leaving Batemans Bay and sustaining rudder damage. Camille, a RMYC boat, is one of the three who made it from Pittwater.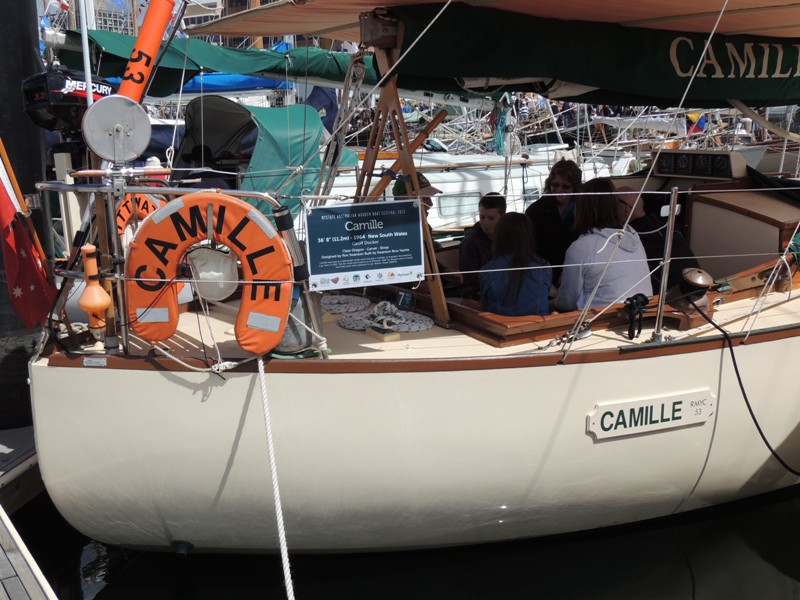 Camille from Pittwater
So much is on offer at Australia's Wooden Boat Festival that I'm planning to stay in Hobart for the whole four days in 2015. Seeing the Parade of Sail, wandering Hobart's waterfront and chatting to boat lovers is an absolute must-do.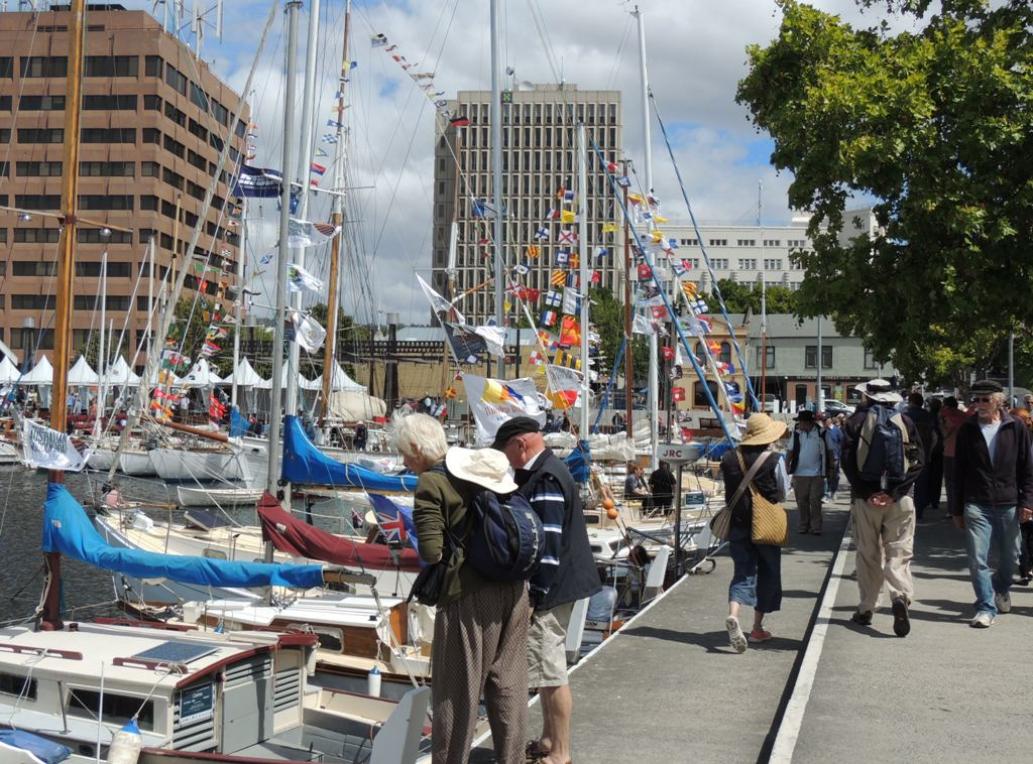 Yachts stern to at Franklin Wharf
The Tall Ship James Craig.
Report and Photos by Robyn McWilliam, 2013.