November 10 - 16, 2013: Issue 136
Atop rocky mountains in Tasi Fatin…

by Lucinda Rose
Atop rocky mountains of curvy roads and steep shrubby drops lies a misty land that rises far above the ocean. We really are living at the circumference of the earth. Yet after only one week I can say I have slept in a 100-year-old heritage convent in the jungle of Timor-Leste, have eaten rice, vegetables and freshly prepared meat most days with nuns, bishops and high members of the Vatican, appeared on national television, participated in the most spiritual Timorese event of Our Lady of Aitara, bathed and washed my clothes in a river where crocodiles dwell, danced with school-graduating orphans, and taught some artistic women
of the village recycling, innovative craft.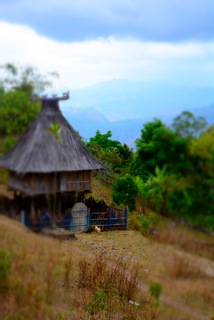 Arriving at a very welcoming community of people at this particular part of the mountain range they call Tasi Fatin, horses gallop beside sheer passes, charcoal clouds gather and the same mist shrouds us in the spiritual truth that presents itself before us and is still to come. We are presented with tea, coffee, banana, cassava, taro and potato chips. We are also the focus of fifty sets of shining eyes and deeply-sun loved beings… most of them under ten. We slowly ascend a near-vertical pebbly track to the school at the very top of what I will call one of the highest mountains in Timor, where thunder rolls by and rain smatters us in surprisingly large droplets.
Cows and other horned animals graze small tufts of grass and we are shocked at how each tiny child runs down the mountain as if gravity could never harm them, or as if it exists in another form. Tamara wants to get going because the white, thick rolling mist will create difficult circumstances in which to navigate the narrow, cliff-driven roads… yet the woman and children are squatting in a bamboo blackened structure, preparing us more food. The children hold huge machetes in their hands, peeling pea-sized potatoes amongst the smell of fried chicken and a pile of feathers on the floor. They are cheeky and are content in existence. Why is this so different in the First World? Are we devoid of that simple joy in existence through our reliance on external comforts and placing ourselves in a dangerous situation where we don't need to provide for ourselves in the most basic, essential way?
Currently grown is coffee, bananas, rice and leafy vegetables in which dogs and pigs scatter themselves. Further within this disarray yet strange harmony in the central muddy area are running children, darting, calling in and out of huts, wearing colourful Western clothes and no shoes. The whole place is energetic despite its captivity within peaceful still mountains and no sense of time.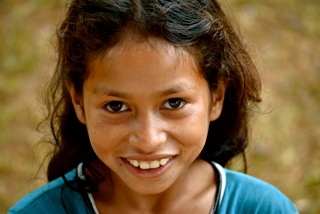 We couldn't be happier, or inspired would be more accurate, with the goals of improving the school, and building a chapel already marked out nearby. Although the prices required keep going up, the idea of implementing sustainable gardens and a custard apple farm will present the farmers, children, parents, the whole community with nourishment, variety, employment, money, wellbeing and increased skill. The food, the people, religion, way of life and physical environment create an intriguing array of characteristics that distinguish their village from any other on earth…culture!!!
Not only that, it is a rare kind of power and joy that we have right now, in being able to create such significant change. It is a real blessing and privilege, heightened by the stronger relationships we will build.
In the coming months Pittwater Friends of Soibada will be holding a Tasi Fatin auction in Avalon, where artwork and craft will be on the market created by our local community. In the form of a vessel… cups, bowls, plates, vases and bags, are some of many creations that will be sold to express our faith to the Timorese, that we are metaphorically carrying the bounty they reap from using the money raised to implement the gardens, school and chapel. It is a way of paying it forward, and through creative collaboration, effortlessly enriching one another's culture.