March 9 - 15, 2014: Issue 153
Smoke on the Water – Annual Fire Boat Exercise + Autumn Fire Hazards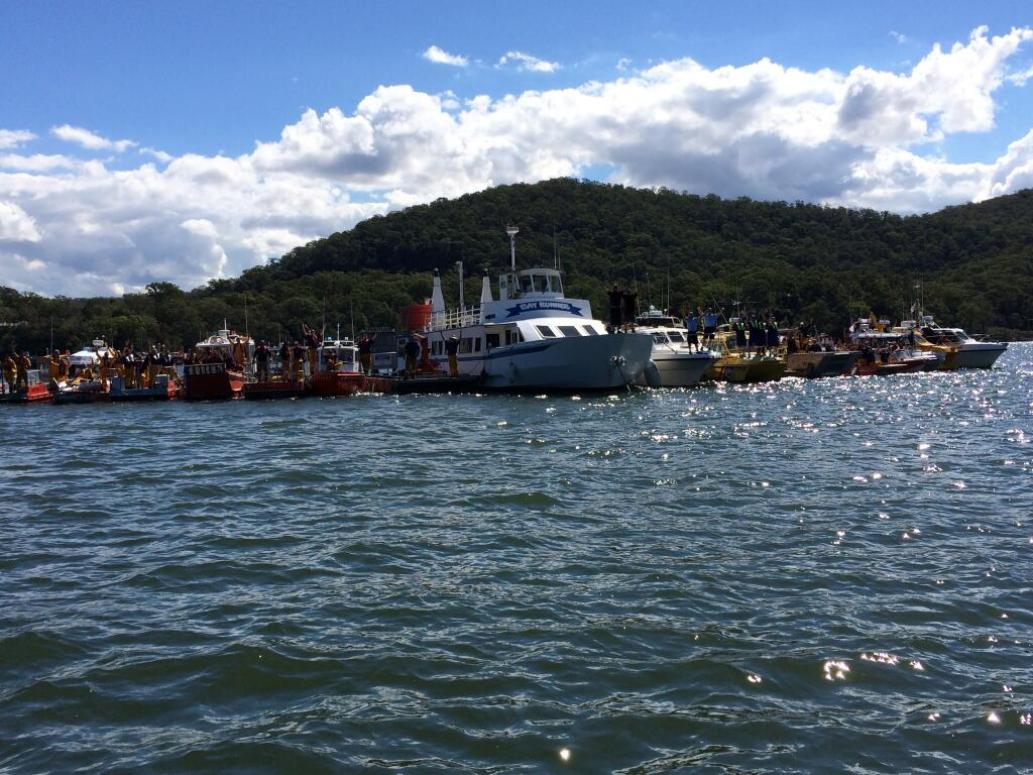 Smoke on the Water – Annual Fire Boat Exercise
On Saturday March 8th, 2014 RFS crews participated in the NSW RFS Combined Districts 9th Annual Fire Boat Exercise at Fishermans Point on the Hawkesbury River, hosted by Hornsby/Kuringai RFS. This year, the largest contingent ever, with 14 boats and teams registered in events, along with another 10 boats and crews assisting with transport and logistics. RFS vessels and crews came from Hornsby/Kuringai, Gosford, Warringah/Pittwater, The Lakes, Cumberland and The Hills, as well as crews from NSW Maritime, Marine Rescue NSW and NSW Police Marine Area Command.

This was a great day of training, learning, networking and competition. and the largest fire boat exercise in the Southern Hemisphere!!

The purpose of the days exercises are to test RFS voluntters skills in a competitive mode and to assist in developing future training regimes but more importantly to work together with other Services and Agencies including Water Police, Marine Rescue and RMS (Maritime). This year's theme was "Working Together".

The day will consisted of six timed events involving an LPG / house fire, a ferry fire, a marina fire, search & rescue, staged pumping and a community engagement event.
The events were selected so as to provide a very broad cross section of possible responses which water borne Brigades may be called upon to attend irrespective of the crew size of style of boat and equipment carried.

Boats were paired up for the day and boat Crew Leaders alternated the role of the "Incident Controller" between themselves for all events so crew leaders should get several runs at being the IC.

Dave McMonnies - Event Coordinator and Captain Berowra Waters Rural Fire Brigade wishes to thank their regular supporters: the owners and managers of Fisherman's Point and Melvy's Wharf properties and in particular to Hawkesbury River Cruises who are always on hand to support us with the ferry.
Also thanks to Hornsby Kuring-Gai District Office, Hornsby Communication's, Catering and Support Brigades and to Mooney Mooney Brigade and the wonderful Jacki for arranging a very early breakfast.

We must thank our financial sponsors: Berowra RSL Club, RFS Head Office Training Section and in particular RFSA for their generosity. Without your support we couldn't run this event. Last but not least our Event Team Managers from Berowra Waters Brigade – Dave Kissick L&D and Chuck Perry.

Congratulations to the competition winners - 3rd place Berowra Waters Charlie, 2nd place Regentville and 1st place Berowra Waters Alpha.
Commissioner Fitzsimmons stated, "Great to see everyone enjoying themselves and thanks again to the two Dave's, Captain Dave McMonnies and Dave Kissick, for your efforts in coordinating activities."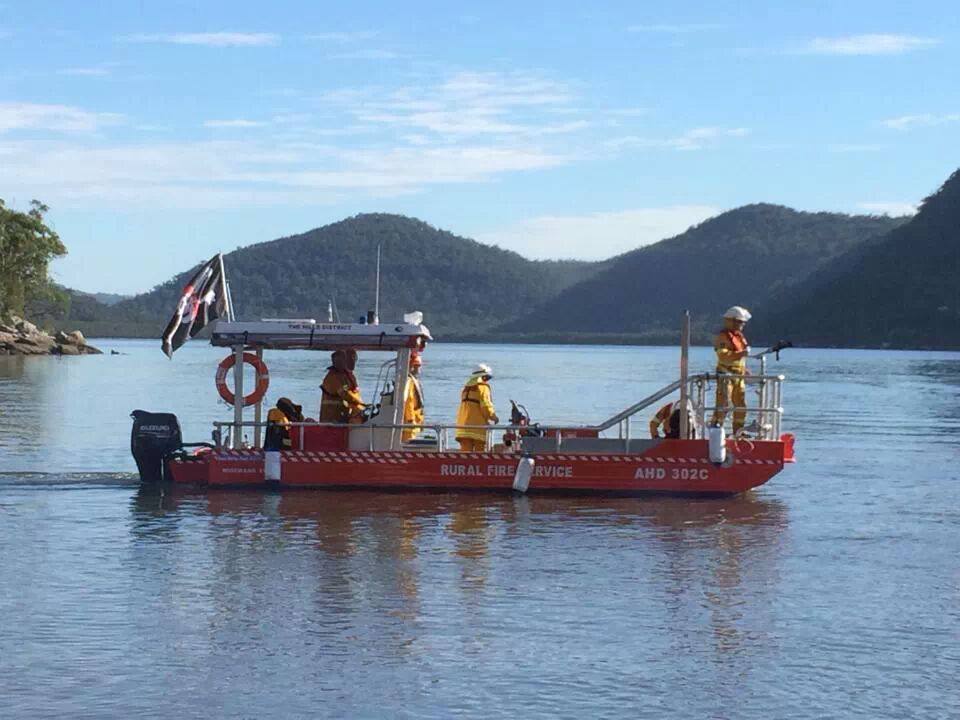 Wisemans Ferry Brigade at the Combined districts boat exercise, complete with a Jolly Roger flag!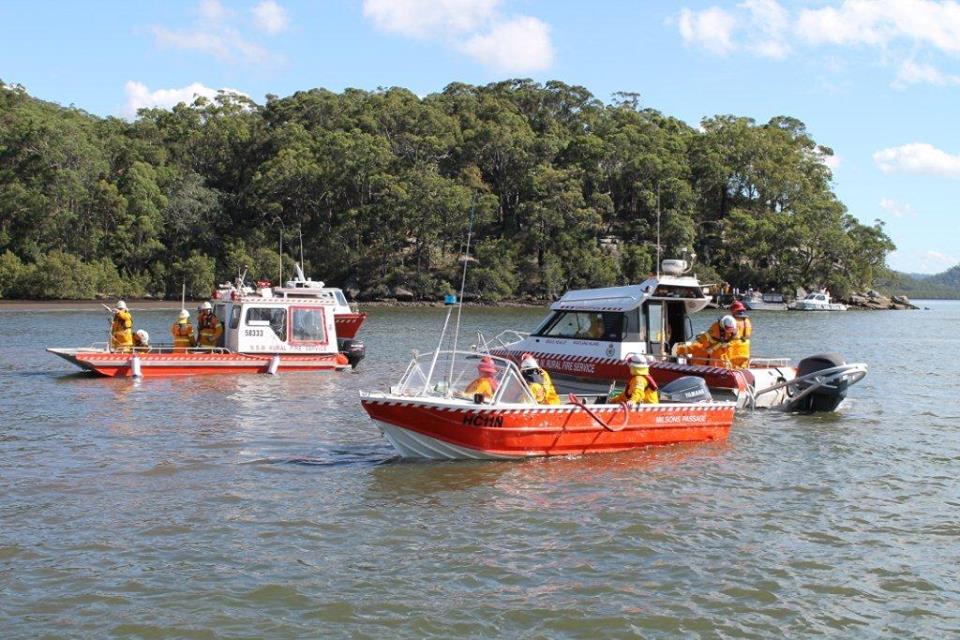 Scotland Island Fire Boat at the Boat Exercise
___________________________________________________________________________________________


Autumn Fire Hazards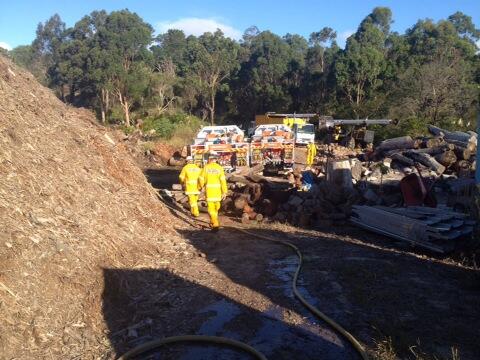 The regular dousing of rain we've received recently may make some feel a little complacent about fire hazards but Autumn is still a high bushfire hazard season in our region and with leaves about to be discarded by our trees vigilance is required in maintaining your Fire Plan throughout these months.

Other kinds of fires may occur during Autumn too. Late yesterday afternoon Tumbledown Dick and Ingleside crews were called to douse a mulch fire at Kimbriki. If you are going to collect your autumn leaves for mulching a few tips for keeping this pile safe are timely:
An indicator of a potential for fire in a mulch pile in the cooler months is when condensing mist comes from vents within the mulch pile. This is a good indicator that the mulch pile needs to be turned over or spread out before the warmer weather arrives. Spontaneous combustion does occur in mulch piles. It is chemical and biological oxidation of the mulch and combined with heat retention and airflow in the pile can lead to flaming combustion or a fire.
Keeping mulch piles small, (below 3 metres in height), keeping adequate separation between multiple mulch piles and keeping mulch piles moist all adds to an effective fire prevention strategy.
Ensure that your mulch pile is well away from any building or structure. The chances of a mulch pile fire spreading to a building are high.
A few facts about mulch fires
• Mulch fires occur regularly and tie up large amounts of firefighting resources that could be better used elsewhere.
• Mulch fires are likely to occur after long periods without rain
• Mulch fires are more likely to occur when the temperature is above 30 °C and the humidity is below 30%,
• Spontaneous combustion within mulch piles occurs due to biological and chemcial oxidation, combined with the retention of heat.
• Surface fires in mulch piles are nearly always caused by human intervention, and can be malicious or accidental
• Keep mulch piles moist to reduce the occurrence of fires
• Try and keep mulch piles below 3M in height and monitor internal pile temperatures
• If you have multiple mulch piles, try and keep at least 3M separation between each pile to minimize any fires spreading.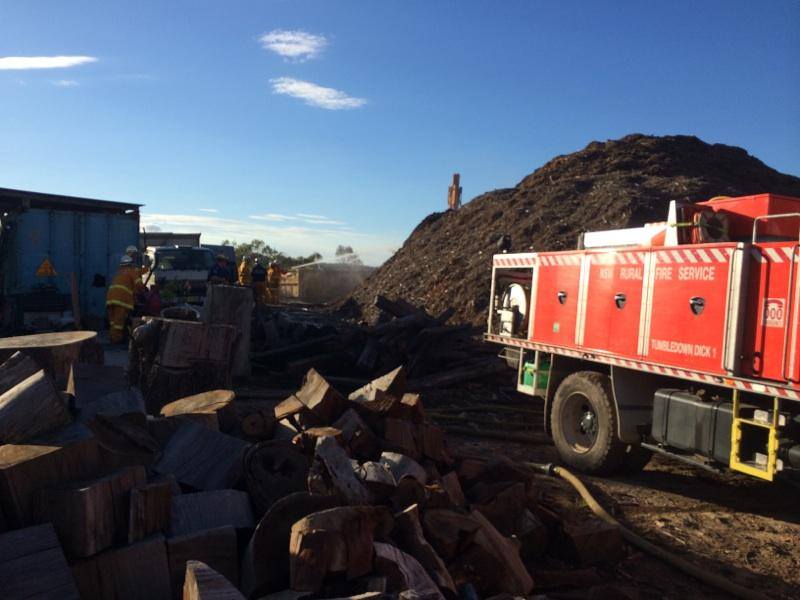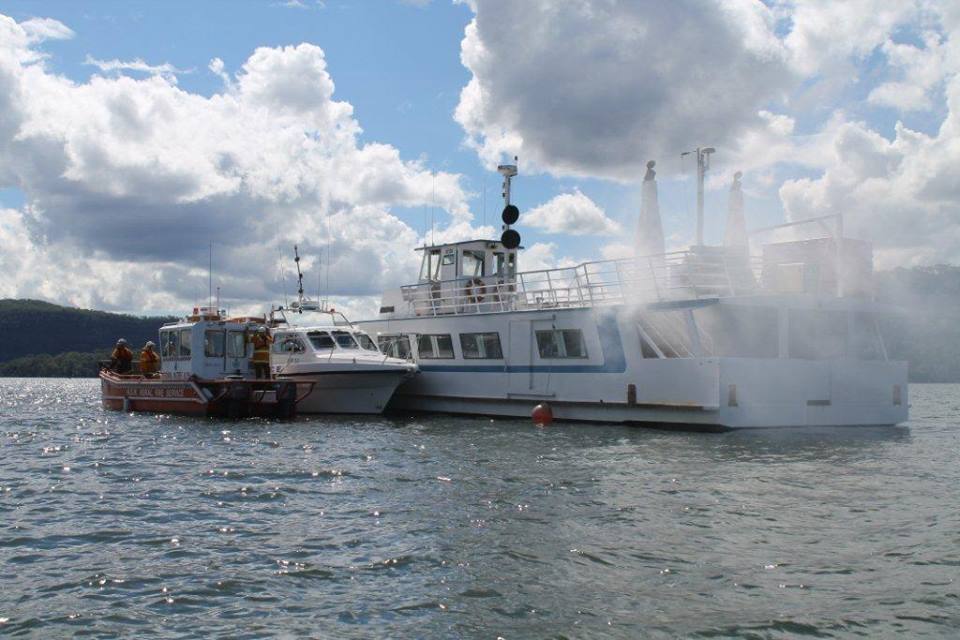 Pictures courtesy RFS Commissioner Shane Fitzsimmons, Scotland Island RFS, Ingleside RFS and Tumbledown Dick RFS, and Glenorie RFS 2014.