January 5 - 11, 2014: Issue 144
2014 Pittwater to Coffs Race - 33rd Annual Warm Water Classic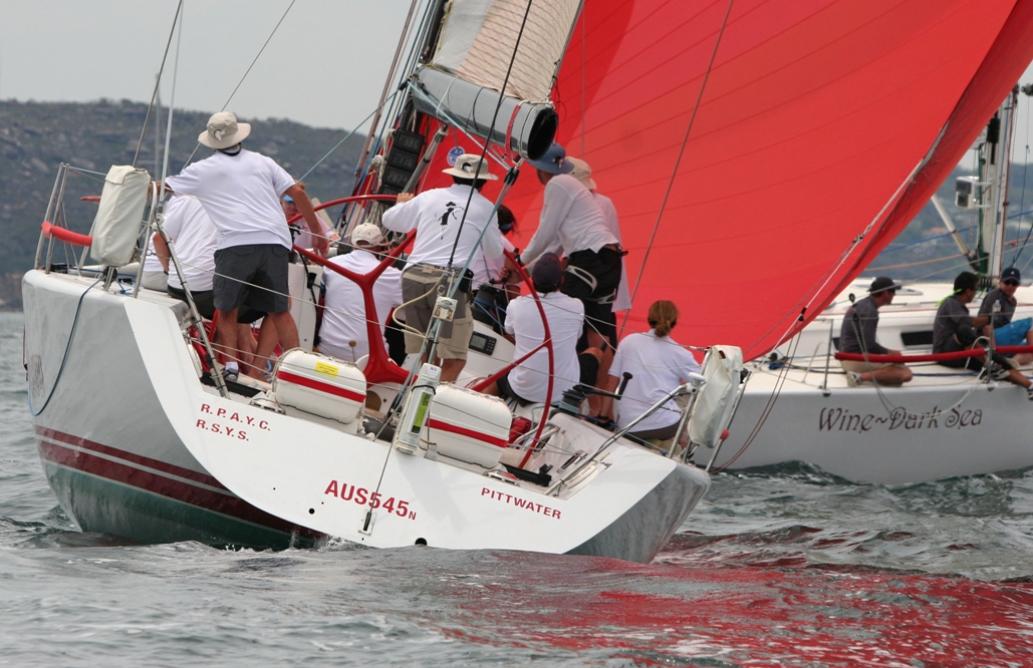 Pretty Woman and Wind Dark Sea at start of 33rd Pittwater to Coffs race - image by Crosbie Lorimer. See more of Crosbie's stunning Pittwater to Coff's images at www.crosbielorimer.com
Two clean starts for Club Marine Pittwater to Coffs yacht race - 2 January 2014
The 226nm Club Marine Pittwater to Coffs Harbour yacht race began to the north of Sydney's Barrenjoey Headland in hot and fickle west nor'west breezes with the two clear spinnaker starts watched by a sizeable spectator flotilla.
For the 1pm monohull start today, Thursday 2nd January 2014, the 36-strong fleet anticipated the roaring run-out tide and managed to stay on the right side of the line, set loose in the light winds and comfortable seas without incident by Royal Prince Alfred Yacht Club race officer Stephen Merrington.
Warwick Sherman's Ker Gts43 Occasional Coarse Language 2 hugged the pin end, winning the start and showing Syd Fischer's TP52 Ragamuffin the way.
At 1500hrs according to yacht tracker Occasional Coarse Language 2 was holding its own on the rhumbline off The Entrance well inside Ragamuffin, which is being skippered by Syd's grandson, Brenton Fischer. The TP52 was heading out to sea to capitalise on the predicted southerly front and decent ensuing sou'easters. Soon after the remainder of the fleet followed suit.
Steve Proud's Kernan 44 Swish, Bob Cox's DK46 Nine Dragons and Sarah Goddard-Jones' Lyons 49 Wine-Dark Sea all put themselves in credit with favourable starts. Swish's luck ran out early however and they are now heading slowly back to the RPAYC with a broken rudder, the first retirement from 40 starters.
At 1.15pm the multihulls began their northern quest, Sean Langman's 60-foot trimaran Team Australia like a mother duck leading her ducklings, Indian Chief, Morticia, Voodoo Spirit and Rushour off the start line.
At 1700hrs this afternoon Team Australia had cleared out and was sprinting up the coast past Newcastle travelling at 20 knots of boat speed.
There is no age limit for this Category 2 ocean race and noticeably there are many family combinations among the 400-odd sailors. Most are dads grooming their sons for ocean racing in a short bluewater event that keeps the fleet near to the NSW coastline.
Ragamuffin's boat captain David Witt has his 16 year-old son Jonte under his wing and crewman Peter Britt has his 16 year-old son Harkon on board. Twenty year-old Murray Jones steered Phil Arnall's Newcastle Cruising Yacht Club based Corby 43 Anger Management for the start, dad Clive is on mainsheet. Sean Langman has his 20 year-old son Peter among his Team Australia crew.
The usual sibling rivalry is playing out on the two DK46s. Rob Reynolds has Morgan White on Exile and Bob Cox counterpunched by taking older brother Mitch and dad Steve White on Nine Dragons.
Reynolds has deliberately bolstered his weaponry for the friendly feud between the like Middle Harbour Yacht Club boats, tactician Ron Jacobs and mainsheet Simon Reffold adding kudos to the regular team.
"When the nor-easter comes in tomorrow is when Exile will perform at its best," said navigator Julie Hodder after this morning's weather briefing. "The only thing we are worried about are the small boats being pushed up with the southerly," she added, referring to the fact the smaller boats will leverage tonight's anticipated cool change first.
The fastest in the fleet will be doing their darndest overnight to put as many miles as they can behind them, and may even stay ahead of the southerly change all the way to Coffs.
Among the interested watchers on the water for the start was two-time winning America's Cup skipper James Spithill on the fly bridge of his power boat called 17, named after the Oracle trimaran he skippered to victory in the 33rd America's Cup in 2010.
James, dad Arthur and sister Katie went out today to farewell younger brother Tommy who is on Bruce Hogan's Marten 49, Perpetual Mocean, with a RPAYC youth crew.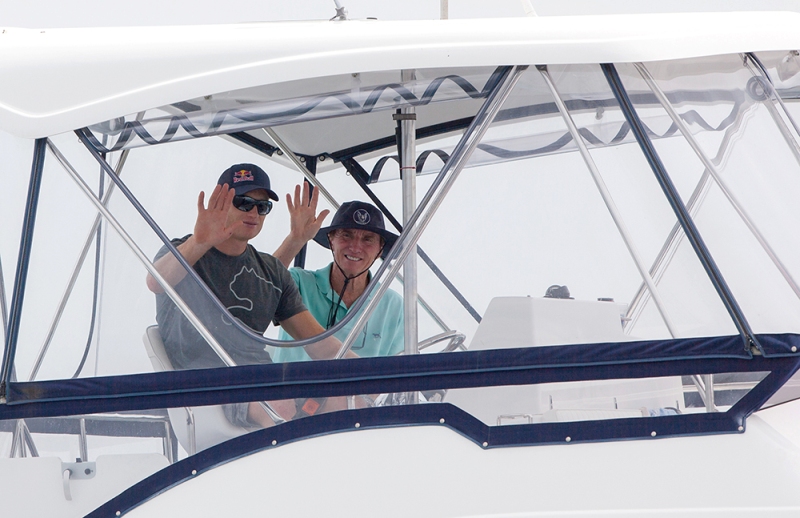 Jimmy and Arthur Spithill.
"It was really cool out there; it was great to see the multis being part of the action and to see Tommy and the young guys on Perpetual Mocean up there at the start," said James this afternoon at his home club, the RPAYC. After a well-deserved break over Christmas, following his team's recent successful Cup defence, he is heading back to San Francisco tomorrow to return to work with Oracle Team USA.
The Club Marine Pittwater to Coffs Harbour fleet can expect a mixed plate of weather. A 12 knot SSW breeze has hit Sydney Harbour and will filter up to the fleet. Behind the change is what crews are waiting for; 15-20 knot sou'easterly winds.
Friday morning the Bureau of Meteorology predicts the boats will venture into no man's land between Seal Rocks and Crowdy Head when the sou'wester transitions and swings easterly around to NW-NE.
The Bureau is talking of possible gale force winds offshore by late evening, Friday 3rd January 2014.
On Saturday a second front and strong southerly push of 20-30 knots could prove a handicap boon for any of the smaller boats still at sea.
The race will once again feature the Yellow Brick yacht tracking system with 15 minute updates. The tracking system will provide a real-time, graphical representation of the yachts during the race while up to date commentary is to be provided via Twitter and Facebook and on the event website.
Follow all the action on the event website at www.pittwatertocoffs.com.au
By Lisa Ratcliff/Club Marine Pittwater & Coffs Harbour Regatta media, Images by Crosbie Lorimer at www.crosbielorimer.com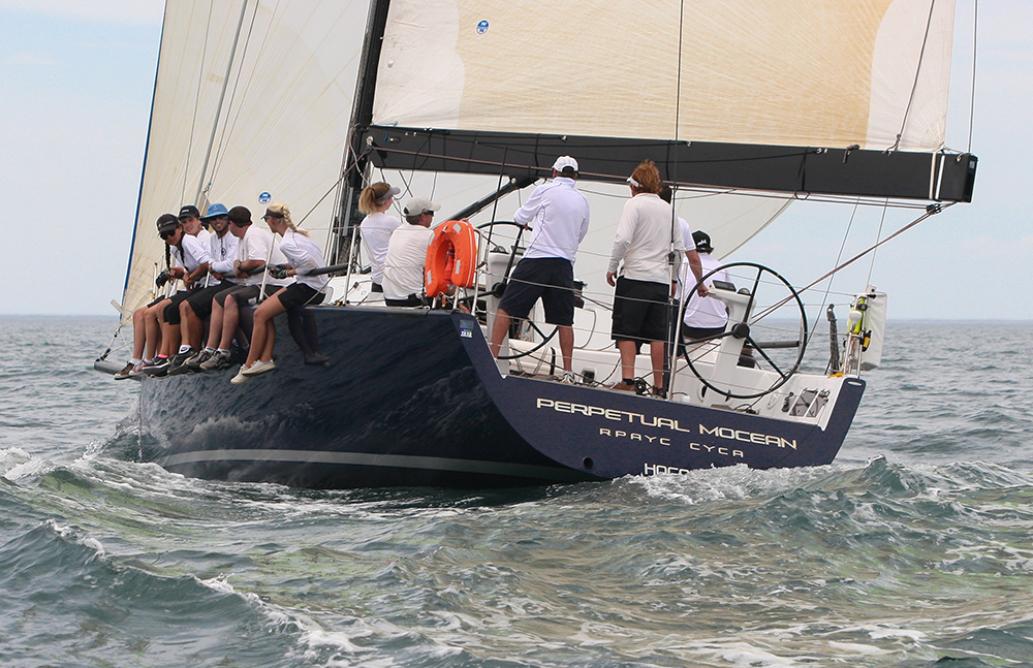 Team Australia continue their record breaking way - Friday 3 January
Sean Langman's Orma 60 Team Australia with a crew of five steamed across the offshore finishing line in Coffs Harbour this morning at 0618hrs to create a new multihull race record in the Club Marine Pittwater to Coffs race with an official time of 17hrs 3mins 5secs.
"What a great way to start the New Year, really happy with the performance last year with the two world records so to get another course record is fantastic. I was wondering what 2014 was going to bring as 2013 was successful in a lot of ways in both business and yachting, so yeah a good way to start," said Langman dockside at Coffs Harbour marina.
On the performance of the trimaran Langman offered, "She did very well, we had to work hard through the night. The conditions were actually very testing, nothing like we were told in the weather briefing. There were a lot of coastal effects and with the Orma 60 you're always on the edge and looking over your shoulder to see what's coming next. We didn't have any ugly hairy moments but we did hit 32 knots at one stage and decided to get the rag off and just play it safe. We shredded a halyard on the front sail so we got to work out a way of getting that down.
"The boys worked extremely hard for a race of 225 nautical miles, so really testing. We only reefed the main once but we did lots of headsail changes, so proud of the team and glad to be here in Coffs Harbour safe and sound."
"The smaller trimaran behind us Morticia is the one that's doing really well, he backed himself and went pretty wide so good luck to him, we've been watching him on the tracker," continued Langman.
"For a premier club like the RPA to take up the initiative to include multihulls should be applauded and it's a huge milestone for the sport in general. I heard at the briefing that the club is trying to embrace more competitors and at the end of the day it's about the sailing and the competitors and the enjoyment and we're loving racing this boat," said Langman.
Langman said that he would like to have another crack at the race and believes he could get the record down to 10 hours.
Sean Langman collects the Bell trophy for multihull line honours from Ian Audsley, Vice Commodore of CHYC
Shaun Carroll's trimaran Seacart 30 Morticia has just crossed the finish line 0932hrs. The first monohull is Syd Fischer's TP52 Ragamuffin who has just passed Nambucca Heads with 22 nautical miles to sail and is due in Coffs Harbour at 1130hrs to attain line honours. They are also currently leading on handicap in all three divisions IRC, PHS and ORCi, a repeat of 2013 is on the cards but there is still a long way to go for the rest of the fleet who are making their way up the coast slowly this morning with little breeze and many sitting in the proverbial parking lot and spread 136 nautical miles back to Myall Lakes.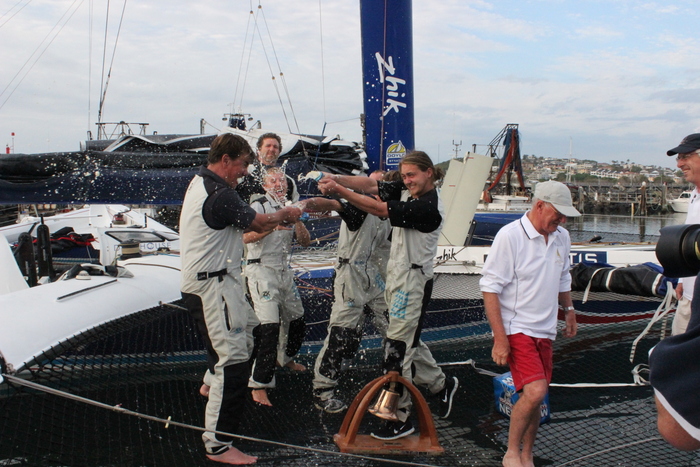 Team Australia celebrate.
The predictwind.com forecast is for a strong Nor' Easter to hit the fleet this afternoon and continue into the evening.
By Damian Devine - Pittwater & Coffs Harbour media. In Text Images and captions by Damian Devine.
Ragamuffin take line honours in 33rd Club Marine Pittwater to Coffs race - Friday 3 January
Syd Fischer's TP52 Ragamuffin skippered by his grandson Brenton took line honours in the monohull division of the 33rd Club Marine Pittwater to Coffs race crossing the finish in a time of 23hrs 37mins 20secs, blitzing the rest of the monohull fleet by 70 miles.
Syd, last year's triple crown handicap winner and line honours runner up handed the reins over to his grandson for his first ocean race who managed to go one better in this year's race. He was in very good hands alongside a very competent crew led by boat master David Witt.
Other than finding a small parking lot this morning just past Nambucca for an hour or so both Fischer and Witt reported a reasonably fast track with the wind getting up over 30knots at time during the 226 nautical mile race.
Brenton getting the perfect start to ocean racing, winning his first on debut as skipper said, "It's a great feeling, really happy. It was an interesting race, we got a hell a lot of breeze a couple of times last night where we had the boat going upwards of 20 knots. So all in all it was a great experience and I think the crew did a great job and sailed the boat as best we could particularly in those reaching conditions and to be honest we blitzed the competition."
The best of the journey for the young Fischer was "steering the boat downwind at 25knots into some pretty big swell, that was exciting. "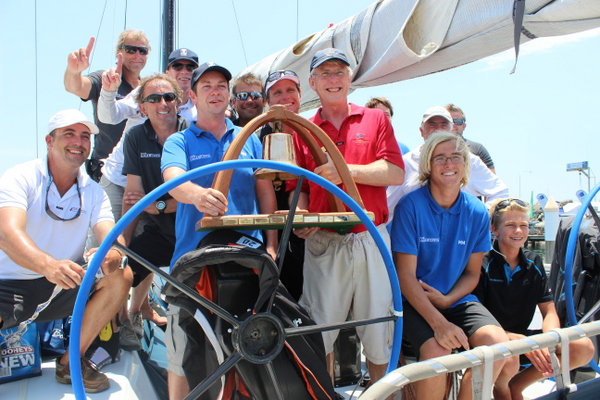 Ragamuffin celebrate their line honours victory dockside with the coveted Line Honour Bell Trophy.
Boat master David Witt speaking dockside commented on the conditions for the race, "it was very unpredictable because the weather file was miles out. I've done a lot of these races now and I've never seen the weather so badly predicted ever but luckily it was from behind and not on the nose.
"We saw 33 knots out of the west for probably four or five hours last night so we managed to peel a stronger chute and looked back and everyone in the fleet was bear headed in a bit of strife so I think that's where we managed to get the big jump on the fleet and from there the rich got richer and the air got lighter and lighter. We managed to stay in the breeze and that's why we've ended up beating them by 70 miles.
"We had one little park there this morning for about an hour and we knew with that little westerly system you had to stay on it cause once you fell off it you were gone. So we managed to stay on it until Nambucca and that's the difference.
"It's good to win on line honours and we're sitting pretty at this stage on handicap with the wind dying out down the coast and for Brenton that's great in his first race so that's one from one, not a bad effort. I really like this race and I've won it a few times so am pleased for Syd, Brenton and the crew to win this year," said Witt.
When asked about the two father son combinations on board, Jonte Witt and Harkon Britt, he said, "The boys did great, they went really well and got into it, neither of them got crook so we might have a couple more staff members, at a cheap rate," quipped Witt.
The boys said of their first ocean race, "it was a really good experience, we had wind all the way, we didn't break anything, it was a good run up and did it under 24 hours so pretty excited, everyone is happy," said Harkon Britt. "It was a lot harder than I thought, pretty tiring! It went in our favour and it was a good experience," added Jonte Witt.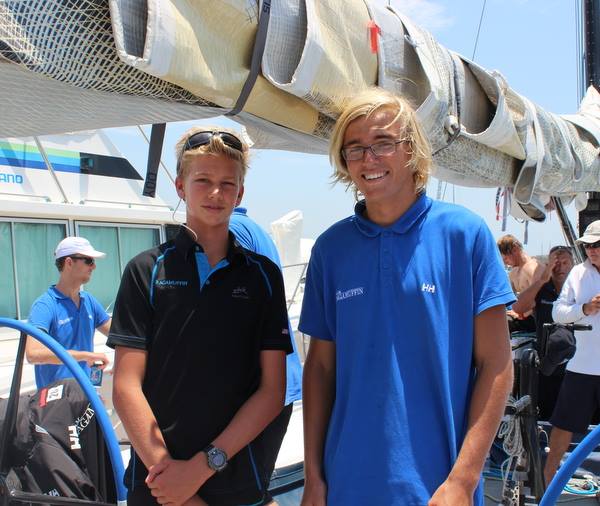 Fischer still leads on handicap in IRC, ORCi and PHS so a repeat of the 2013 triple crown could still be on the cards. The breeze hasn't been kind the remainder of the fleet further down the coast today with some reporting glass outs and 1-2 knots. A strong NNE breeze is forecast into the evening meaning a beat to windward and a bumpy pride tonight before a southerly change tomorrow, as they inch their way to the finish.
Ragamuffin leads IRC from Much Ado V and Patrice Six, in ORCi from OCL2 and Kerisma whilst in PHS its Ragamuffin ahead of Out of Sight and Koko in third.
The next boats to finish will be the multihull Voodoo Spirit, the TP52 Dodo, followed by the Farr45 Pretty Woman, the DK46 Exile and the Ker43 OCL2 all bunched and expected in the early hours of tomorrow.
To date, there have been three retirees with Steven Proud's Swish yesterday with rudder damage and two this afternoon due to lack of breeze in Bruce McKay's two-handed Wasabi and Drew Carruther's multi Rushhour.
Morticia, the Seacart 30 foot trimaran skippered by Shaun Carroll also deserve applause for a fantastic effort to not only finish 2nd over the line today in sailing a great race, but in just getting to the start line where they spent an incredible amount of time, money and effort to meet full compliance standards. In doing so, they have also helped multihulls to be accepted as a viable type for ocean racing in the future. They reported hitting 20 knots at times and seeing 30-35 knot gusts out of the west last night. "We went offshore last breeze and found some good breeze, so we got lucky and had a really good ride," said skipper Shawn Carroll. They lead the multihull division on handicap.
By Damian Devine - Pittwater & Coffs Harbour media. In Text Images and captions by Damian Devine.
Ragamuffin cleans out the trophy cabinet with a repeat triple crown win in the 2014 Club Marine Pittwater to Coffs race - Saturday 5 January 2014
Syd Fischer's TP52 Ragamuffin, skippered by his grandson Brenton has cleaned out the trophy cabinet at tonight's ocean race prize giving by defending their triple handicap crown in IRC, ORCi and PHS adding to their line honours win in the 2014 Club Marine Pittwater to Coffs race hosted by the Royal Prince Alfred Yacht Club. In doing so, Ragamuffin etched their name in the history books to be the first boat to accomplish the back to back achievement in the 33 year running of the race.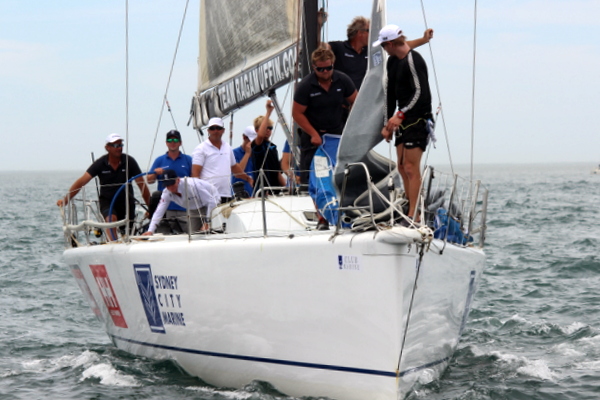 Syd Fischer's TP52 Ragamuffin with Syd's grandson Brenton at the helm the IRC, PHS and ORCi handicap winner once again for the 2014 Pittwater to Coffs Yacht race
The younger Fischer took out the coveted IRC handicap crown with a corrected time of 31hrs 46mins 31secs to win by a convincing 14 hours from Rob Reynolds DK46 Exile whilst Warwick Sherman's new Ker Gts43 OCL 2 was a further hour back to take the final podium position.
Brenton Fischer, in his first race as skipper was elated with the win, "Yeah, an enormous achievement but I can't take all the credit for it as it was the crew and the boat that did that so on behalf of them it feels great. I have spoken to Syd today and in very few words he said he was very happy with the result.
"The boys sailed the boat really well and the boat performed to its ability. This is something we set out to do so I am really pleased. The wind was certainly on our side and played a huge part in the result, getting us so far ahead of the fleet. To win back to back titles and line honours doesn't happen that often, so it's a great result all round and we're all pleased."
On the prospect of defending the title in 2015, Fischer said, "it may be too early to tell but I really don't see why not. We had a great race and it's been a lot of fun. I would like to say thank you to the organisers the Royal Prince Alfred and Coffs yacht club's for putting on such a great event and the hospitality here in Coffs has been fabulous, I've really enjoyed myself. I'm loving this sport right now."
2012 IRC winner Exile was engaged in a mini match race with the Farr 45 Pretty Woman and within shouting distance through much of yesterday and the night crossing the line in the early hours of this morning within four minutes of one another around 3:22am with Pretty Woman claiming bragging rights to complete the podium spots for line honours some 15 hours after Ragamuffin had crossed to take monohull line honours.
The PHS division announcement was put on hold as there were still boats at sea at the time of the presentation with the Hanse 385 Out of Sight skippered by Mark Gorbatov still in contention for a podium spot at the time of writing.
In ORCi, Ragamuffin took the spoils in a corrected time of 31hrs 58mins 41secs with the Hudson/Lockley/Murphy Farr45 Pretty Woman 14 hours back in second whilst Roy Leslie's Elan 37 Koko was third.
IRC Division One was a carbon copy of the overall IRC result whilst in IRC Division two, it was Koko first with Dennis Cooper's Sydney 36CR Amante second and race debutant Andrew Butler's Dufour 36, Astral in third.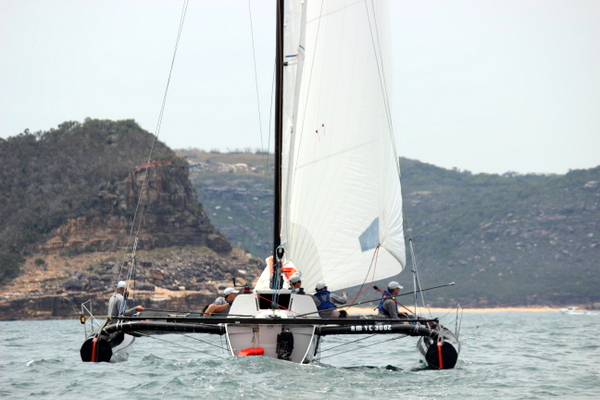 Morticia leaving Barrenjoey on their way to victory in the multihull division.
The band new multihull division measured under the Offshore multihull rule (OMR) was won by Shaun Carroll's Seacart 30 Morticia in a corrected time of 19hrs 33mins 19secs followed by Darren Drew's Grainger 9.5 cat Indian Chief with multihull record maker and breaker Sean Langman's Orma 60 Team Australia in third.
All divisional winners were presented with tremendous handmade trophies made by local Coffs resident Graham Patterson.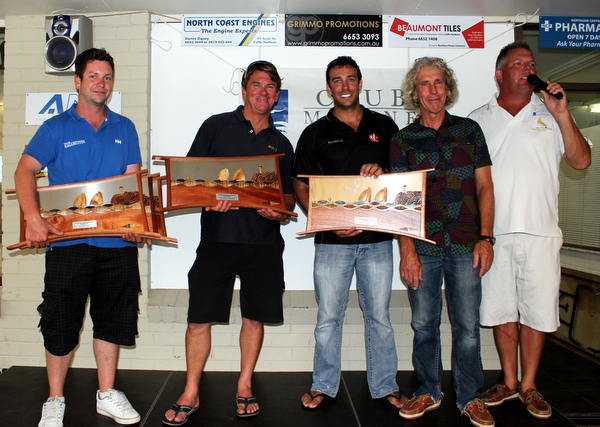 The winners, Brenton Fischer, Sean Langman and Shaun Carroll with their custom trophies made by Graham Patterson 2nd from right.
In the shorthanded division there can only be one winner with the retirement of Bruce McKay's Sayer 12 Wasabi yesterday. That division will be won by the Queenslander Laurence Pidgeon's Jutson 39 Sweetheart who is due in later tonight.
The attention now turns to the start of the four Solitary Island races tomorrow and Monday to round out the regatta and the Australian Performance Handicap (PHS) Championships.
For all the results visit www.rpayc.com.au/results/2014/coffs/index.htm
To follow all the action on the event website www.pittwatertocoffs.com.au
By Damian Devine, Club Marine Pittwater Coffs Harbour Regatta media. In text photos and captions by Damian Devine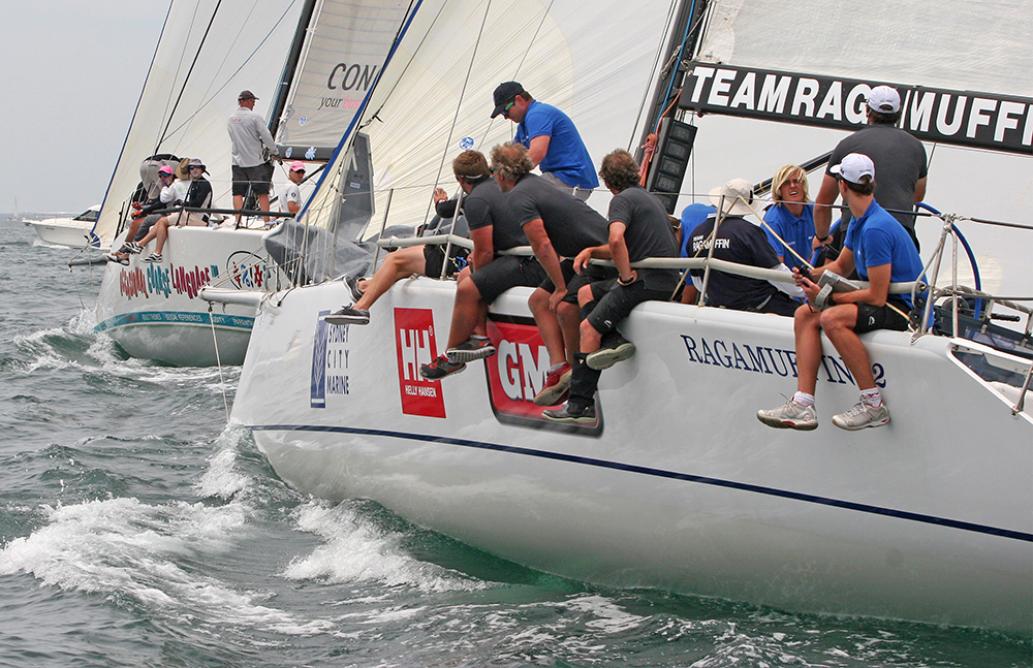 By Lisa Ratcliff and Damian Devine -Club Marine Pittwater & Coffs Harbour Regatta media.