March 27 - April 2, 2016: Issue 257
The Newport School
1888 to 2016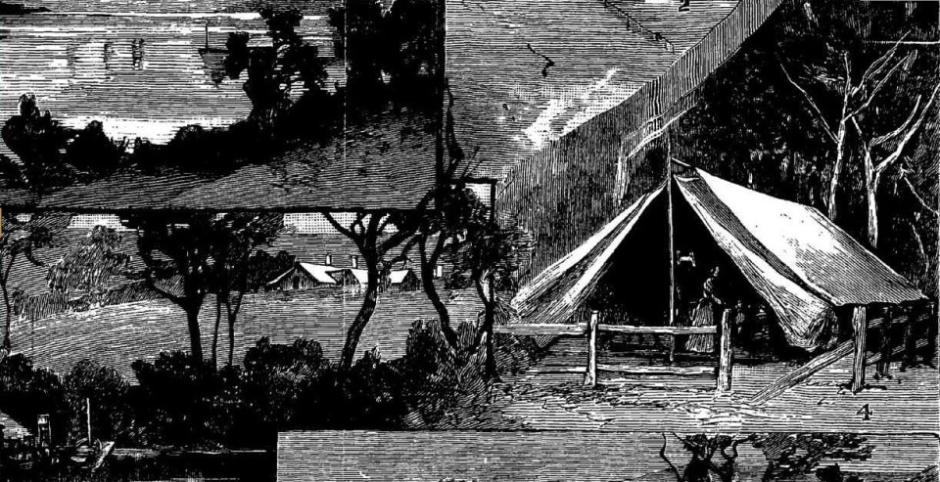 SKETCH: PICTURESQUE NEW SOUTH WALES — MANLY TO PITTWATER. See Page 1368.] 1. D Y Lagoon. 2. The Coast looking from hill above Narrabeen. 3. Pittwater Basin. 4. Public School, Newport. 5. Long Reef and Collaroy Beach. 6. At Newport. PICTURESQUE NEW SOUTH WALES—MANLY TO PITTWATER.-. (1890, June 21). The Sydney Mail and New South Wales Advertiser (NSW : 1871 - 1912), p. 1374. Retrieved from http://nla.gov.au/nla.news-article162074462
Newport School is Pittwater's oldest continually run school, celebrating 125 years of having a schoolhouse in 2016 and 128 years of exisiitng.
Although relatively close to 'Sydney Town' compared to some rural areas were teachers were sent after the introduction in 1880 of the 'Public Instruction Act', there were apparently not enough children to warrant a teacher being provided.
A Provisional School could be established in areas where at least 15 children, but fewer than the 25 required for a Public School, could be expected to attend. Parents provided the building and furniture, while the Council of Education or later the Department of Education paid the teacher and supplied books and equipment. During the 1880s the minimum number of children required was reduced to 12; from 1898 the minimum was 10, and from 1945 it was nine. After 1882 there were provisions for the Department to provide all or part of the cost of buildings, but well into the twentieth century parents often met most of the cost. The schools were generally staffed by untrained teachers or by teachers of the lowest classification. Archives In Brief 26 - Schools, 1788-c1979 - State Records of NSW
THE NEW EDUCATION ACT.
The 'Public Instruction Act' of 1880, comes into operation on 1st May, 1880. Following are its principal provisions .— The Public Schools Act of 1866, under which bur present system of public schools were established is repealed, and the Council of Education abolished. All votes are to be expended by the Minister, and all officers to be appointed and removed by the Governor. Five classes of schools are to be established and maintained, namely (1) public schools as now carried on, (2) superior public schools, (4) high schools for boys, to prepare students for tho University, and (5) high schools for girls. Teaching shall be non-sectarian, but the words 'secular instruction' shall beheld to include general religious teaching as distinguished from dogmatical and polemical theology, and lessons in the history of England and in the history of Australia shall form part of the course of secular instruction.
Evening schools may be established at the request of at least ten persons. Fees— 3d per child per week up to four of one family ; 1s. per family of four or over; to be paid to the teacher or other authorised receiver, and may be recovered summarilly. Fees are not to be enforced where parents and guardians are unable to pay. Free railway passes will be granted to school children.
Four hours per day are set apart tor secular instruction, and not more than one hour for religious instructions by clergymen or other religious teachers, but no pupil shall be required to receive any general or special religious instruction if : the parents or guardians object. After the expiration of three months from the passing of the act it will be obligatory upon parents to send children between six and fourteen years of age to school for a period of not less than seventy days in each half year, unless the children are being instructed regularly and efficiently in some other manner, or unless there is no school within two miles. Penalty for non-compliance with this section. — 5s for the first offence, and 20s for every succeeding offence, the alternative being imprisonment for a term not exceeding seven days.
Provisional schools may be established in certain cases, and itinerant teachers may be appointed. Aid to denominational schools is to cease after December 31st, 1882, and such schools may then be replaced by public schools. Children attending public schools will be entitled, when educated up to the standard required by the act, to receive a certificate to that effect, signed by an inspector.THE NEW EDUCATION ACT. (1880, April 24). The Riverine Grazier (Hay, NSW : 1873 - 1954), , p. 2. Retrieved from http://nla.gov.au/nla.news-article141036190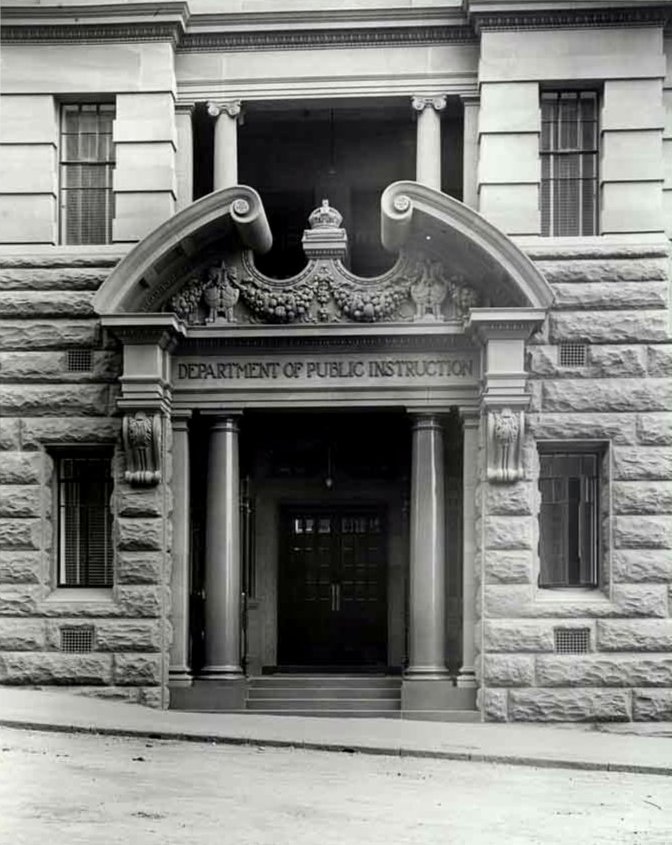 The Department of Public Instruction head office in Bridge Street, Sydney - image courtesy State Records of NSW
A request for a school in Newport in 1887 was denied, as, at Barrenjoey a new school had been opened where we now have a park beside Palm Beach kindergarten and children were expected to attend this, The Barrenjoey School, which began in 1872 in the dunes below the lighthouse and had an official schoolhouse built, two schoolhouses later, that opened on January 25th, 1886. Some records state that even when Newport was established it was on what was termed 'a half day basis' and that students also studied at the Barrenjoey School.
In 1887 though, the Bulfin family, became part of the resident number at Newport, and they had several children. They joined the Boulton children, who had been in Pittwater (Mona Vale Verge of Newport) from 1872 and then at Newport, where Boulton's Farm was established at what is now the corner of Barrenjoey Road and Beaconsfield street.
Apart from running the coaches and mails to Pittwater, farming leased and then owned land, and then taking over the licence and eventually ownership of the Newport Hotel, William Boulton seems to have spent a fair amount of time on the coast as well, travelling to and from where the maize etc. was sold, and found 'things' along his route. These small snippets of information give us an insight into what Newport was like prior to the advent of photography of the area through some descriptions, Notices and sketches:
FOUND, a DINGY, at the Long Reef. The owner can have it on paying expenses. WILLIAM BOULTON, Mona Vale, Pittwater. Advertising (1874, September 19). The Sydney Morning Herald (NSW : 1842 - 1954), , p. 1. Retrieved from http://nla.gov.au/nla.news-article13340056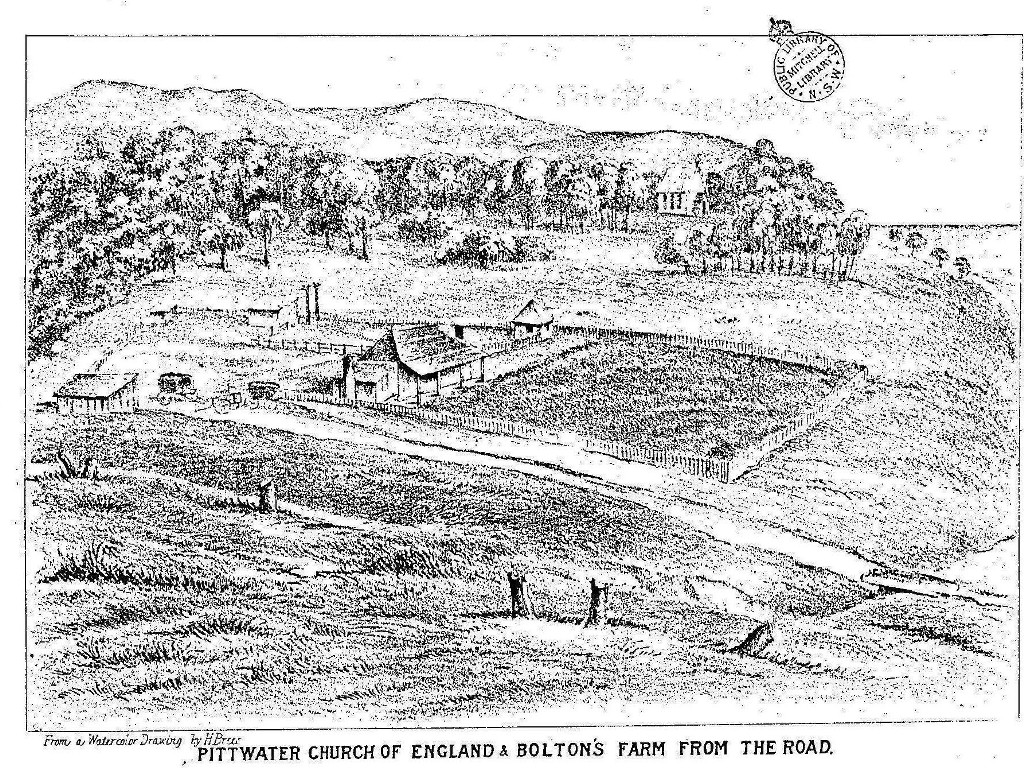 The tenancy of Mona Vale farm became William Boulton's in 1872. He was at Mona Vale until January 1882, when he took out a publican's licence for the Newport Hotel and then bought the hotel which was not sold until 22 years after he passed away in 1919. Illustration from the Pittwater and Hawkesbury Lakes Album. 1880, Courtesy the Mitchell Library
FOR many years a teak beam-one of the relics of the ill-fated Dunbar-has been jammed between the rocks at Narrabeen. It was recently extricated and taken to Bolton's farmhouse, where it may be seen bleached like deal on the outside, but retaining its natural colour internally. NEWS OF THE DAY. (1880, August 27). The Sydney Morning Herald (NSW : 1842 - 1954), p. 5. Retrieved fromhttp://nla.gov.au/nla.news-article13467015
Publicans' licenses were granted to … William Boulton, Newport. POLICE. CENTRAL POLICE COURT. (1882, February 1). The Sydney Morning Herald (NSW : 1842 - 1954), , p. 3. Retrieved from http://nla.gov.au/nla.news-article13504198
Renewals of licences were granted to the following –W Boulton Newport Hotel, POLICE. (1883, January 31). The Sydney Morning Herald (NSW : 1842 - 1954), , p. 5. Retrieved from http://nla.gov.au/nla.news-article13526591
NEWPORT HOTEL.-WILLIAM BOULTON begs to inform the public that, having taken the above, he is prepared to offer the best accommodation to pleasure - seekers and others. Choicest Assortment of LIQUORS kept. Coaches run from Manly MONDAYS, WEDNESDAYS, THURSDAYS, and FRIDAYS, at 8 a.m., for Newport and Gosford ; FRIDAYS for the Hawkesbury River, at 3.30 p.m.Advertising (1882, April 17). The Sydney Morning Herald (NSW : 1842 - 1954), , p. 12. Retrieved from http://nla.gov.au/nla.news-article13509543
A Meeting of the residents of Pittwater was held on Saturday evening at the Bolton Hotel, for the purpose of urging the Government to make the road from the Lagoon to Newport. Mr. Crawford, who was voted to the chair, explained the object of the meeting, and drew attention to the state of the road, which in some parts was almost impassable. He stated that he was convinced it was only necessary to bring the matter under the notice of the Minister for Works to get the work done. After several speeches had been made, the following gentlemen were appointed to form a deputation to wait upon the Minister:-Messrs. Mc Koowa, Dr. Tibbitta, J. Riley, B. James, and F. Smith. NEWS OF THE DAY. (1883, March 28). The Sydney Morning Herald (NSW : 1842 - 1954), p. 7. Retrieved fromhttp://nla.gov.au/nla.news-article13531240
Mattamolla, Joining National Park £660-Mr Jeannerett, lot 19, Lawson Estate, .....Mr Street, lots 28 to 30, sec L, Newport Estate, Pittwater, £15-Mr Turner, lots 81 and 32, sec. V, £10-Mr. Boulton, lot 81, sec K Newport, £6-Mr. West, ...Total amount of sales for week, £13 071 PROPERTY SALES. (1884, September 20). The Sydney Morning Herald (NSW : 1842 - 1954), p. 15. Retrieved fromhttp://nla.gov.au/nla.news-article13562505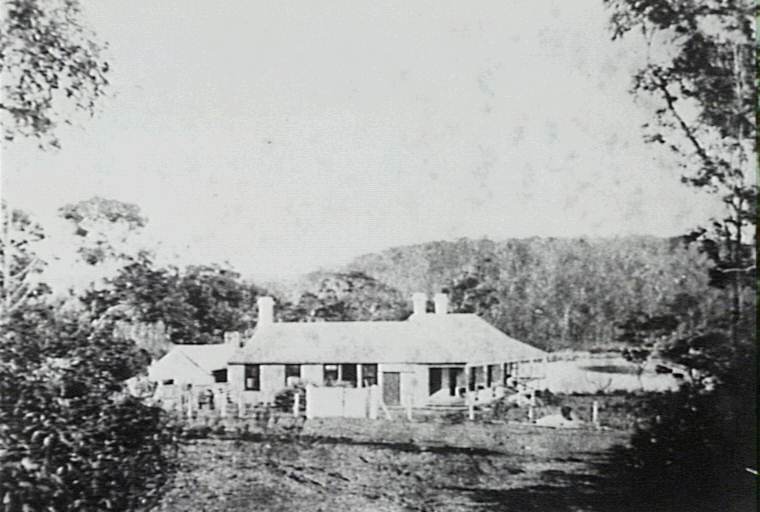 Picture of Newport hotel above is dated 10.7.1884 by Robert Hunt and courtesy Pittwater Local stduies - Historical Images, Mona Vale Library, Park Street, Mona Vale.
William Boulton, licensee of the Newport Hotel, Newport, applied, under the 11th section of the Amending Licensing Act, to have the license fee with respect, to his premises reduced from £30 to £16. In the application it was stated that the applicant's premises are actually required for the accommodation of travellers, and are not accessible by any practicable roadway to any licensed premises, situated within 10 miles of the aforesaid premises. The police reported favourably with respect to the- application. Inspector Lenthall stated that there was no licensed house within 14 miles of that kept by Boulton. That there were no people about there to support a house, and it was required exclusively for the accommodation of persons travelling from Manly to Broken Bay and other places in that district, that recently he had to visit on duty the neighbourhood of the licensed house. The steamer which conveyed him thither broke down, and if it had not been for the existence of Boulton's house he would have had to appeal to some of the settlers to find him accommodation. Mr. Addison said that the applicant was in accordance with the law thoroughly entitled to a reduction, and the Bench considered that on other grounds the adoption of such a course was desirable. The license fee would therefore be reduced to £15. POLICE. (1885, January 30). The Sydney Morning Herald(NSW : 1842 - 1954), p. 5. Retrieved fromhttp://nla.gov.au/nla.news-article13583696
An example of one of the many steamers (ferries) that brought thousands of people to Pittwater each holiday as 'excursionists', which became stuck, due to tide it would seem, in this instance:
Wiseman's Ferry. March 10.
Considerable disappointment was experienced here when it became known on Saturday forenoon that the mail steamer Hawkesbury had got aground at Newport, and would not be up till 11 o'clock that night. Many waited till midnight, and even 1 o'clock, and yet no steamer came, and she did not turn up till Sunday evening, fully 24 hours behind her usual time. It appears she was taking in machinery, &c., used for boring for coal, from a punt alongside, when she was blown broadside on to the sandbank and got fast, as the tide was falling. The evening tide did not rise high enough ; consequently they did not get off till Sunday morning. The Sydney passengers booked to be conveyed by her from Brooklyn (Peat's Ferry ) to Sackville Reach had to return the same way they came, as there was no other boat to take them on. Wiseman's Ferry. (1889, March 23). The Sydney Mail and New South Wales Advertiser (NSW : 1871 - 1912), , p. 617. Retrieved from http://nla.gov.au/nla.news-article161933549
William Boulton to Carl A. Schaffer, Newport Hotel, Newport LICENSING COURT. (1885, October 9). The Sydney Morning Herald (NSW : 1842 - 1954), p. 7. Retrieved from http://nla.gov.au/nla.news-article13599703
From William Boulton, of the Newport Hotel, Newport, to James Aylward. LICENSING COURT. (1886, May 21). The Sydney Morning Herald (NSW : 1842 - 1954), p. 5. Retrieved from http://nla.gov.au/nla.news-article13644041
ONLY HOTEL IN DISTRICT. For SALE, at NEWPORT. Pittwater, WATERSIDE HOTEL and 3 Acres Land, 300 feet deep-water frontage, terminus for steamers and coaches. First-class investment. BLUNSUM and CO, Montagu-chambers, corner of Hunter and Elizabeth streets. Advertising (1886, November 12). Evening News (Sydney, NSW : 1869 - 1931), , p. 1. Retrieved from http://nla.gov.au/nla.news-article107315582
William Boulton to William Bulfin, Newport Hotel, Newport. LICENSING COURT. (1887, April 1). The Sydney Morning Herald (NSW : 1842 - 1954), p. 4. Retrieved from http://nla.gov.au/nla.news-article28349476
William Bulfin and his wife Alice were not the licencees for very long, although longer than others. An article which appears in 1889 eludes to an incident and this is also a year in which Mr. Bulfin was involved in an accident:
William Bulfin, licensee of the Newport Hotel, Newport, was summoned by Leon Houreux, licensee of the Rocklily Hotel, Pittwater, for stealing eight fencing rails, the property of the complainant. A number of witnesses were heard for tho prosecution. The evidence for the defence was in effect that the rails were floating about in the water, and were gathered by a man named Brooks; Bulfin swore he was not guilty of the offence. Mr. Le said he was not satisfied as to the innocence of Bulfin. It was evident that a number of untruths had been told by some of the witnesses. The defendant was ordered to pay the value of the rails, 4s.,and fined 40s., or in default two months to gaol.
POLICE. (1889, June 5). The Sydney Morning Herald (NSW : 1842 - 1954), p. 11. Retrieved from http://nla.gov.au/nla.news-article13733869
BULFIN V. HARPER. Mr. Gordon, instructed by Mr. W. T. A. Shorter, appeared for the plaintiff, and Mr. J. L. Campbell, instructed by Messrs. Want, Johnson, and Co., for the defendant. This was an action brought by William Bulfin, of Newport, against William A. Harper, the elder, of Manly Beach, to recover compensation for personal injuries sustained by him and also damage to his buggy and harness, owing to the negligence of the defendant's servant. The case, as stated by plaintiff, was that on the afternoon of the 1stOctober last he was driving a horse attached to a buggy along the road to Newport. His wife accompanied him, and when about four miles away from Manly, and opposite the Redman Estate, he suddenly came upon a van standing at right angles to the road, with the shafts about 2ft. over the metal of the road-way. There was no one in charge of the van, nor was a horse attached to it, and the vehicle was partly hidden by the scrub on the side of the road. Plaintiff's horse, upon coming up to tho van, "propped," and jumping to the other side of the road, brought the buggy into collision with a culvert post. The force was such that plaintiff and Mrs. Bulfin were thrown violently out and severely bruised; the harness was also broken and the buggy damaged. The injuries to the male plaintiff were of such a nature that he had since been unable to get about without using a walking-stick, but those sustained by Mrs. Bulfin were less serious. Evidence was also given that the van was the property of the defendant, and that the aligned road was 66ft. and the metalling in the locality 15ft. wide. It was further stated that the scrub grew up to the edge of the metalling, and therefore over a portion of the aligned road, on each side.
The defence set up was that the van was hired to a man named Martin in connection with certain surveying operations, and if negligence was proved he was liable, and not defendant. Evidence was also given that the shafts of the van did not project over the metalling of the roadway. The case was not concluded when the Court adjourned. METROPOLITAN DISTRICT COURT. (1890, February 14). The Sydney Morning Herald (NSW : 1842 - 1954), p. 3. Retrieved from http://nla.gov.au/nla.news-article13759374
Transfers of Publicans Licenses were granted as follows: - From William Bulfin to Thomas H. Hodges, for the Newport Hotel, Newport - LICENSING MEETING. (1889, July 5). The Sydney Morning Herald (NSW : 1842 - 1954), , p. 4. Retrieved fromhttp://nla.gov.au/nla.news-article13731956
This may not be the advertisement run to attract a teacher for Newport as the 'pupils' tally doesn't correspond with how many children were now in the valley of Newport, but it does give us an insight into what was required:
To TEACHERS.-Wanted, a SCHOOLMASTER for a Provisional School on the coast. He must be respectable, unmarried, and qualified to teach all the prescribed subjects in the standard of proficiency of the Department of Education. Salary £5 per head, with board and lodging; nine pupils guaranteed. Apply by letter. T. T. P.. 11, Bligh-street, Sydney. Advertising (1888, January 24). The Sydney Morning Herald (NSW : 1842 - 1954), , p. 18. Retrieved from http://nla.gov.au/nla.news-article13677852
Elizabeth Giles is recorded as 'Lizzie Noble Giles' who commenced her teaching career in 1881 at age 20. Miss Giles was appointed to Newport on the 25th of April 1888. Newport is called 'Mona Vale' even though the school was on the edge of Mona Vale and in Newport:
APPOINTMENT OF TEACHERS -The following teachers have been appointed to the positions and schools specified in connection with their respective names
Miss Elizabeth Giles, teacher, Provisional school, Mona Vale; GOVERNMENT GAZETTE. (1888, May 19). The Sydney Morning Herald (NSW : 1842 - 1954), , p. 10. Retrieved from http://nla.gov.au/nla.news-article13686918
Names of pupils enrolled/admitted 1st day – Monday 30th of April 1888: Please note that some children were enrolled at a very young age!
1. Leighton Scott 9 years, George A Baker 9.10, Walter J Baker 3 6 months, 1. Minnie Scott 13.4, Elizabeth Baker 8, Violet Baker 5
Enrolled and admitted May 1st, 1888
William Bulfin 12, John C. Bulfin 11, Edmond Bulfin 9.6, Richard Boulton 14.1, Edward Boulton 10, Lucy Bulfin 14, Annie Bulfin 14 – twins, Alice Bulfin 13, Blanche Bulfin 8.6, Maude Bulfin 6.6, Violet Bulfin 4.6, Lillie E Bulfin 2.6 - 18 students!
Two acres of land were resumed from William Boulton, who had purchased a block in 1884. He was paid £380, for the original Queens Parade site for the school.
Some of these early students continued their education – the Bulfin boys would drive a sulky to Manly to study science. Muriel Bulfin, daughter of John Bulfin, left home to take a Commercial course, travelling by bus. Considered a beautiful girl
Newport Telegraph Office.
Last Saturday the new telegraphic office at Newport was formally opened by Mr. Cracknell, the chief superintendent, in the presence of a large assemblage of residents and visitors. Mr. Cracknel delivered a short address, and formally declared the office opened and communication established with the rest of the world. He asked the visitors to join with him in thanking Messrs. Shorter and Boulton for the efforts they had made in bringing about this desirable result. A large number of ladies and gentlemen then adjourned to Bulfin's Newport Hotel, where dinner was provided for those who had taken a prominent part in the proceedings. This opportunity was taken to present the Christmas prizes at the Newport public school, which has been open for about nine months, and is under the supervision of Miss Giles. Various prominent residents had contributed to the prizes, amongst which was a watch, donated by Mr. Aitken to the most efficient pupil. After the prizes had been distributed, an address, signed by the Misses Bulfin and Miss M. Scott, on behalf of their fellow pupils, was presented to Miss Giles. The address was accompanied by a gold-bracelet and a smelling-bottle. The presentation was suitably acknowledged by Miss Giles, after which, the proceedings terminated. Newport Telegraph Office. (1888, December 27). Evening News (Sydney, NSW : 1869 - 1931), p. 8. Retrieved from http://nla.gov.au/nla.news-article108111373
This 'school' was in a tent, an illustration of which is below from a reporter visiting around the same time a politician was launching his election campaign. In 1889 the District Inspector visited the school in a tent, a day it, fortunately, rained. It was deemed advisable to provide the Newport children with an actual schoolhouse.
TENDERS FOR WORKS IN CONNECTION WITH PUBLIC SCHOOLS.
TENDERS will be received at this office for the Works specified in the schedule hereunder up to 12 o'clock noon on the various dates set forth in the second column. Tenders are to be addressed to the Under-Secretary, Department of Public Instruction, Sydney, and endorsed, "Tender for [... insert the name of school and tho work to which the tender relates]." , J. H. CARRUTHERS.
MONA VALE. Newport-New Buildings. Where Plans and specifications may be seen and Forms of Tender obtained - Department of Public Instruction and Public School, Mona Vale - Date up until which Tender will be accepted - March 17, 1890.Advertising (1890, February 25). The Sydney Morning Herald (NSW : 1842 - 1954), , p. 2. Retrieved from http://nla.gov.au/nla.news-article13760824
The speech made on day foundation stone was laid – written in longhand by William Boulton and found inside the original foundation stone when this was being cut to add to the new Infants Block completed in 1969:
Thomas Henry Hodges is the 'Mr. Hodges', the then proprietor of the Newport Hotel is the gentleman with the 'masons implement' - he held the licence for a few years until 1895. The Newport Hotel, being the most substantial structure until the Boultons built their home in Newport, and being the place where many visitors and official functions were held, would have been a key place and community core during these early days of Newport. Licencees then, as now, were required to follow the law regarding their premises and the serving of wine or spirits. They were not only places for Meetings of Dignitaries or community leaders, they were places for shelter where whomever was in charge was 'on duty' all the time for anyone in distress. Mr. Hodges may also have paid for the function after the laying of the foundation stone, or the stone itself.
Suburban Railway Agitation.
The new public school at, Newport was opened on Saturday. A grand entertainment was given on the occasion. Advertising (1891, February 23 - Monday). Evening News (Sydney, NSW : 1869 - 1931), , p. 5. Retrieved from http://nla.gov.au/nla.news-article114310657
No description could be found of the 'grand entertainment' but it may have been similar to one which occurred later that year:
Newport New Hall
On Saturday night the hall at Newport lately erected for social and intellectual entertainments was opened by a concert given by Mr. Graham and the Euphonic Orchestra: The hall is picturesquely situated amid bush surroundings and gum trees, and was rendered gay with bunting festooned from the trees. Boat loads of people came from Bayview and the surrounding districts, and after the concert an impromptu dance closed the evening. The interior of the hall is nicely decorated with paintings and half life-sized figures of classical and literary heroes. A small stage, with proscenium and footlights, enables dramatic performances to be given there. Newport New Hall. (1891, November 9).Evening News (Sydney, NSW : 1869 - 1931), , p. 4. Retrieved from http://nla.gov.au/nla.news-article111992659
Department of Public Instruction, .... Sydney, 11th June, 1891.
CLOSING OF SCHOOLS ... COUNTY OF CUMBERLAND ON 17th JUNE.
The Closing of all Schools in the County of Cumberland on the 17th instant, has been authorised to enable Teachers to Record their Votes at the Elections to be held on that date...T. S. JOHKSON, Under-Secretary, ST. LEONARDS ELECTORATE.
Mr. J. C. B; P. SEAVER (Late Member, for Gloucester) will ADDRESS the ELECTORS,
As under-. TONIGHT, FRIDAY— Warehouse's Hotel, Gordon, at 7; and at Wilke's Hotel, Willoughby, at 8.30. SATURDAY. 13th—Hodge's Hotel, Newport; and at Oddfellows' Hall, Manly, at 8 o'clock. L. F: EBSWOBTH, General Secretary. Advertising (1891, June 12). Evening News (Sydney, NSW : 1869 - 1931), , p. 8. Retrieved from http://nla.gov.au/nla.news-article113890490
William and Arabella's third child, Enid, was born in 1900, during their time at Newport. In 1902 Mrs. Norris was transferred to Awaba School.
On February 21st 1900 Newport school officially became 'Newport Public School', meaning there were more children in attendance. Local records indicate there were over 100 people living in Newport by now and 20 homes.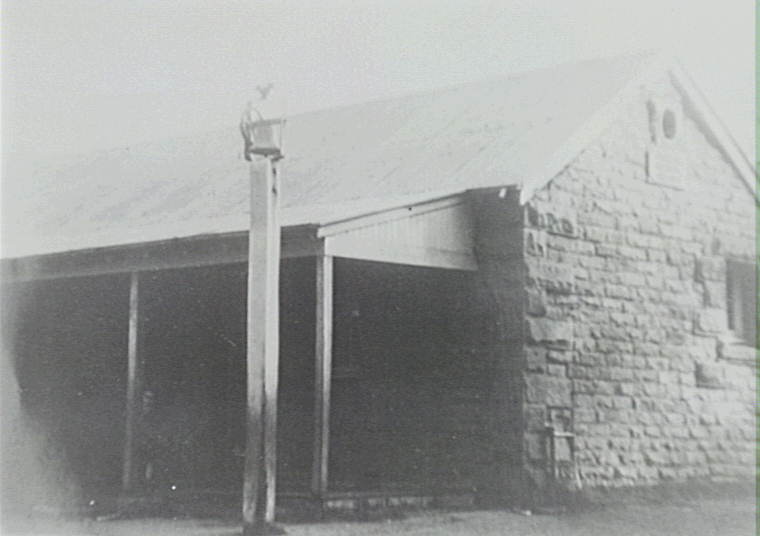 Newport Public School 1900 - showing the school bell - courtesy Pittwater Local studies - Historical Images, Mona Vale Library.
Concerts held at Newport Hall where the schoolchildren sang the then current songs and their 'tutor' is named - this also informs us that what was taught at the Newport school had gone beyond writing, reading and maths and that children as young as 3 were attending:
A concert was held on Saturday last at the Newport Hall, Pittwater, in aid of the N.S.W. Patriotic Fund. The hall was crowded, and the entertainment a thorough success. The pupils of the Newport Public School opened the concert with a children's chorus, 'Little Gleaners,' the stage being set as a harvest scene, and later they sang, with Miss Black's assistance, 'Hush, the Bogie Man.' Little Mymie Bramley (aged 3) was heartily applauded for her contribution of 'Children of the Empire,' with a well-rendered chorus. 'Those who gained encores for their contributions wore Miss E. Black ('Absent-Minded Beggar'). Miss Black ('Goodbye'), Mr. A. Wetherall ('The Don' and 'The Grass Widower'), Mr. J. Pearson ('Henry V: Before Harfleur' and 'The Light Brigade'), l&r. C. ; M. Burney ('That's How I Saved My Life' and 'Fosi-: poned. Rather'), and Mr. H. Phillips ('Sleeping : Camp' and 'All Coons Look Alike to Me'), Miss W. Stratton sang 'The Gift of Rest,' and played a couple of piano solos; and Mrs. Brownlow 'The Sleeping Camp'. Other items were rendered by Mr. T. Dudgeon, Mr. A. Simpson, Mrs. Stuart Greig, Mr. W. Eaines, and Mr. Geo. Solomon. The accompanists were Misses E. Black and Winifred Stratton. The entertainment was promoted by Mrs. and the Misses Black, and was ably assisted by Mrs. Norris and Mr. Stuart Greig (treasurer). The children in their choruses reflected credit on Miss Black's careful tuition, their contributions being especially well rendered. The sum netted by Miss Ettie Black for her singing of 'The A.M.B.,' amounted to £1 4s 11d. The result of the concert will be the handing over to the fund of a sum of over £7. SOCIAL ITEMS. (1900, May 25). Evening News (Sydney, NSW : 1869 - 1931), , p. 8. Retrieved from http://nla.gov.au/nla.news-article113718246
Another, also to raise funds for those elsewhere:
BAZAAR AT NEWPORT. A bazaar in aid of Indian Famine Fund has been held in the Newport Hall. On the opening day there was a large gathering of ladies and gentlemen, among those present being Mr. Dugald Thomson, M.L.A. Mrs. Norris, teacher of the Public school, acted as secretary, and Mr. E. J. Higgius as treasurer. BAZAAR AT NEWPORT. (1900, November 12). The Sydney Morning Herald(NSW : 1842 - 1954), p. 5. Retrieved from http://nla.gov.au/nla.news-article14343635
'Newport Road' - ca. 1900-1910, Image No.: a116490h, courtesy State Library of NSW.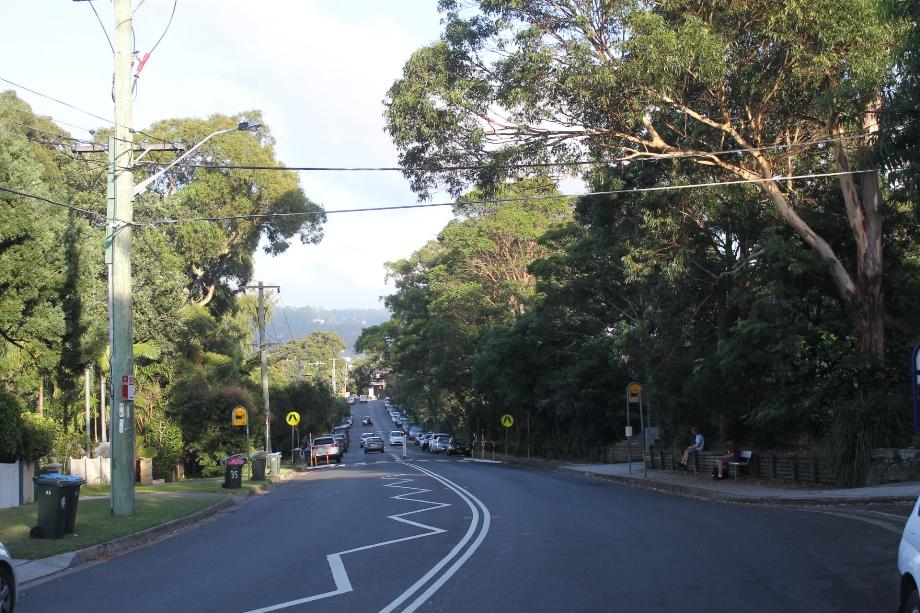 Same road, March 2016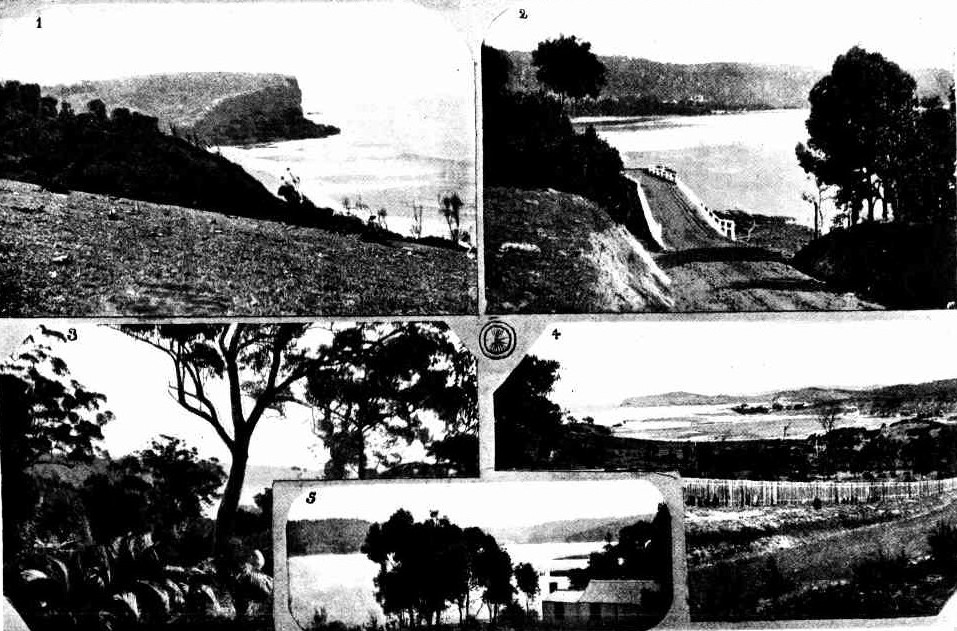 1 A glimpse of coast scenery from Newport-road. 2. Bay View from Newport Wharf. 3. Bush scene near Newport. 4. View near Terminus at Pittwater. 5. Broken Bay. VIEWS NEAR TERMINUS OF MANLY-PITTWATER CYCLE PATHS. Manly to Pittwater Cycle Path. (1901, August 24). The Sydney Mail and New South Wales Advertiser (NSW : 1871 - 1912), p. 478. Retrieved from http://nla.gov.au/nla.news-article165234800
Around 1935 a new block was added to the original school-room at a right angel - this picture form 1953 shows what it looked like:
Newport continued to grow and Newport Public School needed to grow with the seaside village. Classrooms needed to be added and grounds needed to be expanded to accommodate these. It is interesting to note that land was resumed just prior to the Notice that runs further below for a 'Public School at Newport Heights' - this would have been the beginning of Bilgola Plateau PS - Those that appear for Newport are:
Happy 125th Newport PS! We hope you have 125 more...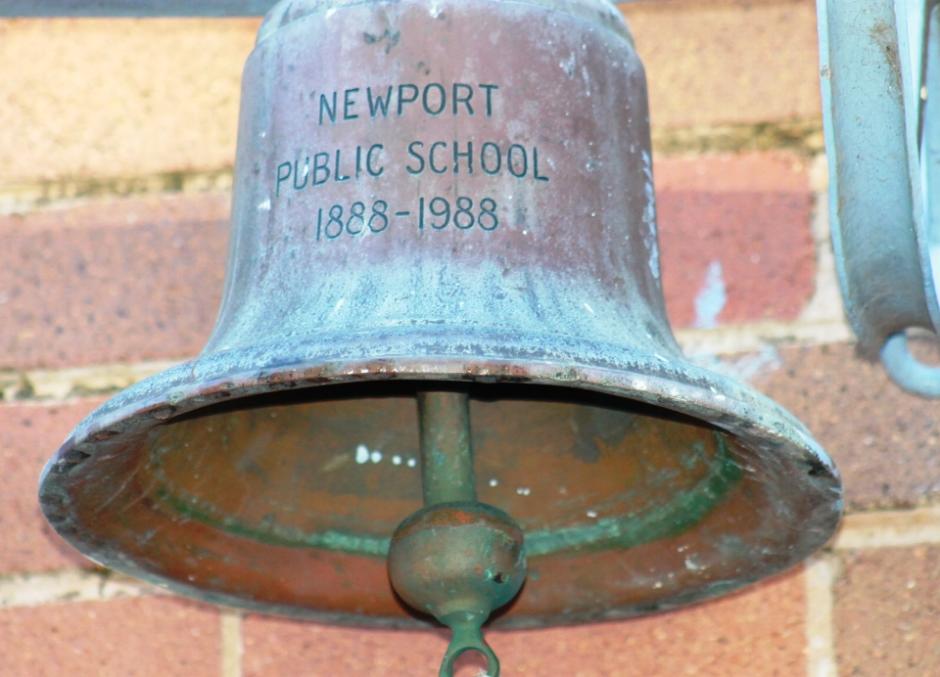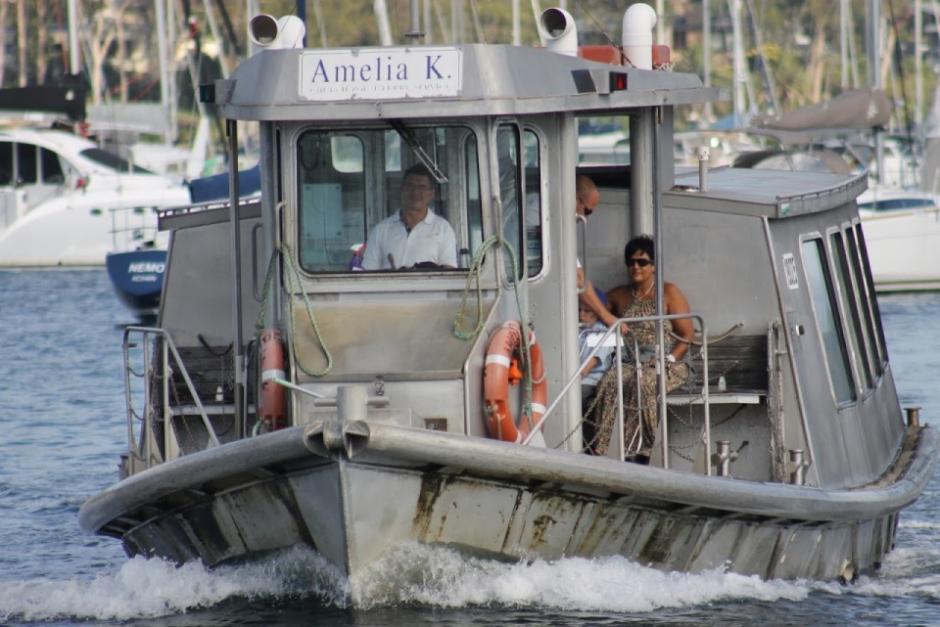 Church Point Ferries Ferry Master Ian (aye aye Captain!) on the Church Point to Newport School Ferry Run March 2016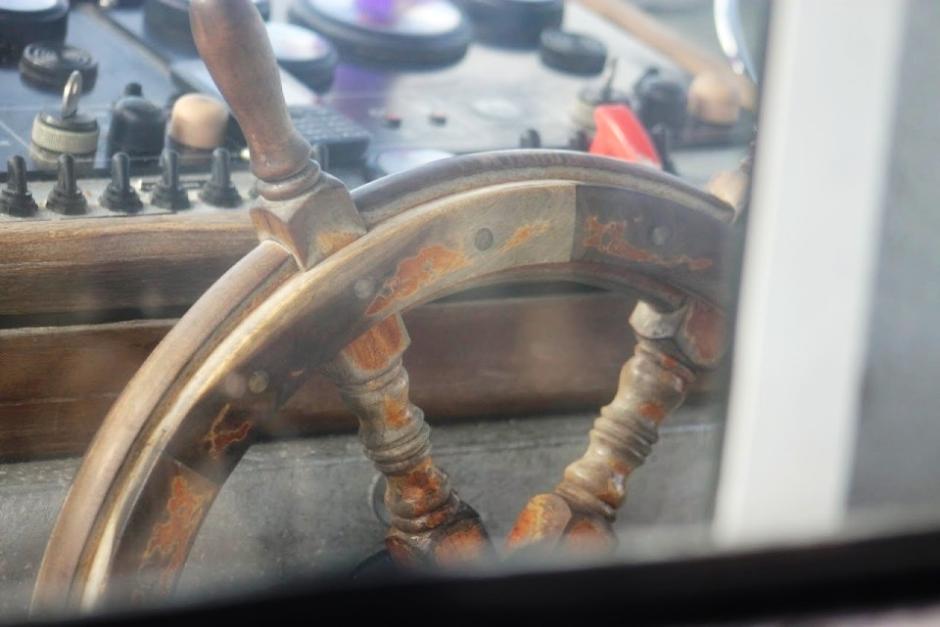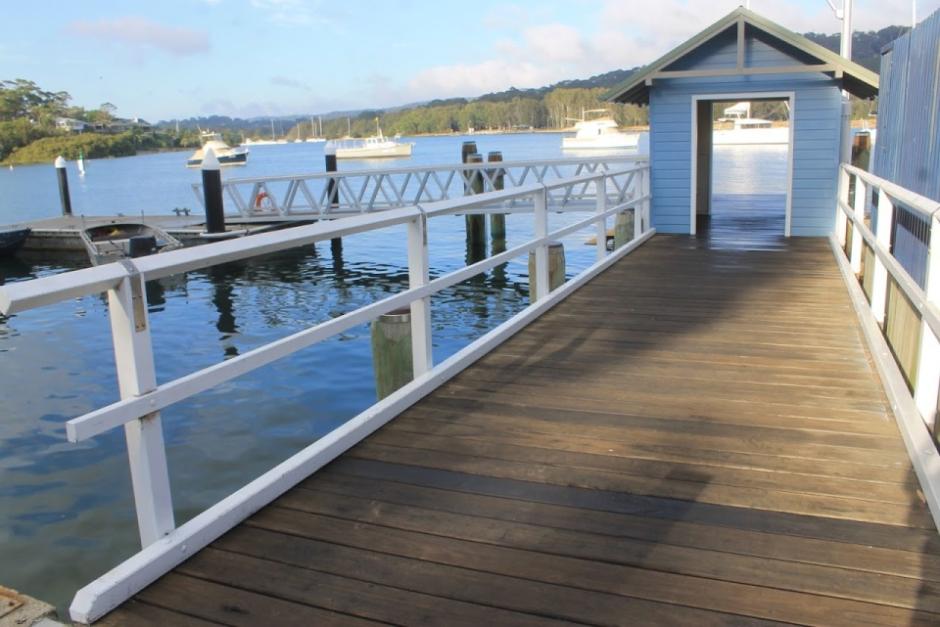 Newport Public Wharf - view to Winnererremy Bay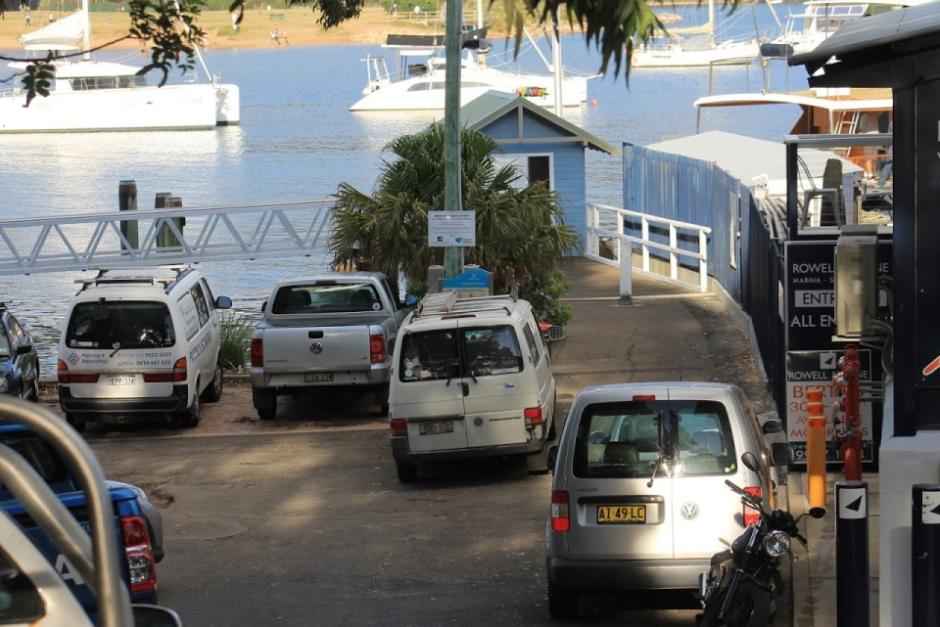 Newport Public Wharf March 2016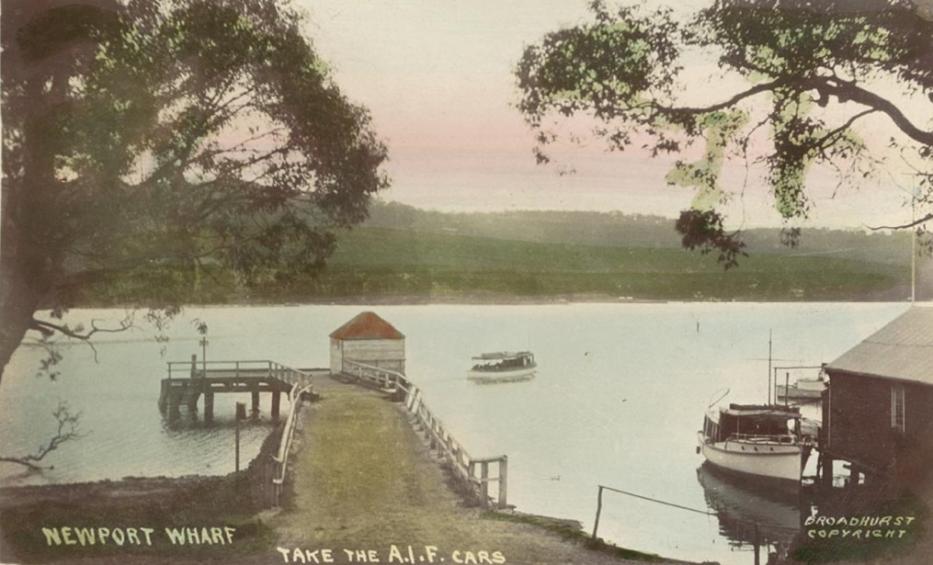 Newport Wharf No. a106119
ca. 1900-1927
Sydney & Ashfield : Broadhurst Post Card Publishers from Album Scenes of Newport, N.S.W., courtesy State library of NSW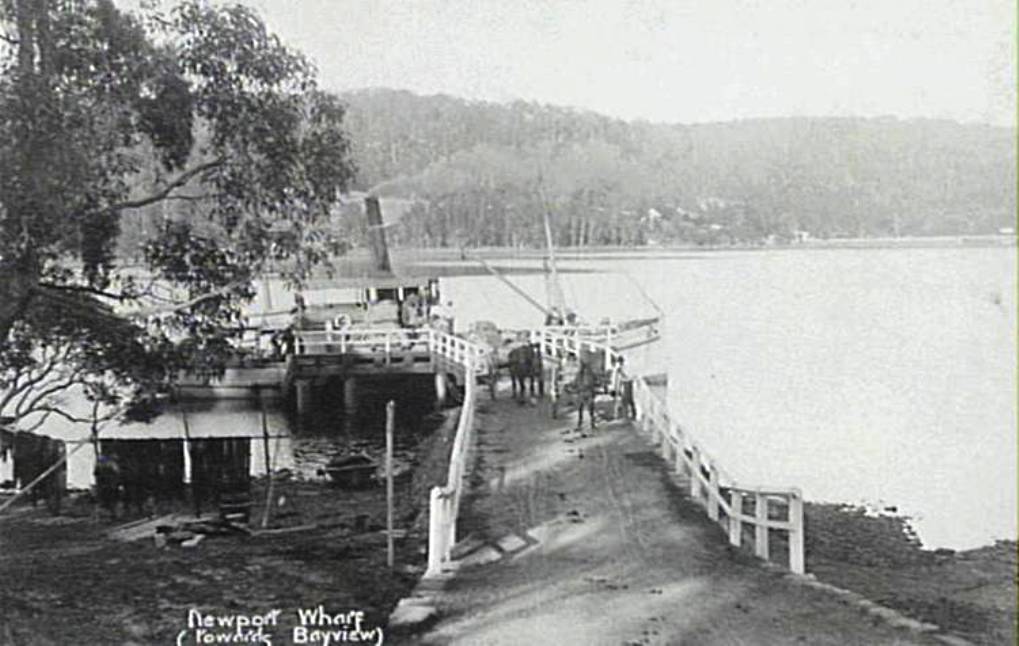 Newport Wharf 1900. C/-
Isobel Bennett
and Pittwater Historical Images at Mona Vale Library.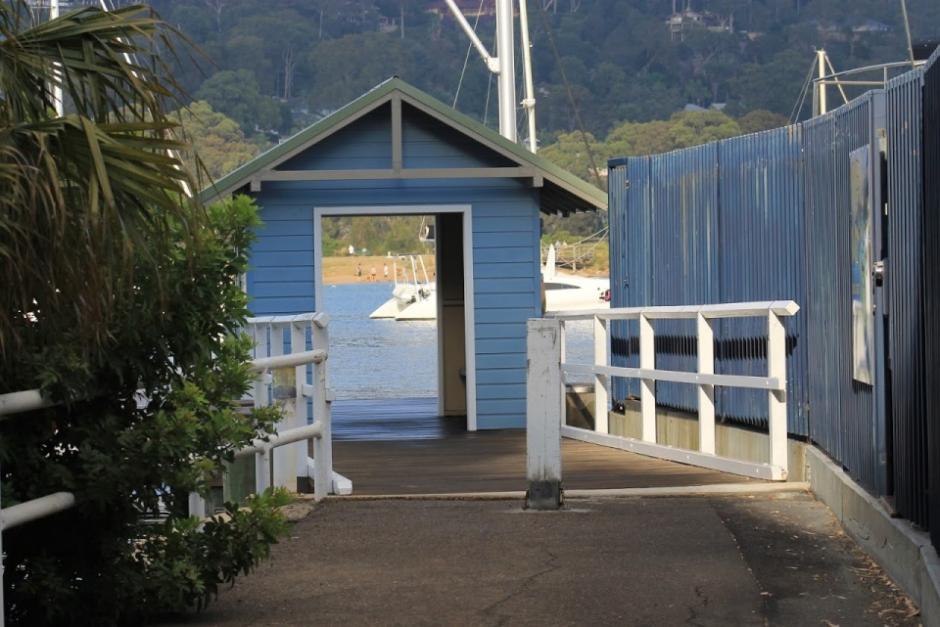 Newport Public Wharf March 2016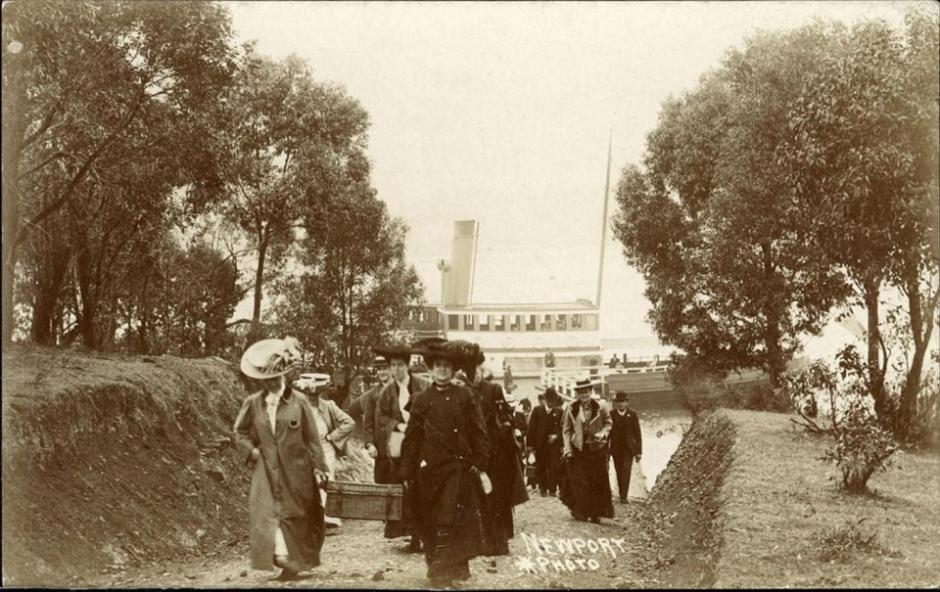 Newport Wharf - by Sydney & Ashfield : Broadhurst Post Card Publishers from album: Scenes of Newport, N.S.W, Image No: 106125h, courtesy State Library of NSW - circa 1900
A Few Extras
This is Church Point- Bayview
Matilda was at Concord Provisional School in 1880: Government Gazette. (1880, September 21). Evening News (Sydney, NSW : 1869 - 1931), , p. 3. Retrieved from http://nla.gov.au/nla.news-article108733566
PUBLIC SCHOOL TEACHERS The undermentioned teachers have been appointed to the Public and Provisional schools specified in connection with their respective names- Provisional Schools – Matilda Cannan, Pittwater PUBLIC SCHOOL TEACHERS. (1883, May 26). Freeman's Journal (Sydney, NSW : 1850 - 1932), , p. 9. Retrieved from http://nla.gov.au/nla.news-article110557837
WARHURST — CANNAN. — October 1, at St. Mary's, Mortlake, by the Rev. Canon Moreton, William Henry Warhurst, only son of Ralph Warhurst, of Mossleys, Manchester, England, to Matilda Cannan, eldest daughter of Henry Dexter Cannan, of Lockleys, Concord. Family Notices (1888, November 27). The Sydney Morning Herald (NSW : 1842 - 1954), , p. 1. Retrieved from http://nla.gov.au/nla.news-article13704960
Tenders Accepted -The undermentioned tenders in connection with Public schools have been accepted by the Government; Pittwater, improvements, J Boulton, £10 10s bd, GOVERNMENT GAZETTE. (1894, June 25). The Sydney Morning Herald (NSW : 1842 - 1954), p. 7. Retrieved from http://nla.gov.au/nla.news-article13956936
Teachers' Meeting
A meeting of teachers was held at tho Adelong Superior Public School on Saturday last, Mr. Barnes presiding. The chairman extended a welcome to Mr. Moody, the new headmaster of the school and Mr. Moody suitably responded. It was decided to cooperate in the matter of a Teachers Journal. Mr. Moody was elected President of the Association-, in place of Mr. Clarke, resigned. Proposed to ask Mr. Morrison, Public School .Newport, to represent the Adelong branch at the Conference of the Country Branches Association, to be held at Michaelmas. Teachers' Meeting. (1919, September 11).The Tumut and Adelong Times (NSW : 1864 - 1867; 1899 - 1950), p. 4. Retrieved from http://nla.gov.au/nla.news-article139039116
MORRISON-CHAVE.-May 13. at Carlton Villa, Pittwater, by Rev. R. T. Willis, Samuel Morrison, late head master of Saunders-street School, Belfast, to Emma, eldest daughter of F. Chave. Family Notices (
1887, May 20
).
The Sydney Morning Herald
(NSW : 1842 - 1954), , p. 1. Retrieved from
http://nla.gov.au/nla.news-article13659178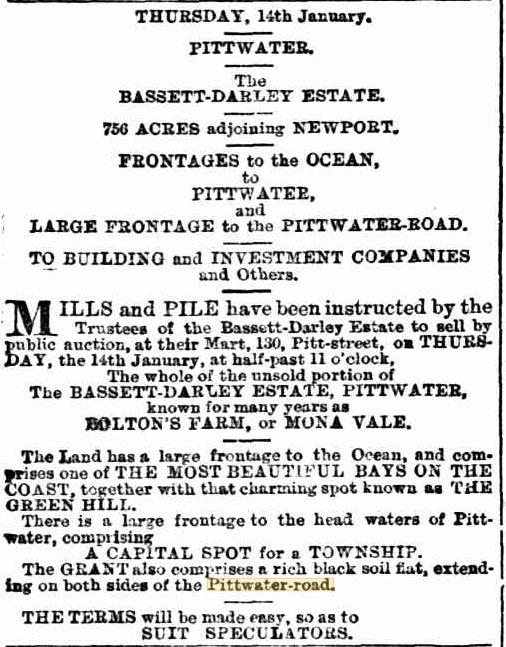 Advertising (1886, January 14). The Sydney Morning Herald (NSW : 1842 - 1954), , p. 15. Retrieved from http://nla.gov.au/nla.news-article13609033
PRINCE OF WALES BIRTHDAY. SALE OF ALLOTMENTS IN THAT CHARMING SANATORIUM, NEWPORT, THE LOVELIEST SPOT IN AUSTRALIA.DON'T FORGET TO ATTEND THE SALE, THE TOWNSHIP IS LAID OUT ON A GRAND SCALE. THE MAIN-STREET IS 2 CHAINS WIDE. Call for a Lithograph, MILLS, PILE, and GILCHRIST, Auctioneers. PRINCE OF WALES BIRTHDAY. THE GREAT SALE of the SEASON. THE MOST GLORIOUS PICNIC. THE GREAT SALE of the NEW WATERING PLACE, NEWPORT. AT THE HEAD OF PITTWATER, CLOSE TO MANLY. THE PORT OF THE HAWKESBURY. REGULAR COACH ACCOMMODATION TO MANLY-. REGULAR COMMUNICATION BETWEEN BRISBANE WATER.THE STARTING PORT of the HAWKESBURY STEAMERS. THE MOST BEAUTIFUL RETREAT in NEW SOUTH WALES. ATTEND THE SALE' on the 9th NOVEMBER. PRINCE OF WALES' BIRTHDAY". THE FIRST SALE OF ALLOTMENTS IN THE NEW MARINE TOWNSHIP OF NEWPORT. MILLS, PILES and GILCHRIST will sell by public Auction, on the GROUND, NOVEMBER 9th, at 2 p.m . SEVERAL SECTION'S IN THAT MOST PROMISING TOWNSHIP, which possesses the following advantages :
IT IS NEAR a beautiful OCEAN BEACH, at the head of a lovely- bay, between romantic headlands. It has extensive frontage to the deep waters of PITTWATER LAKE. THE LINE of STEAMERS for-BRISBANE WATER and the Hawkesbury start from the NEWPORT WHARF. THE SCENERY is beautiful in the extreme, the views from the adjacent mountains are most extensive, the vegetation superb. IT WILL he the head centre of YACHTING and FISHING PARTIES. AS A PROOF of its prospects, it may be mentioned that although the HOTEL (now an accommodation house only, until a license is got for it) has only been occupied ONE MONTH, yet the tenant has made APPLICATION for 12 additional rooms, and offered to contribute to the cost of the same. THE PROPRIETORS have so high an opinion of the FUTURE of NEWPORT, that they have decided to sell only a portion thereof, and hold the remainder for some years to come. ATTEND THE SALE. LIBERAL TERMS. LITHOGRAPHS NOW READY. Advertising. (1880, November 5). The Sydney Morning Herald(NSW : 1842 - 1954), p. 10. Retrieved from http://nla.gov.au/nla.news-article13478153
FOR SALE AT THE ROOM'S, 114, PITT-STREET, some FINE BUSINESS SITES in the TOWNSHIP OF NEWPORT, suitable for Hotels and Shops. A good business will be done there before long, Newport being the true PORT OF THE HAWKESBURY. The terms will be £5 deposit on each lot, and the balance 20s per month. Advertising. (1880, November 24). The Sydney Morning Herald(NSW : 1842 - 1954), p. 13. Retrieved from http://nla.gov.au/nla.news-article13483571
Suburban Railway Agitation.
At the invitation of Mr. W. C Woolcott (of the Tourists Bureau) a party of gentlemen, consisting of Mr. J. F. Burns, M.L.A., Mr. Cullen, M.L.A., and Mr. M. M'Mahon (of M'Mahon's Point), drove from town on Saturday morning to attend a meeting at Newport, advocating the
construction of a line of railway from North Shore to Manly, thence to Newport and Pittwater.
Newport is a beautiful watering place, surrounded by scenery that rivals the best to be found in
Middle Harbor, and is a favorite resort for tourists and holiday folk. It is situated some twelve
miles from Manly, and is at present approached by ocean boats — Broken Bay being in close proximity, and two lines' of stage coaches. In the village itself there are manifest signs of progression — a church, a post and telegraph office, and a very comfortable hotel are
boasted by the little community. A public school is in course of construction for the benefit of the twenty-one infantile Newporters that are growing up thereabouts; and a commodious hall for public purposes is about to be erected.
After the party had been shown over the village an adjournment was made to the Newport Hotel, at which place the meeting was held. There were some forty gentlemen present, prominent among whom were Messrs. John Wood, F. Chave, T. W. Willans, D. Scott, L. Houreux, M. Boche, W. Boulton, M. Robertson, F. West, O. West, and M'Laughlin.
Mr. Chave was voted to the chair
, and, after briefly explaining the object of the meeting,
called on Mr. Willans to move the following resolution — ' That in the opinion of this meeting
the time has arrived when Manly and Pittwater should be connected with North Shore by rail
way.'
Mr. W. Boulton seconded the resolution.
Mr. J. F. Burns, in supporting the resolution, said that the mission which had brought Mr.
Cullen and himself to the district was in connection with the proceedings lately taken at Manly
to secure railway communication with North Shore. Speaking for himself, he thoroughly believed the time had arrived when the Pittwater and Manly districts should be connected with the railway system of the colony, and he was therefore quite prepared, and intended, to advocate the project. It seemed from the slow progress of the Public Works Committee that the vexed question of the extension of the North Shore railway to the deep waters of Port Jackson would not be decided in a day but this delay could not last for ever, and when the question was decided they would be enabled to see at what point the Manly branch would junction with the North Shore line.
One could not fail to be impressed with the attractions of the Pittwater district for settlement, and, as at holiday times, the number of visitors by coach and steamer ran into thousands,
it was fair to assume that the great attractions of the place were becoming known. The land
was valuable and rich, the scenery beautiful, the whole place healthy, and a good start made with settlement, hence there could be no question that, with the construction of a railway, would come a large population. There was every reason to believe that the cost of a line would be very small, for the country through which it would pass was almost a dead level.
Once communication of this kind was opened up, the question of the site of the quarantine station could very easily be settled, and with satisfaction to all concerned. He looked forward to the time when there would be a great demand in Pittwater for building sites, where gentlemen engaged in the city could establish their homes. It was the same with Newcastle. As soon as communication with East Maitland was opened up, the well-to-do business men of the coal city established their homes there. There were so few difficulties in the construction of a line from North Shore to Pittwater that he felt persuaded the line within a very few years would pay good interest upon the cost of construction, and therefore he felt confidence in urging the work upon the attention of the Government and of the Parliament. Between January and May of this year one Sydney company had booked as many as 5000 passengers to Pittwater on excursion days by one line of steamers. And then he was informed that the Manly traffic was increasing at such a rate that the steamers could hardly cope with it. The present population of Manly was about 4500, while the population at North Shore that would contribute traffic totalled some 18,000. Then between Manly and Pittwater was a very area of Crown land, which if sold now would bring a very good price; but the value of this land would be very largely increased by the construction of a railway. In the Manly Cove district proper were 11,800 acres of Crown land, in Narrabeen 2200 acres, and at Broken Bay 25,000 acres so that in those three districts were over 36,000 acres of Crown land, all of which, being benefited by the railway, would be increased in price. At the present time the passenger traffic to Manly amounted to upward of 300,000 per annum, and there could not be the slightest doubt that this would be largely increased by an efficient railway service. For these various reasons it appeared to him that the Manly Railway League was fully entitled to the support of all who could give it to secure a line of railway from North Shore; and, although it might take some time to accomplish the object, yet that object being a reasonable and just one, it was bound to be accomplished in due time.
The resolution was carried unanimously.
Mr. David Scott moved: 'That a branch league, to co-operate with the North Sydney, Manly, and Pittwater Railway Extension League, which has for its object the collection of information and proof of the feasibility of the proposed line, be now formed, and that the names of members at the branch league be received.'
Mr. W. C. Woolcott seconded the resolution.
Mr Cullen, M.L.A., in supporting the resolution, said that frequently when persons were advocating public works, charges were levelled against them of being prompted by motives of self-interest, of being land-sharks, and so forth. No doubt there had been and were cases of men using land illegitimately, but he believed that a great deal of nonsense had been talked about land-sharks. He was prepared to give credit to any far-seeing man who bought land at the market price, and by opening up the district in which the land was situate, increased its value. Such man were the pioneers of a district, and were deserving of credit. He had a great respect for the good taste shown by the pioneers of Pittwater, and felt that their settlement was bound to go ahead, for in the matter of the railway, as in all the concerns of the district, they were putting their whole heart and working together. In making their request for a railway they should show to the Minister for Works that the importance of Manly and Pittwater was sufficient to justify the request, and that the line had good prospects of paying at an early date. It was not sufficient to show that the railway would pay, for there were other parts of the colony crying out for railway communication, and promising an . equally, good return, but it would be necessary to show that the importance of the Manly and Pittwater districts justified early attention. He firmly believed that the line the meeting was advocating would pay well, and that, so far as the cost of construction was concerned, it would be one of the cheapest in the colony. At the outside the cost would not exceed .£3500 per mile ; the price at which the Cootamundra to Temora line was to be built, and he was persuaded that from the very outset the passenger traffic would pay interest on the cost of construction. He knew of one instance where it was estimated that passenger traffic on a railway proposed to be built would not yield more than £6000 a year, when, as a matter of fact, a line of coaches that then did duty for the railway was earning as much as £5000 per - annum, showing how unreliable the railway estimate was. He .felt sure that when comparative figures, in connection with a line of railway from North Shore to Pittwater were put in proper form –it would be clearly seen- that the line would pay well from passenger traffic alone. ' Apart from this, there was the fact that the railway would very greatly enhance the value of the large tracts of Crown land in the district. He urged his hearers to state their case to the Minister for Works, and said he was prepared to go with them without the' slightest reservation or hesitation, for he had the fullest confidence that what they were advocating would not merely benefit the district, but the colony at large. The resolution was carried unanimously.
Mr. Shorter moved
, — ' That in conformity with the resolution passed at the meeting of the
North Sydney, Manly, and Pittwater League, held in the Oddfellows' Hall, Manly, on June 9,
1890, an executive committee, consisting of six members, be now elected for the purpose of co
operation with the Manly committee.'
Mr. Hodges seconded the resolution, which was carried unanimously.
The following gentlemen were chosen as an executive committee:
Messrs. T. W. Willans,
David Scott, Roche, F. Chave, M'lntosh, and W. Boulton. Suburban Railway Agitation. (1890, June 23). Evening News (Sydney, NSW : 1869 - 1931), , p. 3. Retrieved from http://nla.gov.au/nla.news-article128778044
NEWPORT, Pittwater.-For SALE, handsome BLOCK of LAND (about 3a. 3r.), approachable from main road to Newport, and having about 10 chains of water frontage, mostly deep water. Undoubtedly the best Block of Land in Newport. . .
Also, BLOCK of LAND of about 12 acres 12 chains, deep-water frontage, partially cleared, fenced, and cultivated,
almost adjoining the premises of the undersigned;
only 20 minutes' pull from Newport Wharf ; splendid spot for a yachtsman.
Apply W. T. A. Shorter, Solicitor,118 Pitt-street, Sydney.
Advertising (
1891, October 28
).
The Sydney Morning Herald
(NSW : 1842 - 1954), , p. 4. Retrieved from
http://nla.gov.au/nla.news-article13867663
Publican and Lawyer.
The action which was commenced in No. 2 Jury Court, before Sir George Innes and a jury of four, on Monday (as previously reported) by
Robert Bulfin, late licensee of the University Hotel, Glebe, against Mr. W. T. A. Shorter, the well-known solicitor, for professional neglect with reference to the transfer of a licence, concluded yesterday.
The defendant denied that he was retained by the plaintiff, or that he detained the licence as alleged, or that the plaintiff was licensee of the hotel. The jury, after hearing the addresses of counsel and his Honor's summing up, retired to consider their verdict, and after a short absence brought in a verdict for the defendant.Publican and Lawyer. (
1892, December 14
).
Evening News
(Sydney, NSW : 1869 - 1931), , p. 6. Retrieved from
http://nla.gov.au/nla.news-article113318013
William Thomas Ashton Shorter, 1844 - 1916
EXCURSIONS TO NEWPORT HOTEL AND WHARF. ,
To avoid misunderstanding and inconvenience, it is hereby notified that, by agreement with the lessee of the Newport Hotel, and Jetty connected therewith, for a term of years, the Hunter River New Steam Navigation Company has the SOLE and EXCLUSIVE RIGHT (excepting only the regular small vessels) of calling at the said Newport jetty to land and embark passengers on such days as the said Company choose to run excursion trips with their steamships.
THOS. H. HODGES, - Lessee of Newport Hotel and Jetty.
F. J. THOMAS, Manager H.R.N.S.N. Co. 15th December, 1890.
POPULAR EXCURSIONS per H.R.N.S.N. CO.'S . STEAMERS.
PROPOSED EXCURSIONS DURING HOLIDAYS.
Newcastle to Port Stephens, Boxing Day, 26th Dec.
Sydney to Newport, Boxing Day. 26th Dec.
to Hawkesbury Bridge, &c., .Saturday Afternoon, 27th Dec.
to Newport. New Year's Day, 1st Jan.
to Hawkesbury Bridge, &c., New Year's Day, 1st Jan.
to Newport, Sunday, 11th Jan. " * " Anniversary Day, 26th Jan. Advertising (1890, December 20). Evening News (Sydney, NSW : 1869 - 1931), , p. 1. Retrieved from http://nla.gov.au/nla.news-article113746346
ST. LEONARDS. SIR HENRY PARKES AT NEWPORT.
The electoral campaign so far as the Ministry are Concerned was opened yesterday, when Sir Henry Parkes addressed a small meeting at Hodge's Newport Hotel in the afternoon. Mr. W. Bulfin occupied the chair.
Sir HENRY PARKES, who met with a hearty reception said he had come out to Newport that morning with some pleasurable anticipations. He remembered addressing a small meeting in that immediate neighbourhood some time ago, and ho met with so much cordiality and altogether so much enjoyed his visit that he felt certain that he should have a repetition of that kind of enjoyment. But he came out here with other anticipations, which might appear to some hardly well founded, but which to his mind, had a very good foundation . He looked forward to the time when that portion of the colony would be a very busy scene. It was not in the nature of things for a place possessing so many advantages in so many features of natural attractiveness to remain for a long time without those natural beauties being taken advantage of and though they were a scattered hamlet now with only a few persons attending a meeting of that kind he anticipated the time-and not beyond another generation when Newport would be a well-known fashionable watering place…..
Sir Henry Parkes, in replying, said that as they had been good enough to pass a vote of confidence in him without asking any questions, he had one or two pieces of information to give them as a member of the Government. The Government was considering, and he had no doubt that consideration would lead to active steps being taken of supplying them with a wharf suited to their purposes, on both sides of that important water He ascertained that from the Works Department. Also he had to tell them that the Government was considering better requirements for the Public school there, for the accommodation and shelter of the children attending.
He was glad to see the youngsters present, because they had arrived at an age when they came to take an interest in the course of public affairs, and in a few short years-a few years which would fly away in swifter moments than they could imagine-they would be men in the life of the country.
A vote of thanks to the chairman was passed, and the meeting closed. ST. LEONARDS. (1891, June 9). The Sydney Morning Herald(NSW : 1842 - 1954), p. 5. from http://nla.gov.au/nla.news-article13827407
The General Election
DIBBS IN SOUTH SYDNEY. HE GROWS EXCITED, AND USES STRONG LANGUAGE.
VOTE OF CONFIDENCE CARRIED. OTHER SYDNEY MEETINGS.
MINISTERS REFUSED A HEARING
DAN O'CONNOR STORMED.
TB* TflLBGEAPH.]
From Our .tm Correspondent,
SYDNEY, Friday.
Mr. G. R. Dibbs addressed an immense audience in the New Masonic Hall, South Sydney, last night, when he dealt fully with the speeches of the Premier and the Treasurer. He termed the former a " wily old dodger," and complained bitterly of the discourtesy shown by Sir
Henry to him as leader of the Opposition.
He said that the Government had fixed his old seat, Murrumbidgee, at the bottom of the list to make arrangements for stumping the country against his party, and seeking by machination, infamy, and lying, to cast him from public life forever. Sir Henry Parkes had slandered him at every conceivable opportunity, but had not the courage to meet him in the heart of the city, and so had to sneak in by the back door and
open the campaign for his party in some outlandish place called Newport, where his audience consisted of six electors, as many school children, together with a few policemen and reporters.
In order to get these few miserable votes in support of his St. Leonards candidature, Sir Henry Parkes did not stop at the grossest corruption;
for he promised Newport two jetties if it returned him, and the Manly tramway as well, well knowing that the latter had been condemned by the present Parkes Government.
…The General Election. DIBBS IN SOUTH SYDNEY. (
1891, June 12
).
Barrier Miner
(Broken Hill, NSW : 1888 - 1954), , p. 2. Retrieved from
http://nla.gov.au/nla.news-article44068479
And again, but with only five schoolchildren in this report:
He had not the conscience to come forward into the heart of the city but, coward like, he sneaked in at the back door by
addressing six men, five Public school children-(laughter)-three policemen, and 10 reporters at an interesting spot called Newport. Many of his hearers no doubt, did not know where Newport was. He had looked up the chart that day to find where it was, and he found that it was described as a fishing village between Manly Beach and Broken Bay.
SOUTH SYDNEY. (
1891, June 12
).
The Sydney Morning Herald
(NSW : 1842 - 1954), , p. 5. Retrieved from
http://nla.gov.au/nla.news-article13827843
A SKETCH OF PITTWATER.
When Governor Phillip first set out in search of good farming land, close to the settlement at Sydney Cove, he found some on the coast a few miles north of Manly, where he also discovered ' the finest piece of water I ever saw,' which he named after William Pitt the younger, the British Prime Minister at that time. It took the Governor and his party three days to complete their excursion to Pittwater. They had to wade through the swamps and marshes of 'Curl Curl, Dewhy, and Narrabeen lagoons. The same journey can now be performed in little over an hour. The swamps and marshes have been drained, the lagoons bridged, and there is an excellent road from Manly to Newport. It is very popular with cyclists from the city and suburbs. Narrabeen and Rock Lily are favourite picnic grounds on holidays, and were more facilities for transit available, there is no doubt that the bulk of the vast crowds that visit Manly on Saturdays and public holidays would extend their journey outwards to enjoy the magnificent scenery of sea and land, for which the drive to Pittwater is justly celebrated. The people of Pittwater and Narrabeen are agitating for a light railway or tramway from Manly to Newport. Such a. means of communication would open up a splendid district, and afford excursionists the healthiest and most attractive outlet perhaps in the whole world. The Hawkesbury has been called by Trollope and other travellers the Rhine of Australia. Pittwater at its mouth deserves to be designated the garden of the beautiful river. That part of Pittwater between Newport and Barrenjoey is a true peninsula, Atone time, and not very long ago apparently, it must have been an island. A few feet depression in the neck at the foot of Mount Loftus would make it one now. The road from Newport to Barrenjoey is neglected. For two miles it is a series of hills and hollows, cut, rutted, and washed away in divers places. The cyclists generally avoid it, and so would the horse if he could help himself. It is dangerous and laborious to vehicular traffic, and is a drawback to settlement in that part of the district. Now that Barrenjoey is to be fortified, there is some talk of cutting down or tunnelling the hills, and filling in the hollows. As it is the only road by which an invading army could reach Sydney from Broken Bay, their progress could be stemmed in the cuttings there by a few hundred men, as effectually as the 300 Spartans blocked the Persian hosts at the
Pass of xhermopylio. But apart from the military use that may be made of the road, it is a work of necessity on the part of the Government to make its hilly ways level in the interests of those who have taken up land there. Settlement has been delayed there by the difficulty of road access, it is said. The owners of land about there have been taking things too easy. They neither approached the Government nor their representative on the matter. Mr. Dugald Thomson, the member for the district, would, I am sure, have done something for them had their requirements been brought under his notice. It may not yet be too late to do so. There are still, unfortunately, unemployed. If the Government is to provide work for them, what work is more urgent than this road? It is a national work that must be done some day. It is a work that will facilitate settlement on the land beyond Newport. It is a work that will be of more lasting benefit than sand-shifting or Bogan scrubbing. It is a work in which the tourist and the excursionist in quest of the grand and beautiful are interested.
The landmarks on the road from Newport to Careel Bay are Farrell's farm, west of Bilgola Beach, and Dalley's Villa, situated on the ocean beach, in the valley of calms and ferns.
There the deceased Privy Councillor often retired to enjoy 'rapture on the lonely shore,' and the music of the boundless Pacific. The 'old homestead' near the head of Careel Bay, where the pioneer settler and patriarch of Pittwater, Mr. John Collins lived, is a place of interest. He was monarch of all he surveyed there for upwards of a generation, until the estate was sold in 1880. It consisted of two grants to Father Therry in 1833 and 1837, made to the good and holy Archpriest probably as compensation for the injustice inflicted upon him, and the bitter persecution of which he was the victim some years before then. By his will Father Therry left the estate to the Jesuits, who sold it, as I have said, in 1880.
The western shore of Pittwater harbour is all taken up, and dotted with pretty homesteads and a few cyclist 'boxes.' There is a good road skirting the shore as far as Church Point or M'Gar's Creek, which gives it an advantage over the eastern side of the harbour. Mr. J. Roche's orchard at Bay View is a place of beauty and of profit to the enterprising owner. His poultry-yard is an exhibition in itself, where the rarest varieties of fowls may be seen, all in first-class condition. Over this pen and that and the other is the Agricultural Society's first-class award, given at different exhibitions. A visitor's judgment is that if he had sent his. whole stock tothe Exhibition he might defy all competition. The Bay View Post-office, with a telephone, is attached to a store in front of his grounds. The various industries that Mr. and Mrs. Roche successfully conduct are worthy of praise and admiration. There is also a post and telegraph office at Newport, so that
in the matter of postage, telegraphic, and telephonic communication Pittwater is up to date. Religion and education are amply provided for at Pittwater. Most of the denominations have places of Divine worship there. There are two Catholic churches, one at Josephton, Careel Bay, and the other at Mona Vale, which are served by the Rev. Father Dowling, or one of the priests attached to St. Patrick's College, Manly.
There is a Public school at Bay View, and one also at Newport.
A SKETCH OF PITTWATER. (
1898, May 7
).
Freeman's Journal
(Sydney, NSW : 1850 - 1932), p. 20. Retrieved from
http://nla.gov.au/nla.news-article115386531
Another interesting insight into teachers and teaching:
PUPIL TEACHERS.
TO THE EDITOR OF THE HERALD.
Sir-,-Through the medium of your paper I wish to call attention to a matter connected with tho administration of the Education Department that is unjust to applicant pupil teachers, and certainly unfair to the taxpayer. As most of your readers know, pupil teachers serve are such for four years, and during the last year are paid £46. Now it seems in most cases that female teachers much prefer to hold the position of pupil teacher after what can be called their apprenticeship has expired to being placed as mistresses in the Provisional schools, and, in order to stay on, they refuse offer after offer of appointments And as, very properly, the department never selects a school far distant from their home, there always elapses a considerable time between the offers of appointment. All this time same applicant pupil teachers are waiting for an appointment, and the country is paying double as much to each such teacher as it would to a newly appointed one. A banking company or mercantile firm would have no use for employees that were not ready to go where its interests required, and m the interest of education and of the taxpayers it would be well if the Education Department dealt with teachers in the same way.
I am, &c., A. S. C.
PUPIL TEACHERS. (1895, December 31). The Sydney Morning Herald (NSW : 1842 - 1954), , p. 3. Retrieved from http://nla.gov.au/nla.news-article28255057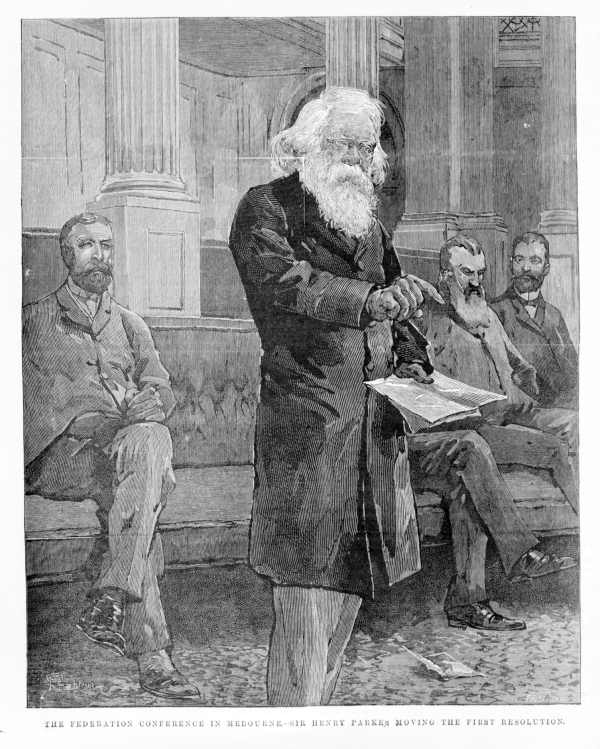 Sir Henry Parkes, GCMG
(27 May 1815 – 27 April 1896) was a colonial Australian politician and longest non-consecutive Premier of the Colony of New South Wales, the present-day state of New South Wales in theCommonwealth of Australia. He has been referred to as the "Father of Federation" due to his early promotion for thefederation of the six colonies of Australia and as an early critic of British convict transportation and as a proponent for the expansion of the Australian continental rail network.
Parkes delivered his famous Tenterfield Oration in 1889 which lead to his instigation of a conference in 1890 and a Constitutional Convention in 1891, the first of a series of meetings that led to the federation of Australia. He died in 1896, five years before this process was completed. He was described during his lifetime by The Times as "the most commanding figure in Australian politics". Alfred Deakin described Parkes as having flaws but nonetheless being "a large-brained self-educated Titan whose natural field was found in Parliament".
Sir Parkes convened the 1890 Federation Conference of February 1890 and may be considered the first real step towards Federation. In May he moved resolutions in the assembly approving of the proceedings of the conference that had just been held in Melbourne, and appointing him and three other members' delegates to the Sydney 1891 National Australasian Convention. On 18 May he broke his leg and was laid up for some time. It was 14 weeks before he was able to be assisted to his seat in the house. When the convention met on 2 March 1891 Parkes was appointed president "not only as the Premier of the colony where the convention sat, but also as the immediate author of the present movement". The next business was the debating of a series of resolutions proposed by Parkes as a preliminary interchange of ideas and a laying down of guiding principles. It was at this convention that the first draft of a bill to constitute the Commonwealth of Australia was framed. Parkes proposed the name of Commonwealth of Australia for the new nation.
When it was about to be submitted to the New South Wales assembly Reid on the address-in-reply moved an amendment hostile to the bill. Parkes then announced that in view of Reid's amendment he proposed to put the federal bill third on the list. George Richard Dibbs moved a vote of no confidence, defeated only on the casting vote of the speaker, and Parkes resigned on 22 October 1891.
Henry Parkes. (2016, March 3). In Wikipedia, The Free Encyclopedia. Retrieved from https://en.wikipedia.org/w/index.php?title=Henry_Parkes&oldid=708055504
A wood engraving of Sir Henry Parkes moving the first resolution at the federation conference in Melbourne, 1 March 1890
F. A. Sleap - http://www.slv.vic.gov.au/miscpics/0/0/5/doc/mp005988.shtml
Sir George Richard Dibbs KCMG
(12 October 1834 – 5 August 1904) was an Australian politician who was Premier of New South Wales on three occasions.
Dibbs was born in Sydney, son of Captain John Dibbs, who disappeared in the same year. He was educated at the Australian College under Dr Lang, obtained a position as a young man in a Sydney wine merchant's business, and afterwards was in partnership as a merchant with a brother.
Dibbs entered parliament in 1874 as MLA for West Sydney, as a supporter of business interests and compulsory, secular and free education, which involved withdrawal of the support from denominational schools, provided under the Education Act of 1866. He lost his seat at the 1877 election due to his support for assisted immigration, which gave him a reputation as an "enemy of labour". Subsequently, a seamen's strike broke out against the Australian Steam Navigation Co, because it had begun to employ Chinese sailors on the Australian coast, and he was obliged as a director of the company to defend its policy, further reducing his popularity. He went to jail in 1880 for a year for refusing to pay a slander judgement to a lawyer who had committed adultery with Dibbs' sister-in-law. Nevertheless, this restored his political popularity.
In 1882, he won St Leonards with the support of the unions. In January 1883 he was given the portfolio of Colonial Treasurer in the Stuart ministry, and was committed to continued railway-building although revenue was under pressure due to a suspension of land sales. The Assembly refused to pass an increase in property tax, so he decided to borrow an unprecedented £14m, giving him a subsequent reputation for extravagance. Stuart resigned due to ill-health in October 1885 and Dibbs became Premier. In the October 1885 elections, he was beaten by Henry Parkes in St Leonards, but he won Murrumbidgee. Although his government polled badly overall, he attempted to govern on, but he was forced to resign after less than three months when it became clear that there would be a budget deficit of over £1m.
Dibbs was Colonial Secretary in the Jennings ministry from February 1886 to January 1887, and became Premier again on 17 January 1889, but was succeeded by Parkes a few weeks later. He had been a convinced free-trader, but gradually moved into the opposite camp, and was responsible for the first New South Wales protectionist tariff. When Parkes resigned in October 1891 Dibbs came into power in a time of great financial stress. He went to England in June 1892 on a borrowing mission, not only as the representative of New South Wales but also of Victoria, South Australia and Tasmania, and carried out his negotiations successfully. During the banking crisis of May 1893 he showed himself to be a firm leader, saving the situation at Sydney by giving the banks power to issue inconvertible paper money for a period, although most of them failed to take advantage and went bankrupt. In 1893, his electoral reform removed rural over-representation. He was elected as the member for Tamworth in 1894. He later received a substantial public testimonial for his services at this time.
Federation
Dibbs had little influence on the question of federation. He was a member of the 1891 convention and sat on the judiciary committee, but was never more than a lukewarm advocate for it. In June 1894, writing to Sir James Patterson, then Premier of Victoria, he suggested the unification of New South Wales and Victoria, in the hope that the other colonies would join in later on. A few weeks later his ministry was defeated at a general election and Reid became Premier in August. In the following year Dibbs lost his seat at the election held in July, having been portrayed as reactionary and unprincipled by William Lyne.
Later life
Dibbs retired from public life, and was appointed managing trustee of the savings bank of New South Wales. He held this position until his death in the Sydney suburb of Hunter's Hill in 1904. He was survived by Lady Dibbs, two sons and nine daughters.
Dibbs had been created KCMG in July 1892.
George Dibbs. (2016, February 20). In Wikipedia, The Free Encyclopedia. Retrieved from https://en.wikipedia.org/w/index.php?title=George_Dibbs&oldid=705898066
Public Works Tenders. Tenders were accepted for the following public works for week ended 18th instant : —
Road Works;
Manly and Barranjoey to Newport. N. Sloane, Narrabeen, £37
Public Works Tenders. (
1899, November 25
).
The Sydney Mail and New South Wales Advertiser
(NSW : 1871 - 1912), , p. 1318. Retrieved from
http://nla.gov.au/nla.news-article163699520
NORRIS, Arabella Letitia -April 13 1951
, suddenly of 14 Durham Street, Dulwich Hill, relict of William Norris and dearly loved mother of Gladys (decd), Leslie (decd), Enid, and John, and grandmother of Bob and Nalda (decd), aged 82 years. At rest. Family Notices (
1951, April 16
).
The Sydney Morning Herald
(NSW : 1842 - 1954), , p. 14. Retrieved from
http://nla.gov.au/nla.news-article18208625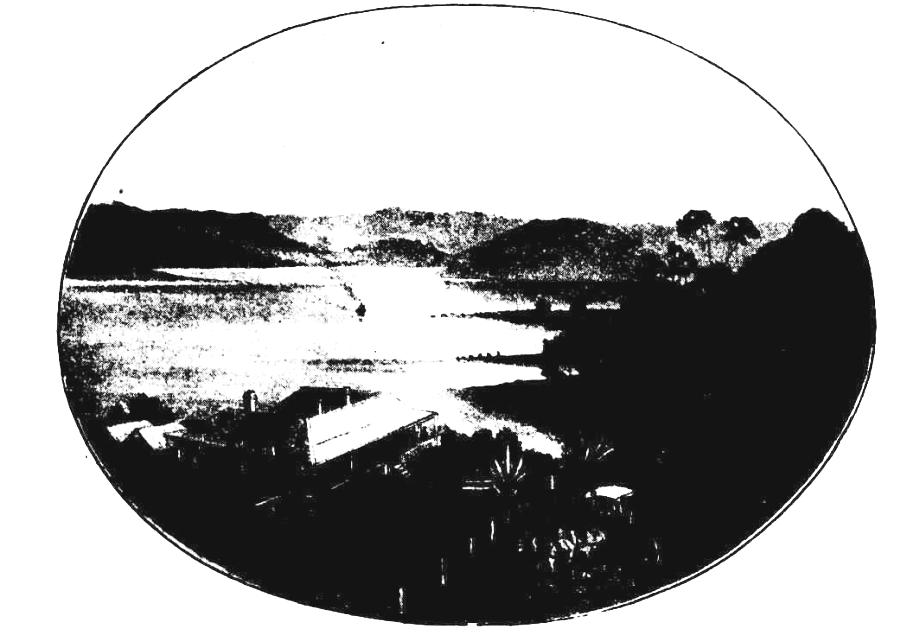 Post Offices - Newport (Broken Bay), in lieu of receiving office. Government Gazette. (
1890, November 29
).
Australian Town and Country Journal
(Sydney, NSW : 1870 - 1907), , p. 39. Retrieved from
http://nla.gov.au/nla.news-article71184822
SYDNEY WOMEN ON WHEELS.
Talking of cycling, an old rider said not long since that it is more dangerous to meet half a dozen lady riders than a run away horse. For lady riders cannot be induced to observe the rules of the road.
They fancy they have a right to run wherever they see an opening. They will not keep to the left-hand side of the road, and as no man cares to summon a woman, it Is only when they meet with accidents that they suffer. Although cycling is not the craze in upper circles that it was a year or two ago, I believe there are more women riding than ever. The fashionable set have put their bicycles away, but many sensible women, who love fresh air and exercise, have taken to the wheel. I went for a drive from Manly to Newport the other Sunday, and met at least 180 cyclists on the road, which is, I suppose, the best bicycle track in the neighbourhood of Sydney. WOMEN'S WORLD (
1898, July 17
).Sunday Times (Sydney, NSW : 1895 - 1930), , p. 12. Retrieved from
http://nla.gov.au/nla.news-article125516833
When Newport is not Newport:
ALL BLACKS AT NEWPORT.
Manly Rugby Union Club entertained the New Zealand footballers at a picnic at the Basin, Newport yesterday. On the way the team visited Royal Alexandra Children's Convalescent Home and Mr Geddes manager of the All Blacks presented Bruce Allen a patient with a sliver fern. He was also the recipient of a Waratah from Mr Gordon Shaw. A haka greatly pleased the children. At Newport sports were held A relay race between New Zealand and Manly resulted In a win for the former who were represented by Bullock-Douglas, Holden Cauley and Smith. The visitors were also successful In the shot putt McKenzie (37ft 4ln) winning from E F Parry (36ft 10in), and T H C Caughey (36ft 4in)
PRELIMINARY CONTESTS
The games to precede the All Blacks match at the Showground today are -Combined First Grades v Combined Mid-Week- Union at 12 30 pm Combined High Schools v Royal Military College, at 1 30 p m ALL BLACKS AT NEWPORT. (
1934, August 6
). The Sydney Morning Herald (NSW : 1842 - 1954), p. 14. Retrieved from
http://nla.gov.au/nla.news-article17080806
Although we define 'Newport' to mean 'a new port', as spoken of in early records, this was also a surname and as a surname is derived from the French language: Newport; A locational name which derives from one of the villages of Newport in Essex, Devon, Gloucester, The Isle of Wight, Shropshire etc, although research suggests that early recordings of the name were from the Essex Village. Like most locational names, Newport would have been given to the name holder when he or she moved to another area, or held the name as the Lord of the Manor. The origin of the name is French, and it was a Norman introduction after 1066 as 'Nieuport' - the dweller at or from the New Port. The name spellings were Neuport (1273), Newporte (1574) and Newport (1654). The first recorded spelling of the family name is shown to be that of William de Neufort. which was dated 1273, The Hundred Rolls of Buckingham during the reign of King Edward I The Hammer of the Scots 1272 - 1307. Surnames were required when governments introduced personal taxation, known as the Poll Tax in England originally.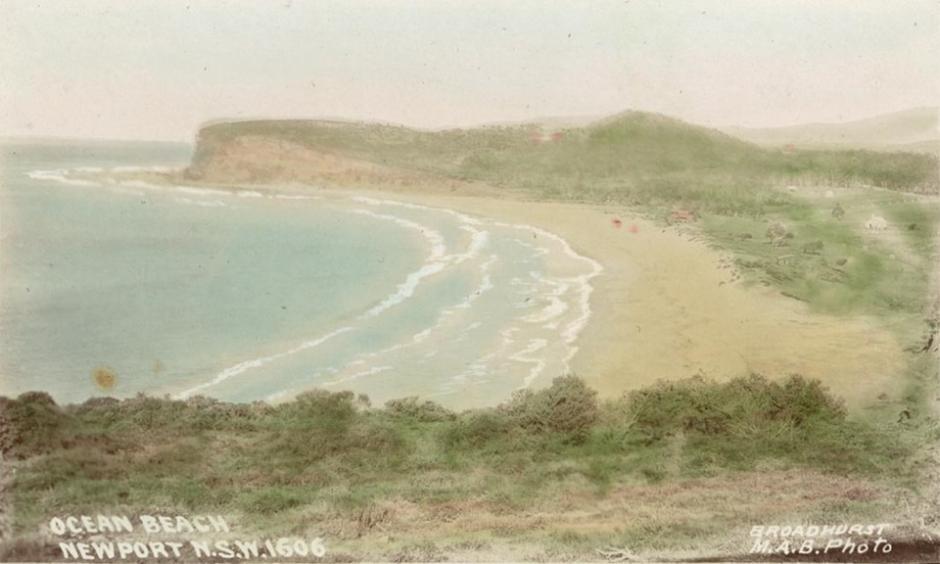 Above: Ocean Beach, Newport. Image Number: a106115, from album 'Scenes of Newport, N.S.W.' ca. 1900-1927, Sydney & Ashfield : Broadhurst Post Card Publishers, courtesy State Library of NSW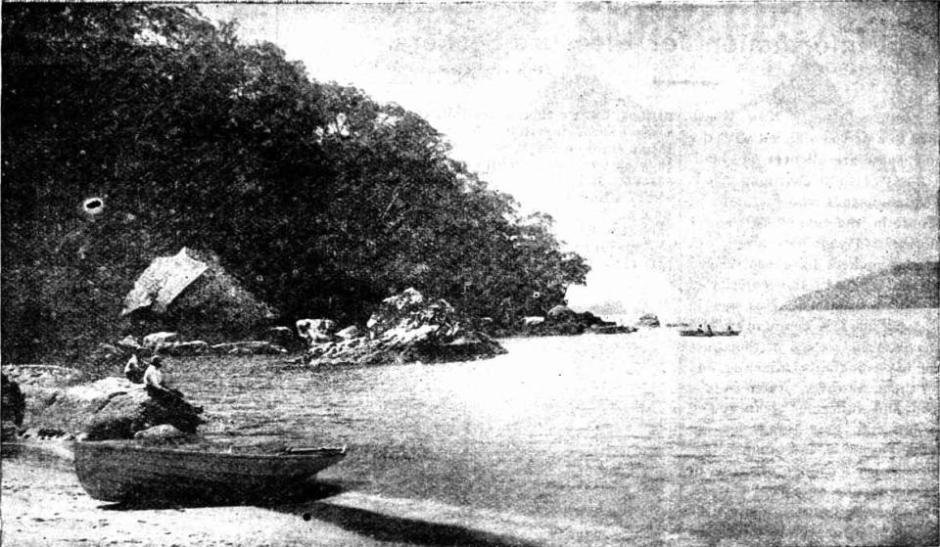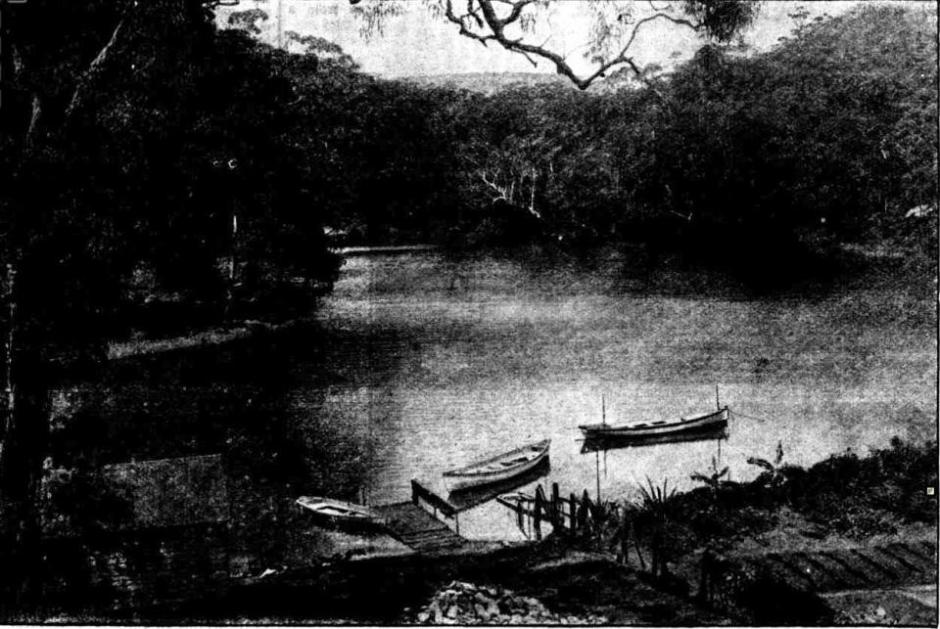 OTHER RESORTS NEAR THE CITY.
… After leaving Manly, a most interesting drive can be made to Pittwater, near Narrabeen. There is good accommodation at Rock Lily, as well us at Newport, which stands at the head of Pittwater. Barranjoey Lighthouse and the entrance to Broken Bay are not far distant, and some excellent fishing can be obtained in the bays adjacent to Newport.
Above:'Entrance to the Hawkesbury'
ON THE NATIONAL PARK.
Below this: 'Junction of the Freshwater and Saltwater Rivers.'
Features in serial novels and fictional stories of the time:
A Typewriter's Romance. (By Wallaroo.) No 3.
Both Alec and Ella wanted a quiet wedding for precisely the same reason — they were both hard up. Without waiting fur ceremony, they went off very quietly to the Wesleyan minister's house, got married and started off to Newport for a fortnight's honeymoon.
Do you know Newport, down at Pittwater? It's the loveliest place for a honeymoon in all this wide world.
I know ! There are such walks along the lonely shore, and through the pathless bush. There are such sweet spots to sail to, and it's such a beautifully secluded place, with the great, blue Pacific Ocean booming on the one side of you, and the gleaming, peaceful ripples of Pittwater and Broken Bay on the other. They had a lovely time there. Alec spared no expense. He had mortgaged his credit up to the hilt for this one great, big, joyous honeymoon, and then — the deluge. A Typewriter's Romance. (
1899, December 16
).
The Sydney Stock and Station Journal
(NSW : 1896 - 1924), p. 5. Retrieved from
http://nla.gov.au/nla.news-article121186720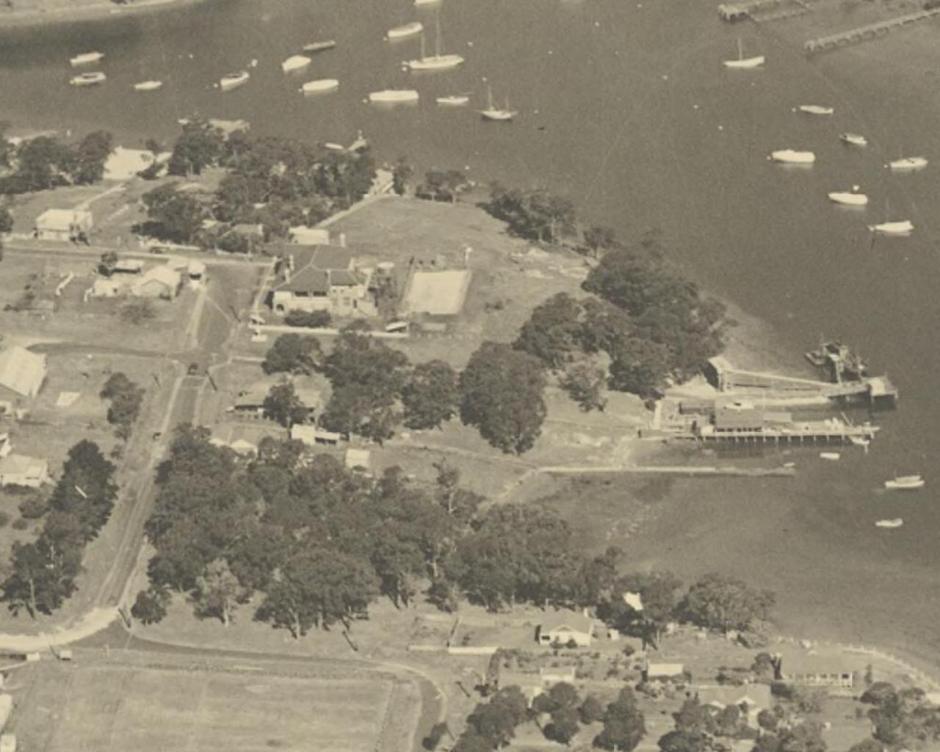 Aerial view of Newport bay circa 1935 by E. W. (Edward William) Searle, PIC P838/838a-b LOC Album 1124/9, courtesy National Library of Australia.
Bilgola Plateau Public School
NOTIFICATION OF RESUMPTION OF LAND UNDER
THE PUBLIC WORKS ACT, 1912, AS AMENDED
IT is hereby notified and declared by His Excellency the Governor, acting with the advice of the Executive Council, that so much of the land described in the Schedule hereto as is Crown land is hereby appropriated, and so much of the said land as is private property is hereby resumed, under the Public Works Act, 1912, as amended, for the following public purpose, namely, a Public School at NEWPORT HEIGHTS and that the said land is vested in the Minister for Education as Constructing Authority on behalf of Her Majesty the Queen.
Dated this 24th day of August, 1960.
K. W. STREET,
by Deputation from His Excellency the Governor.
By His Excellency's Command,
ERN WETHERELL, Minister for Education.
The Schedule
All that piece or parcel of land situate in the Shire of Warringah, parish of Narrabeen and county of Cumberland, being part of the land comprised in Certificate of Title, volume 7,148, folio 94 and also being part of portion 20:
Commencing at a point in a north-western side of Plateau road being also the north-eastern extremity of a south-eastern boundary of lot 45 in deposited plan 12,838; and bounded thence on part of the south-east by that side of that road bearing 190 degrees 47 minutes 30 seconds, 90 feet 6 inches to the south-eastern extremity of a north-eastern boundary of lot 49 in said deposited plan 12,838; on parts of the southwest by the said and another, north-eastern boundary of that lot bearing successively 329 degrees 18 minutes 30 seconds, 17 feet 111 inches and 287 degrees 49 minutes 30 seconds, 181 feet If inches; again on the south-east by the northwestern boundaries of lots 49 to 55 inclusive in said deposited plan 12,838 bearing 197 degrees 49 minutes 30 seconds, 347 feet 71/2 inches; again on parts of the south-west by northeastern boundaries and part of a north-eastern boundary of lot 7 in deposited plan 28,117 bearing successively 335 degrees 45 minutes 40 seconds, 289 feet 0£ inch 324 degrees 43 minutes 30 seconds, 589 feet 0i inches and 324 degrees 47 minutes 30 seconds, 40 feet; on part of the north-west by a line bearing 54 degrees 30 minutes 10 seconds, 530 feet Of inch to a point in the north-western boundary of a Reserve for Public Recreation of 5 acres 0 roods 211 perches, as shown in said deposited plan 12,838; again on the south-east and on parts of the north-east by the said north-western and by southwestern boundaries of that Reserve bearing successively 197 degrees 49 minutes 30 seconds, 198 feet, 144 degrees 43 minutes 30 seconds 290 feet and 107 degrees 49 minutes 30 seconds, 100 feet; again on the south-east by the north-western boundaries of lots 42 to 45 inclusive in said deposited plan 12,838 bearing 197 degrees 49 minutes 30 seconds, 231 feet 8i inches; again on the north-east by the south-western boundary of said lot 45 bearing 107 degrees 49 minutes 30 seconds, 221 feet 01/2 inches; and again on the north-west by the said south-eastern boundary of that lot bearing 59 degrees 18 minutes 30 seconds, 15 feet 10 ½ inches to the point of commencement
; having
an area of 6 acres 3 roods 13 ¾ perches or thereabouts and said to be in the possession of Bilgola Plateau Pty. Limited. (833)
NOTIFICATION OF RESUMPTION OF LAND UNDER THE PUBLIC WORKS ACT, 1912, AS AMENDED (
1960, September 2
).
Government Gazette of the State of New South Wales
(Sydney, NSW : 1901 - 2001), , p. 2764. Retrieved from
http://nla.gov.au/nla.news-article220315750
PUBLIC INSTRUCTION ACT OF 1880, AS AMENDED
Notification of Rescission of Resumption
Rescission of Resumption of Land Acquired for Public School
Purposes at Newport Heights, New South Wales
IN pursuance of the provisions contained in subsection (1) of section 4 a of the Public Instruction Act of 1880, as amended, His Excellency the Governor, with the advice of the Executive Council, doth by this notification rescind the notification of resumption of land under the Public Works Act, 1912, as amended, dated the 24th August, 1960, and published in the Government Gazette No. 102 of the 2nd September, 1960, insofar as such notification relates to the land described in the Schedule hereunder.
The Schedule
All that piece or parcel of land situate in the Shire of Warringah, parish of Narrabeen and county of Cumberland, being part of the 6 acres 3 roods 13 ¾ perches parcel of land resumed for Newport Heights Public School by notification in Gazette of 2nd September, 1960, shown in plan catalogued Ms. 17,712 Sy.: Commencing at the northernmost corner of the said 6 acres 3 roods 13¾ perches parcel of land; and bounded thence on the south-east by the northernmost south-eastern boundary of that land bearing 197 degrees 49 minutes 30 seconds 198 feet; again on the south-east by a line bearing 238 degrees 14 minutes 372 feet 51 inches to the westernmost south-western boundary of the said 6 acres 3 roods 13 perches parcel of land; on the south-west by part of that boundary bearing successively 324 degrees 43 minutes 30 seconds 54 feet £ inch and 324 degrees 47 minutes 30 seconds 40 feet to the westernmost corner of that land; and on the north-west by the northernmost north-western boundary of that land bearing 54 degrees 30 minutes 10 seconds 530 feet ¾ inch to the point of commencement,—and having an area of 1 acre 19¾ perches or thereabouts.
Dated at Sydney, this twenty-seventh day of June, 1962.
E. W. WOODWARD, Governor. By His Excellency's Command,
(4828) ERN WETHERELL, Minister for Education. PUBLIC INSTRUCTION ACT OF 1880, AS AMENDED (
1962, July 13
).
Government Gazette of the State of New South Wales
(Sydney, NSW : 1901 - 2001), , p. 2024. Retrieved from
http://nla.gov.au/nla.news-article220322926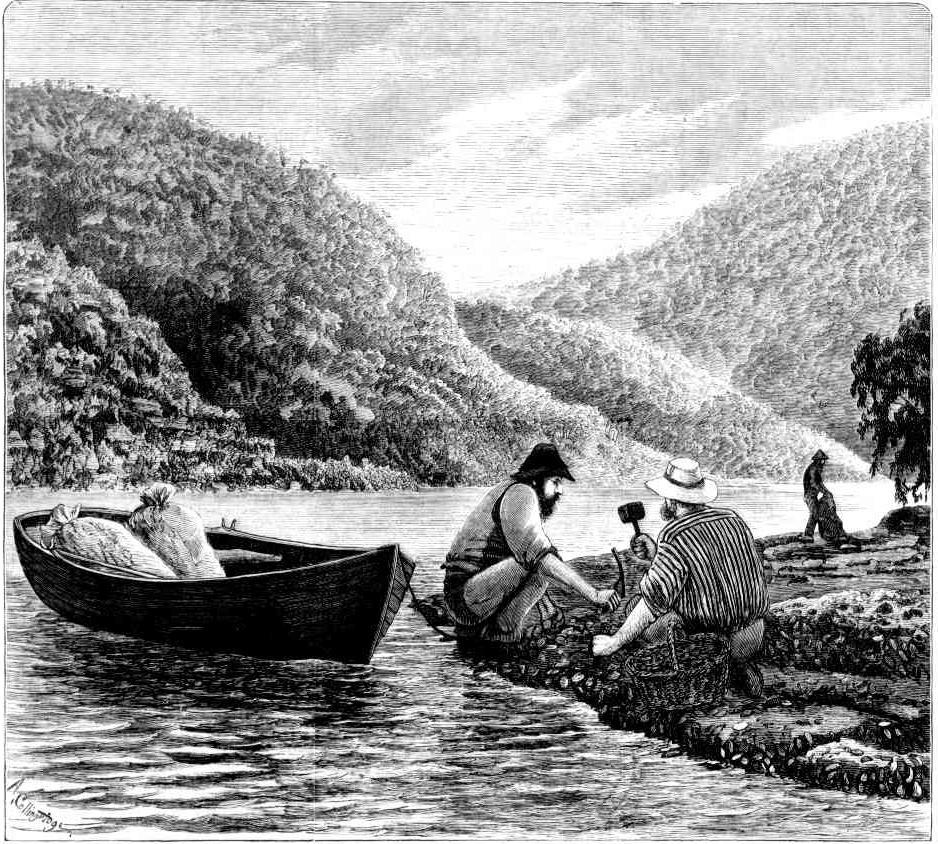 What it would have looked like for all those who came to Newport for the famous 'Newport Oysters, See:
Oystering in the Pittwater Estuary - Oyster Kings and Pearl Kings and When Not to Harvest Oysters
Oystering on the Hawkesbury.
Our artist has depicted one of the minor industries of the New South Wales coast — namely, oystering for the metropolitan market. The sketch sufficiently tells its own story. It will be seen that the purveyors of this delicious addition to our table luxuries ply their avocation amidst natural surroundings which are surpassingly beautiful. We have not, however, heard of any oyster-getters of the Hawkesbury developing a passion for poetry or painting. The rule is that they are intent on nothing but oysters. Very simple and primitive is the method in which the industry is conducted. And, indeed, all fishing whatever on the Australian coast is full of suggestion that we are far behind the world generally in securing and distributing the plentiful and wholesome food of the sea. At present the food of the land is cheap and easily obtained, and probably we must wait for something like a food famine before wo 6hall awake to the vast food resources of the Pacific. Oysters will, perhaps, be quoted as the first exception to the prevailing policy of apathy and blundering. They are unboundedly popular with the British palate ; but, unless they are judiciously 'farmed,' the supply is sore to give out. It is a long time since they were so scarce as they are this summer. The Government has done a right thing in checking indiscriminate and intermittent oystering, and private enterprise is waking up to the fact that ' there is money ' in oy6ter-beds, if properly laid down and looked after. On the Hawkesbury and other Northern rivers a good many men have got a fair living in the simple manner indicated in our illustration. Three bags of oysters are obtained, for two of which they receive £2, and the third is freight-payment to the little coasting steamer which takes the fish to Sydney. OYSTERING ON THE HAWKESBURY,Oystering on the Hawkesbury. (1882, March 4). The Sydney Mail and New South Wales Advertiser (NSW : 1871 - 1912), , p. 340. Retrieved from http://nla.gov.au/nla.news-article162030659
The Newport School 1880 to 2016 - threads collected and collated by A J Guesdon, 2015.