November 1 - 7, 2015: Issue 238
The Girl Who Stole Stockings by Elsbeth Hardie: A True Story of Susannah Noon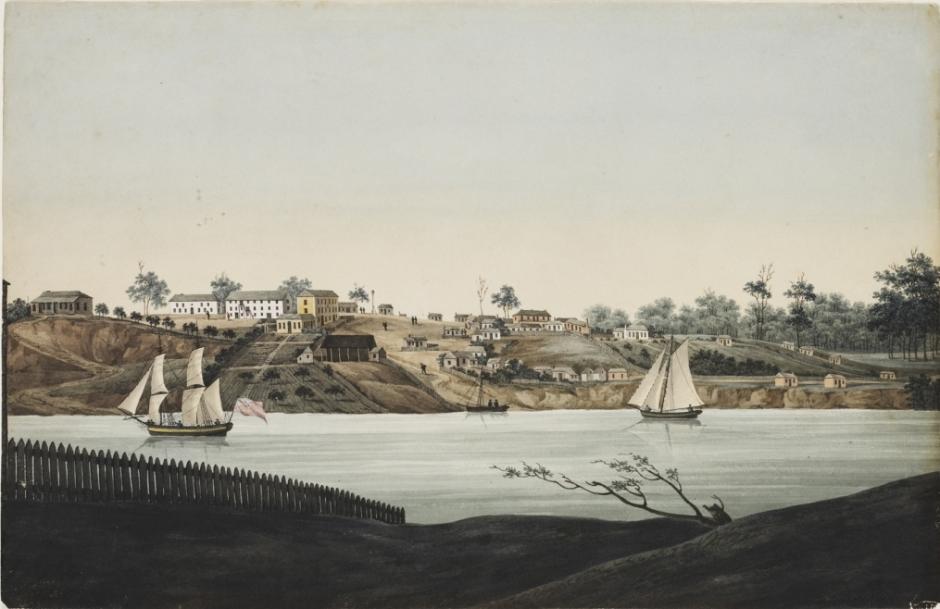 Green Hills - 1803 - Image No.: a1313052h, Courtesy State Library of NSW.
This book gives some non fiction insights into Windsor (then called Green Hills) in the years after Andrew Thompson has passed away: the building on the far left is the Government Cottage, the next two-story white building is the Church-schoolhouse where Susannah Noon married William Dockerell. The next building to the right is the Government Grain Store while the three-storied yellow building is the Military Barracks. William Dockerell worked on the farm owned by Governor Bligh - an enterprise Andrew Thompson originally was overseer for.
The Girl Who Stole Stockings by Elsbeth Hardie
Each time we delve into these records a story of family evolves as we collate more material and you do, quite honestly, fall a little in love with everyone you research: you feel sadness and even shed a tear when a mother loses a child, or children lost a mother during the hundreds of years when women did die in childbirth. You wonder what happened to fathers lost at sea when no records and no wreckage can point to their way they were lost and where they were lost.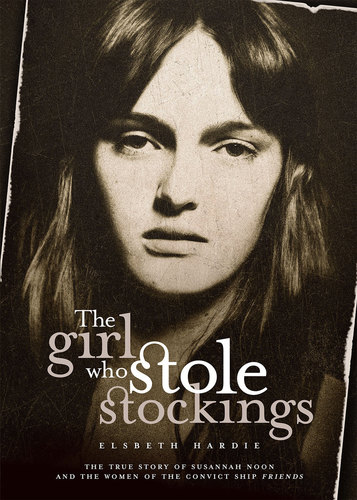 Family Histories are a fascinating way of finding out more about where we came from, and in this instance, when Australia was first becoming a European colony and not so many people were here, a wonderful way of illustrating how entwined with the history of a place the footsteps of people may be and how this brings out what was happening and allows us insights into what people may have thought and how they reacted to the place they found themselves in.
What was invisible become visible.
A recent visitor to Manly, Elsbeth Hardie, spoke to us recently regarding searching for her great, great, great grandmother, Susannah Noon, work that took over seven years to trace those small threads and see how they wove together. In doing so she has produced a work, The Girl Who Stole Stockings, that traces the lives of women transported on the convict ship Friends which arrived in Sydney on October 10th, 1811.
Unlike other transports, virtually no records of the Friends' voyage remain. In their absence, Ms Hardie has had to plough through early court records, colonial files and family history accounts to piece together what happened to the women after they arrived.
On Thursday arrived the Friends transport, Capt. Ralph, from England, having on board 100 female prisoners, all of whom are arrived in a healthy state.SHIP NEWS. (1811, October 12 - Thursday). The Sydney Gazette and New South Wales Advertiser (NSW : 1803 - 1842), p. 3. Retrieved from http://nla.gov.au/nla.news-article628340
While most of the women transported on Friends had been convicted of theft, there was also a young murderer on board and a woman who had tried to kidnap a child, both rare crimes among the women who were transported to New South Wales; more usually they earned a death sentence.
Elsbeth's book is a connection with the present too. Including Susannah, at least 23 women from the Friends had children in New South Wales and Van Diemen's Land (Tasmania). Between them they had at least 128 colonial-born children. A further 15 children arrived on the ship with their convict mothers. It is estimated there are over 100,00 people in Australia and New Zealand today who are descendants of the convict women from Friends.
"Women who went on to Van Diemen's Land were Margaret Hughes, Martha Rowe, Margaret McDonald, Ann Osbourn, Mary Shadwell, Rachel Wright, Mary French, Mary Burgess, Mary Murphy and Sarah Wilson. " Elsbeth recounts.
"The colony was operating like an open prison at the time," says Ms Hardie. "Women were assigned to work in the homes of settlers, administrators and officers in the NSW Corps. After a period of good behaviour they could go off and work on their own account, even before the end of their sentences.
"The women could also marry straight away. One woman, Elizabeth Brown, married just 10 days after the Friends arrived. Some of the women chose their partners well. Mary Norman – who had been convicted of passing forged banknotes - married another convict, Arthur Little, who later became a successful merchant and landowner. Mary moved with him into Rockwall, a listed building in Woolloomooloo that sold for just over $10 million last year."
Ms Hardie says many of the women from the Friends disappeared into uneventful lives in New South Wales and Tasmania overtaken by respectability as they became wives and mothers in the colony. However, a handful of women remained in and out of trouble with the law. The child kidnapper Rachael Wright had over 20 convictions in Tasmania. Alcohol was often a factor in colonial crime and even led to the deaths of several of the women. London prostitute and thief Elizabeth Durant had a more savage death – the victim of a retribution killing by local Aborigines.
'The Girl Who Stole Stockings' focuses on the story of one of the youngest convicts on board Friends, and Elsbeth's predecessor, Susannah Noon, who was convicted at about 12 years of age in Essex and spent a year in goal before her long voyage here.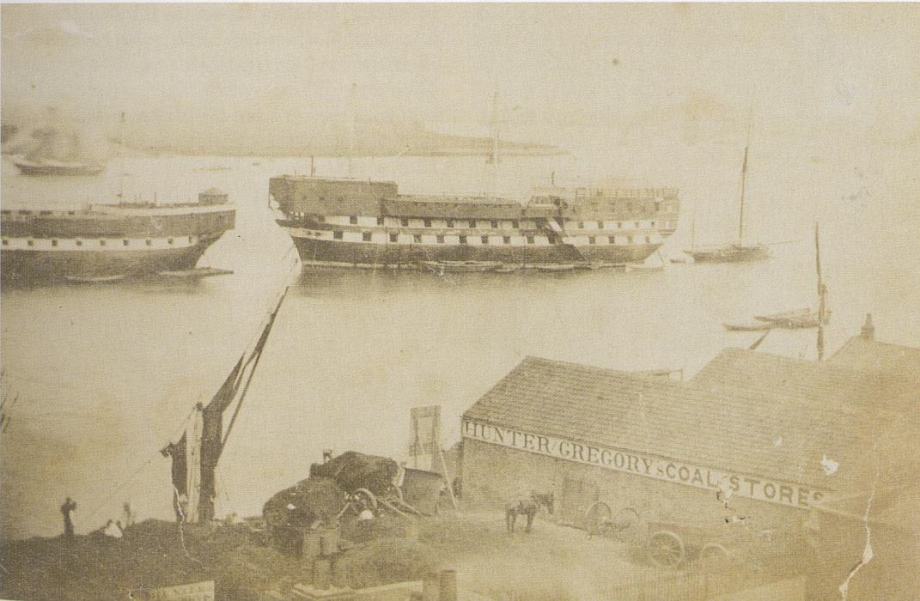 Prison Hulks on the River Thames, Woolwich, c.1856. © Greenwich Local History Library.
Set in the Macquarie convict era, this comprehensively researched non fiction account follows the lives of these women from a female perspective.
While researching Andrew Thompson, who left so much of his estate to Macquarie, we collected a lot of information regarding Hawkesbury River Whalers, both vessels and peoples, a series of stories we shall run at a later date. What surprised us in this research was how far such small vessels would go, even to New Zealand and back, or to the Bass Strait, well known for its testing weather patterns.
The Girl Who Stole Stockings shares records of this early European settlement of New Zealand and the shore-based whaling industry in the South Island, as this was Susannah Noon's ultimate destination.
"In telling Susannah's story, this book has become an account of the women she travelled with to the colony, how they fared on the voyage, the unique convict regime of the Macquarie era, and the society that these women all helped to create," says Ms Hardie. "For Susannah, that society extended to the shore-based whaling industry of New Zealand where she ended up living with a second husband though he had been already transported for bigamy."
Her life in New Zealand made her a first-hand witness to the events that led to the fight at the Wairau between the land-grabbing New Zealand company and Te Rauparaha and his followers. This remains the only armed conflict between Maori and Pakeha in the South Island of New Zealand since the signing of the Treaty of Waitangi.
Elsbeth's odyssey finding her relatives fascinated us of course. The extent of her work itself speaks volumes for its author, but did the experience of this research into something so personal as finding an ancestor bring something with it, as we so often find when following Pittwater history threads?; we took the opportunity to ask Elsbeth during her recent visit to our shores:
Did you see Susannah out the side of your eye while doing this work - or have a sense of your relative being 'present' with you? And if so, did she help you find 'things' or confirm 'things' where/when the trail disappeared?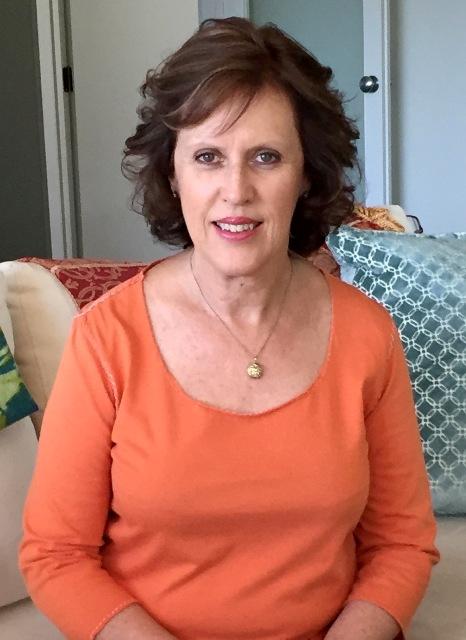 Susannah was like a will o' the wisp; she was very hard to get a fix on. There was not enough information to form a complete impression of her. She lived before photography; there was no painting. I wondered continually what she looked and sounded like. I had a graphologist examine her signature and he told me that she was courteous, generous, a reasoned thinker, genuine, anxious, unsure of herself and that making a decision was not easy for her. That fitted with the few records left about her but I didn't mention this in the book as graphology is not an exact science (it's viewed a bit like astrology).
Right: Elsbeth Hardie
I didn't feel directed in any way by her, but I did "chance" upon a lot of information over the long period of research, particularly about other women who travelled with her on the Friends. I do know that she would have been horrified to think that I had revealed her life as a convict; something she would have striven to conceal in the latter part of her life.
During the first 100 years of European settlement in the New Zealand/Australian colonies there was a constant back and forth between the two, in fact, they were originally considered 'one station' - what was the New Zealand/er perspective on this?
The research for my book did not consider this extended period of history. Certainly when Susannah and her family arrived in New Zealand in the 1830s they looked to NSW to supply funding of the shore-based whaling stations and supplies, and a market for the oil and bone: the NZ whaling stations were satellites of the Australian whaling industry to a large extent. As you mention, many whalers lived between the two countries, returning to NSW after the end of each year's whaling season.
After New Zealand became a formal colony of Britain at the end of 1840, it also started to export its oil and bone, as well as other raw materials, direct to Britain. Australia and New Zealand became economic competitors and also competitors for investment and settlers from Britain. The two countries continued to cooperate politically, to some extent, and there was an expectation in some quarters that NZ would federate with Australia in 1901 but this was not a popular move in New Zealand. By this time New Zealanders had established their own national identity and wanted to remain independent.
Whaling in Port Underwood - many locals travelled to New Zealand from the Hawkesbury to go whaling while it was still profitable - why live there, why not return to - did her husband have a position there that required being 'stationed'?
I think her husband Samuel saw a move to New Zealand as a chance to both acquire some capital running a whaling station and as the chance to cheaply obtain land. And, according to family accounts, he loved the area of the Marlborough Sounds which he considered a paradise. By the time he had served his sentence there were no longer free grants of land in NSW to former convicts. He did acquire land in Port Underwood. Personally, I think his history showed he was always looking for shortcuts to prosperity. It was a chance too to get away from officialdom. He could be his own man in New Zealand. And he could - eventually - leave his convict past behind him.
During your visit to Port Underwood did you find what you were looking for?
At the end of the book – in the Postscript - I describe running into the local farmer in Ocean Bay, Port Underwood, where they lived, who was able to point out various archaeological sites to me from the whaling days. I had visited the port several times before; this was the first time I looked so closely at how Susannah could have lived there. It was also very fortuitous that in the next bay south, an old and very small whaler's cottage from the 1840s still survives there. So yes, I did get a sense of their lives there.
The final piece of the puzzle came only months before the book went off to the printers, when I found the long missing deed to the land Samuel acquired in Ocean Bay which confirmed they lived right in the middle of the bay, in the thick of the whaling activity.
____________________________________
With an extensive reference for each thread woven here The Girl Who Stole Stockings is a resource for all who are interested in this colonial period in the history of Australia and New Zealand and would make a valuable addition for all our schools and libraries.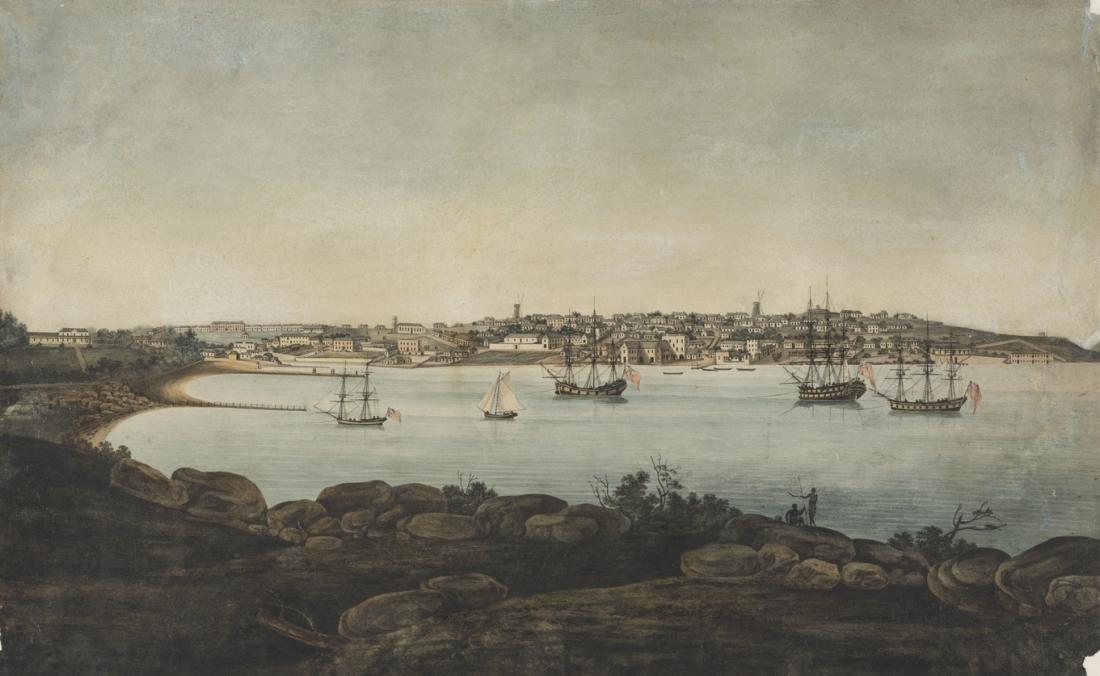 View of the west side of the Cove, ca. 1809 / attributed to George W. Evans: Date estimated by reference to foundations of the Commissariat store which began in January 1809. The National Trust (Great Britain) owns a watercolour said to be inscribed in ink on the back `South West View of the town of Sydney in New South Wales, A.D. 1810, which is the same. This is Sydney Cove - Image No.: a1528610, courtesy State Library of NSW.
The New Hawkesbury Sloop, built at the Green Hills, Mr A Thompson, owner, came round for the first time on Monday 1st, with 1160 Bushels of Wheat, on from Cornwallis Farm, cultivated by Government, and could have taken in with safety 250 more. This vessel called the Nancy, was built under the sole management and direction of Mr. Kelly, formerly chief mate of the Eliza whaler, who also navigates her. Her computed burthen is 40 tons, carries 5 men, and has 4 swivels mounted on her quarter railing. Connoiseurs find no other fault with her than on account of her being rather "shallow in the Bow." SYDNEY. (1803, October 23). The Sydney Gazette and New South Wales Advertiser (NSW : 1803 - 1842), p. 2. Retrieved from http://nla.gov.au/nla.news-article625840
On Tuesday arrived in Broken bay the Ann, Capt. Gwynn, and Ann & William, Capt. Gardner, both south whalers; the former with 1300 and the latter 800 barrels of Spermaceti oil. SHIP NEWS. (1805, October 27). The Sydney Gazette and New South Wales Advertiser (NSW : 1803 - 1842), p. 1. Retrieved from http://nla.gov.au/nla.news-article626949
LOSS of the NANCY.
In addition to the losses recently sustained to the Colony in its small craft, we have to regret that of the above fine cutter on the 18th ultimo, a few miles to the southward of Jervis Bay. On the 17th appearances strongly indicating an approaching gale, she hauled offshore, and in the evening a dreadful hurricane set in accompanied with very vivid lightning, and awful peals of thunder that rolled without intermission, together with an incessant torrent of rain. The rage of the elements increasing, split the mainsail, which was close-reefed, the vessel still driving at the rate of 4 or 5 knots, and at the same time making much lee way. At midnight the gale became furiously violent, not a sail was left, and the sea making a fair breach over her, prevented the possibility of keeping alight in the binnacle. The gale blowing dead on the shore, at about two in the morning the man at the helm gave notice of land to leeward, which was discernible by the lightning; and such was its appearance, being a chain of perpendicular cliffs against which the sea dashed with inconceivable violence, as to fill with horror and consternation the minds of those already hopeless of escaping a destiny presented in a variety of dismal shapes; all above-board was by this time washed away, and to avoid grounding in a situation where every person on board must have inevitably perished, all that remained to determined perseverance was effected, and by keeping her as much to the wind as her helpless condition would permit, she happily changed her ground, and striking on a smalls and-beach between two bluff heads, unhung her rudder at the first blow. To this inter-position of providence alone is to be attributed the rescue of the people from a melancholy fate, one of whom, Richard Wall, a native of Exeter, was unfortunately lost.
The same morning the hull parted, and shortly after went to pieces, the continued violence and rapidity of the surf preventing any part of the cargo from being saved; and such few articles as were washed ashore were carried off by the natives, who, though they offered no personal violence, had become too numerous to be resisted. One of these people, whose conduct Mr. Demaria, the master of the vessel, noticed as being in all respects opposite to that of his brethren, cheerfully undertook to conduct his distressed party?? to Jervis Bay, for which place they set out on the morning of the 20th, and reached it the same evening; and next morning, perceiving that the natives, possibly with no other design than the gratification of curiosity, were clustering round them from all directions, it was considered most adviseable to commit themselves to the Providence that had thus far bountifully preserved them,and make the best of their way for Sydney by pedestrian travel. Destitute of provisions, without a musket, except one that was useless, and only borne to intimidate the natives, the proposal was readily concurred in, and after a terrible journey of eleven days, lengthened much by the inundated state of the country, they attained the much desired object on Wednesday night last, crippled by fatigue,and reduced to the last extremity by actual want.
Near the Five Islands Mr. Demaria mentions his having experienced a portion of civility from the natives which would do credit to a more polished race of men, as it even extended to the liberal partition of their
scanty fare among his little party when they were much exhausted. On the other hand a Sydney native who had accompanied the trip and received every favour and indulgence, forsook his fellow travellers the day
after the wreck, and went over to his kindred with every trifling necessary that might have softened in some measure the rigours of a painful travel. Among the articles stolen by this perfidious miscreant was a small axe, the loss of which added much to their calamity, as the travellers had not then any edged implement whatever, and were in consequence deprived of the means of procuring the cabbage tree, upon which they hadplaced much reliance.
The cargo of the Nancy consisted of 3187 skins; she was the largest vessel ever built at Hawkesbury, from whence she was about two years since launched by Mr. Thompson, and sold to Messrs Kable and Company, in whose service she remained to the moment of her dissolution.
LOSS of the NANCY. (
1805, May 5
).
The Sydney Gazette and New South Wales Advertiser
(NSW : 1803 - 1842), p. 2. Retrieved from
http://nla.gov.au/nla.news-article626748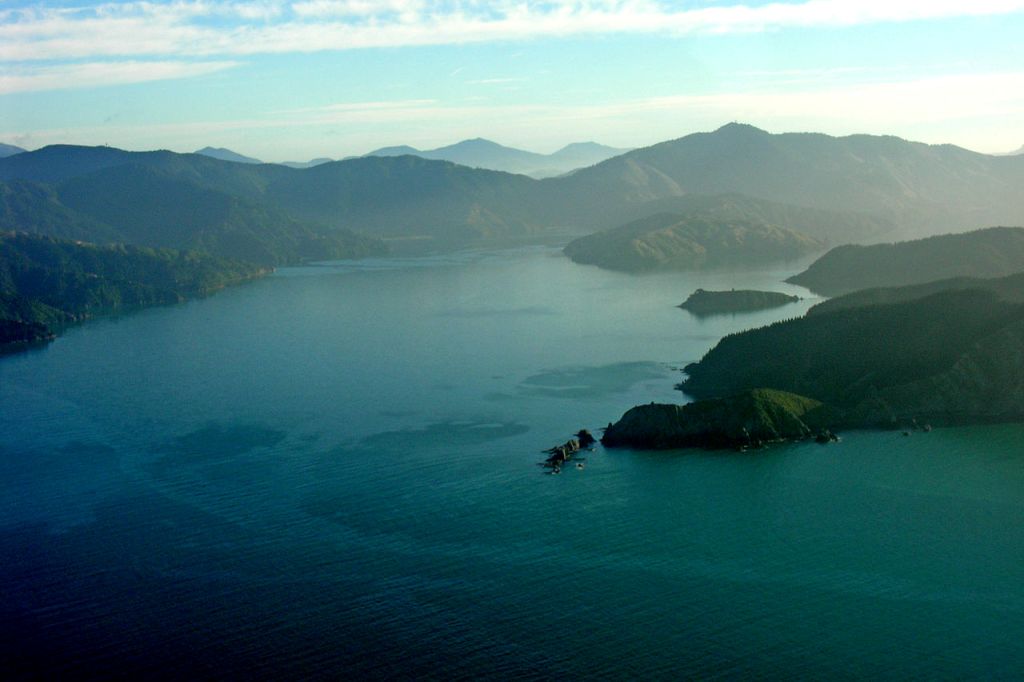 Port Underwood, Marlborough, New Zealand by Phillip Capper
Port Underwood is a sheltered harbour which forms the north-east extension of Cloudy Bay at the northeast of New Zealand's South Island, on the east coast of the Marlborough Sounds. With only a relatively narrow entrance to the south-south-east it is sheltered from almost all winds. Originally considered part of Cloudy Bay the port was named after Joseph Underwood of the shipping firm Kable and Underwood in the early 19th century.
page by A J Guesdon, 2015.