April 19 - 25, 2015: Issue 210
Sail Port Stephens 2015 - RPAYC's Mark Griffith and Old School Hold Unbeatable Lead in IRC Division Two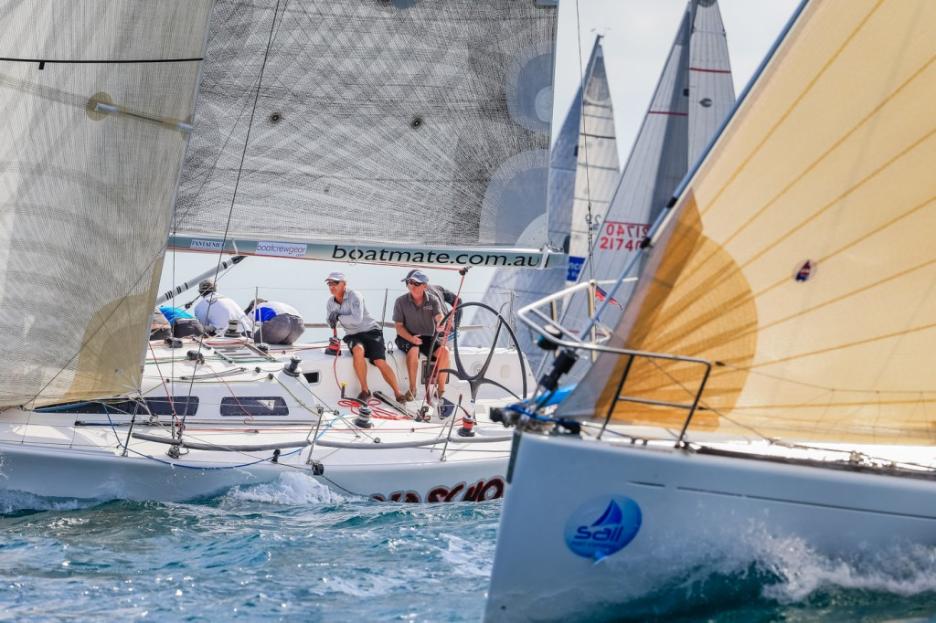 SPS 2015 Old School starting - photo by Saltwater Images
Sail Port Stephens 2015 - RPAYC's Mark Griffith and Old School Hold Unbeatable Lead in IRC Division 2
Tempo change at Sail Port Stephens
Event: Sail Port Stephens, April 13-19, 2015 conducted by the Corlette Point Sailing Association and raced on Nelson Bay and around the outer islands of Port Stephens on the NSW north coast
18 April 2015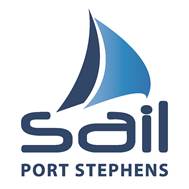 Click here for the YouTube video playlists from Sail Port Stephens
Something's brewing at Port Stephens, and not just the crazy crew costume plans for tonight's dress up 'P party' at Vues on the Bay on the eve of Sail Ports Stephens' final day.
Light winds and unseasonably warm temperatures belie the southerly change that's heading up the NSW coast to change the tempo after five easy competition days, three in the opening Commodore's Cup and two days of Port Stephens Trophy events.
Forecasted blowy northerlies were blocked by the heavy cloud cover over the Hunter region today, Saturday April 18, 2015. Skipper of the 20 ton Kaufman 58 called Pilgrim, Paul Ley, had been keenly awaiting anticipated fresher conditions to push the weighty beauty around the track. "We are a lot of boat," Ley nodded.
Pilgrim and the rest of the Performance Cruising fleet eventually began their Nelson Bay inshore course an hour and a half after the scheduled start time. Starting against the outgoing tide meant race officer Elaine Fowler needed enough wind to push the boats upstream. A window opened up and though light there was enough breeze to run the race and finish everybody, with just one retirement.
The IRC and Performance Racing divisions out on the open water north of Cabbage Tree Island and off Hawks Nest beach managed three slow windward/leeward races in light northerly winds tending nor'east and averaging six knots. It was a long day. A stunning sunset and the usual evening cacophony of Rainbow lorikeets in the waterfront trees greeted the fleet as they motored into d'Albora Marina just before dark.
Two current IRC national champions made their move. Roger Hickman's IRC class C national champion, the Farr 43 Wild Rose, is now second in the IRC division 2 progressive series results and Bob Cox's DK46 Nine Dragons, the current Audi IRC Australian class B champion, leads division 1 thanks to a 'blinder'.
The classy Middle Harbour Yacht Club crew of Nine Dragons came ashore with a 3,1,2 score sheet that knocked PMA Yeah Baby back to second. Stephen Barlow's Farr 40 called Forty is now in the division 1 mix in third.
Nine Dragons' tactician Bobby Wilmot admitted "it was hard to tell how we were going; we haven't had electronics all regatta. We are doing it the 'old boys way' so may not be as sharp tactically, but we are hanging in there."
"Thanks to Bobby and the boys, they have been flying by the seat of their pants," said the delighted owner, adding "it's a better result than we could have hoped for. This calibre fleet is one of the best we've raced," Cox added. The dragons are getting stuck into a big roast leg of lamb tonight, Cox feeding the team up before expected tougher conditions for tomorrow's deciding race.
On the penultimate day of Sail Port Stephens for 2015 Mark Griffith and his Old School Sydney 38 crew have stamped IRC division 2 theirs, an awesome three wins from five races plus a second and third place putting them out of reach with a day spare.
John Egger, owner/skipper of the Jenneau 31 Eggsilante that took out today's Performance Cruising division 2 inshore race celebrated the surprise victory with his crew on the dock. "We had a great race, very testing with the fickle wind; it's the first time I've ever deployed an anchor to stop the boat going backwards. That was a classic. We sailed our race and the crew were fantastic. Fancy coming all the way up here and getting first…woo-hoo!"
Some in the Sail Port Stephens fleet, including Eggsilante from Gosford Sailing Club, are bugging out a day early, motoring south tonight to avoid the front and associated thunderstorms and large seas that are going to make delivering boats back to the southern ports next week very uncomfortable.
The Sunfast crew, a Performance Racing entry, will be remembered at this regatta for their good fashion sense rather than performance (though they score a third in race four today), reckons skipper Glenn Smith. The photogenic red and white 36-footer is sailed by crew always in matching attire – red shirts one day and white the next, which lets them wash at night.
So, which is faster – red or white? "Well the red shirts are tighter and there's less resistance…designed to streamline the skipper," Smith says with a pat on the tummy.
Adrian Walters' 11m Shaw design Little Nico leads Performance Racing from Tony Lobb's Farr 40, PT73.
Due to the weather turning, the original on-water program has been re-jigged so all three Port Stephens divisions have a single final race tomorrow followed by an early trophy presentation and then the 500 or so yachties can disperse with their families.
Pantaenius' sponsorship of Sail Port Stephens is one of the event's major commercial partnerships and business development manager Adam Brown says, "we are very happy with the attendance this week and the weather is excellent. Pantaenius has been a part of Sail Port Stephens since its inception and we will continue our support."
The regatta is also proudly supported by the NSW Government through its tourism and major events agency, Destination NSW.
by Lisa Ratcliff
____________________________________________
Sail Port Stephens' gentle restart ahead of forecast change
17 April 2015
Refreshed after yesterday's layday or newly arrived to join the salty fray, around 50 yachts and crews fanned out on three different courses in light southerly winds averaging 10 knots when Sail Port Stephens restarted today, Friday April 17, 2015.
The Performance Racing and Cruising divisions of the second stage Port Stephens Trophy scored the picturesque islands course beginning with a spinnaker start and run out of Nelson Bay. The IRC fleet began their NSW IRC Championship quest in Providence Bay on the north side of the port entrance with two windward/leewards.
If day one of three is the gauge, division 1 of the IRC fleet is going to be compact at the top. Two races in and the first three boats sit on equal points; Marc and Louis Ryckmans' latest PMA Yeah Baby, a Welbourn 50, Sam Haynes' latest Celestial, a Judel Vrolijk designed TP52, and Tony Kirby's Ker 46 Patrice.
Haynes' result is significant given he's only had the boat for 10 days and sailed it twice in that time. "I had my previous Celestial for five years and think this is a good step up for us. Some of the systems are the same as the Rogers, though being a TP52 it is pernickety.
"Today was ideal; being light it was an easy day to go through the motions. If the wind picks up to 15-20 knots that will suit the sails we have and we've got the guys on board who can handle it. There will be a bit on though…."
In IRC division two, Mark Griffiths' Pittwater based Sydney 38, Old School, with the multi-class Australian champion navigator David Chapman calling tactics, opening strongly to be leading Peter Sorensen's The Philosophers Club by three points, and the third placed Occasional Coarse Language by five points.
"There's a strong fleet in div 2, guys who have won this event before so we know who to look out for," commented Griffiths. "It was perfect for us out there today; the boat was set up really well and the crew worked seamlessly on an easy day and very beautiful day. A bit more breeze tomorrow will be fun; we are looking forward to it!"
Griffiths is a big Sail Port Stephens fan, "I really look forward to this regatta and I love this area. Racing out there today off the beach has got to be one of the best race tracks in Australia, and you couldn't ask for better conditions." Chapman seconds the skipper's call, "I've been in a lot of tough sailing conditions this year and today was just perfect, and easy for the tactician which is good for me! It's a great time of year to be here."
PRO Denis Thompson plans to run three races tomorrow for the IRC fleet.
Adrian Walters' Shaw designed 11m called Little Nico looks beaut on the water but does it go? Sure does. Walters and the boys on the sleek black-hulled sportsboat picked up a second in the Performance Racing obstacle course around Little, Cabbage Tree and Boondalbah islands."We are really happy with the boat," said the owner.
First in race one of Performance Racing was Len Payne's well-sailed Lidgard 10.6 from Lake Macquarie called Kerinda.
Performance Cruising division 1 honours went to Dean Gillies' X-43 Firefly then Peter Byford's L'Esprit and Greg Newton's Antipodes of Sydney. The Division 2 race win belonged to Jonathon Threlfall's Jeanneau Sunfast 36 Campeador then Peter McClelland's Macscap, another Jenneau Sunfast.
One weather model shows stronger northerlies are due tomorrow and then the event may lose a couple of southern competitors who are considering heading home a day early to beat the forecast southerly change and building swell that looks set to shake things up on Sunday, April 19, the competition closer for the Port Stephens Trophy.
Pantaenius' major sponsorship of Sail Port Stephens continues for the second year and the regatta is proudly supported by the NSW Government through its tourism and major events agency, Destination NSW.
by Lisa Ratcliff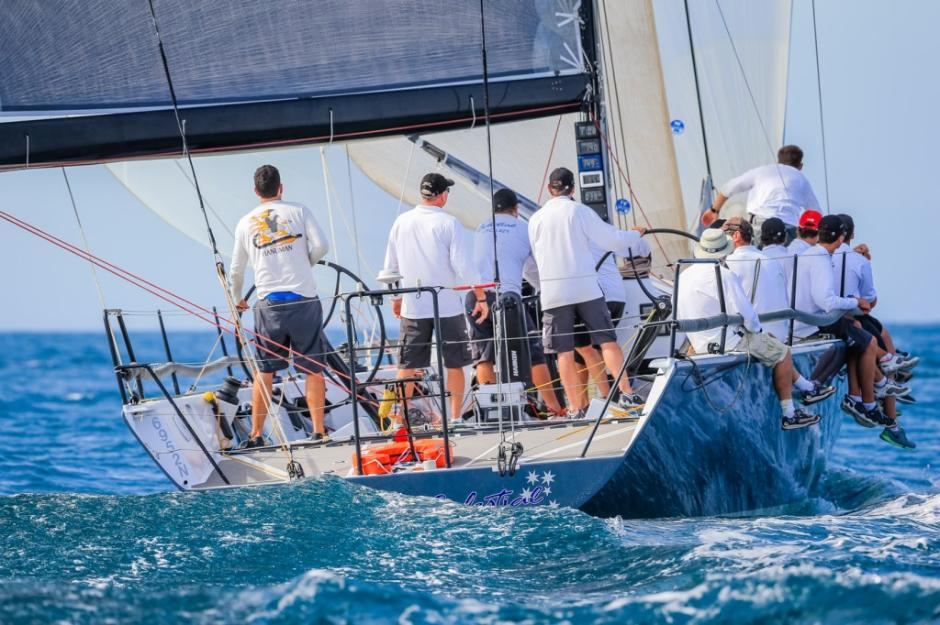 SPS 2015 Sam Haynes' new Celestial 2nd on IRC Day 1 - photo by Saltwater Images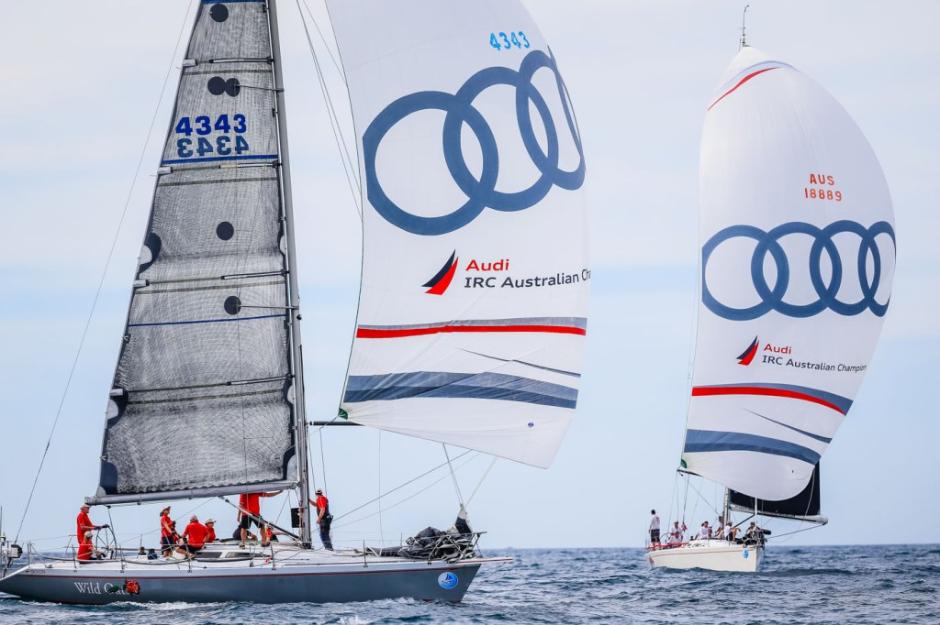 SPS 2015 two current Audi IRC champs make their move Wild Oats (l) Nine Dragons - photo by Saltwater Images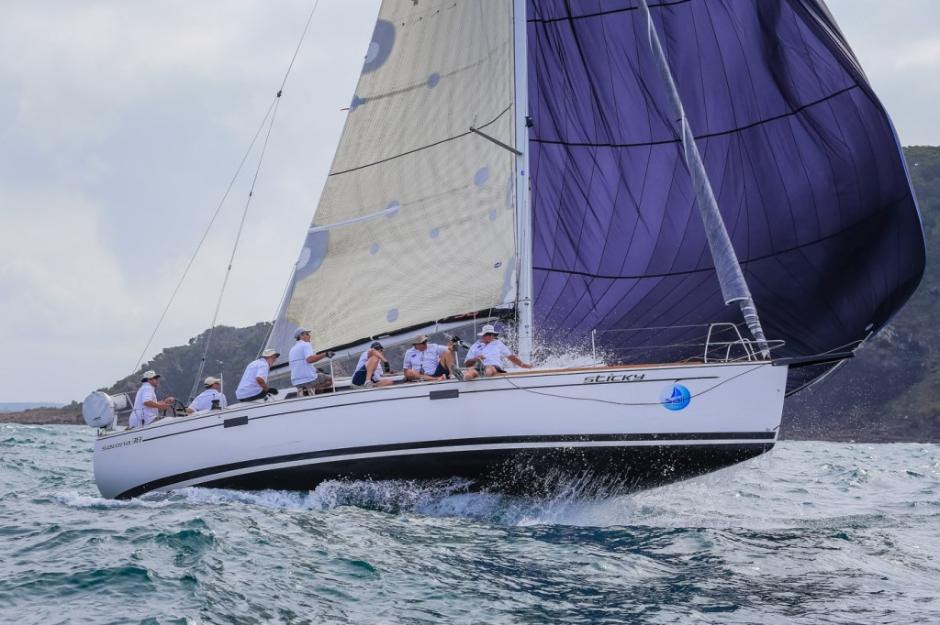 SPS 2015 Sticky launching at the heads - photo by Saltwater Images
Reports by Lisa Ratcliff - Photographs by Craig Greenhill - SALTWATER Images, 2015.