February 9 - 15, 2014: Issue 149
RPAYC Youth Sailors Named in the 2014 Australian Sailing Youth Team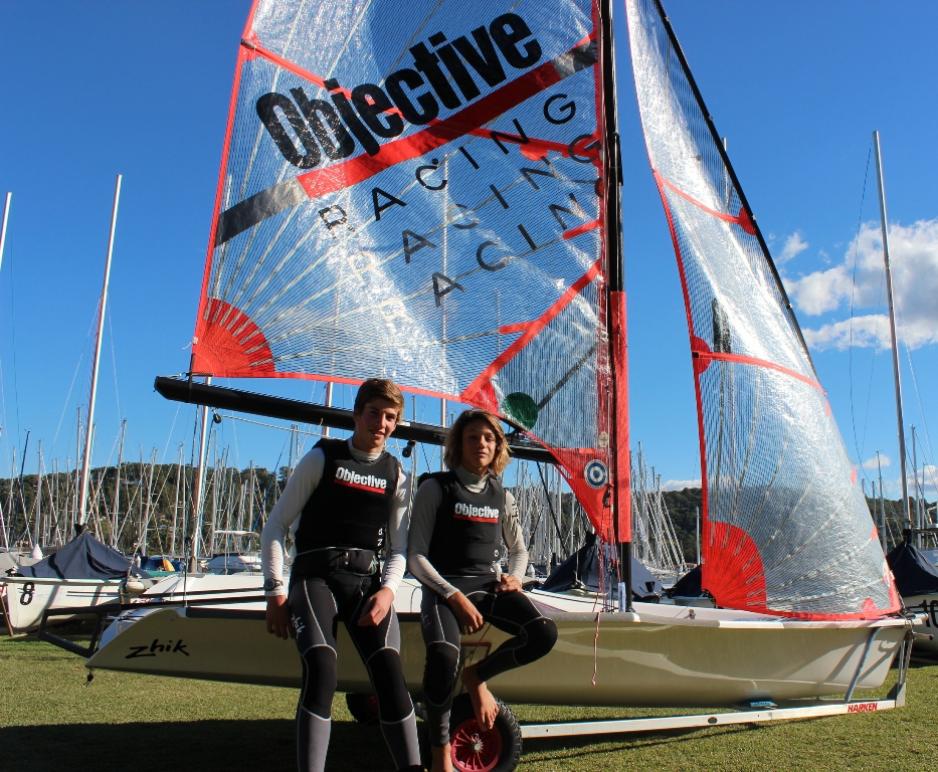 Pictured here are Shaun Connor, left and Jim Colley preparing for training on their 29er – photo by Damian Devine.
RPAYC Youth Sailors Named in the 2014 Australian Sailing Youth Team - Saturday 8 February
The Royal Prince Alfred Yacht Club and peninsula youth sailors, 16 year old Jim Colley and Shaun Connor, 15 have been named in the 2014 Australian Sailing Youth Team, announced by Yachting Australia.
Jim and Shaun won the Youth Nationals in the 29er class last month held on Victoria's Mornington Peninsula. This follows their 6th place at the Worlds in July last year and first place at the German Youth Nationals, and this in their first year in the 29er class.
They will compete for Australian in this year's ISAF Youth Sailing World Championship (Under 19) to be held in Tavira, Portugal from 12 – 19 July.
They are the only representatives from NSW to be selected.
The team, who will be endorsed by the Yachting Australia Board at their next meeting, will prepare at their individual home locations then head to Royal Queensland Yacht Squadron in Brisbane in April for a joint training camp.
Jim is in Year 11 at Barrenjoey High and Shaun attends St Luke's Grammar at Dee Why.
___________________________________________
Jim Colley & Shaun Connor in their 29er ways
By Damian Devine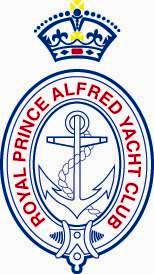 RPAYC's 15year old junior members and rising sailors, Jim Colley and Shaun Connor have grown out of their solo dinghy years and, this season have shifted up a notch to team up to campaign the more agile, dynamic 29er class. Their results since taking up the new Formula 1 dinghy class have been astonishing with victories at the Vic youth Championships, NSW States overall, the Sail Brisbane regatta and a ninth place at the 2013 Nationals and first under 17.
Before they embarked on a European sojourn during winter that will see them compete at the World Championships in Denmark in late July, I caught up with the boys for a chat.
When did you get into sailing (how old and boat type)?
JC: Dad built me a little wooden boat when I was about five, and for the next five years I sailed it around Claireville beach while he taught me the basics of sailing. When I turned ten I joined Avalon sailing club and started learning how to race in the Manly Junior.
SC: My first experiences when I was a baby was on our family yacht "Time Out" We had happy, fun times up at Pittwater and The Hawkesbury rafted up with other families. I started sailing a sky rider at about 4yrs old which is a plastic, single sailed boat that one person uses. We first started sailing when I was 6 with my brother in a Manly Junior.
Why did you get into sailing?
JC: I loved the freedom of sailing and was hooked the moment I stepped into a boat.
SC: I started sailing as my family and friends brought me down to a sailing club and loved it.
What was your biggest achievement(s) in the Optimist (or other classes you may have sailed in)?
JC: Probably placing 3rd at the Optimist Nationals in 2012, which qualified me for the worlds, which was the most amazing experience I have ever had. I was also stoked to win the Manly Junior Nationals in 2011 with my little brother Tom.
SC: I have sailed so many different things but I'm really looking forward to the 29er campaign. My biggest achievement would be winning the laser 4.7 State Championships twice.
Tell me about your journey so far in the 29er? Why did you choose this class and what have your achievements been to date (state titles details, etc).
JC/SC: Last year we spent six months getting our heads around the boat, spending most of our time practicing the basics and adapting not only to a very different boat, but also learning the team work involved with sailing a two person boat. This year we have began focusing more on racing and have been doing as many regattas as we can, starting with the Nationals in January, where we placed 9th overall and first under 17.
Since then we managed to win the overall NSW State Titles, as well as the Sail Brisbane regatta and the Victorian Youth Champs.
So you're off to the Worlds, can you give me some details – when, where, expectations? Are you excited?
JC/SC: About the Trip: After success at 29er Nationals we discussed the idea of traveling to Europe and competing against fast and tough competition. Our trip starts on 10th of July in England where we pick up the boat and compete in a local Lymington Regatta. From England we get on the ferry, Hook of Holland and travel up to Germany where we compete in the German National Championship. Then we drive to Kolveg, in Denmark and train hard and prepare for the Worlds starting on 26th July. We return on the 5th of August. We don't really have a goal for these events, just to learn as much as we can and gain experience overseas.
Are your sights set on 2016 Olympics or is that too early, maybe 2020 (or both)? If not, then what would like to achieve in this class, what will make you feel you've accomplished something in this class?
JC/SC: Our main goal is to learn as much as we can in this class, and gain experience. We aim to peak in January 2014 and hopefully win the Nationals and qualify for the Youth World Championship, which will open up new opportunities for us. It's too early to say what we will do after this class, as there are so many different paths to take in sailing, but to represent Australia at an Olympics would be an incredible experience.
What is a typical week involved for you in terms of training – ie fitness, on water, psychological?
JC/SC: We do three on water sessions a week, combined with three gym/fitness sessions. A lot of the gym work we do is injury prevention as these boats are very physical and injuries are common. We also need to work on the boat regularly to make sure it is always in perfect condition.
I noticed both of you have been volunteering on Sunday mornings with the club's Optimist program. What made you guys get involved and what do you get out of it?
JC/SC: We wanted to get involved and put back in what we get out sailing. Traks and the club have done a lot of things for us and we want to put in and help out the community. We really like the little optimist kids, they're funny and really keen and we want to help them achieve their dreams.
As well as club support via IYF, you are also backed by a generous RPAYC member and his company Objective. How has this assisted your campaign to date? Something about Traks here
JC/SC: Tony and Objective have been extremely generous with their support. Tony provided the funds for our coach, Traks, to teach us, guide us in the finer points of sailing. Traks is one of the best coaches in Australia and has put a huge about of time and effort into our development. We are extremely lucky to have him and without the huge support from Tony and Objective, we would never have come as far as we have in the past year.
If you got the opportunity, which club member (of any status) would you like to line up against and race and why and in what boat?
JC: To race with the sailors in the Americas Cup would be an incredible opportunity and not only are they the world's best sailors, but also have the fastest, high tech boats in the world.
SC: I would love to sail an AC72 against or with James Spithill as it would be an amazing experience and the AC72 are the coolest boats around.
What is your favorite thing about being a RPAYC club member?
JC: I love coaching the huge number of young sailors that the club has in its many programs and watching them improve and realise their potential.
SC: I love being part of RPAYC as they have great Centerboard facilities and the location on Pittwater you can't beat. Traks is an awesome coach and has changed the way I sail and he is based here.
What keep you motivated to race?
JC: I stay motivated by the knowledge that the harder I train, the more opportunities will present themselves and the more I will be able to progress with my sailing.
SC: My Motivation is pushed by my end result and what I get out of it. Always striving to get better and do my best. You can never stop learning
What is your favourite food/meal?
JC: Anything that involves meat.
SC: Anything, I love food and I'm always hungry
What school do you go to, what is your favourite subject and why and what career path would you like to follow?
JC: I love designing and making things at Barrenjoey High and hope to continue doing so after school. My favorite subject is woodwork.
SC: I go to St Luke's Grammar and my favourite subject would be Industrial Technology or Sport Studies as I enjoy doing more than just writing in a workbook.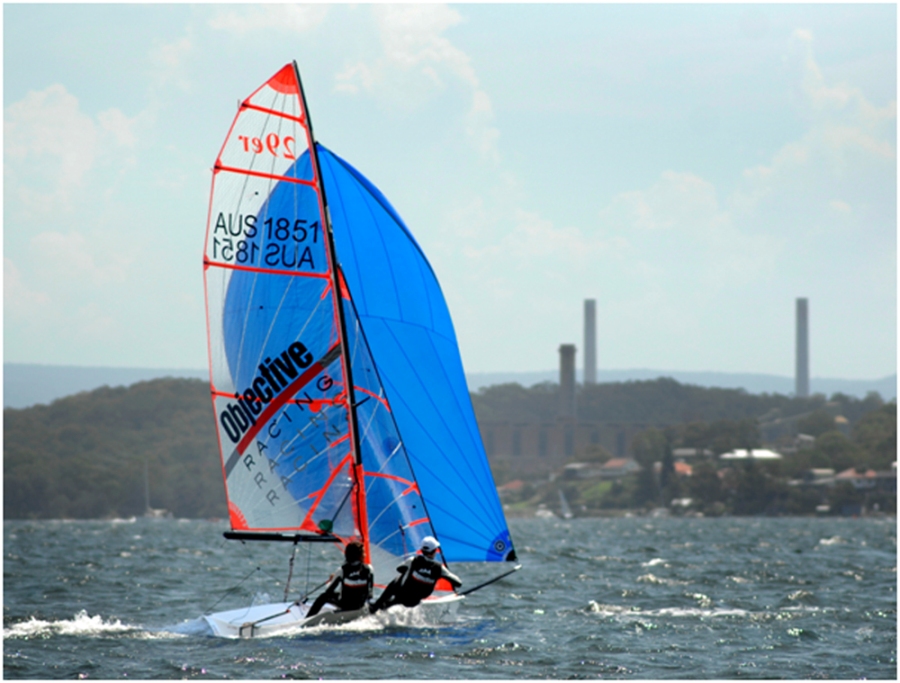 Jim and Shaun in action - photo by Damian Devine.
Report and Pictures by Damian Devine, Marketing & Publicity Manager, The Royal Prince Alfred Yacht Club, 2014.