October 12 - 18, 2014: Issue 184
RMYC Multihull Division Lock Crowther 2014 Regatta Presentation Dinner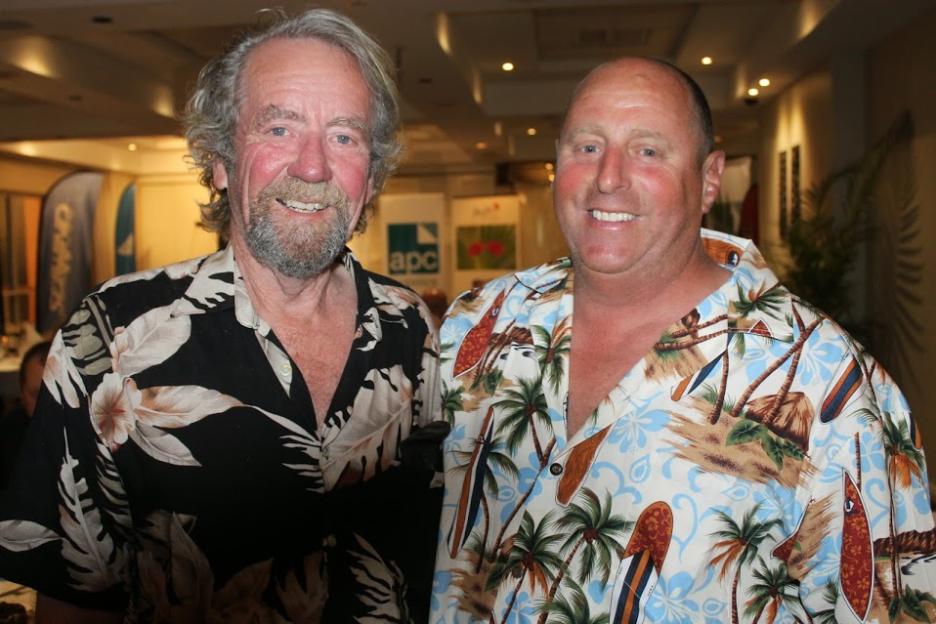 Alan Brand and Stephen Barton.
RMYC Multihull Division Lock Crowther Multhul Regatta 2014 – Presentation Dinner and Results
www.royalmotor.com.au/multihulls
Alan Brand and Big Bird owner, Stephen Barton were singled out for just praise on Sunday evening, 5th of October, for their hard work and dedication in bringing the 19th annual Lock Crowther Multilhull Regatta to multihull skippers, sailors, and all who watched them fly.
Sunday the 5th of October was the only 'lull' day, with the southerly tinkling against the windows of the Royal Motor Yacht Club Broken Bay, at Newport, just as participants were sitting down to the best meal we've ever eaten at the RMYC.
Rear Commodore of the RMYC – Broken Bay, David Dickson, welcomed everyone to the RMYC's Multihull Division's Lock Crowther Regatta Presentation dinner and allows us to share his opening words:
Ladies and gentlemen and multihull sailors, welcome to the 19th Lock Crowther Regatta Presentation Dinner.
To those who travelled from Lake Macquarie, Wollongong, and Sydney Harbour to take part in this weekend's regatta, a very warm welcome.
Beryl Crowther sends her apologies for being unable to attend this evening.
It is said that you must be a millionaire to own one boat thses days, so we must be in the esteemed presence of 'Multi' millionaires tonight.
With such privilege comes Will of Spirit because you want to use all your boats at once and have afforded many a spectacular sight on the Pittwater estuary and its oceanic waters this weekend. You are all true Multi Taskers, who can on any occasion, set your sails and fly.
I hope everyone enjoys tonight's festivities – for the winners, the spoils and our congratulations, and for everyone else, we must try, or Cat harder, next year.
Thank you for taking part in the 19th RMYC Multihull Division's Lock Crowther Multihull Regatta, we look forward to seeing you in 2015.
____________________________________
The RMYC Multihull Division would like to thank all skippers and crews for their participation in this year's Lock Crowther Multihull Regatta.
We would also like to thank the sponsors of the 2014 Lock Crowther Multihull Regatta, including: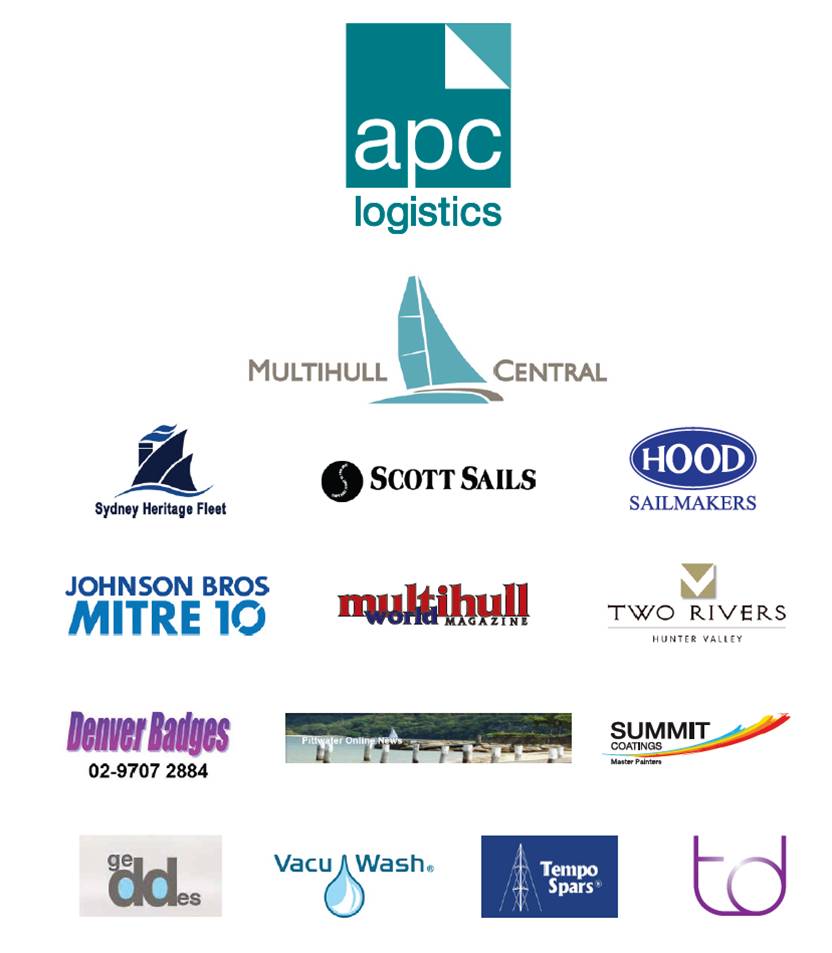 Photo Galleries for RMYC Multihull Division's Lock Crowther Multihull Regatta 2014 HERE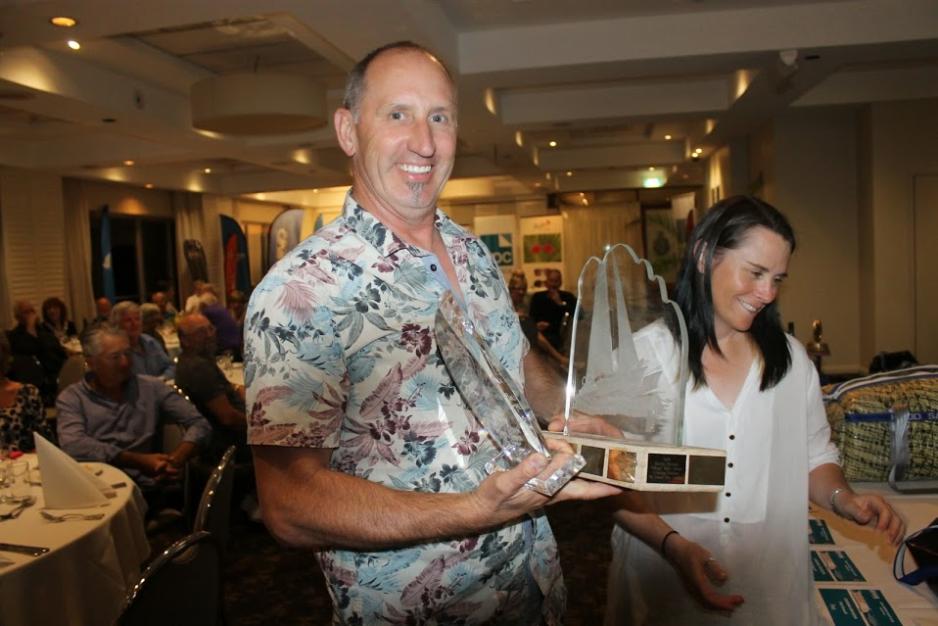 Indian Chief - Darren Drew - Winner!
RMYC Multihull Division Lock Crowther Multihull 2014 Regatta - Results

Lock Crowther 2014 Ocean Race
(LINE-HONS) for Division 1 up to Race 1
Place Sail No Boat Name Skipper From Sers Score Race 1
1 600 QUICKSTEP Jason Geddes RMYC 1.0 1.0
2 N888 INDIAN CHIEF Darren Drew RMYC 2.0 2.0
3 013 TWO TRIBES Paul Nudd WASC 3.0 3.0
4 N11 TWO UP TOGETHER Justin Grunwald RMYC 4.0 4.0
5 BB2U BIG BIRD Stephen Barton RMYC 5.0 5.0
6 3 BAD DAD Leon Dellit RMYC 6.0 6.0S

Lock Crowther 2014 Ocean Race
Series Results [OMR] up to Race 1
Place Sail No Boat Name Skipper From Sers Score Race 1
1 N888 INDIAN CHIEF Darren Drew RMYC 1.0 1.0
2 013 TWO TRIBES Paul Nudd WASC 2.0 2.0
3 BB2U BIG BIRD Stephen Barton RMYC 3.0 3.0
Lock Crowther 2014 Ocean Race
Series Results [PHS] for Division 1 up to Race 1
Place Sail No Boat Name Skipper From Sers Score Race 1
1 013 TWO TRIBES Paul Nudd WASC 1.0 1.0
2 600 QUICKSTEP Jason Geddes RMYC 2.0 2.0
3 N888 INDIAN CHIEF Darren Drew RMYC 3.0 3.0
4 N11 TWO UP TOGETHER Justin Grunwald RMYC 4.0 4.0
5 BB2U BIG BIRD Stephen Barton RMYC 5.0 5.0
6 3 BAD DAD Leon Dellit RMYC 6.0 6.0S

Series Results [LINE-HONS] for Division 1 up to Race 4
Place Sail No Boat Name Skipper From Sers Score Race 4 Race 3 Race 2 Race 1
1 N888 INDIAN CHIEF Darren Drew RMYC 5.0 1.0 1.0 1.0 2.0
2 600 QUICKSTEP Jason Geddes RMYC 11.0 5.0 2.0 3.0 1.0
3 013 TWO TRIBES Paul Nudd WASC 12.0 4.0 3.0 2.0 3.0
4 101 LUKIM YU Robin Ottowa RMYC 15.0 3.0 4.0 4.0 4.0
5 N11 TWO UP TOGETHER Justin Grunwald RMYC 29.0 11.0F 8.0 5.0 5.0
6 155 GUMPHY Neville McElroy RMYC 30.0 2.0 9.0 10.0 9.0
7 124 THE SPC 4 David Fisher PBSC 30.0 7.0 5.0 6.0 12.0F
8 23 TWIGGY Mike Finch RMYC 33.0 6.0 7.0 9.0 11.0
9 75 LOUIE DA TRI Alan Brand RMYC 33.0 9.0 6.0 11.0 7.0
10 M23 BARRACOUTA SAILS Bob Hutchings CSC 36.0 12.0S 11.0F 7.0 6.0
11 BB2U BIG BIRD Stephen Barton RMYC 36.0 10.0 10.0 8.0 8.0
12 09 SUMMIT Barry Allertz RMYC 41.0 8.0 11.0F 12.0 10.0

Series Results [LINE-HONS] for Division 2 up to Race 4
Place Sail No Boat Name Skipper From Sers Score Race 4 Race 3 Race 2 Race 1
1 52007 THE COUNTESS Brian Marshall RMYC 5.0 1.0 2.0 1.0 1.0
2 M289 POWERZONE John Power N/A 8.0 2.0 1.0 3.0 2.0
3 937 MADNEEKA John Fairfull WRSLASC 15.0 3.0 5.0 4.0 3.0
4 N81 TE ARAWA Jim Geddes RMYCBB 21.5 9.0S 6.0F 2.0 4.5
5 KII KURINGAI II Rod Walton RMYC 22.0 5.0 4.0 7.0 6.0
6 NSN AEOLUS Marc Boin - 25.5 9.0S 6.0F 6.0 4.5
7 GBE23 WHAT A CORKA Gregory Bridges BBYC 26.0 6.0F 3.0 8.0 9.0
8 N40 BLONDIE IX David Byrne WYC 26.0 4.0 6.0F 9.0 7.0
9 CC38 CC38 Sean Edwards MC 27.0 6.0F 6.0F 5.0 10.0
10 3 BAD DAD Leon Dellit RMYC 33.0 9.0S 6.0F 10.0 8.0
11 10147 DE JA VU Keith Lawrence RMYC 34.0 6.0F 6.0F 11.0 11.0

Series Results [LINE-HONS] for Division 3 up to Race 4
Place Sail No Boat Name Skipper From Sers Score Race 4 Race 3 Race 2 Race 1
1 AUS938 BAD DOG Dick Clarke PBSC 4.0 1.0 1.0 1.0 1.0
2 111954 MEAN MACHINE Andrew Nelson PBSC 9.0 3.0C 2.0 2.0 2.0