June 16 - 22, 2013: Issue 115
Premier's 2013 Community Service Award for Pittwater - Michael Mannington, Volunteer Photography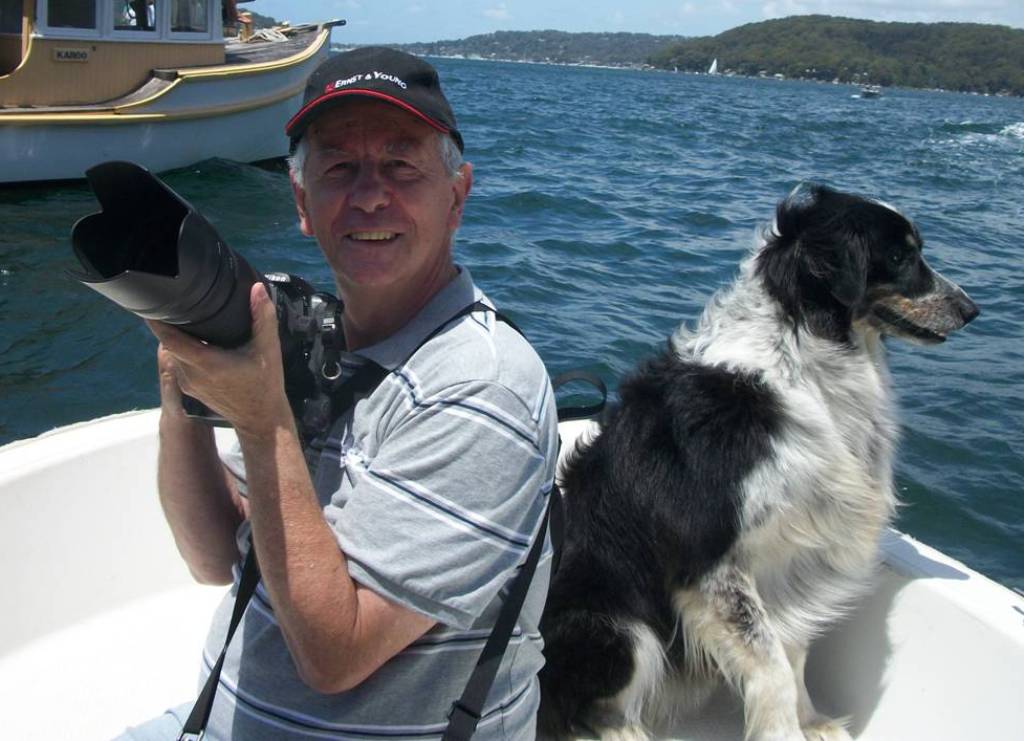 Michael Mannington, 'photographer at large' at Woody Point Yacht Club's annual Putt Putt Regatta, January 2012, with Cheeky 'pooch at large'. Picture by A J Guesdon.
This photo of a photographer 'at large' who remarked moments before it was taken "here we are again...pretending to work...", captures a little of the essence of a gentleman who has supported hundreds of community organisations and their volunteers over many years and for countless hours by providing a keen eye and clear lens to capture their events and peoples. What makes Volunteer Photography a success in our community, like the thousands of others here who devote their time and energy to investing back into community, is that money is only worth so much and cannot buy all things. Some other worth applies. Providing the shot without cost, an acknowledgement that we should keep a record and get the message out, bothering to get it as it actually is by not standing outside and looking in but engaging with what is happening are just a few earmarks of what MM, and those who work alongside him, bring with them.
Premier's 2013 Community Service Award Winner Announced - Thursday, 13 June 2013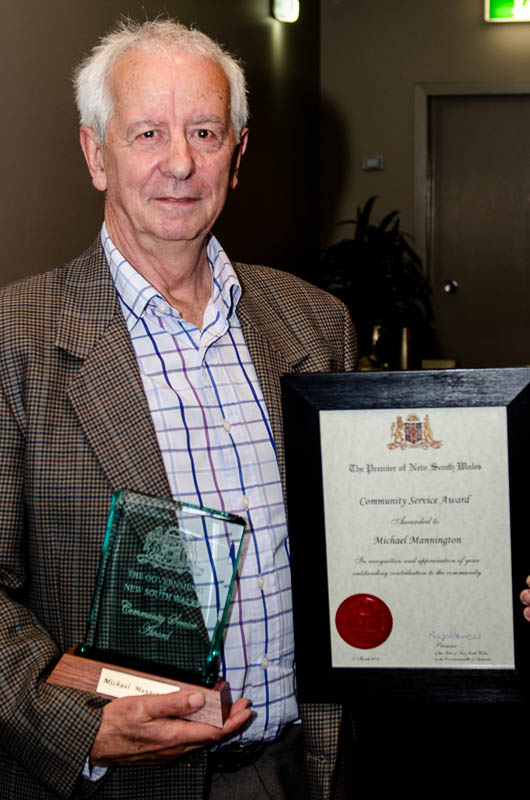 Member for Pittwater Rob Stokes today announced volunteer photographer Michael Mannington as the recipient of the Premier's 2013 Pittwater Community Service Award.
The award was presented at a reception for Pittwater's community leaders at Mona Vale Golf Club and acknowledges exemplary service to the Pittwater community by a local volunteer.
As the founder of Volunteer Photography, Michael has spent countless hours providing free professional photography services to local charity, community and sporting organisations, and also played a pivotal role in the successful community campaign to return Currawong Beach to public ownership.
"There are countless community groups in Pittwater that have benefited from Michael's skills and generosity," Rob Stokes said today.
"I'm constantly amazed by Michael's passion for our community and his enthusiasm to support our diversity of local groups and associations.
"The services Michael provides are often beyond the financial reach of many of our local community groups so there's enormous appreciation for his work.
"Michael is quickly becoming known as the 'everywhere man' due to the huge number of community events he assists with.
"Michael's work behind the scenes certainly hasn't gone unnoticed and in many cases has proven invaluable in raising awareness and attracting support.
"This is a truly fitting award for one of our community's most tireless volunteers," Rob Stokes said.
We spoke to Michael after he had recovered from his shell shock and asked for a quote on how it felt to be honoured and recognised in this way.
"It is an honour to receive this award. I have been privileged to meet and work with most of the community groups in Pittwater. The community spirit in Pittwater is inspiring and it is rewarding to be able to capture and record the marvellous work done by so many volunteers."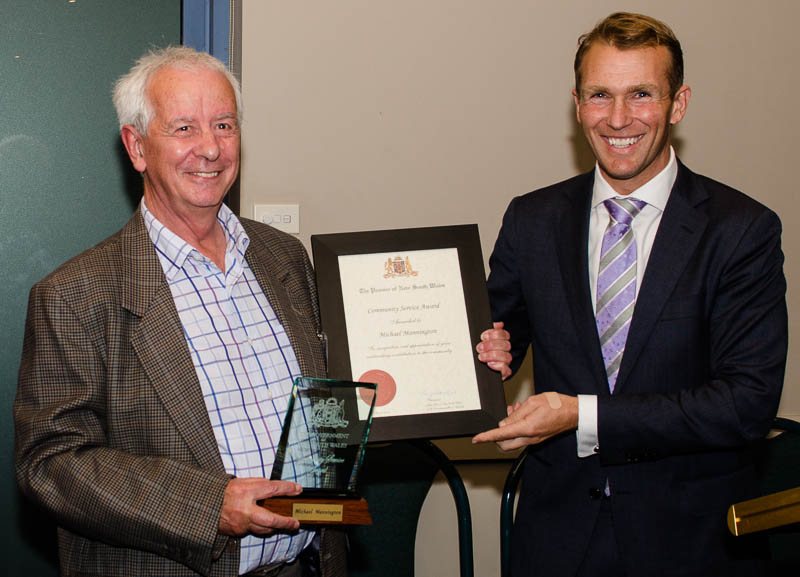 Michael Mannington and Hon. Rob Stokes.
Photos by Mike O'Flynn, Volunteer Photography.