January 13 - 19, 2013: Issue 93
A spectacular 2013 Club Marine Pittwater & Coffs Harbour Regatta for all
Regatta wrap up - Monday 7 January 2013
By Damian Devine
With the 2013 Pittwater & Coffs Harbour Regatta now over for another year, all in all, it was a very successful regatta for competitors and the host club, The Royal Prince Alfred Yacht Club with brilliant weather, favourable winds, good camaraderie and some great sailing. With a welcomed downwind race in the 2013 Club Marine Pittwater to Coffs Harbour yacht race, it offered up a new line honours winner in Wedgetail and a triple handicap winner with Syd Fischer's TP52 Ragamuffin (IRC, ORCi and PHS). There were also new winners in the overall regatta in IRC and PHS with Just a Dash and Storage King Wallop respectively. Peter Hewson, skipper of Storage King Wallop was also crowned the Australian PHS Champion.
For the 226 nautical mile "warm water" ocean race, Queenslander Bill Wild's RP55 Wedgetail crossed the finish line in a time of 19hrs 53mins 3secs, three and a half minutes in front of the TP52 Ragamuffin, in one of the closest finishes in the Coffs race ever. It was the second fastest time in the history of the race, an hour and a half outside the race record. Both boats had an interesting battle throughout the race in what Syd Fischer, skipper of the TP52 Ragamuffin, described as "neck and neck all the way". For most competitors the wind clocked 12-15 knots from the South East for most of the race in a very favourable race.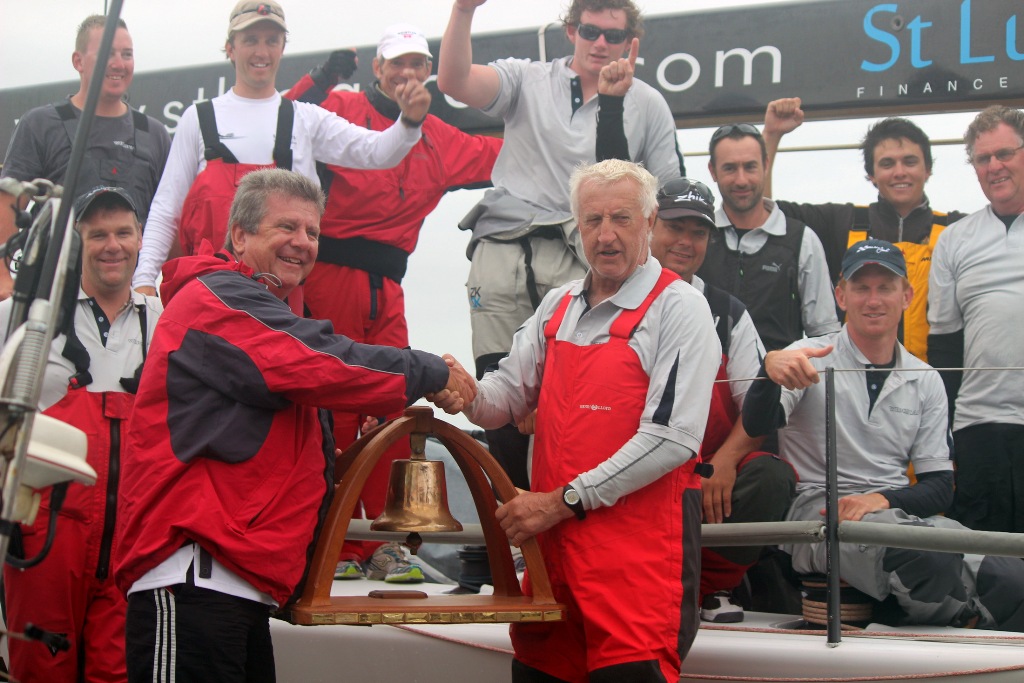 The Wedgetail crew celebrate with the Line Honours trophy with CHYC Commodore Garry Ennis – photo by Damian Devine
Fischer's Ragamuffin, completed an incredible feat by winning the triple handicap crown in all divisions on offer; IRC, ORCi and PHS in the race In doing so, Ragamuffin has become the first boat to accomplish the handicap achievement in the 32 year history of the race.
Fischer took out the coveted IRC handicap crown with a corrected time of 26hrs 55mins 22secs to win by a commanding one hour and eight minutes over line honours winner Wedgetail. David Forbes Kaiko 52 'Merlin' replicated her 2012 result to take the final podium handicap position in the end by some 14 minutes.
The PHS division mirrored the IRC result with Ragamuffin recording a corrected time of 28hrs 30mins 44secs pipping Wedgetail by 40 minutes with Merlin third. In ORCi, Ragamuffin took the spoils in a corrected time of 26hrs 13mins 58secs with Swish six hours back in second whilst the Hudson/Murphy/Lockley Farr 45 Pretty Woman picked up a podium position in third.
In IRC Division two, it was a trifecta for the Beneteau brand with Just a Dash Victoire whilst Le Billet, was third.
In PHS Division two, first was Just a Dash, Storage King Wallop second with She's the Culprit skippered by Michael McDonald placing third.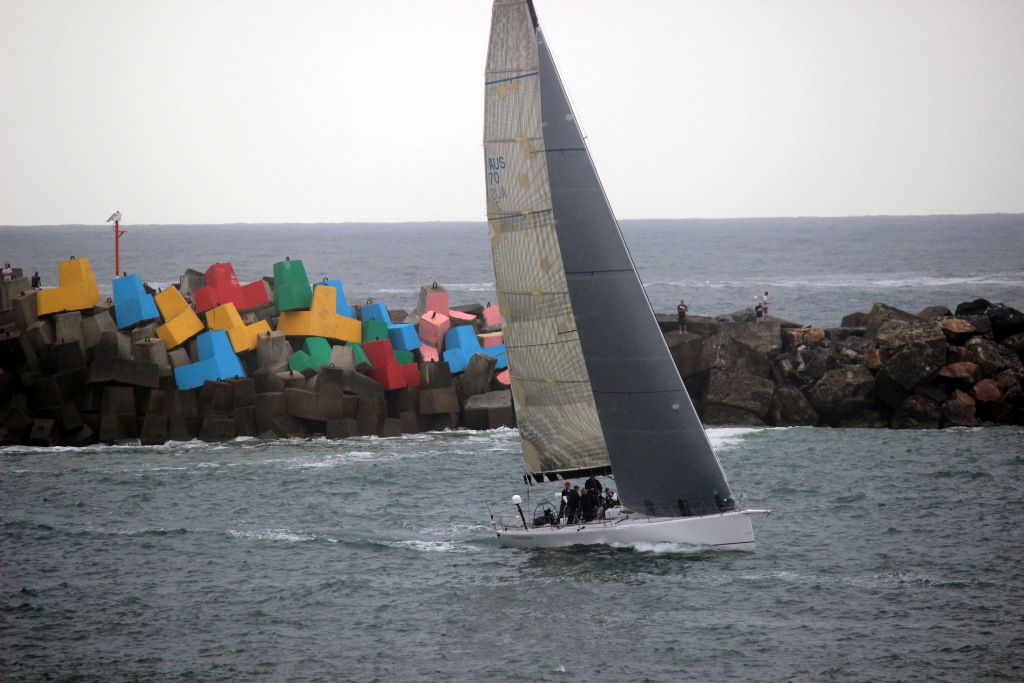 Syd Fischer's TP52 Ragamuffin IRC, PHS and ORCi handicap winner for the 2013 Pittwater to Coffs Yacht Race - photo by Damian Devine
The prized Navigator's trophy was presented to the Farr 45 Pretty Woman's Michael Lockley for the third year in a row, proving he's no fluke. This year he was out by a mere one minute 20 seconds, for the final 20 nautical miles from Nambucca Heads to the finish, recorded with Marine Rescue at their final radio check.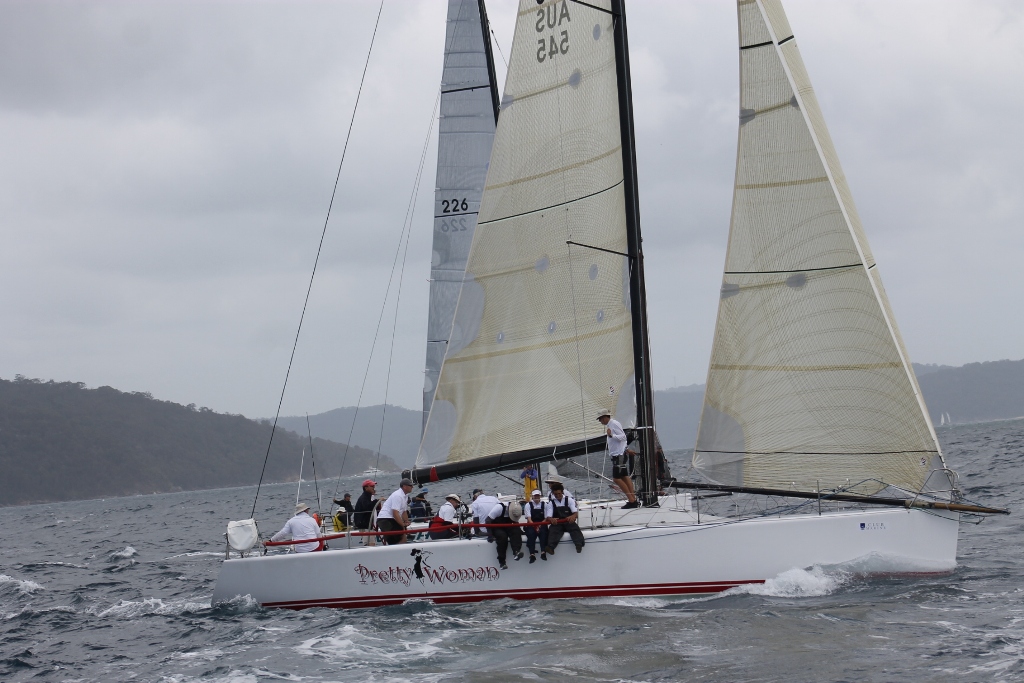 Michael Lockley's Pretty Woman
Middle Harbour Yacht Club's Philip Dash's Beneteau First 40 Just a Dash won the IRC division in the four race regatta one point ahead of Daryl Hodgkinson's Beneteau 45 Victoire held over 5-6 January in Coffs Harbour.
With a trifecta of thirds and a 10th in the final race, Dash did enough to end his campaign on 22 points, knowing that he had to finish within four places of Victoire to lift the coveted IRC regatta trophy. Victoire finished on 23 points with the Mark Tinworth and Mark Waterhouse Beneteau 44.7 Le Billet finished a further point back on 24 points for the final place on the podium.
Philip Dash's Beneteau First 40 Just a Dash wins IRC in the 2013 Pittwater & Coffs Harbour Regatta – photo by Damian Devine
In PHS, it was a clear four point win to Peter Hewson's Sydney 41 Storage King Wallop from the Lake Macquarie Yacht Club who had to hold off a flying finish from Mitchell Gordon's Sydney 38 The Goat who finished with two bullets in the final two races of the regatta. The Royal Prince Alfred Yacht Club's Bruce Hogan and Tina Clifton's Marten 49 Perpetual Mocean mentoring seven crew from the RPAYC's Youth Development squad were third, a further four points back.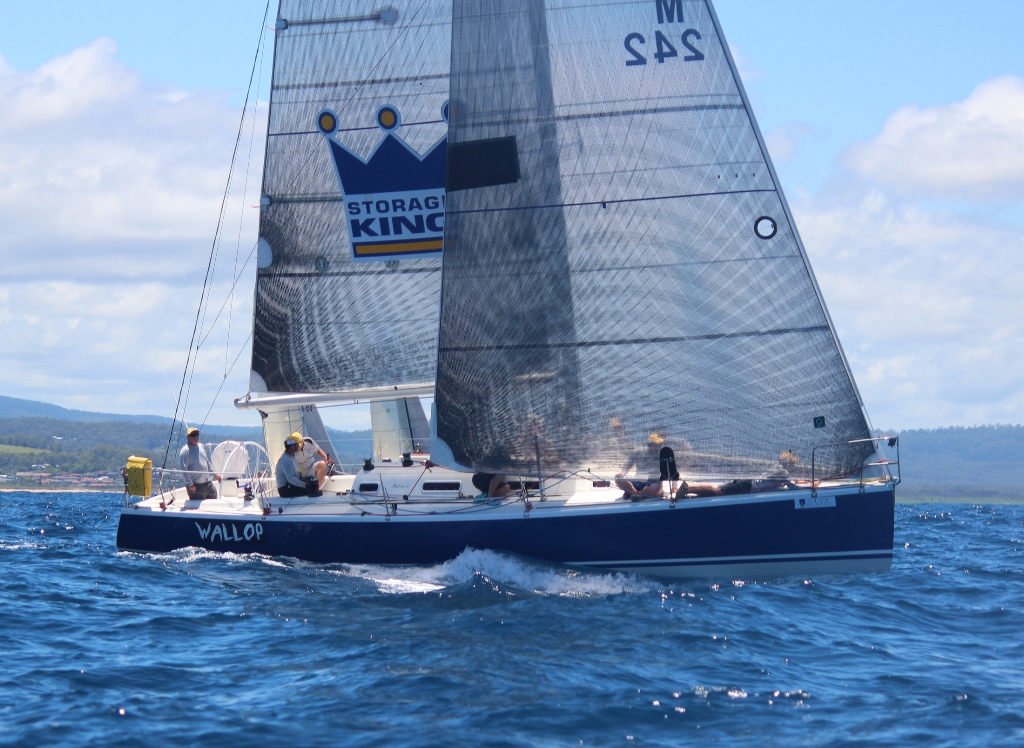 Peter Hewson's Sydney 41 Storage King Wallop won the PHS Division and were crowned the Australian PHS Champion – photo by Damian Devine
The ORCi title went to another RPAYC boat, Le Billet a three time previous winner of this regatta under its former owner. They won on a count back from the overnight leader Just a Dash after finishing second in the final race. With a better overall result over the four races posting a first and two seconds they did enough to claim the title. Steven Proud's Kernan 44 Swish was third.
In the ocean race, Wedgetail managed to get the better of the wind angles to take the lead 45 minutes from the finish. Skipper Bill Wild said of the race, "it was a good race, not too demanding but we had a good battle with Syd. We led at the start then Syd took over, then we led for a little bit in the middle, then Syd got back on top. So, it kept us on our toes and luckily the breeze held in through the night which was pleasing. We managed to get through them in the end, which was the best part and we just held on. It was the outcome we were looking for."
Fischer, the 85 year old doyen of Australian ocean racing was proud of the triple handicap win effort saying, "it's not easy winning on handicap, so it's a good result. Wedgetail gave us a run for our money and we were unlucky not to get line honours as well. The boys sailed the boat really well and the boat performed to its ability. This is something we set out to do so I am really pleased. The wind certainly favoured us and played a big part in the result. It doesn't happen that often."
In terms of the overall regatta, an elated Philip Dash, skipper of Just a Dash said on winning the IRC regatta title, "fantastic, absolutely stoked. It's our first offshore regatta and the first long passage race we've done with this boat, so to win it we're thrilled."
"The crew were fantastic, there was half a dozen of the regulars who sail with us every week and we've moulded into a good team and we had two local Coffs guys who came on board with plenty of offshore experience and fitted in very well to help us get this win. I look forward to coming back next year, I've enjoyed the whole thing, it's been great," added Dash.
Peter Hewson, skipper of Storage King Wallop from the Lake Macquarie Yacht Club, who last competed in this event in 2004 said on his PHS divisional and Australian PHS championship crown win, "We're over the moon on this win, it's just fantastic, in fact it's awesome. To win any regatta is not easy, you really have to be consistent. When you get the bridesmaid tag you always reflect on the little things you could have done better so we don't have to do that this time, which is great. It's been a great regatta, we've all had a good time and enjoyed ourselves immensely and we hope to be back next year to defend the title."
In closing, Coffs Harbour Commodore Garry Ennis said, "we've been blessed, we've had great weather, great sailing, the wind was blowing, the beer was cold, the rum was flowing, the yachties are happy, sun was shining, we've had a wonderful, wonderful time. Thanks to the Royal Prince Alfred Yacht Club, thanks for bringing the regatta to Coffs Harbour and we look forward to the 33rd year."
Rob Curtis, Commodore of host club The Royal Prince Alfred Yacht Club summed up the 2013 Club Marine Pittwater & Coffs Harbour regatta saying, "The regatta turned into its true name, the warm water regatta. The weather coming up to Coffs and the race itself was sensational, we got blown up here all the way and when we arrived the clouds cleared, the sun was shining and we have had two beautiful days of sailing. "
"The results were very, very close, reflecting some great racing and I think opening up all the handicap divisions to all competitors was the smart thing to do and created some great racing. Thanks to sponsor Club Marine who are so supportive of what we're doing particularly when yacht racing and staging regattas like this is becoming more costly, so we appreciate their support and it has helped make it a top class regatta.
"My personal thanks to the Coffs Harbour Yacht Club, the marina, John Bacon for the use of his marvellous vessel the Matthew Flinders as the radio relay vessel and start boat up here, the race committee and the army of volunteers involved and to everyone who has made this a great event. I look forward to seeing you in 2014."
Pittwater to Coff's Harbour Ocean Race – 32nd Warm Water Classic – from Reports by Damian Devine
Victoire Boat of the Day in Pittwater to Coff's Harbour Regatta - 5.1.2013 by Damian Devine
Start of Pittwater to Coff's Harbour Ocean Race - Warm Water Classic Pictorial
By Damian Devine, Club Marine Pittwater Coffs Harbour Regatta media. Copyright Royal Prince Alfred Yacht Club, 2013.