April 10 - 23 2016: Issue 259
Old Movies and TV Shows: a 'Feet Up' Enjoyable Way to Invest In Yourself
It's the April School Holidays, and it's Youth Week, a good time to get out and get a breath of fresh air, and, as many of you may want to – rest and find something that's an 'investment in your greater self'.
As watching movies and shows is still, apparently, one your favourites, a great way to enjoy this and gain insights into what was fashion, what was thought and said, and even how it was said, is to have a look at some old shows.
Watching older shows and movies gives you a new sense of how things have changed, they give you perspective. You can even look at the backgrounds and see not only the weather but how landscapes and towns looked – some much changed.
The use of 'Cool' didn't begin yesterday, it began decades ago!
Part of one early school year experience by those who work here was being taken to see All Quiet on the Western Front as a school excursion. Being taken to listen to a Symphonic orchestra was also a school excursion way back when – but that's another story.
All Quiet on the Western Front (German: Im Westen nichts Neues, lit. In the West Nothing New) is a novel by Erich Maria Remarque, a German veteran of World War I. The book describes the German soldiers' extreme physical and mental stress during the war, and the detachment from civilian life felt by many of these soldiers upon returning home from the front.
The novel was first published in November and December 1928 in the German newspaper Vossische Zeitung and in book form in late January 1929. The book and its sequel, The Road Back (1930), were among the books banned and burned in Nazi Germany. All Quiet on the Western Front sold 2.5 million copies in 22 languages in its first 18 months in print.
In 1930, the book was adapted as an Academy-Award winning film of the same name, directed by Lewis Milestone. All Quiet on the Western Front, the 1930 American epic Pre-Code war film, is a realistic and harrowing account of warfare in World War I, and still ranks as number 7 on the American Film Institues 10 Top 10—the ten best films in each of ten "classic" American film genres.
All Quiet on the Western Front 1930 Drama - Full Movie
Apart from asking yourself; what are they wearing and how fashionable was that – where did the cloth come from, who were the 'Designers', where did this story come form and how is it referred to as a 'signpost' today, or even 'what threads here are based on truths or personal experiences', or 'how jazzy is that jazz?', you can wonder about film techniques, film 'styles' – all while enjoying something made to be enjoyed!
If you love your 'Art' – include having a look at all those old black and white classics to gain a new sense of light and shade can be appreciated; even those Directors who made great use of this to add emphasis to what's happening in a scene, or throughout a whole movie or show – check out Hitchcock's films or the TV shows in The Twilight Years series. Go to Alfred Hitchcock again for some beautiful coloured films with wonderful clothes, fantastic scenery and comedy in To Catch a Thief with Grace Kelly and Cary Grant.
Or have a look at the contrast between these two; The Philadelphia Story (1940) American romantic comedy film directed by George Cukor, starring Cary Grant, Katharine Hepburn, and James Stewart and High Society (1956) with Grace Kelly, Frank Sinatra, Bing Crosby and Louis Armstrong – both are the same story based on the play The Philadelphia Story by Playwright Philip Barry, and inspired by Helen Hope Montgomery Scott (1904–1995), a Philadelphia socialite known for her hijinks, who married a friend of playwright Barry.
Mrs. Scott became a noted figure in the international social scene of the 1920s and 1930s. She danced the Charleston with Josephine Baker in Paris and the foxtrot with the Duke of Windsor at El Morocco. Confident and high-spirited, she is said to have convinced Edward VIII to stand on his head and reveal what was beneath his kilt (long johns). On one occasion she seated her dog as a guest at a formal dinner party.
Edgar Scott had been a classmate of future New York playwright Philip Barry while at Harvard, and the Scotts were lifelong friends of Barry and his wife, Ellen. The idle rich were a source of inspiration to Barry, who had also become interested in the then-new phenomenon of the tabloid newspaper. Tabloids, then as now notorious for gossip and scandal, were anathema to conservative, high-society families, and while on a visit to St. Paul, Minnesota, Barry had heard of a local criminal enterprise in which prominent wealthy families were blackmailed with threats of exposing family scandals. His wife Ellen had also suggested basing a play on Philadelphia's social elite. The result was The Philadelphia Story, a comedy of manners about a tabloid's invasion of a society girl's second wedding, which appeared on Broadway in 1939 starring Katharine Hepburn. The motion picture rights were purchased by Hepburn's then-boyfriend, Howard Hughes, and her reprise of the role in the Metro-Goldwyn-Mayer feature film is said to have jump-started her stalled movie career.
Written for the screen by Donald Ogden Stewart and an uncredited Waldo Salt, it is considered one of the best examples of a comedy of remarriage, a genre popular in the 1930s and 1940s, in which a couple divorce, flirt with outsiders and then remarry – a useful story-telling ploy at a time when the depiction of extramarital affairs was blocked by the Production Code, a set of industry moral guidelines that was applied to most United States motion pictures released by major studios from 1930 to 1968. It is also popularly, albeit inaccurately, known as the Hays Code, after Will H. Hays, who was the president of the Motion Picture Producers and Distributors of America (MPPDA) from 1922 to 1945. Under Hays' leadership, the MPPDA, later known as the Motion Picture Association of America (MPAA), adopted the Production Code in 1930 and began strictly enforcing it in 1934. The Production Code spelled out what was acceptable and what was unacceptable content for motion pictures produced for a public audience in the United States.
From 1934 to 1954, the code was closely identified with Joseph Breen, the administrator appointed by Hays to enforce the code in Hollywood. The film industry followed the guidelines set by the code well into the late 1950s, but during this time the code began to weaken due to the combined impact of television, influence from foreign films, bold directors (such as Otto Preminger) pushing the envelope, and intervention from the courts, including the Supreme Court. In 1968, after several years of minimal enforcement, the outdated Production Code was replaced by the MPAA film rating system; one of various motion picture rating systems that are used to help parents decide what films or television shows are appropriate for their children.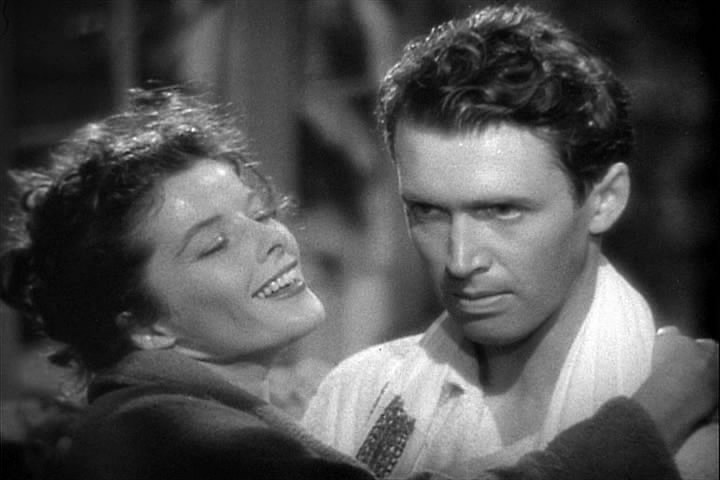 Katharine Hepburn as Tracy Lord and James Stewart as Mike Connor - screenshot from film
For many this is the Best Romantic Comedy of All Time.
The later remake of the film, High Society, starred Grace Kelly and received two Oscar nominations, and nearly received a third in one of the more famous Academy Award gaffes. High Society initially was nominated in the 1956 Academy Awards for Best Motion Picture Story, even though the movie was based on the 1940 movie The Philadelphia Story and thus was not eligible in that category.
Opening on July 17, 1956, High Society garnered mixed reviews, often being compared as a lesser offering to The Philadelphia Story. Variety stated: "High Society should spell high finance business all over. It's a solid entertainment every minute of its footage. Fortified with a strong Cole Porter score, film is a pleasant romp for cast toppers Bing Crosby, Grace Kelly and Frank Sinatra who, tactfully, get alphabetical top billing. Their impact is almost equally consistent. Although Sinatra has the top pop tune opportunities, the Groaner makes his specialties stand up and out on showmanship and delivery, and Miss Kelly impresses as the femme lead with pleasantly comedienne overtones…"
The High Society version has music though, as indicated by it having Louis Armstrong, Bing Crosby and Frank Sinatra, two very popular 'crooners' of different generations during this period. It also has the legendary Cole Porter overseeing the score; Producer Sol C. Siegel paid Porter $250,000 for his first original film score in eight years; it introduced a couple of pop standards, including "True Love" and "You're Sensational". Not only did Sinatra and Crosby collaborate for the first time, but behind the scenes two master orchestrators – Conrad Salinger and Nelson Riddle – melded their arrangements under the baton of Johnny Green. Armstrong and his band get a couple of standout moments and Kelly has her only role in a musical.
Of note is a 'reprise' of sorts of the "Well, Did You Evah!" a song written by Cole Porter for his 1939 musical DuBarry Was a Lady, where it was introduced by Betty Grable and Charles Walters, and performed by Bing Crosby and Frank Sinatra in the 1956 film High Society, (probably the most famous version of the song). Deborah Harry and Iggy Pop recorded the song in 1990 for Red Hot + Blue, a compilation album released as part of a HIV/AIDS benefit project. These iconic singers were just of those who sang for Red Hot + Blue, the first in the series of compilation albums from the Red Hot Organization. The recording was the first in the Red Hot Benefit Series. It features contemporary musicians reinterpreting some of the songs of Cole Porter, the title of the album from Cole Porter's musical, Red, Hot and Blue.
Released in 1990, it sold over a million copies worldwide and was heralded as one of the first major AIDS benefits in the music business. The accompanying ABC television special featured video clips created by renowned film directors for all but two of the songs. The clips portrayed the societal effects of AIDS.
The Igster's and Deb Harry's contribution for the AIDS benefit video "Red, Hot & Blue," was created by "Sid & Nancy" director Alex Cox:
Iggy Pop & Deborah Harry - Well Did You Evah
Clearly these are just two instances of thousands of overseas films on offer – let's bring it home though – home is where the heart is.
If you like 'the box' and want to see Australian landscapes and hear how some spoke prior to your odyssey through the world, have a look at Australian shows Bellbird, The Flying Doctor (1959), A Country Practice (1981 to 1993), The Sullivan's (1976 to 1983) and even The Paul Hogan Show (1973 to 1984)– you will see and hear how we spoke, and even get a few insights into what's important to us, where you came from – idealised in some cases – but there's nothing wrong with having ideals to live up to or aim for.
Classic Australian movies to educate yourself by, without really noticing you have, might be to enjoy Muriel's Wedding (1994), or Babe: The Gallant Pig(1995).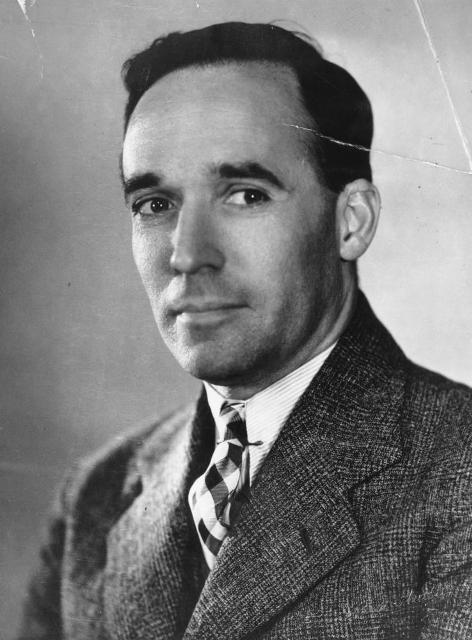 If you want to cast your eyes further back, have a look at Forty Thousand Horsemen (aka 40,000 Horsemen) a 1940 Australian war film directed by Charles Chauvel that tells the story of the Australian Light Horse (mounted rifleman as distinct from cavalry) which operated in the desert at the Sinai and Palestine Campaign during World War I. This follows the adventures of three rowdy heroes in fighting and romance. The film culminates at the Battle of Beersheba which is reputedly "the last successful cavalry charge in history". Although the film was clearly a propaganda weapon, to aid in recruitment and lift the pride of Australians at home during World War II, it was one of the most successful Australian movies of its day.
Right: Charles Chauvel in 1936
Of interest here is that Chauvel was the nephew of Sir Harry Chauvel, commander of the Australian Light Horse during the Sinai and Palestine Campaign and had long planned a film based on the exploits of the Light Horse. It was originally to be titled Thunder Over the Desert. To raise funds for a movie, Chauvel shot a £5,000 "teaser" sequence, consisting of a cavalry charge based around the Battle of Beersheba. Filming of this sequence took place on 1 February 1938 on the Cronulla sand dunes using a cavalry division of the Australian Light Horse, which had been performing in the New South Wales sesquicentenary celebrations.
The charge was filmed by a four-camera unit, composed of one time Whale Beach Loggonrock Cabin resident Frank Hurley, Tasman Higgins, Bert Nicholas and John Heyer.
Still on The Services, as ANZAC Day Commemorations mark the end of your holidays this April, Kokoda Front Line! (1942), the first Australian film to win an Oscar, for Best Documentary Feature in 1942 is worth finding too. Filmed by the Australian war photographer Damien Parer and directed by Ken G. Hall, this contains some of the most recognised images of Australian troops in the Second World War and will also give you an insight into what people said and thought. You can have a small look here: aso.gov.au/titles/newsreels/kokoda-front-line/clip1
Jedda (1955), should make your list, not just because it's the first Australian film to have two indigenous lead actors and the first Australian feature film shot in colour but also for the scenery, the thoughts expressed and how they reflect upon what was happening in our society then, and also because it's the last the film made by Australian Charles Chauvel, noted by many as the one that set a standard for future Australian films. It also addresses a debate and healing still current today in what is now called The Stolen Generation and the loss of identity experienced by our first Custodians.
"Jedda" (1955) theatrical trailer
Oddly, this trailer is in black-and-white while the film itself is in colour.
Another documentary of note, and there are many, is the 1963 series The Land that Waited, which tells the early history of colonial Australia through etchings, paintings and drawings. Gil Brealey, the ABC's first film director, appointed in 1962, was the director-producer who discovered this wealth of drawings, etchings and paintings that together offer such a striking and unusual view of history.
There's a few of these still available to view here: aso.gov.au/titles/tv/the-land-that-waited
For stories, we too have a rich heritage here, some among the many you may enjoy and gain insights from are Sunday Too Far Away (1975), acclaimed for its realistic character portrayal, Picnic at Hanging Rock (1975) based on the book of the same title; let us know what you think happened, The Chant of Jimmie Blacksmith (1976) a must-see multi-award winning film, My Brilliant Career (1979), great messages for all girls here or Tim (1979) a winner of 3 AFI Awards, including Best Actor: Mel Gibson in one of his early roles, filmed in part right here in Pittwater and based on the book by Colleen McCullough.
If you want to explore our 1980's penchant for celebrating iconic Australian stories, get copies of Breaker Morant (1980), Gallipoli (1981), The Man from Snowy River (1982), or societal thought and landscapes/city-scapes? try Bliss (1985) Malcolm (1986) and The Year My Voice Broke (1987).
If you want to check out what's great in Australian cinema, try The Castle (1997), Oscar and Lucinda (1997) or love dancing and music or the desert?; then Strictly Ballroom (1992), Shine (1996) and The Adventures of Priscilla, Queen of the Desert (1994)are for you!
More great Australian actors, landscapes, music and stories can be experienced through The Dish (2000), Bootmen (2000), On the Beach (2000), Looking for Alibrandi (2000), Romulus, My Father (2007) 'Bran Nue Dae'(2011), The Sapphires (2012) - one we cannot watch without crying 20 times on! - make sure you watch and READ the credits for where that one came from, or enjoy Paper Planes (2015) - a very wonderful movie and story.
There's so many, so much greatness here, that you will be 'spoiled for choice' – BUT; this is a great way, should you have a few rainy days this holidays, to enjoy something very worthwhile and sneakily give yourself a better understanding of the depth of our own culture, with your feet up!
If you need a little more inspiration for what could become a lifelong self-educational aspiration, check out a past history page of a few early films shot right here, in your own backyard, in Filmed In Pittwater.
Have fun, explore where these stories come from and what threads in them resonate with truths to Illustrated or Epitomise other truths – and let yourself have something Fantastic!
Sugar Pie Honey Bunch - The Sapphires
Sugar Pie Honey Bunch - The Four Tops (original: 1965 - Motown!)
References:
Helen Hope Montgomery Scott. (2016, March 21). In Wikipedia, The Free Encyclopedia. Retrieved from https://en.wikipedia.org/w/index.php?title=Helen_Hope_Montgomery_Scott&oldid=711253717
All Quiet on the Western Front. (2016, April 6). In Wikipedia, The Free Encyclopedia. Retrieved from https://en.wikipedia.org/w/index.php?title=All_Quiet_on_the_Western_Front&oldid=713907342
All Quiet on the Western Front (1930 film). (2016, March 29). In Wikipedia, The Free Encyclopedia. Retrieved from https://en.wikipedia.org/w/index.php?title=All_Quiet_on_the_Western_Front_(1930_film)&oldid=712500889
Jedda. (2015, May 14). In Wikipedia, The Free Encyclopedia. Retrieved from https://en.wikipedia.org/w/index.php?title=Jedda&oldid=662277614