February 26 - March 3, 2012: Issue 47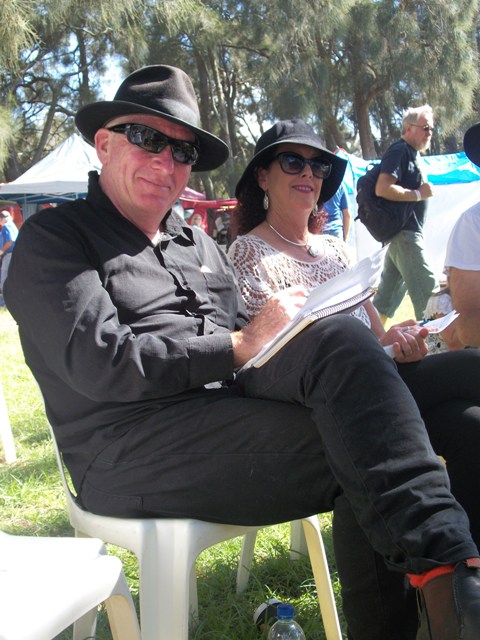 Paul Robertson and Kathleen Swaddling at Finals Heats, Sunday morning.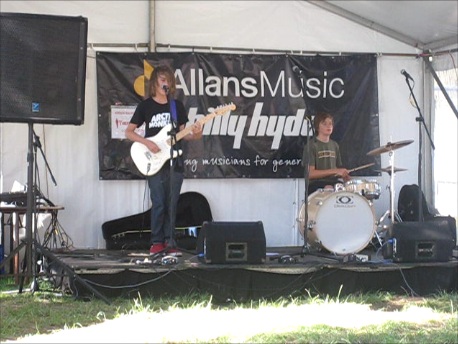 Tom Simmonds and George Radford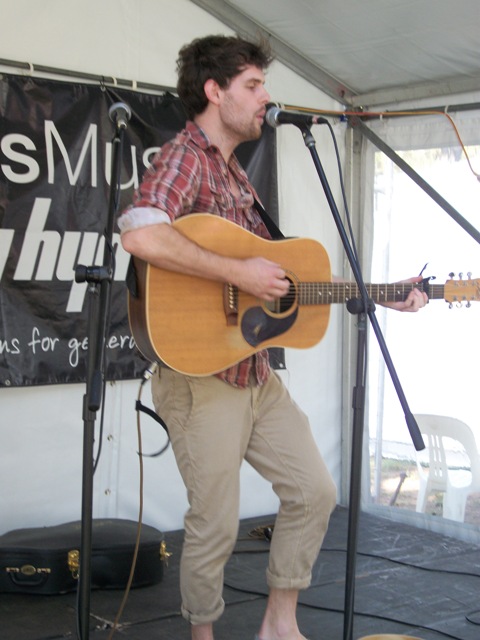 Matt Dewar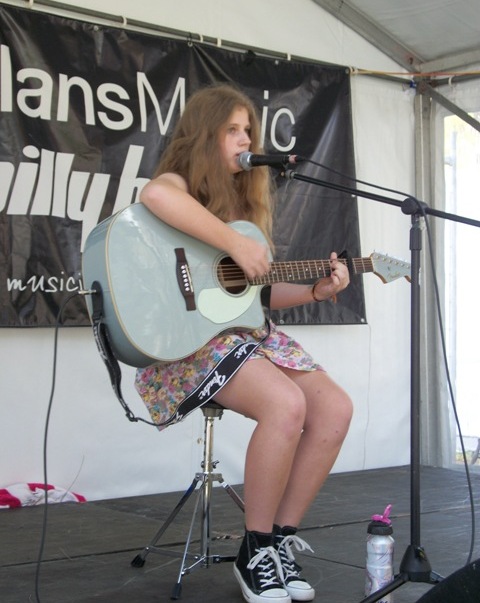 Ella Mitchell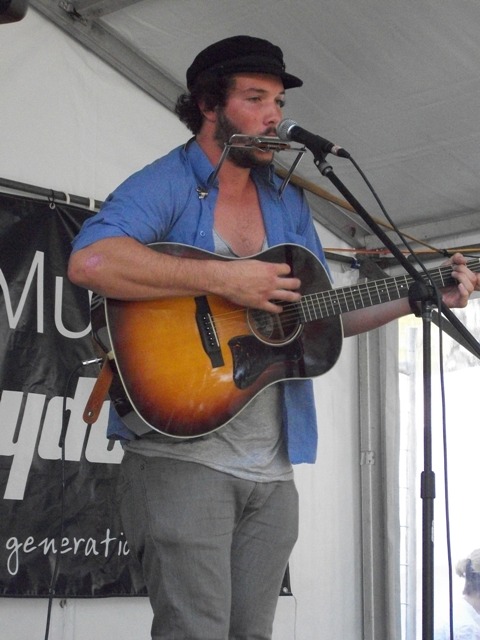 Max Carpenter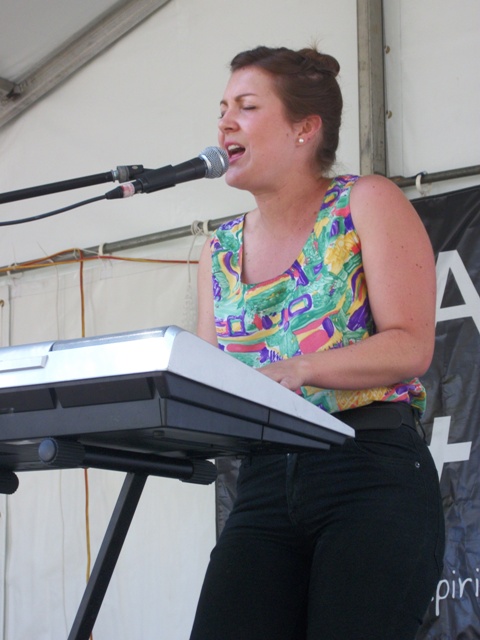 Bec Tanner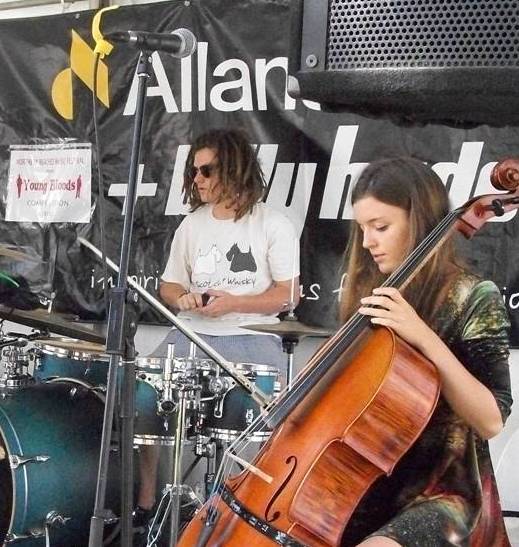 Josh and Ella of Malo
Young Bloods 2012 as part of the Northern Beaches Music Festival
Sunday 19.2.2012 brought the last heats for this year's first ever Young Bloods competition as part of the Northern Beaches Music Festival at Berry Reserve, Narrabeen. Organised by Paul Robertson, who was ably assisted through the heats at Terrey Hills Tavern, Mona Vale Hotel, Avalon RSL and Manly's Sugar Lounge by producers Russell Neal, Jaimie Keys and Oscar Letelier, this initiative offered all young musicians a chance to gain valuable experience in being on stage and presenting original material to an enthusiastic audience. We also noticed that Paul ensured all the young competitors were issued with wristbands so they could go into the three rooms and Marquee afterwards to enjoy the wide range of professional musician's performances. The Northern Beaches Music Festival and its organisers are all about supporting, fostering and encouraging musicians and artists on the Northern Beaches.
The Northern Beaches Music Festival ran last weekend from Friday night through to Sunday night. With over 100 acts, 50% of whom were Northern Beaches musicians, it was a delight and feast for all the senses. Run as a non-profit showcase for folk, blues, country, bluegrass, a Capella and purely Australian melodies, the Festival had a great second year thanks to Warringah Council and four music venues along our Northern Beaches; The Shack, Fairlight Folk, Humph Hall and The Manly Fig. A team of volunteers, ably directed by a tireless Kathleen Swadling, ran for almost twenty four hours for three days straight. Some musicians, such as Tully of the Dingle Brothers, seemed to pull double and triple duty, leaping from the stage to mix for other bands. This gent was who mixed for the finalists of this year's Young Bloods when they got to perform on the Main Stage in the Marquee after the winner's announcement.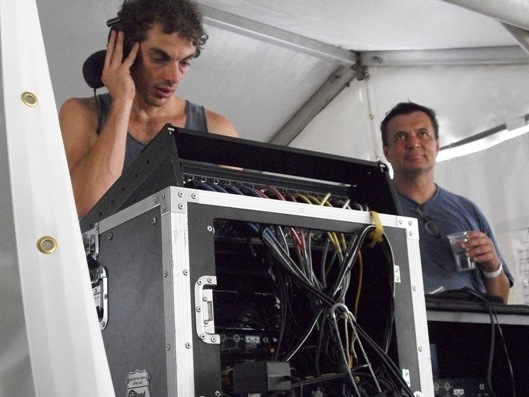 Tully at Work
The Young Bloods Competition was begun solely to nurture and support young up and coming musical talent on the Northern Beaches. Two heats were run over the Saturday and Sunday. What we saw on the Saturday seemed to be mostly groups with a few soloists with Rufflefeather and Avalon band, Malo. We missed the Tom Johnson Trio and others but everyone was raving about how good everyone else was; the smiles and comradeship showed big time. Solosists singing originals on the Sunday were mesmerizing, vocally strong and those we did hear all sang originals of such insight and musicianship that some here would go back to listening to the radio if they could hear them played there.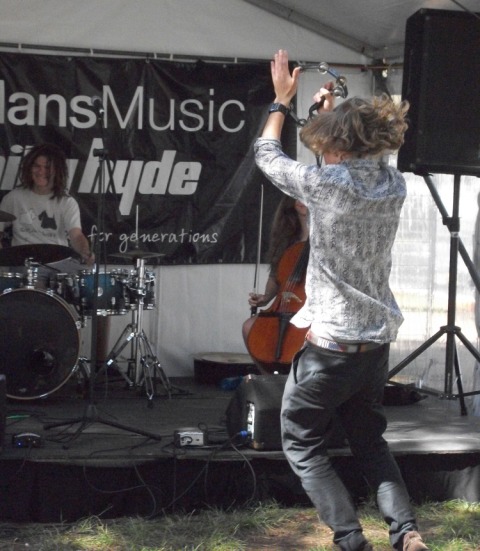 The Malory Dance, Saturday
Tom Simmonds, supported on drums by George Radford, who we missed by a whisker was still being congratulated on a great performance. Max Dewar was great, another poet. Ella Mitchell then opened with 'My Little Bird' a song and music she penned which was just beautiful, before singing two more. Max Carpenter followed with his own two originals; 'Don't Talk like that' (?) and 'Hardly a Man'. Max's voice was so strong it almost detracted from how strong the sentiment and eloquence in his words and guitar playing were. Bec Tanner, who was also a Grand Finalist in the Songwriters Competition being run at Mona Vale Hotel along with Matt Dewar and Max Carpenter, sang two originals as well; 'Devils Puppet' which was 'taking you to a carnival', a statement backed up and evoked by the quirkiness in her accompanying tune, and 'Sidesteppin' which had a jazz edge.
The Young Bloods were all given ten minutes each to showcase their talent and proved what a dearth of ability and poet soul resides in all of them. Many of the musicians seem to play with each other in other formats so we're bound to see, and hear, more great originals evolve in coming years.
This was echoed in Paul Robertson's prelude to announcing the first ever winners. He stated that the Northern Beaches Music Festival will be back next year (yay!) and that the Young Bloods Comp. will be a regular part of the Festival. He also stated that the cross section of talent in this year's Young Bloods was absolutely stunning, wonderful stuff, and very difficult to judge. The winners this year were Malo by the slimmest of margins. Max Carpenter was named as second place winner. We asked Max how it felt to win; "Pretty good. Pretty great."
This sentiment, in pretty much the same words, was echoed from the six piece that is Malo too. Malo already have one tune available and there's talk of more great music to come from them in March. If it's anything like what they played over the weekend just gone it'll be brilliant. All these 'Young Bloods' seem to have the right attitude. They're doing something they love and applying themselves to produce fantastic results. If they have the backing of men like Paul Robertson to help all those coming up, and all whom he is assisted by, then the future for music on the Northern Beaches is pretty bright.
Incidentally; Russell Neal also organises and runs Under 18 Friendly gigs all over Sydney. The Open Mic Sessions, on Sunday nights at Avalon RSL, which we heard some of a few weeks ago, and also at Dee Why on Tuesday's, which he and a partner organise are some of the sweetest sounds we've heard coming out of Avalon's downstairs lounge.
Stay Tuned to; http://northernbeachesmusicfestival.org/
Northern Beaches Music Festival in Issue 46
Russell Neal: songsonstage@hotmail.com
Malo at: http://www.facebook.com/MaloRECB?sk=app_2405167945
Hometown: Avalon, NSW, AU
Genres: Folk / Indie Pop Folk / Alternative
Label: Record B Music
Members: Vocals/Guitar : MALO (Malory) - Drums : Josh Reeves - Bass : Sam Nicholson - Second guitar : William Gumley - Cello : Ella Seabrook - Keyboard : Bohdon Andrews-Wood
From Young Bloods Page: Congratulations to the finalists from the Mona Vale Hotel: Matt Dewar, Max Carpenter and Bec Tanner. Congratulations to the finalists from the Sugar Lounge: Pop vote: Rufflefeather Judges Choices: Malo & The Tom Johnson Trio. Congratulations to the finalists from the Terry Hills Tavern: Pop vote: Neville K Judges choices: Renee Jonas & Naomi Crain Congratulations to the finalists from the Avalon RSL: Pop vote: Ella Mitchell Judges Choices: Tom Simmonds & Lucy Dalton These finalists will be performing on the Free Stage at the Northern Beaches Music Festival on 18th and 19th FEB.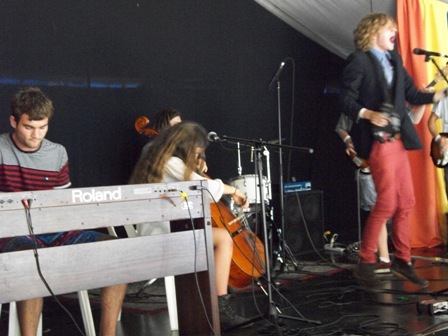 Malo on Marquee Stage, Sunday; Airborne !
Pittwater Online News loads Images so they may be copied and 'saved as' (attribution required); for large MB ask HERE
Copyright Pittwater Online News, 2012. All Rights Reserved.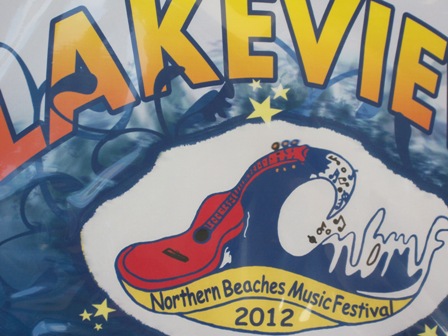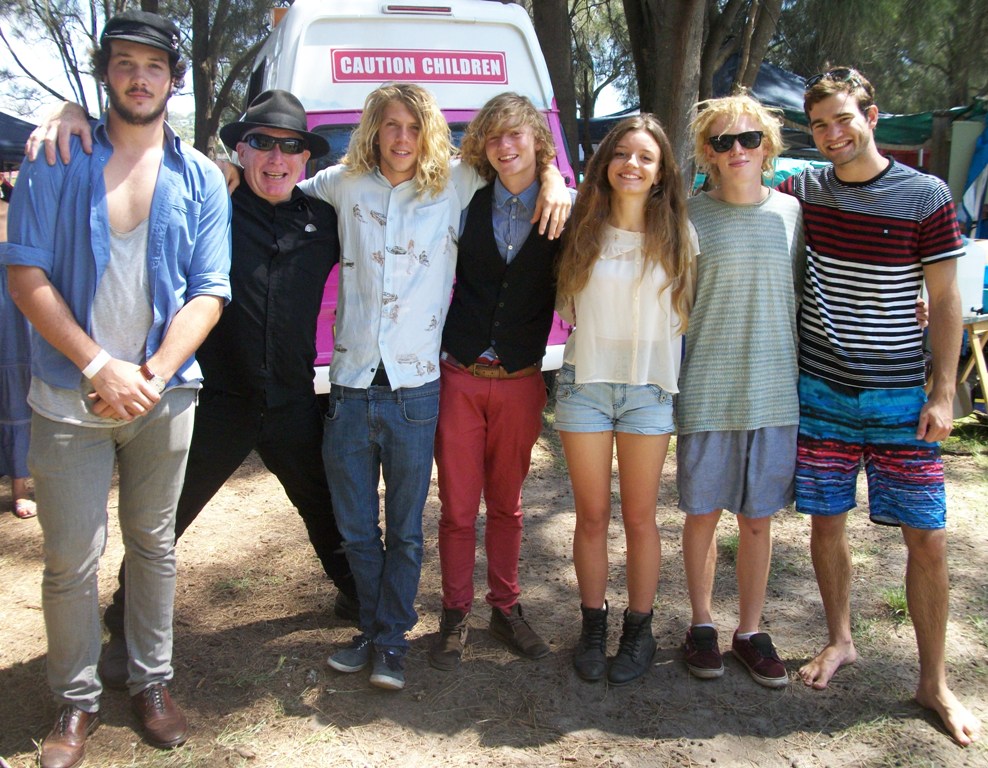 Max Carpenter, Paul Robertson and all of Malo except drummer Josh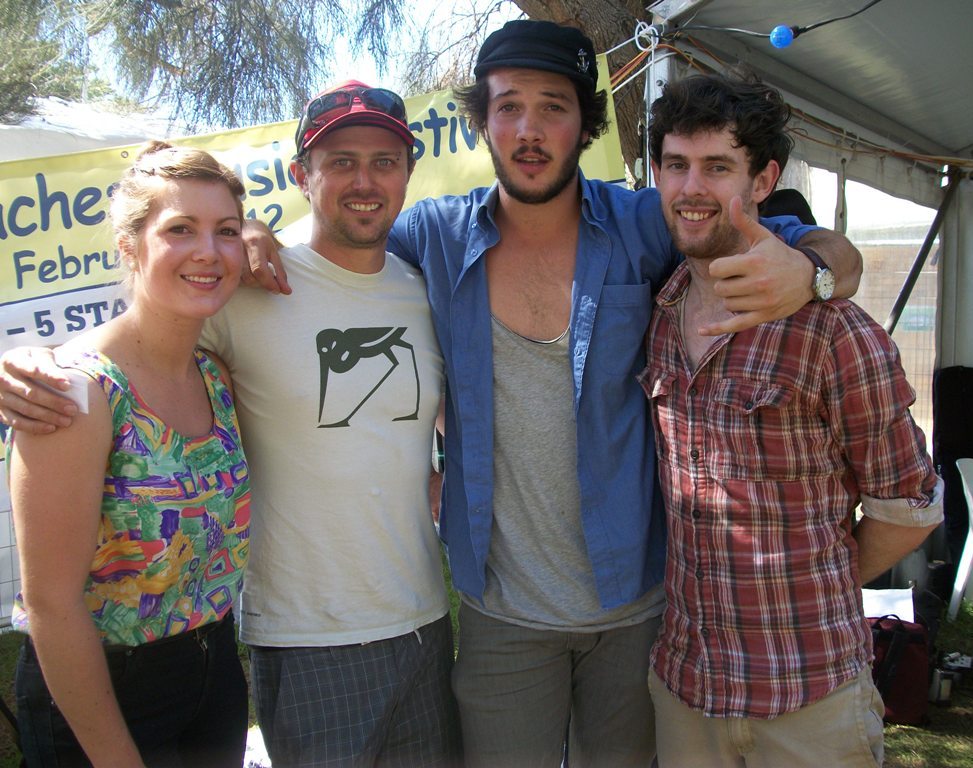 Songwriter Finalists 2012: Bec Tanner, Jaimie Keys (MVH organiser), Max Carpenter, Matt Dewar