May 10 - 16, 2015: Issue 213
Sun Shines on the Mermaids of Palm Beach Currawong Day 2015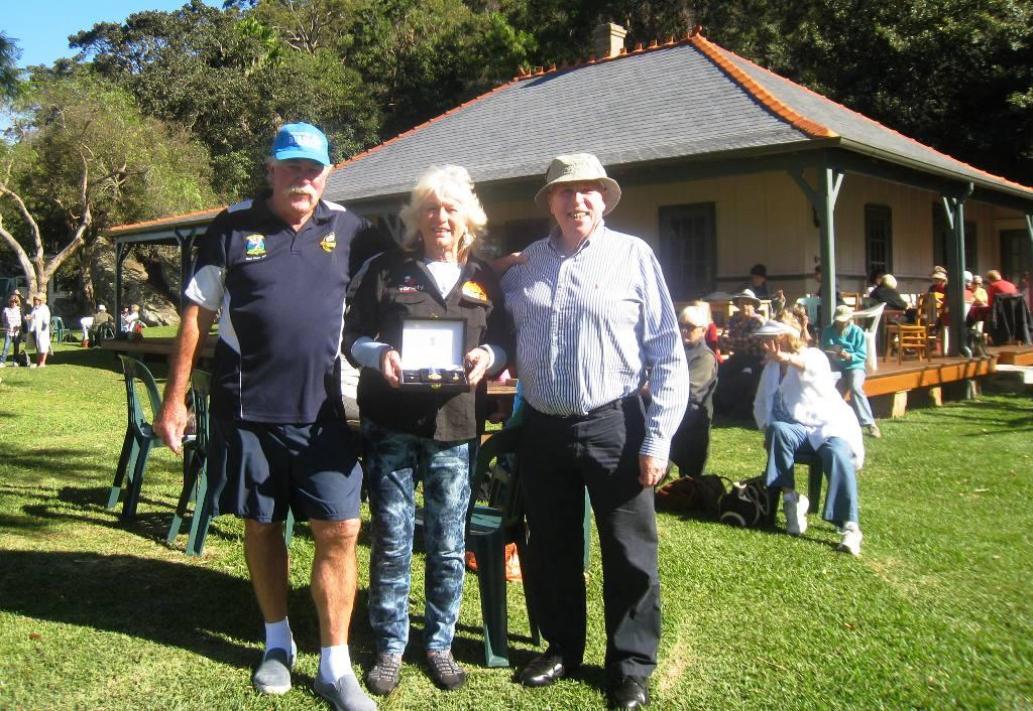 Three OAM's at Currawong Day 2015 - the Mermaids of Palm Beach fundraising for Variety, The childrens Charity - Left to right are Brian Friend OAM, Beryl Driver OAM and Dr Jim Roche - Dr Roche has been attending Mermaid's Currawomng Days for 3 years and has delivered 3 of Beryl's grandchildren - Picture supplied.
Sun Shines on the Mermaids of Palm Beach Currawong Day 2015
Incorporating the 2015 Currawong Cup
May 10, 2015
A large attendance and a great time was had by all attending the Mermaids of Palm Beach 2015 Day at Currawong which incorporates the Palm Beach Gold Club Ladies Division Annual Currawong Cup.
Bridge players, tennis players and those who enjoy this wonderful nook of Pittwater had a great day relaxing in a pristine environment. Stuart Telfer, Motoring Events Manager at Variety, the Children's Charity since 2004, attended for the first time and enjoyed his time at Currawong so much he has asked Beryl Driver when Currawong Day 2016 will be.
Attendees were treated to Beryl Drivers famous sausage rolls and a few other treats. Ticket sales and a few other items raised over three thousand dollars for Variety, the Children's Charity.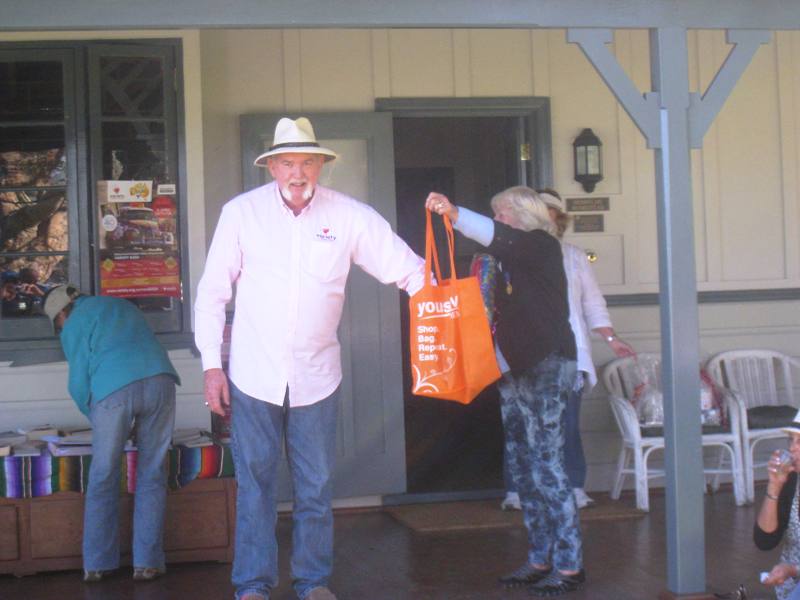 Stuart Telfar helping out on this year's raffle draws.
"It was an absolutely wonderful event his year," Beryl said "And a gorgeous day."
Currawong is one of those Western Shores of Pittwater often sheltered from the icy winds that blow tis time of year, offering a bit of Summer all year round in the brilliant days Sydney Autumns and Winters are renowned for.
Elyse Cole and Beryl Driver, two of the Mermaids of Palm Beach, would like to thank all those who attended in contributing towards a magic day.
The Mermaids of Palm Beach Annual Dinner and Auction at Club Palm Beach (Palm Beach RSL) will be the next big event for the ladies and this year will be on Monday the 13th of July. The Endless Strummers will be providing some great music, the Bistro at the club some great food and auction items you don't see anywhere else will be on offer for those attending. There may also be a few other surprises – more on that next month.
The Variety car Bash for 2015 will be starting from Bass Hill and heading to Bunbury for the main Bash then participants will have the option of heading north from Bunbury to Beagle Bay which is found north of Broome on the Dampier Peninsula!
This Mini Bash then completes the circumnavigation of Australia by the Variety B to B Bash. In its 30 years of Bashing, cars have travelled thousands and thousands of kilometres to all parts of Australia but never between Perth and Broome, well in 2015 – if you wish to join in – they complete this missing link!
The Bass Hill to Bunbury Bash will be 4,598 kilometres. The Bunbury to Beagle Bay Bash a further 3,801 kilometres making the 2015 B to B Bash potentially 8399 kilometres for those who do the lot. When we spoke to Beryl earlier this year, on being announced an OAM as part of this year's Australia Day Awards, going the whole way is what the girls plan to do.
While on Beryl's OAM; during the week Beryl went with sons Michael and Bruce, and daughter Stacey to the Investiture Ceremony to be presented with her OAM by His Excellency General The Honourable David Hurley AC DSC (Ret'd) at Government House Sydney.
"Just the most wonderful exciting day. All went wonderfully and the back to Michael's place for dinner with all the family." Beryl commented.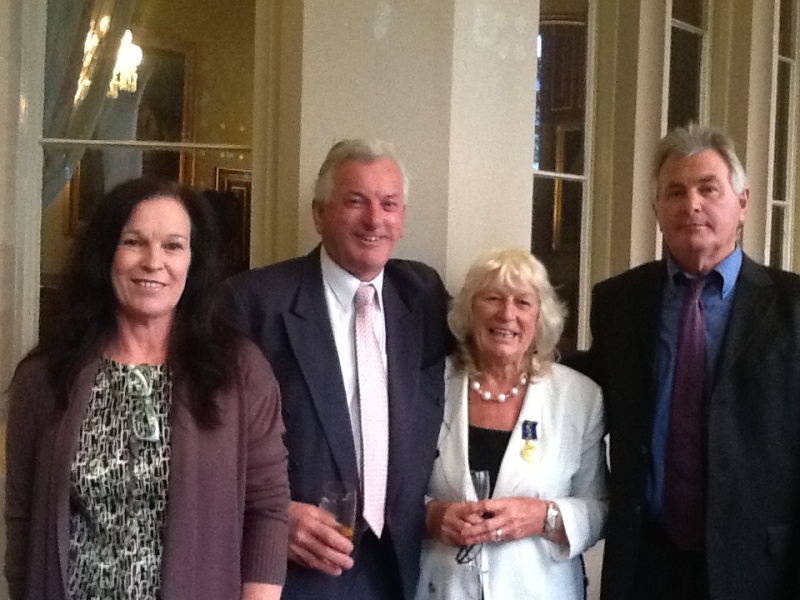 Above: Beryl and Family at Government House this week.
2015, if this year's events so far indicate anything, is shaping up to be even more wonderful for Beryl Driver, Elyse Cole and Viktorija MacDonnell – the now legendary Mermaids of Palm Beach in car 2108 who will be 'On the Road Again' come August 2015.
Those who want to support their work for Variety, the Children's Charity, can have some fun at July's Dinner. If you have something to offer for the auction that takes place on this evening, please contact Beryl 0410 478 897 or Elyse Cole 0404 000 123 to let them know.
________________________________________
2015 Currawong Cup Golf Results
Net Winner - Judith King
R/U - Judy Warner
Nearest the pin - 1st shot -Rhonda Mortimer
Nearest the pin - 2nd shot - Anne Warne
Longest Drive - Elizabeth Moore
Putting Competition - Judith King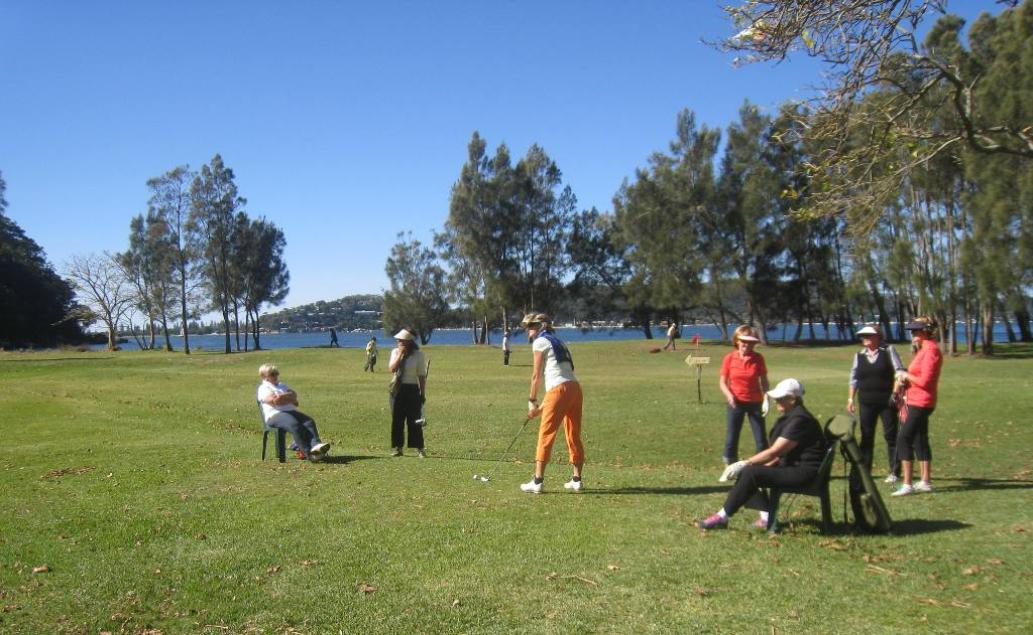 Currawong Cup 2015 - one of the best Golf Competitions anywhere!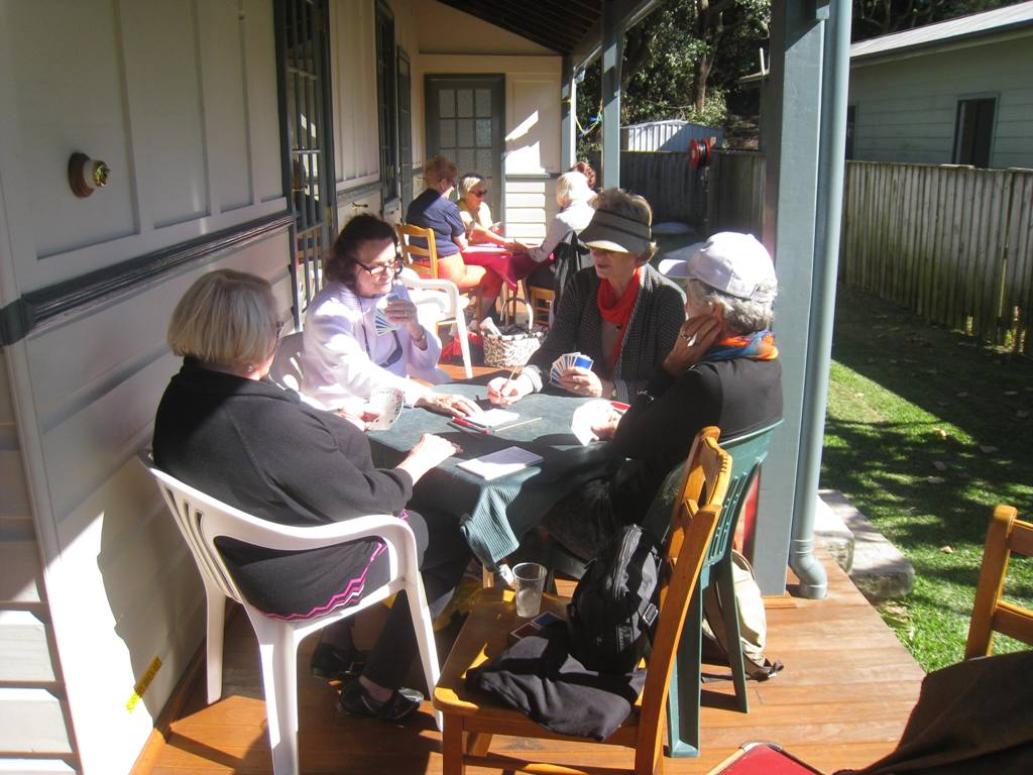 Playing Bridge on refurbished Midholme Verandah
Report by A J Guesdon, photographs by Robyn Friend and Elyse Cole, 2015.