May 10 - 16, 2015: Issue 213
"Just add water"; Ginger leads MC38 Autumn Regatta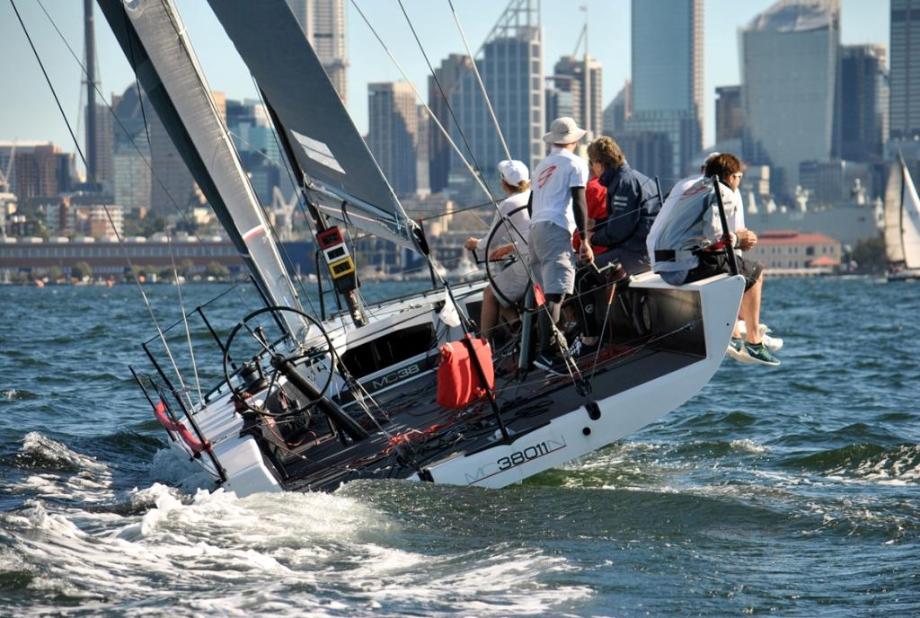 MC 39 Autumn Regatta 2015: Ginger on Sydney Harbour- photo by Ellen Pragnell-Rasch
"Just add water"; Ginger leads MC38 Autumn Regatta

Event: MC38 Autumn Regatta, May 9-10, 2015 hosted by the Royal Sydney Yacht Squadron at Kirribilli and racing on Sydney Harbour
9 MAY 2015
The advice to Andrew Hunn coming in as guest skipper on Leslie Green's MC38 Ginger for the second stage Autumn Regatta was "just add water". Given Ginger's track record, the seasoned steerer but MC38 class blow-in had nothing to worry about predicted coach and peer Mark Bradford.
In shifty westerly winds on Sydney Harbour, the fruitful combination of a multi-class Australian champion leading the current national MC38 champion crew produced a two point advantage after four races.
It's a squeeze at the top of the one design results this afternoon; two points split the first three, Ginger then Menace and Dark Star, with second and third on equal scores.
"We raced in a pleasant average 12 knot westerly; shifty and lots of snakes and ladders," said Hunn. "The Ginger crew was switched on. Everyone was in there at some point but the dark grey on black boats are definitely the ones to watch. The class has really tightened up since I last raced an MC38 a couple of years ago. They are a great, fun boat."
Hunn and his tactician David Chapman flew to Sydney from Hobart this morning, Saturday May 9, 2015, after attending the Royal Yacht Club of Tasmania's annual prizegiving. At the awards night Hunn handed over the John Calvert-Jones trophy to the RYCT while David received the Martin Graney Memorial Trophy for outstanding mainsheet hand, sailing on the Tasmanian yacht Export Roo which finished second overall in the SB20 nationals in Hobart in March.
The only non-native contesting the five-part MC38 Australian Season Championship, Howard Spencer's Menace, was a little shaky but managed to salvage some pretty good first day results according to tactician Ray Davies. "It was a very challenging day out there, very shifty and lots of opportunities. We haven't sailed as a crew since the Pittwater regatta back in February. Our two training days coming into this weekend were really helpful; we are working on a few things and think there are a lot of potential gains to be made. We might step a little backwards before we move forwards," he added.
"Twenty plus knots tomorrow will be fun; we are looking forward to it," Davies commented on the forecast for cool autumn westerlies to honk under the Harbour Bridge on day two of the series, thanks to a more vigorous frontal system passing over Victoria and southern New South Wales.
Class President and current third overall placed skipper of Dark Star, John Bacon, explains: "there's a loose upper class limit of 25 knots consistent. If the weather looks bad we'll have an owners meeting in the morning and make a decision whether to race."
The Bureau of Meteorology's latest Sydney closed waters forecast for Sunday is north westerly winds 10-15 knots, increasing to 15-25 knots during the morning and reaching 25-30 knots at times in the afternoon. Three more races are scheduled to wrap-up the Autumn Regatta, the first due to fire off at 1000hrs.
Bacon congratulated Andrew Hunn for taking the wheel of an MC38 and straight up finishing boat of the day, and acknowledged the Royal Sydney Yacht Squadron's sailing manager Chris Stone for recommending a 10am start. The harbour was close to deserted for the fleet's opening three races, and the fleet enjoyed the best winds of the day. On Dark Star's performance Bacon added, "we are hangin' in there."
The stand-out Corinthian moment was a second over the line for Robin Crawford's Assassin in the final race.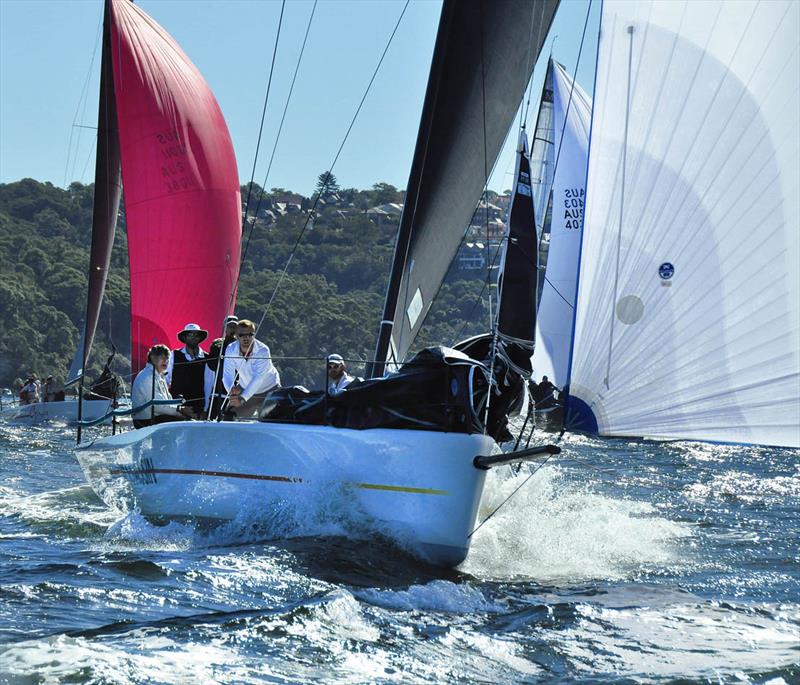 MC38 Autumn Regatta Assassin - photo by Bob Fowler.
This evening crews enjoyed a few beers back at the host club thanks to the fourth placed Marcus Blackmore (Hooligan) who shouted the fleet.
Principal Race Officer Rob Ridley reckons his customers were happy. "We gave them a good variety of courses as we tried to get some distance on the harbour, and had a windward finish for the last race right under the clubhouse. We had one general recall, which is unusual for this fleet, and no course changes though the westerlies were shifty."
Umpires David Tallis and Gary Manuel stayed busy throughout, the first protest coming at the start of race one and the last at the finish of race four.
Results here and below.
McConaghy 38 Autumn Regatta - Royal Sydney Yacht Squadron Series up to Race 4
Sail No Boat Name Skipper Sers Score Race 4 Race 3 Race 2 Race 1
38011 GINGER Andrew Hunn 9.0 3.0 2.0 3.0 1.0
38014 MENACE Howard Spencer 11.0 1.0 5.0 1.0 4.0
AUS38002 DARK STAR John Bacon 11.0 4.0 1.0 4.0 2.0
AUS521 HOOLIGAN Marcus Blackmore 15.0 6.0 4.0 2.0 3.0
AUS9999 ASSASSIN Robin Crawford 17.0 2.0 3.0 5.0 7.0
HI101 VINO Chris Hancock 23.0 5.0 6.0 6.0 6.0
403 GHOST RIDER Ross Hennessy 26.0 7.0 7.0 7.0 5.0
Follow the MC38s via Facebook www.facebook.com/MC38Class
By Lisa Ratcliff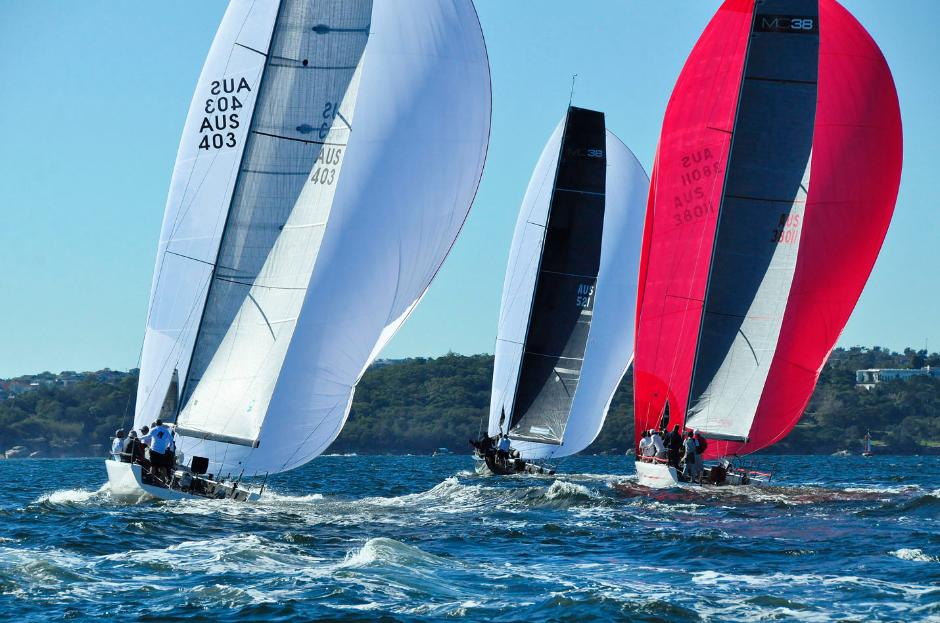 Left to right: Ghost Rider; Skipper Ross Hennessy, Hooligan; Skipper Marcus Blackmore and Ginger; skipper Andrew Hunn on Sydney Harbour yesterday for the MC38 Autumn Regatta - photo by Bob Fowler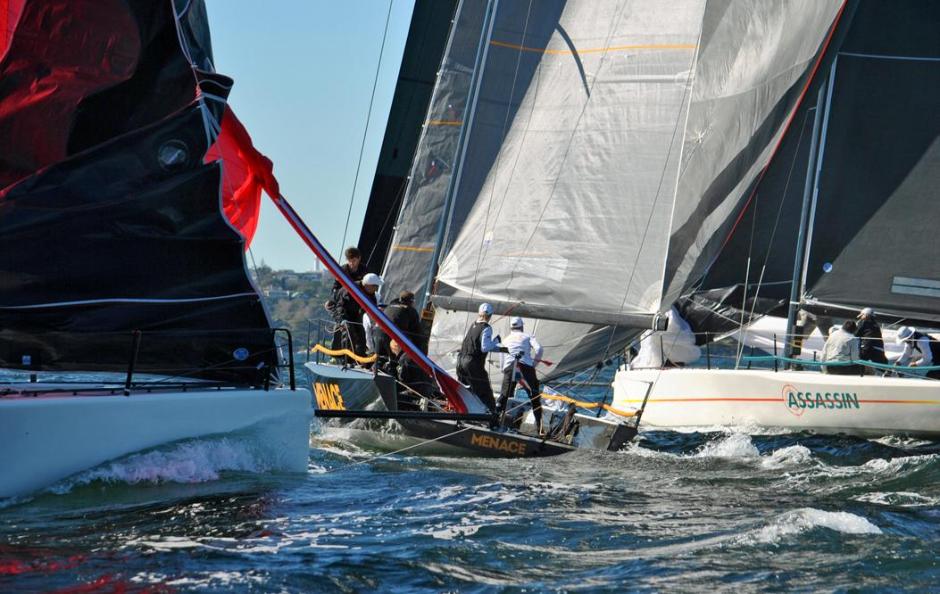 MC38 Autumn Regatta 2015 day one action - photo by Ellen Pragnell-Rasch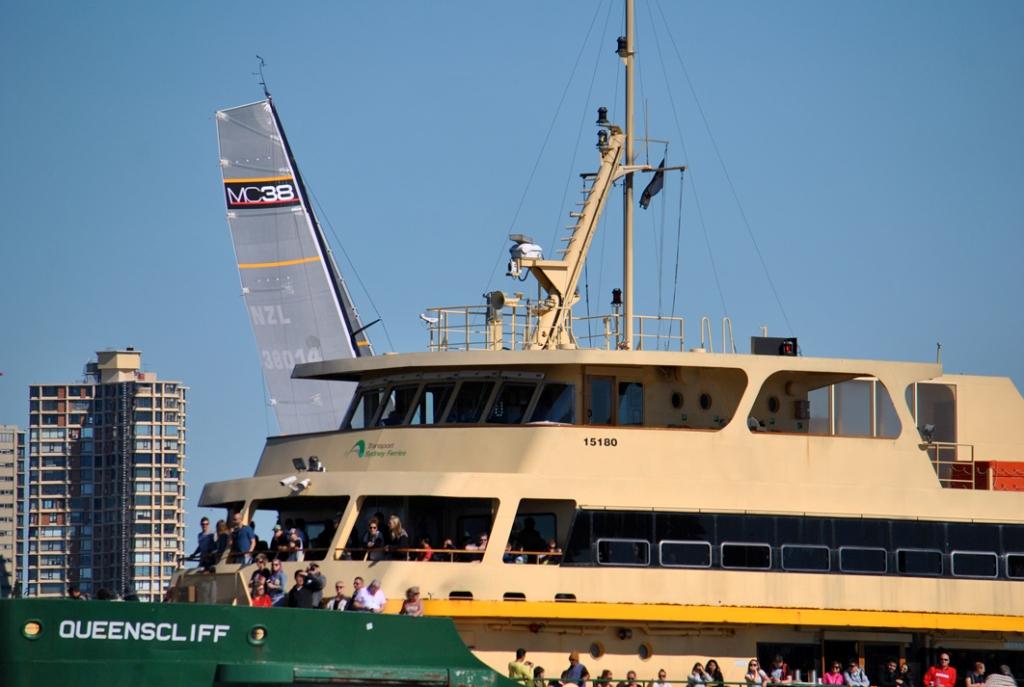 Manly Ferry & MC38 mast - photo by Ellen Pragnell-Rasch
Top gear wins Dark Star the MC38 Autumn Regatta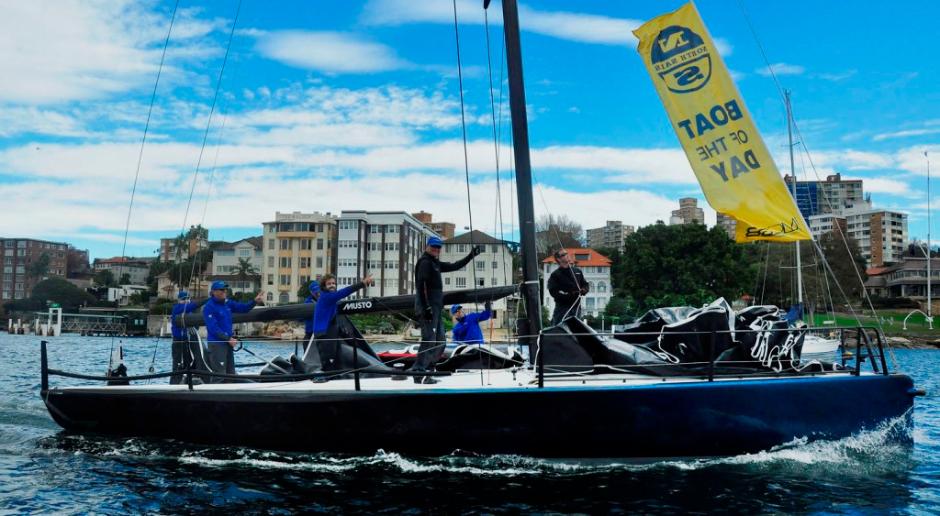 Dark Star boat of the day & regatta winner - photo by Bob Fowler
Top gear wins Dark Star the MC38 Autumn Regatta
10 MAY 2015

Event: MC38 Autumn Regatta, May 9-10, 2015 hosted by the Royal Sydney Yacht Squadron at Kirribilli and racing on Sydney Harbour
John Bacon's Dark Star from the Royal Prince Alfred Yacht Club minimised errors and maintained composure in the puffy westerlies on Sydney Harbour to take out the MC38's Autumn Regatta by a single point.
Autumn and winter breezes typically come in waves out of the west, under the Harbour Bridge and down the hills off Sydney's pricy foreshore suburbs. Seven MC38 crews were kept busy constantly changing gears in today's wind range of six to 23 knots, as well as dodging private vessels and the CYCA's winter series fleet.
Off Garden Island's Navy base each strong gust acted like a slingshot, releasing the MC38s one by one and producing thrilling downhill speeds of 17 knots.
"The guys were changing gear all the time, you'd go through a soft spot then all of a sudden you had to respond in the puffs," Bacon said. "We were really quick upwind today; coming into this series we did a few sessions and the stuff we were working on really paid off. It's nice to do well when it's breezy; that's when these boats can be challenging."
Coming into the final race seven of the series, Dark Star's tactician Cameron Miles calculated they needed to finish ahead of Chris Hancock's Vino to keep Ginger off the podium top step. The first pack of four, including Menace, Ginger, Dark Star and Vino, finished within 33 seconds of each other and Dark Star pipped Vino by just nine seconds "It was very close," Miles grinned with relief. "As a team it was the best regatta we've sailed together. We weren't without errors, but probably less than most."
"All seven of us have been there since the beginning, we have really good composure," added Bacon. He's the Australian class President and in that role thanked Ginger's owner Leslie Green for allowing his boat to compete while he's in Europe, and acknowledged the Royal Sydney Yacht Squadron's PRO Rob Ridley for another good day.
"We sailed OK today, a couple of mistakes cost us points," recapped Ginger's young tactician David Chapman. "Dark Star had a very good day; they were clearly the best boat out there. We will go away and work on being smoother downwind. Thanks to Andrew Hunn for stepping on to drive and getting the crew sailing," he added.
Third was Howard Spencer's New Zealand MC38 Menace. A seventh in race five after gear failure caused the mainsail to end up on the deck mid-race dented the Kiwi's chances of repeating their stage one victory. The Autumn Regatta is the second of a current five-part Australian Season Championship, the first time the class has instigated a season-long pointscore.
Chris Hancock's Vino might have finished fifth overall behind Marcus Blackmore's Hooligan but they were the regatta's big mover today, Sunday May 10, 2015, charging to the front on a couple of occasions and earning the bullet in race six.
"We really struggled yesterday with a lack of practice, communication and getting off the starting line, and having mistimed the starts we were then out of phase," explained Vino's tactician Gordon Maguire. "We set about this morning to correct this and today we became the bat instead of the ball. The crew worked hard on the starts and communication, and rather than other people forcing us to go a certain way, we decided where we'd go."
On the MC38 class in general the Irishman had this to say: "The difference between these boats and other one designs is once you make it to the top mark and feel like you've done most of the tactical hard yards then you have to get downwind. With massive differences in boat speeds the next gust can win the race. It's exciting and adds a whole new dimension for the tactician, which I'm really enjoying."
On Mother's Day, Maguire's message to his dearest back in Dublin was spoken like a true Aussie: "love ya mum".
Results here and below.
McConaghy 38 Autumn Regatta - Royal Sydney Yacht Squadron
Series Results [One Design ET] up to Race 7
Sail No Boat Name Skipper Sers Score Race 7 Race 6 Race 5 Race 4 Race 3 Race 2 Race 1
AUS38002 DARK STAR John Bacon 17.0 3.0 2.0 1.0 4.0 1.0 4.0 2.0
38011 GINGER Andrew Hunn 18.0 2.0 5.0 2.0 3.0 2.0 3.0 1.0
38014 MENACE Howard Spencer 22.0 1.0 3.0 7.0 1.0 5.0 1.0 4.0
AUS521 HOOLIGAN Marcus Blackmore 28.0 5.0 4.0 4.0 6.0 4.0 2.0 3.0
HI101 VINO Chris Hancock 31.0 4.0 1.0 3.0 5.0 6.0 6.0 6.0
AUS9999 ASSASSIN Robin Crawford 37.0 7.0 7.0 6.0 2.0 3.0 5.0 7.0
403 GHOST RIDER Ross Hennessy 43.0 6.0 6.0 5.0 7.0 7.0 7.0 5.0
The next calendar event is the Winter Regatta, June 20-21, 2015 on Sydney Harbour.
MC38 Association You Tube channel
Follow the MC38s via Facebook https://www.facebook.com/MC38Class
By Lisa Ratliff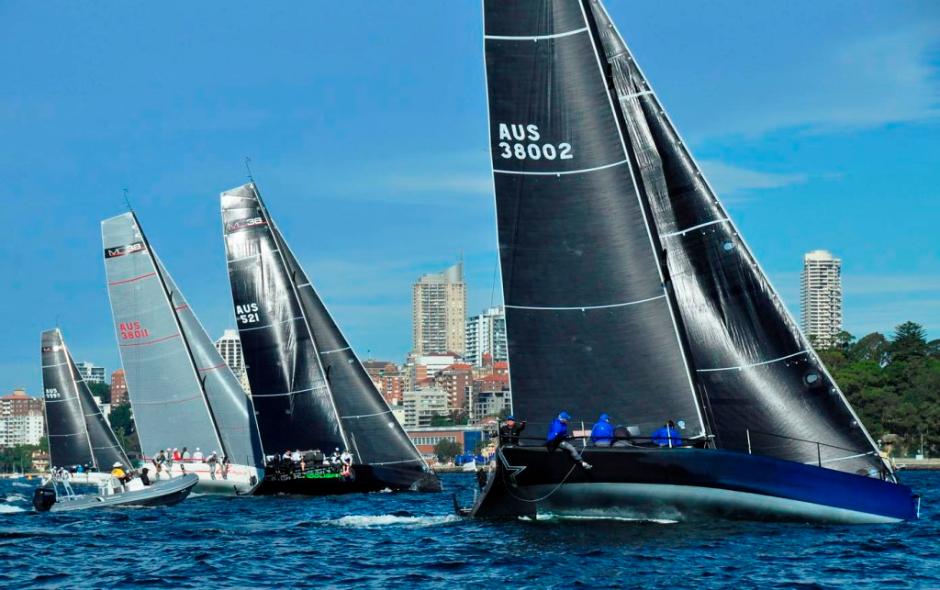 MC38 start on day 2 Autumn Regatta - photo by Bob Fowler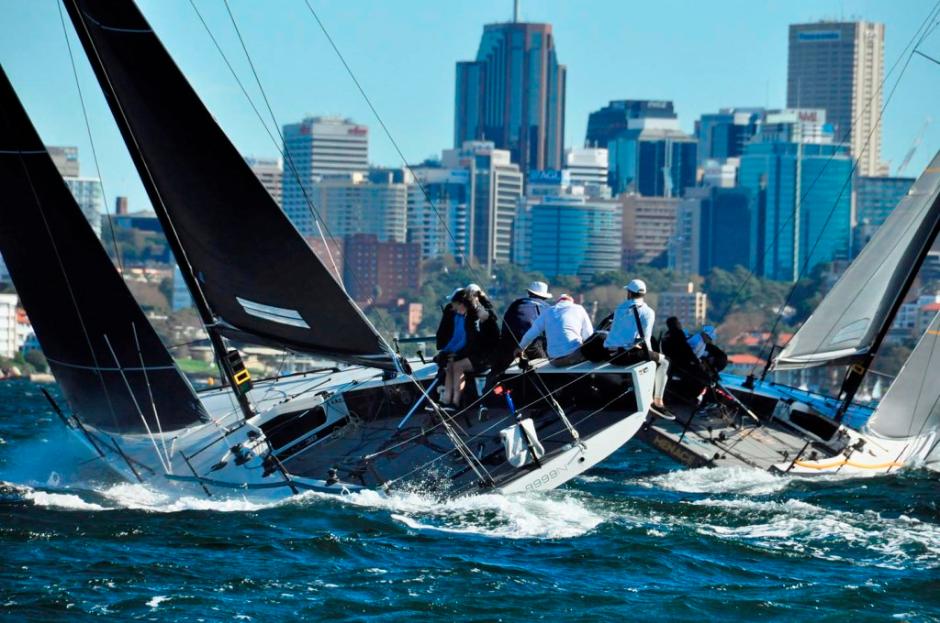 Ghost Rider & Menace - photo by Bob Fowler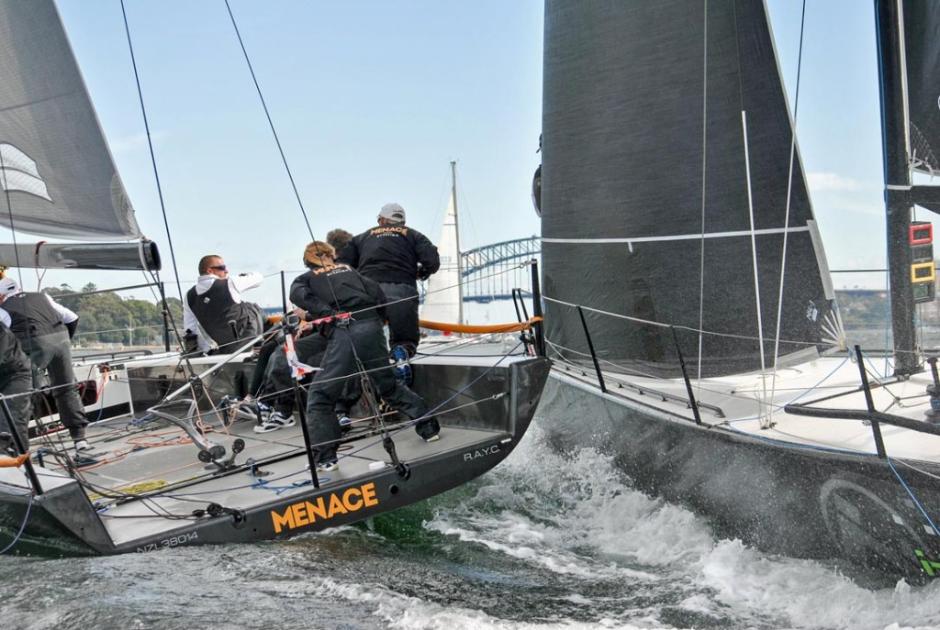 Close quarters for Menace & Hooligan - photo by McConaghy Boats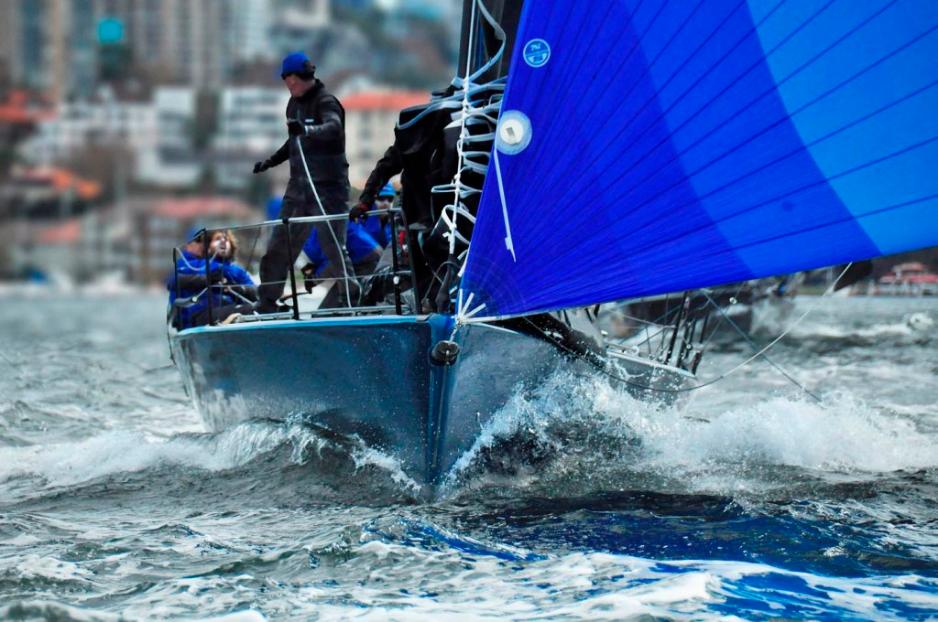 MC38 Autumn Regatta 2015 winner Dark Star - photo by Bob Fowler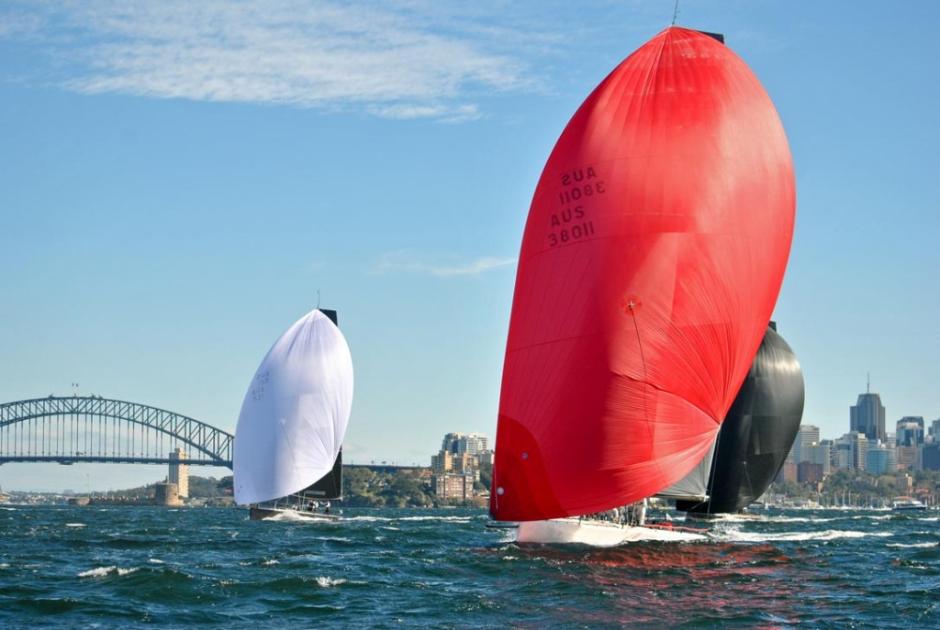 MC38 Autumn Regatta 2015 final day - photo by McConaghy Boats