December 7- 13, 2014: Issue 192
Warriewood SLSC's State of Grace-fulness for 2014 Boat Carnival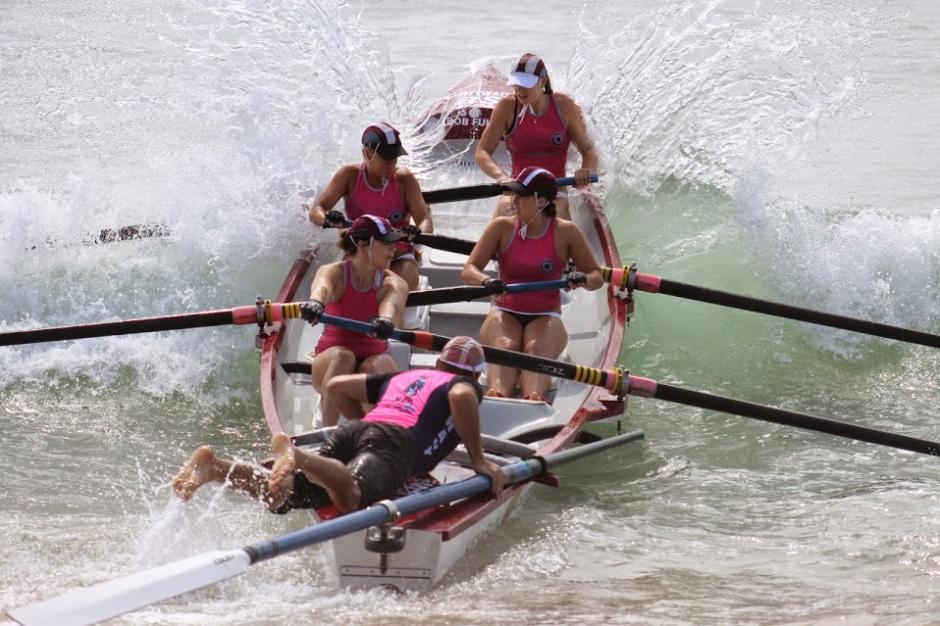 7 December 2014 -
Warriewood SLSC's Wildcats made the finals of Saturday 6th of December's Round three of the 2014-15 Season's Surf Life Saving Sydney Northern Beaches Boat Premiership.
The host club ran a smooth, fast carnival ably supported by a great crew of officials. In between heats some clubs could be seen rowing out beyond the breakers across the alleys - proving it is not only the women's crews who can display grace.
Saturday's carnival also honoured Allan Collins, a gentleman sweep of the Warriewood club, who contracted pneumonia earlier this year and passed away in October. All crew members from all clubs raised their oars in salute and a minute's silence to Allan, whose ashes were given back to the beach he loved.
More HERE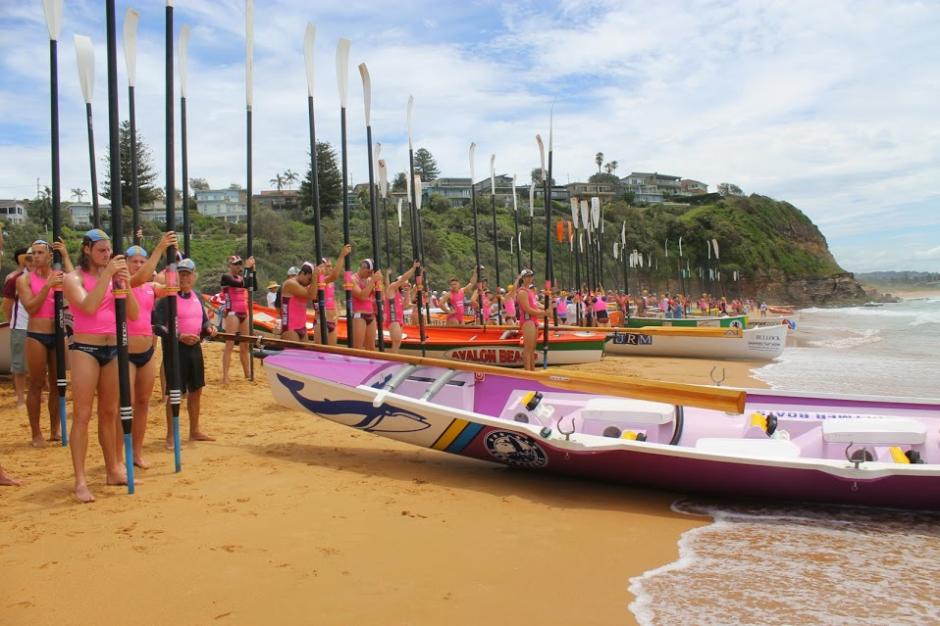 Warriewood SLSC and guests salute Allan Collins - photo by A J Guesdon, 2014.
Farr 40 fleet 'Pittwaterised'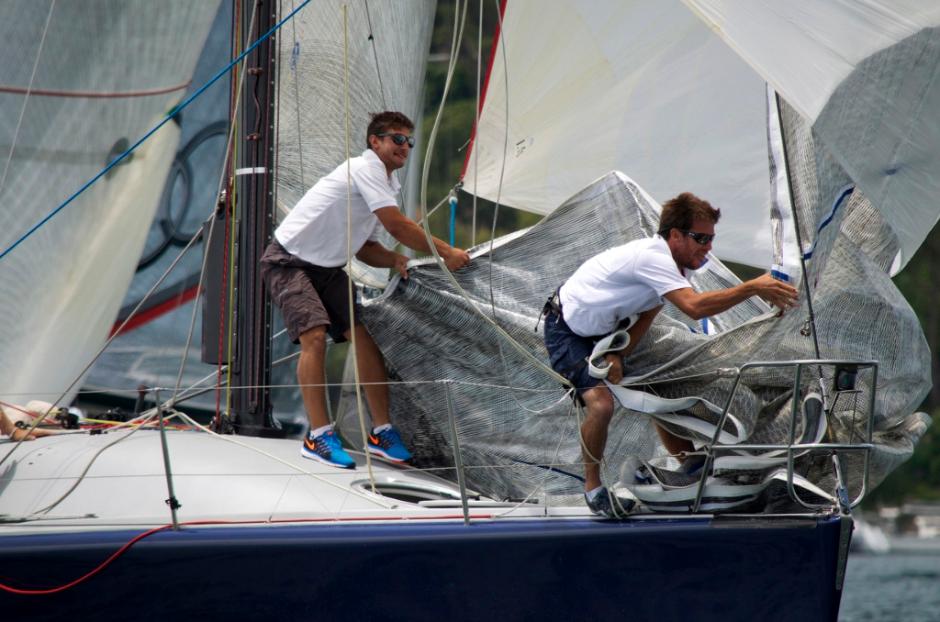 Transfusion bowman Mitch White - photo by Alexandra Earl.
6 DECEMBER 2014
Most of the active Australian east coast Farr 40 fleet assembled at Pittwater today for the opening three races of the class' One Design Trophy hosted by the Royal Prince Alfred Yacht Club.
Reigning Australian champion Guido Belgiorno-Nettis' Transfusion sailing for Middle Harbour Yacht Club is this evening the lead boat, despite the crew being "Pittwaterised" in the opening race. The term came from Transfusion's long time bowman Mitch White to describe the narrow waterway's random nature that often strands the frontrunners and gives those out the back door a conveyer belt ride, and a fighting chance. Or the reverse can happen just as easily.
Sunday's forecast is for south to sou'easterly breezes 10-15 knots in the morning decreasing to around 10 knots in the middle of the day. Racing is due to start at 11am and three races are scheduled to complete the weekend series.
Report on Day One by Lisa Ratcliff - HERE
Pittwater Students Selected For Gallipoli School Tour - 2015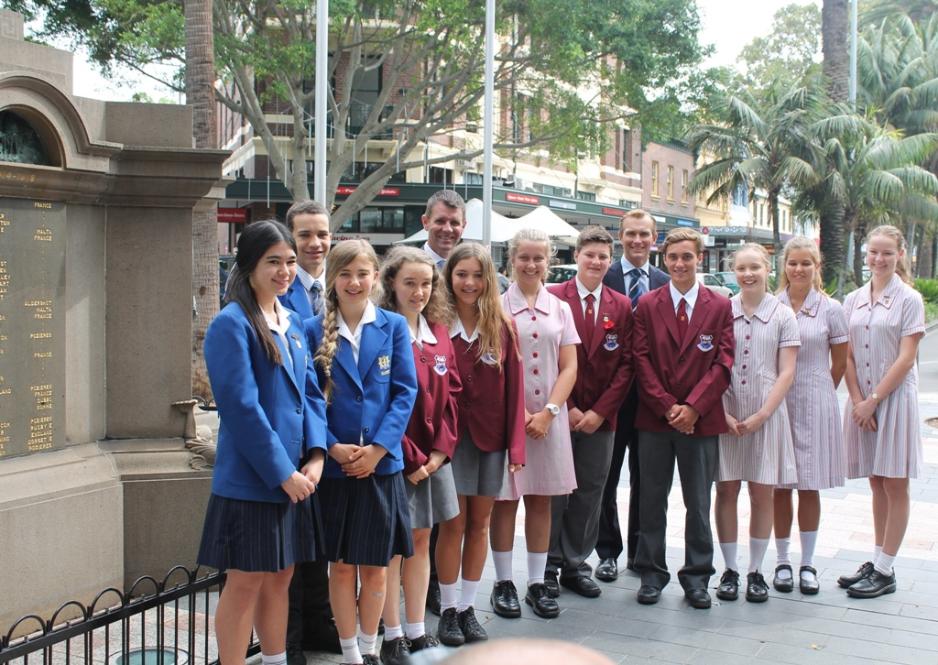 Member for Pittwater Rob Stokes today (3.12.2014) announced the four students selected to represent Pittwater High School at next year's Centenary Anzac Day commemorations at Gallipoli.
Pittwater High School is one of just 25 schools from across NSW selected to send students to participate in this historic occasion.
The NSW Government is funding this important initiative which involves 100 students and 28 supporting teachers taking part in a nine-day tour to Turkey to visit WW1 battlefields and attend the Anzac Day Dawn Service at Gallipoli.
The successful students from Pittwater High School are Noah Coopey, Kathleen Parkinson, Jessica Ratcliff and Hamish Wickman. The accompanying teacher will be Mr Stephen Kovacs.
More HERE
Summer 2014-2015- Mangrove Flowers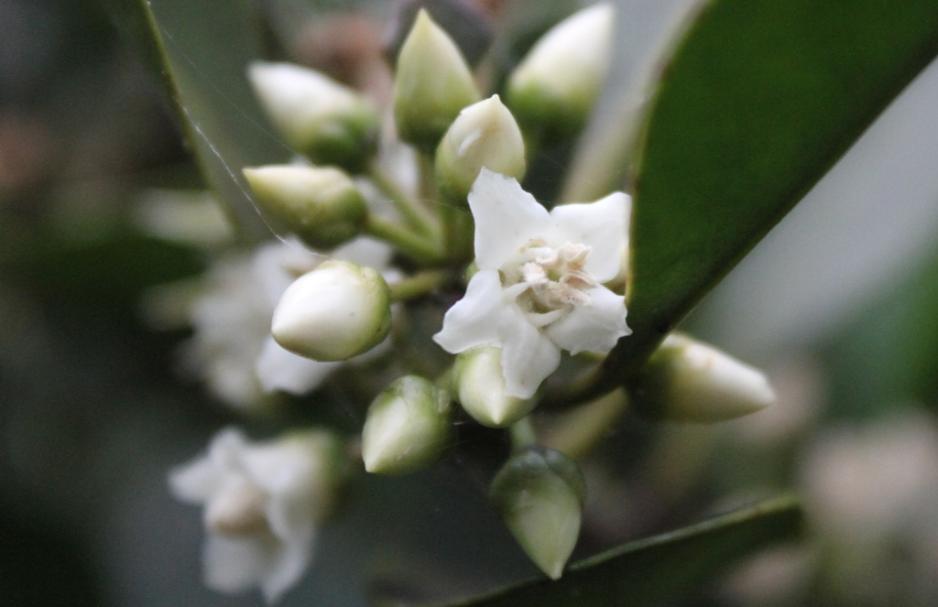 Picture by A J Guesdon, 2014.