October 14 - 20, 2018: Issue 379

Old Books: October 2018 - read in full here: online!
Rambles And Observations In New South Wales By Joseph Phipps Townsend (1849), The Forest Flora Of New South Wales By J. H. Maiden (1902) and Geography Of New South Wales By J. M. Taylor (1912)

Steam Australia: Locomotives that Galvanised the Nation
Tim Fischer
In 'Steam Australia', Tim Fischer takes readers into the fascinating story of steam transportation over ten vital decades of transformation in Australia's history.
The book also covers the great named express trains hauled by steam locomotives over the decades, such as 'Puffing Billy', Robert Gordon Menzies or 'The Ghan'. Special topics feature things such as Albury's 'break of gauge' platform (where two state track systems met), the Amiens branch line (running through Pozieres and Passchendaele stations in Queensland), some important characters such as C.Y. O'Connor and many more.
The book is illustrated with over 300 exciting images from the superb National Library John Buckland collection of photography, many never seen before.
Steam locomotives continue to operate as a key part of rail heritage tourism in Australia, demonstrating the ongoing legacy of these engines. The great age of steam in Australia and Fischer's salute to steam locomotion and all that it has achieved for this country is fascinating and captivating to both train novices and enthusiasts alike.
BEES OF AUSTRALIA
A Photographic Exploration
By James Dorey
CSIRO Publishing - $49.99
Published October 2018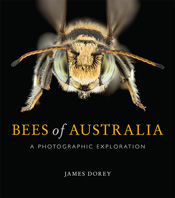 Discover the beauty and diversity of Australia's native bees.
Bees are the darlings of the insect world. It is a joy to see these insects hard at work, peacefully buzzing from flower to flower. Many people recognise the worth of bees, as well as that they face multiple threats. But very few know about the diversity and importance of our native bee species. There are an estimated 2000 to 3000 bee species in Australia, yet we know very little about the vast majority of these and there are many that are yet to be described.
Bees of Australia introduces some of our incredible native bees, many of which, if you look closely, can be found in your own garden. Open this book wherever you like or read it from cover to cover. The combination of photography and contributions from some of Australia's leading bee researchers allows anyone to become enthralled by our native bees. Don't be surprised if you find yourself looking closer at every flower that you pass in search of our wonderful native bees.
Midnight at the Library
Ursula Dubosarsky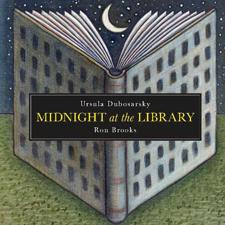 In 'Midnight at the Library', critically-acclaimed author, Ursula Dubosarsky, and award-winning illustrator, Ron Brooks, traverse space and time, telling the story of a book throughout history. The author and illustrator piece together the story of a book that was opened and loved, given and taken, closed and lost, found and forgotten before being discovered, uncovered and preserved in a library.
Beautifully written and splendidly illustrated, this is a story about the inception, creation and preservation of books and culture. This evocative children's book has vast educational potential and is sure to captivate the hearts of book-lovers across the nation, encouraging them to find their own book of wonder. Brilliantly evocative and exceptionally engaging, there is something undeniably magical about Dubosarsky and Brooks' ageless story, 'Midnight at the Library'.