AUSTRALIAN ISLAND ARKS
Conservation, Management and Opportunities
Edited by:
Dorian Moro, Derek Ball, Sally Bryant
Explore the ecology, conservation challenges and restoration approaches of Australia's islands.
Australia is the custodian of a diverse range of continental and oceanic islands. From Heard and Macquarie in the sub-Antarctic, to temperate Lord Howe and Norfolk, to the tropical Cocos (Keeling) Islands and the islands of the Great Barrier Reef, Australia's islands contain some of the nation's most iconic fauna, flora and ecosystems. They are a refuge for over 35% of Australia's threatened species and for many others declining on mainland Australia. They also have significant cultural value, especially for Indigenous communities, and economic value as centres for tourism.
Australian Island Arks presents a compelling case for restoring and managing islands to conserve our natural heritage. With contributions from island practitioners, researchers and policy-makers, it reviews current island management practices and discusses the need and options for future conservation work. Chapters focus on the management of invasive species, threatened species recovery, conservation planning, Indigenous cultural values and partnerships, tourism enterprises, visitor management, and policy and legislature. Case studies show how island restoration and conservation approaches are working in Australia and what the emerging themes are for the future.
Australian Island Arks will help island communities, managers, visitors and decision-makers to understand the current status of Australia's islands, their management challenges, and the opportunities that exist to make best use of these iconic landscapes.
Spinning Tops & Gumdrops: A Portrait of Colonial Childhood
Author: Edwin Barnard

Edition: 1st Edition -
Pages: 192 -
Price $44.99
Publication Date: 01 March 2018
AVAILABLE 01 MARCH - PRE-ORDER NOW
'Spinning Tops and Gumdrops' takes us back to childhood in colonial Australia. The delight of children at play is universal, but the pleasure these children experience as depicted through the book's photographs is through their 'imagination, skill and daring' rather than through possessions. Children play quoits and jacks, hide and seek, cricket with a kerosene tin for a wicket, dress ups and charades. They climb trees, run races, and build rafts to sail on the local waterhole. The photographs show children happily absorbed in the play of their own making.
Being a child in colonial Australia was also tough. It was a time when school yard disagreements were sorted out with fists and 'the loss of a little claret'. A time when children could view public hangings and premature death was frequent, especially taking the very young and vulnerable though dysentery, whooping cough or diphtheria.
The lasting impression left by the contemporary accounts, photographs, etchings and paintings of colonial children in 'Spinning Tops and Gumdrops' is their possession of qualities of resilience, self-sufficiency and acceptance of their lot. Perhaps it was through lack of choice, or of knowing no other. Nevertheless, these were qualities that put them in good stead for the challenges many faced in their adulthood. Interestingly, these are qualities on which contemporary society still places a high value, but which today seem a little more elusive.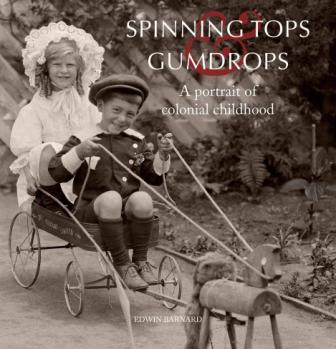 RECOVERING AUSTRALIAN THREATENED SPECIES
A Book of Hope
Edited by: Stephen Garnett, Peter Latch, David Lindenmayer, John Woinarski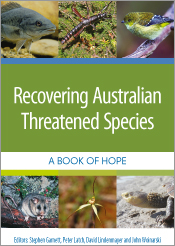 An inspiring showcase of successful approaches and implementation methods for conservation.
Australia's nature is exceptional, wonderful and important. But much has been lost, and the ongoing existence of many species now hangs by a thread. Against a relentless tide of threats to our biodiversity, many Australians, and government and non-government agencies, have devoted themselves to the challenge of conserving and recovering plant and animal species that now need our help to survive. This dedication has been rewarded with some outstanding and inspiring successes: of extinctions averted, of populations increasing, of communities actively involved in recovery efforts.
Recovering Australian Threatened Species showcases successful conservation stories and identifies approaches and implementation methods that have been most effective in recovering threatened species. These diverse accounts – dealing with threatened plants, invertebrates, fish, reptiles, birds and mammals – show that the conservation of threatened species is achievable: that it can be done and should be done. They collectively serve to inform, guide and inspire other conservation efforts. This is a book of hope and inspiration. It shows that with dedication, knowledge and support, we can retain and restore our marvellous natural heritage, and gift to our descendants a world that is as diverse, healthy and beautiful as that which we have inherited.
Children's Storytime at Mona Vale Library
Mona Vale Library offers storytime for pre-school children every week during school terms. Children and their carers come and participate in a fun sing-a-long with our story teller as well as listen to several stories in each session, followed by some craft. Storytime is held in the Pelican Room of the library in front of the service desk. Storytime is free and no bookings are required. Storytime Sessions
Tuesdays 10.00am - 11.00am
Wednesdays 10.00am - 11.00am
Thursdays 10.00am - 11.00am