October 13 - 19, 2019: Issue 424

Morning Glory on the Vine: Early Songs and Drawings
by Joni Mitchell
Originally handcrafted in 1971 as a gift for friends, this edition of Joni Mitchell's best-loved poems, illustrations, watercolours and hand-lettered song lyrics is now publicly available for the first time.
In 1971, as her album Blue topped music charts around the world, Joni Mitchell created a dazzling and unforgettable holiday gift for her closest friends. Morning Glory on the Vine was an exquisite selection of Joni's handwritten lyrics and poems, accompanied by more than thirty full-colour illustrations, paintings and watercolours. The book was hand-produced in Los Angeles and limited to one hundred signed and numbered copies. Copies of the book have rarely been seen in the past half-century.
Now, in conjunction with Joni's 75th birthday celebrations, Morning Glory on the Vine: Early Songs and Drawings, will be made publicly available for the first time. This edition contains the book's complete original content, plus a new introduction written by Joni and a number of her additional paintings (made at the time of the book's creation).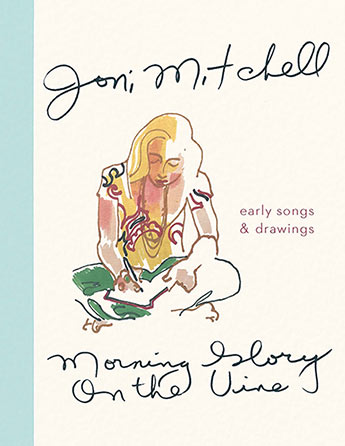 Accidental Tour Guide
Mary Moody
Simon & Schuster Australia, Published October 1st, 2019: $35.00
Eat, Pray, Love meets The Year of Magical Thinking in this powerful memoir of love, loss and taking risks from a true adventurer.
The irrepressible Mary Moody knows better than anyone the joy of breaking new ground and discovering new frontiers. She is the bestselling author of Au Revoir and Last Tango In Toulouse, and her life as a journalist, TV and radio presenter, popular gardening guru and inveterate traveller has been an inspiration to thousands of women for decades.
But when Moody loses two of the people she loves most - her beloved husband and the half sister she had only just been reunited with - her world is turned upside down.
Part of her journey to recovery is her decision to boldly go where she has never been before - both in her travels as a tour guide and in her everyday life. This leads to exploring uncharted territories in Morocco and a wrenching move from her beloved mountain home and garden to make a fresh start while rediscovering her passions - travel, gardening, food, family and the joy of new adventures. A warm, heartbreakingly moving and thoroughly entertaining story of how to rebuild your life without the people who matter most.
Mistletoes of southern Australia
David Watson - Second Edition
CSIRO Published October 1st, 2019: $59.99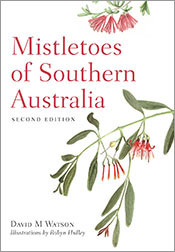 The definitive illustrated guide to all 47 mistletoe species found in southern Australia.
Mistletoes are an enigmatic group of plants. Lacking roots and depending on other plants for their livelihood, they have inspired a range of beliefs throughout the world. Some people regard them as being endowed with magical properties, others as destructive weeds that devalue native habitats, and still others as beautiful native plants that support wildlife.
This second edition of Mistletoes of Southern Australia is the definitive authority on these intriguing native plants. With specially commissioned watercolours by artist Robyn Hulley and more than 130 colour photographs, it provides detailed species accounts for all 47 species found in the region. It is fully updated throughout, with new distribution maps and new sections on fire, climate change and mistletoes in urban areas. It also describes the ecology, life history and cultural significance of mistletoes, their distribution in Australia and around the world, and practical advice on their management.
Old Books: Spring 2019 - read in full here, online!
Flora Australiensis: A Description Of The Plants Of The Australian Territory by Bentham, George, 1800-1884; Mueller, Ferdinand von, 1825-1896, Publication date 1863
Iconography Of Australian Salsolaceous Plants by Mueller, Ferdinand von, (1825-1896), Published 1896
Australian Plants Suitable For Gardens, Parks, Timber Reserves, Etc by Guilfoyle, W. R. (William Robert), 1843-1912, Publication date 1911
Trouble in the Surf
Stephanie Owen Reeder and Briony Stewart
It's a hot summer's day in Sydney Town, and nine-year-old cousins Charlie Smith and Rupert Swallow can't wait to dive into the surf at Bondi Beach. The beach is packed with families enjoying the sun and the surf, and the boys are eager to dive straight in. But the surf can be dangerous, and Charlie's enthusiasm and bravado have got him into trouble before. Does he know that out past the breakers, where the seagulls swoop and soar, lurks a strong rip that can drag unsuspecting swimmers out to sea? Will the brave surf-bathers get to the boys in time? And can Nurse Sadie Sweeney save the day? Travel back in time to January 1907, and learn about the true-life incident that inspired the formation of the Bondi Surf Bathers Life Saving Club and nearly changed Australia's pioneering aviation history forever.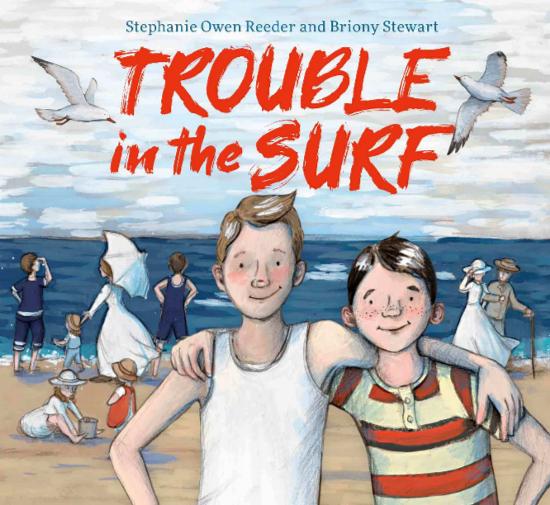 A Hollow is a Home
Abbie Mitchell, Astred Hicks
CSIRO Published October 1st 2019: $29.99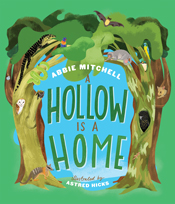 Take a peek into the world of tree hollows and the Australian animals that call them home.
Do you know what a tree hollow is?
To you and me, a tree hollow is just a hole, cavity or tunnel in a tree or branch. But to an animal, that hollow may be a bedroom, hiding place, nursery or shelter. It is the ultimate tree house!
Come and take a peek inside the amazing world of tree hollows and discover more than 340 species of incredible Australian animals that call hollows home. With colour photos of glorious gliders, darting dunnarts, minute microbats and many more, this book is full of fun facts about animals that use tree hollows as places for resting, nesting or hiding.
Find out how hollows are created, why they are threatened, and meet scientists who spend their time hollow-hunting. There are also plenty of tips on how you can spot hollows yourself, help to protect the environment and encourage habitat for hollow-dependent animals.
Perfect for primary-aged readers.
Windcatcher: Migration of the Short-tailed Shearwater
Diane Jackson Hill, Craig Smith
CSIRO Published October 1st, 2019: $24.99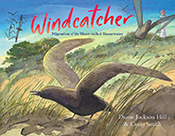 Follow the amazing 30,000 kilometre annual migration of the short-tailed shearwater.
A short-tailed shearwater flies from the edge of the Southern Ocean to the rim of the Arctic Circle – and back – every year. This remarkable 30,000 kilometre journey is driven by seabird law.
Instinct and community will guide her.
A wingspan the size of a child's outstretched arms will support her.
But first, she must catch the wind …
Based on birds that live on Griffiths Island, near Port Fairy, Victoria, Windcatcher is a tale of migration, conservation and survival that begins with one small bird called Hope.
Written by award-winning children's author Diane Jackson Hill and illustrated by Craig Smith, one of Australia's most prolific and popular illustrators, Windcatcher explores the mysteries of seabird migration. For primary aged readers.
NLA Ebooks - Free to download
The National Library of Australia provides access to thousands of ebooks through its website, catalogue and eResources service. These include our own publications and digitised historical books from our collections as well as subscriptions to collections such as Chinese eResources, Early English Books Online and Ebsco ebooks.
What are ebooks?
Ebooks are books published in an electronic format. They can be read by using a personal computer or an ebook reader.
This guide will help you find and view different types of ebooks in the National Library collections.
Peruse the NLA's online ebooks, ready to download -
HERE
Children's Storytime at Mona Vale Library
Mona Vale Library offers storytime for pre-school children every week during school terms. Children and their carers come and participate in a fun sing-a-long with our story teller as well as listen to several stories in each session, followed by some craft. Storytime is held in the Pelican Room of the library in front of the service desk. Storytime is free and no bookings are required. Storytime Sessions
Tuesdays 10.00am - 11.00am
Wednesdays 10.00am - 11.00am
Thursdays 10.00am - 11.00am