April 23 - 29, 2017: Issue 309

Old Books: April 2017 - read in full here: online!
At dawn and dusk. [Poems] by Daley, Victor J. (Victor James), 1858-1905, Published 1913
A manual of the grasses of New South Wales by Maiden, J. H. (Joseph Henry), 1859-1925 Published 1898
Looking for Rose Paterson: How Family Bush Life Nurtured Banjo the Poet
Author: Gall, Jennifer

Publisher: National Library of Australia
Edition: 1st Edition
ISBN: 9780642278920
Pages: 208
Publication Date: 01 March 2017
Price $44.99
ROSE ISABELLA PATERSON gave birth to a boy, Barty, in 1864. That child became the famous balladeer, Andrew Barton 'Banjo' Paterson. Barty was the first of seven children who lived on Illalong station, a property near the New South Wales township of Binalong, where Rose spent most of her married life.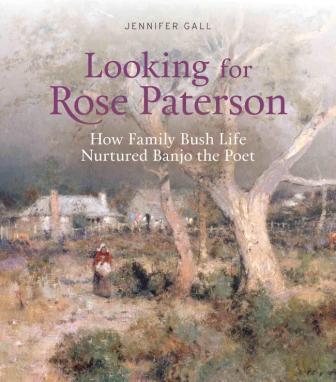 In this book, we enter into the rustic world of late nineteenth-century pioneers, where women endured continuous cycles of pregnancy, childbirth and recovery, and the constraints of strict social codes. Rose faced the isolation of Illalong - 'this poor old prison of a habitation' - with resolute determination and an incisive wit. Her candid letters, written throughout the 1870s and 1880s, to her younger sister, Nora Murray-Prior, reveal a woman who found comfort in the shared confidences of correspondence and who did not lack for opinions on women's rights, health and education. Here we see a devoted sister, a loyal wife battling domestic drudgery with scarce resources, and an affectionate mother whose parenting approach embraced 'a little judicious neglect & occasional scrubbing'.
'Looking for Rose' recreates the world of Rose Paterson and, within the rhythm of her life, the bush childhood of 'Banjo' Paterson, which ultimately found a place in some of Australia's best-known verses.
DR JENNIFER GALL is Assistant Curator, Documents and Artefacts, at the National Film and Sound Archive in Canberra, and a Visiting Fellow at the Australian National University School of Music. Her publications include 'In Bligh's Hand: Surviving the Mutiny on the Bounty', published by the National Library of Australia, for which she won the 2011 Barbara Ramsden Award
The Woolgrowers Companion
By Joy Rhoades
Penguin Random House
Released 27/2/2017: $32.99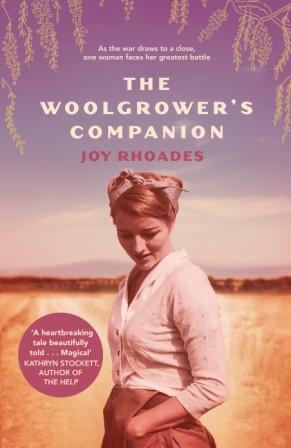 As the war draws to a close, one woman faces her greatest battle . . .
Australia 1945. Until now Kate Dowd has led a sheltered life on Amiens, her family's sprawling sheep station in northern New South Wales. The horrors of war have for the most part left her untouched. But with her father succumbing to wounds he's borne since the Great War, the management of the farm is increasingly falling on Kate's shoulders.
With only the sheep-rearing book The Woolgrower's Companion to guide her, Kate rises to the challenge. However the arrival of two Italian POW labourers unsettles not only the other workers, but Kate too - especially when she finds herself drawn to the enigmatic Luca Canali.
Then she receives devastating news. The farm is near bankrupt and the bank is set to repossess. Given just eight weeks to pay the debt, Kate is now in a race to save everything she holds dear.
High in the Sunlit silence
The story of fifty Trainee Pilots
RAAF Narromine NSW, December 1941
356 pages - $36.99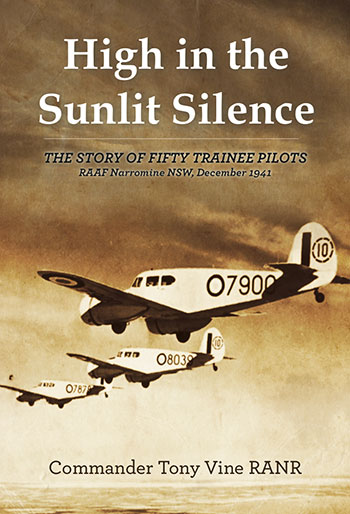 'Make sure you give your brother a big hug and remember his face as you will never see him again.'
These are the heartbreaking words of a father, addressed to his daughter, as her brother Bill Gunning went off to war. Tragically, his father's presentiment came to pass and, like so many other young men who fought in World War II, Bill never did come back.
But almost seventy-five years later, Bill's nephew, Commander Tony Vine, revisits the lives of the fifty young men, including his uncle, who trained at RAAF Narromine in New South Wales to become pilots and other aircrew in the European and Pacific theatres of the war. He takes us through their rigorous training, their successes and failures and gives us an insight into the ways in which their lives and the lives of their loved ones were changed by their experiences. Their story is both heartbreaking and exhilarating; by sharing in it through Commander Vine's thoroughly researched narrative, we can come a little closer to understanding the generations-long impact of war and the simultaneous strength and fragility of the young people we send to fight it.
Tony Vine enlisted in the Royal Australian Navy in 1971 as a fifteen-year-old engine-room artificer apprentice. Over the next four decades, he served on a range of ships and submarines, including four of the six Australian Oberon-class submarines. He has served on exchange with both the Royal Navy and the Canadian Forces – Maritime Command. Promoted to Warrant Officer in 1986, he was commissioned in 1988 and he completed an Honours Degree in Engineering at the Australian Maritime College - Launceston. He served as the Marine Engineering Officer of HMAS Orion and HMAS Manoora, and as the Fleet Marine Engineering Officer. His final posting was as the Commanding Officer of Navy Headquarters Tasmania. He transferred to the RANR in 2010 after 39 years service.
A private pilot, Tony has had a lifelong love of aviation and is a keen student of naval and military history.Highlights of his career include carrying the Australian National Flag at Westminster Abbey on ANZAC Day in 1984, and, the following year, laying the wreath at Lone Pine on behalf of the Royal Australian Navy. In 1995, while on exchange with the Canadian Forces, he and a fellow Australian exchange officer inaugurated ANZAC Day services in Halifax, Nova Scotia Canada. Since 2011, he has been a member of the ABC TV commentary team for the Sydney ANZAC Day march.
Tony has been married to his wife Cathie for forty years. They have four adult children and five grandchildren. His youngest son, Gordon Vine, is the fourth generation of his family to serve in the Australian Defence Force.
This is Tony's first book.
Children's Storytime at Mona Vale Library
Mona Vale Library offers storytime for pre-school children every week during school terms. Children and their carers come and participate in a fun sing-a-long with our story teller as well as listen to several stories in each session, followed by some craft. Storytime is held in the Pelican Room of the library in front of the service desk. Storytime is free and no bookings are required. Storytime Sessions
Tuesdays 10.00am - 11.00am
Wednesdays 10.00am - 11.00am
Thursdays 10.00am - 11.00am
A Walk in the Bush
by Gwyn Perkins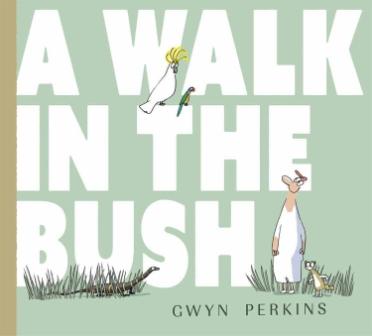 Little Iggy doesn't want to leave the house, but Grandad insists – they always have fun together.
What follows is a wonderful journey in the great Australian outdoors with singing birds, wallaby surprises, secret caterpillar messages and oodles of grandad humour.
Here is a story about the wonders of nature, the funny side of life and spending time with the ones we love.
From an original and exciting new talent comes A Walk in the Bush, proudly the first picture book from Affirm Press.
Gwyn Perkins
Born in Melbourne in 1942, Gwyn Perkins began his artistic career when he won a newspaper drawing prize of one guinea and a box of paints (mistakenly awarded to Miss Gwyn Perkins). He spent many years as a successful animator in the advertising industry before moving to Pittwater's Scotland Island to enjoy a slower pace. He spends his days drawing, sailing and doing odd jobs for his friends and family. Gwyn has two adult sons and lives with his wife and teenage daughter.
A Walk In The Bush - Written and Illustrated by Gwyn Perkins
:
Scotland Island resident Gwyn Perkins has dedicated this great book for young readers 'For Sabene - from Grandad' - written and illustrated by the author, adult readers may well recognise the places, plants and creatures that feature in this wor
k and would enjoy some of the artists other illustrations created to depict humorous captures of island life in his
28 Days on an Island
.
Writer, Sailor, Soldier, Spy
Nicholas Reynolds
ABC Books $29.99 ON SALE UNTIL May 31, 2017 - Released 27/03/2017
A former CIA officer and curator of the CIA Museum unveils the shocking, untold story of Nobel Prize-winning author Ernest Hemingway's secret life as a spy for both the Americans and the Soviets before and during World War II.
While he was the curator of the CIA Museum, Nicholas Reynolds, a longtime military intelligence expert, began to discover tantalizing clues that suggested Ernest Hemingway's involvement in the Second World War was much more complex and dangerous than has been previously understood. Writer, Sailor, Soldier, Spy brings to light for the first time this riveting secret side of Hemingway's life-when he worked closely with both the American OSS, a precursor to the CIA, and the Soviet NKVD, the USSR's forerunner to the KGB to defeat Adolf Hitler and the Nazis.
Reynolds dig deep into Hemingway's involvement in World War II, from his recruitment by both the Americans and the Soviets-who valued Hemingway for his journalistic skills and access to sources-through his key role in gaining tactical intelligence for the Allies during the liberation of Paris, to his later doubts about communist ideology and his undercover work in Cuba. As he examines the links between his work as a spy and as an author, Reynolds reveals how Hemingway's wartime experiences shook his faith in literature and contributed to the writer's block that plagued him for much of the final two decades of his life. Reynolds also illuminates how those same experiences also informed one of Hemingway's greatest works-The Old Man and the Sea-the final novel published during his lifetime.
A unique portrait as fast-paced and exciting as the best espionage thrillers, Writer, Sailor, Soldier, Spy illuminates a hidden side of a revered artist and is a thrilling addition to the annals of World War II.
Sale information: Sale price may not be available at ABC Centres
The Australian Bird Guide
Peter Menkhorst, Danny Rogers, Rohan Clarke, Jeff Davies, Peter Marsack, Kim Franklin
Paperback - May 2017 - AU $49.95
An indispensable and beautifully illustrated guide to Australia's unique birdlife.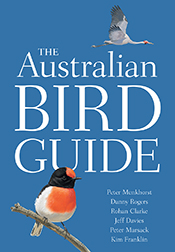 Australia's avifauna is large, diverse and spectacular, reflecting the continent's impressive range of habitats and evolutionary history. With specially commissioned paintings of over 900 species, The Australian Bird Guide is the most comprehensive field guide to Australian birds ever seen.
The guide features around 4700 colour illustrations, with particular emphasis on providing the fine detail required to identify difficult groups and distinctive plumages. Comprehensive species accounts have been written by a dedicated team of ornithologists to ensure identification details, distribution and status are current and accurate.
The Australian Bird Guide sets a new standard in field guides, providing an indispensable reference for all birders and naturalists looking to explore Australia's magnificent and unique birdlife.
Green Wing Press - The Red Light of Palm Beach
It is with great joy, and at least one small leap into the air, that we announce the launch of Green Wing Press Pty. Ltd, the hard copy publishing arm of which Pittwater Online News is now a subsidiary.
To commence this 'branch' of our ever expanding passion to create and share permanent records of our stories, we have the very great privilege of announcing the first book we will sell is Jervis Sparks's'The Red Light Of Palm Beach'.
Bridget and Jervis are doing well in Queensland and we know a lot here miss them. We will bring you more news soon... Jervis has kindly consented to allowing us to run a Profile on him in October and there is a lot to talk of there !
Copies may be purchased for a minuscule $25.00 by contacting us at greenwingpress@live.com.au and providing your details. Please put 'Red Light of Palm Beach' in your subject heading and provide details of a delivery or postage address. Once payment is confirmed you will own your own copy of this great book. You can also post a cheque/money order to the office; 724 Barrenjoey Road, Avalon, 2017, if this works better for you.
UPDATE: We have placed some copies of The Red Light Of Palm Beach at Barrenjoey Boating Services, at The Boat House, Palm Beach where you can buy them after a yummy breakfast or lunch.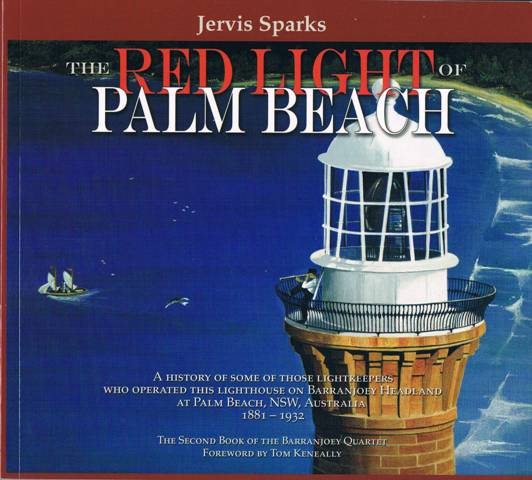 NLA Ebooks - Free to download
The National Library of Australia provides access to thousands of ebooks through its website, catalogue and eResources service. These include our own publications and digitised historical books from our collections as well as subscriptions to collections such as Chinese eResources, Early English Books Online and Ebsco ebooks.
What are ebooks?
Ebooks are books published in an electronic format. They can be read by using a personal computer or an ebook reader.
This guide will help you find and view different types of ebooks in the National Library collections.
Peruse the NLA's online ebooks, ready to download -
HERE