February 26 - March 4, 2017: Issue 302

Old Books: February 2017 - read in full here: online!
At dawn and dusk. [Poems] by Daley, Victor J. (Victor James), 1858-1905, Published 1913
A manual of the grasses of New South Wales by Maiden, J. H. (Joseph Henry), 1859-1925 Published 1898
A New Year of Publishing at NLA!
By National Library of Australia Publishing
We are excited about the books we'll be publishing this year. In 2017, we'll be celebrating Banjo Paterson from two very different perspectives. Tania McCartney teams up again with illustrator Christina Booth to bring you This Is Banjo Paterson, a children's book about the life of the bush poet. And Jennifer Gall looks at the candid letters of Banjo's mother, Rose Paterson, to explore Banjo's childhood and a woman's lot in nineteenth-century rural Australia in Looking for Rose Paterson: How Family Bush Life Nurtured Banjo the Poet.

Mid-year, historian Anna Clark tackles Australia's story of fishing in The Catch, an absorbing account of fishing from Indigenous techniques to early industries through to present-day recreational fishing. We've been thrilled by her ability to meld her personal passion for fishing with the overarching story, and Rob Paxevanos is equally excited: the manuscript gave him goosebumps!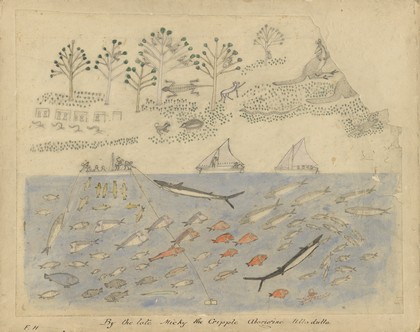 Micky of Ulladulla's Fishing Activities of Aboriginal People and Settlers, c. 1885, nla.cat-vn906861

We have two great titles for military history lovers coming out this year. Peter Stanley brings us The Crying Years, a heavily illustrated and highly readable year-by-year account of life on the battlefields and at home during the Great War. And Craig Wilcox tells the story of Australian uniforms in Badge, Boot, Button. He explains how and why military uniforms—but also the uniforms of nurses, convicts, footballers, air hostesses, tram conductors, etc.—have evolved over time.
Sometimes we are lucky enough to work with authors who are also idols! In 2017, we'll be bringing out actor Noeline Brown's take on life in Australia in the 1960s. The pictures are incredible and Noeline's writing is as funny and sharp as you would expect.
Environmentalist Bob Brown's book on the photography of Peter Dombrovskis is another visual stunner celebrating the Tasmanian wilderness both men have fought to protect.
We welcomed Noeline and Bob to the Library a few times last year and were struck by their grace and warmth—qualities that happily come through in their writing!
It is shaping up as another action-packed year!

The Scandalous Life of Sasha Torte
by Lesley Truffle
On Sale: 23/01/2017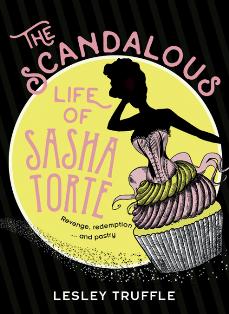 Revenge, redemption ... and pastry. The witty new novel from the author of Hotel du Barry, for fans of Jonas Jonasson.
In the winter of 1912 on the wild West Coast of Tasmania, Wolfftown's most notorious heiress and murderess, Sasha Torte, tells the tale of her own spectacular downfall.
Forsaken by her parents and raised by criminals and reprobates, Sasha becomes a world-famous pastry chef at the tender age of seventeen. Entanglement with the disreputable Dasher brothers leads to love, but also to a dangerous addiction.
Behind bars in Wolfftown's gaol, Sasha sips premium champagne as she recalls a life of seduction, betrayal, ghosts, opium and an indiscreet quantity of confectionary - and plots her escape.
The Scandalous Life of Sasha Torte is a wild romp of dastardly deeds, intrepid protagonists, dark villains, wild gangs, luxurious hotels ... and mouth-watering treats.
Urban Farmer
Justin Calverley
$33.99 on sale until 31 March, 2017!
PRE-ORDER NOW! AVAILABLE 20/02/2017.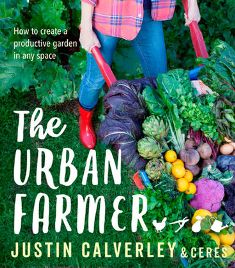 Producing our own fruit, vegetables, herbs, eggs and honey is perfectly possible in a suburban space, and this practical guide will help urban dwellers develop a more sustainable existence. With a deep knowledge of permaculture and organic gardening, horticultural expert Justin Calverley shows you how to establish a diverse urban farm, whether in your own backyard, a courtyard or even a balcony.
Justin advocates observing and following nature's cycles and patterns as the best way to a sustainable and productive garden.As well as growing fruit and veg, THE URBAN FARMER explains how to take up bee-keeping, chook care, propagation, maintaining your plot and preserving your patch's bounty. So be inspired and get cracking with your own personal garden of Eden!
Sale information: Sale price may not be available at ABC Centres
Clarrie's Pig Day Out
Jen Storer
PRE-ORDER NOW! AVAILABLE 20/02/2017.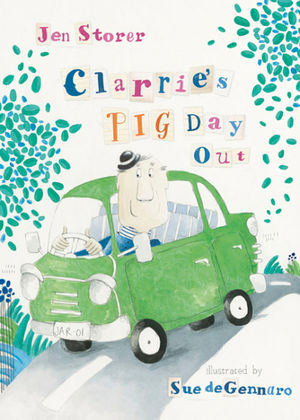 A very funny picture book about farmer Clarrie who gets his worms, no! his words, mixed up.
Clarrie is a farmer who loves his chickens and his dog, Bert. Clarrie also gets his worms, no! he means his words, mixed up.
So when Clarrie and Bert head out in his jar, whoops, he means car, it turns out to be a day filled with fun and surprises.
Young children will love seeing how Clarrie mixes up his words – and will enjoy correcting them, as well!
Ages: 3 years +
Sale information: Sale price may not be available at ABC Centres