November 19 - 25, 2017: Issue 338

Old Books: November 2017 - read in full here: online!
The Edible Fishes Of New South Wales: Their Present Importance And Their Potentialities - By Stead, David George, 1877-; New South Wales. Dept. Of Fisheries, Publication Date 1908 + Edible Fishes And Crustaceans Of New South Wales By Ogilby, James Douglas, 1853-1925 - Publication Date 1893
Homecamp
by Doron and Stephanie Francis
Publisher: Explore Australia
ISBN: 9781741175035
Publication Date: 01 November 2017
Full colour throughout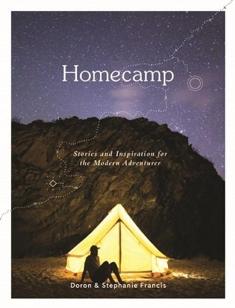 It's difficult to find nature amidst the rush, bustle and electronic pop-ups that flood our modern lives - to leave stress and hurry behind, embracing the simple pleasure to be found in pounding waves, a roaring campfire and a sky full of stars. But nature isn't as far away as you think.
Homecamp is a beautiful collection of stories and images from everyday adventurers - people who have found ways to experience and embrace the outdoors, on their terms. Some have gone on epic adventures: sold their belongings and lived in a van, trekked through the Himalayas or biked across continents. Others simply found new ways of seeing the world around them: cleaned up a beach, learned how to forage or spent a night alone in the woods. All found that their experiences in nature transformed their lives and freed them, even if only briefly, from the monotony of their 9-5 grind.
This book will inspire you to rediscover the joys and the rejuvenating power of spending time outside. Along with compelling stories, interviews and imagery, you'll find a how-to guide full of helpful tips, from how to choose and set up camp to brewing the perfect campfire coffee and enjoying the outdoors without a trace.
Tracker
by Alexis Wright
$39.99
Publisher: Giramondo Publishing Co
ISBN: 9781925336337
Pages: 650
Publication Date: 01 November 2017
Bind Format: Paperback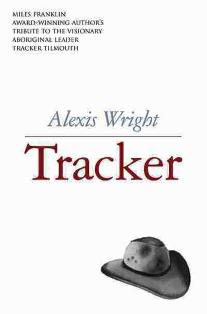 New book by celebrated Aboriginal author Alexis
Wright, author of Carpentaria and The Swan Book .
A collective memoir of one of Aboriginal Australia's
most charismatic leaders and an epic portrait of a period in the life of a
country, reminiscent in its scale and intimacy of the work of Nobel
Prize-winning Russian author Svetlana Alexievich.
Miles Franklin Award-winning novelist Alexis Wright returns to
non-fiction in her new book, Tracker
Tilmouth, a collective memoir of the charismatic Aboriginal leader,
political thinker, and entrepreneur who died in Darwin in 2015.
Taken from his
family as a child and brought up in a mission on Croker Island, Tracker
Tilmouth returned home to transform the world of Aboriginal politics. He worked
tirelessly for Aboriginal self-determination, creating opportunities for land
use and economic development in his many roles, including Director of the
Central Land Council. He was a visionary and a projector of ideas, renowned for
his irreverent humour and his anecdotes. His memoir has been composed by Wright from
interviews with Tilmouth himself, as well as with his family, friends, and colleagues,
weaving his and their stories together into a book that is as much a tribute to
the role played by storytelling in contemporary Aboriginal life as it is to the
legacy of a remarkable man.
VANISHED AND VANISHING PARROTS
Profiling Extinct and Endangered Species
Joseph Forshaw, Frank Knight
Hardback - October 2017 - AU $150.00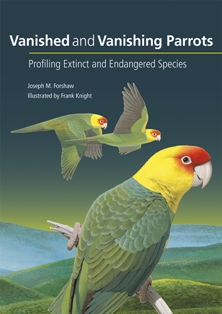 A detailed illustrated account of parrots which have become extinct or are facing extinction.
Joseph M. Forshaw, one of the world's leading authorities on parrots, calls attention to the threats they face: they are one of the most endangered groups of birds, with a growing number of species nearing extinction. The main threats arise from habitat loss through deforestation and agricultural development and from the taking of birds for the international live-bird trade.
Vanished and Vanishing Parrots brings together information on species that have become extinct in historical times with information on species that are in danger of becoming extinct to increase public awareness of the plight of these magnificent birds. Vivid colour plates by the wildlife artist Frank Knight draw attention to the spectacular species that we have lost or that could be lost. Forshaw's work gives us fascinating insight into these endangered and extinct parrots.
Vanished and Vanishing Parrots will be a valuable reference for scientific, ornithological and avicultural organisations, as well as individual lovers of birds and of illustrated natural history books.
NLA Ebooks - Free to download
The National Library of Australia provides access to thousands of ebooks through its website, catalogue and eResources service. These include our own publications and digitised historical books from our collections as well as subscriptions to collections such as Chinese eResources, Early English Books Online and Ebsco ebooks.
What are ebooks?
Ebooks are books published in an electronic format. They can be read by using a personal computer or an ebook reader.
This guide will help you find and view different types of ebooks in the National Library collections.
Peruse the NLA's online ebooks, ready to download -
HERE
Children's Storytime at Mona Vale Library
Mona Vale Library offers storytime for pre-school children every week during school terms. Children and their carers come and participate in a fun sing-a-long with our story teller as well as listen to several stories in each session, followed by some craft. Storytime is held in the Pelican Room of the library in front of the service desk. Storytime is free and no bookings are required. Storytime Sessions
Tuesdays 10.00am - 11.00am
Wednesdays 10.00am - 11.00am
Thursdays 10.00am - 11.00am
Grade Cricketer: Tea and No Sympathy
by Ian Higgins, Dave Edwards, Sam Perry
Publisher: Allen & Unwin
$29.99
Publication Date: 25 October 2017
Bind Format: Paperback
A sequel to The Grade Cricketer? It's like junk time in a second innings - something you just have to be part of.' Gideon Haigh. Is life without cricket worth living? It's a question asked and answered by the Grade Cricketer, as he faces a cricket-free future after a devious plan goes horribly wrong. Hilarious, ridiculous and completely true to life to anyone who's ever spent time in a dressing room, Tea and No Sympathy takes us on a skeweringly funny sporting misadventure through the world of grade cricket and the flawed, damaged and occasionally appalling people who play it, from the creators of the bestselling novel The Grade Cricketer.
'The Grade Cricketer is the finest tribute to a sport since Nick Hornby's Fever Pitch, and the best cricket book in yonks. It's belly-laughing funny but it's also a hymn to the grand and complex game delivered with a narrative pace and ability I'm afraid most Test players don't have. For anyone who ever dreamed of excelling at a sport but never quite made it but still gave it your life, this is the story. A great read!' Tom Keneally
'The Grade Cricketer has taken us so far inside a district club dressing room that you feel like a locker. Ligaments could not be closer to the bone than some of his observations.' Kerry O'Keeffe
'The Grade Cricketer is strange and, I suspect, brilliant'. Wisden
Long Way from Home
by Peter Carey
Author: Carey, Peter
Publisher: Penguin Books Australia
$32.99
Pages: 320
Publication Date: 30 October 2017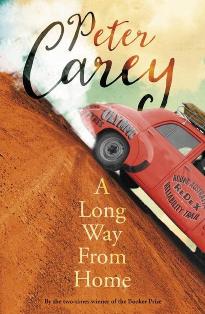 Carey's most ambitious novel since True History of the Kelly Gang - a celebration and interrogation of the Australia of Peter's childhood.
Irene Bobs loves fast driving. Her husband is the best car salesman in western Victoria. Together they enter the Redex Trial, a brutal race around the ancient continent over roads no car will ever quite survive.
With them is their lanky fair-haired navigator, Willie Bachhuber, a quiz show champion and failed schoolteacher whose job it is to call out the turns, the grids, the creek crossings on a map that will finally remove them, without warning, from the lily-white Australia they know so well.
This thrilling, high-speed story starts in one way and then takes you someplace else. It is often funny, the more so as the world gets stranger, and always a page-turner, even as you learn a history these characters never knew themselves. Set in the 1950s amid the consequences of the age of empires, this brilliantly vivid and lively novel reminds us how Europeans took possession of a timeless culture – the high purpose they invented and the crimes they committed along the way.
Peter Carey has twice won the Booker Prize for his explorations of Australian history. A Long Way from Home is his late-style masterpiece.
The Meaning Of Cricket
by Jon Hotten
Paperback: $24.99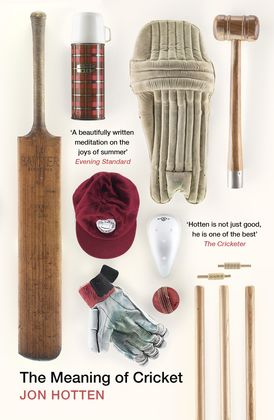 Cricket is a strange game. It is a team sport that is almost entirely dependent on individual performance. Its combination of time, opportunity and the constant threat of disaster can drive its participants to despair. To survive a single delivery propelled at almost 100 miles an hour takes the body and brain to the edges of their capabilities, yet its abiding image is of the gentle village green, and the glorious absurdities of the amateur game.
In The Meaning of Cricket, Jon Hotten attempts to understand this fascinating, frustrating and complex sport. Blending legendary players, from Vivian Richards to Mark Ramprakash, Kevin Pietersen to Ricky Ponting, with his own cricketing story, he explores the funny, moving and melancholic impact the game can have on an individual life.
Green Wing Press - The Red Light of Palm Beach
It is with great joy, and at least one small leap into the air, that we announce the launch of Green Wing Press Pty. Ltd, the hard copy publishing arm of which Pittwater Online News is now a subsidiary.
To commence this 'branch' of our ever expanding passion to create and share permanent records of our stories, we have the very great privilege of announcing the first book we will sell is Jervis Sparks's'The Red Light Of Palm Beach'.
Bridget and Jervis are doing well in Queensland and we know a lot here miss them. We will bring you more news soon... Jervis has kindly consented to allowing us to run a Profile on him in October and there is a lot to talk of there !
Copies may be purchased for a minuscule $25.00 by contacting us at greenwingpress@live.com.au and providing your details. Please put 'Red Light of Palm Beach' in your subject heading and provide details of a delivery or postage address. Once payment is confirmed you will own your own copy of this great book. You can also post a cheque/money order to the office; 724 Barrenjoey Road, Avalon, 2017, if this works better for you.
UPDATE: We have placed some copies of The Red Light Of Palm Beach at Barrenjoey Boating Services, at The Boat House, Palm Beach where you can buy them after a yummy breakfast or lunch.