April 18 - 24, 2021: Issue 490

NLA Ebooks - Free to download
The National Library of Australia provides access to thousands of ebooks through its website, catalogue and eResources service. These include our own publications and digitised historical books from our collections as well as subscriptions to collections such as Chinese eResources, Early English Books Online and Ebsco ebooks.
What are ebooks?
Ebooks are books published in an electronic format. They can be read by using a personal computer or an ebook reader.
This guide will help you find and view different types of ebooks in the National Library collections.
Peruse the NLA's online ebooks, ready to download -
HERE
Of Gold and Dust
A memoir of a creative life
by Samantha Wills
Allen and Unwin, March 2021: $32.99
A beautifully written, revealing memoir from one of Australia's most popular and successful business women, Samantha Wills.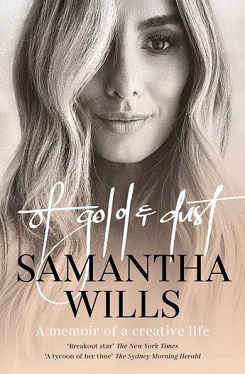 I tried so hard to find balance between my creative career and my personal life, but the more I tried to separate them, the more balance eluded me. It was only when I began to fuse the two that I realised there is no such thing as having a creative career and a personal life - there is only a creative life. That realisation, and the freedom it gave me, remains one of the most significant of my life.
Samantha Wills started her self-titled jewellery company on the kitchen table of her share house in the eastern suburbs of Sydney when she was just 21 years old. While her rise to the global stage looked meteoric to many, Samantha has said 'It took me twelve years to become an overnight success.'
Following Samantha's journey, from being named a breakout star by The New York Times to barely being able to breathe on a hotel room floor, Of Gold and Dust is so much more than a business memoir. In her unique, confessional tone, Samantha tells the intimate details of her life and business, sharing her truths with a rare rawness and vulnerability.
Funny, down-to-earth, revealing and heartfelt, Of Gold and Dust is a must-read for anyone who has a desire to start their own business, or a passion to live a creative life and follow their dreams. Her story is an inspiring blueprint for getting out there and finding the magic that awaits you.
Samantha Wills has been in the spotlight as one of Australia's most dynamic speakers and creative personalities since launching her self-titled jewellery brand at Australian Fashion Week in 2004, at just 21 years of age. Samantha has spent the last decade in New York City. Having just returned home to Australia, she now resides in NSW as a creative director and keynote speaker.
How to Endo
A guide to surviving and thriving with endometriosis
by Bridget Hustwaite
Allen and Unwin, March 2021: $29.99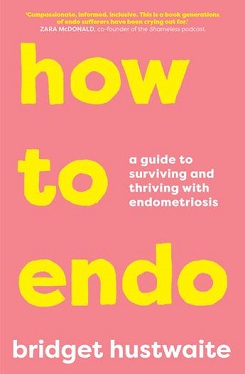 A vibrant, empowering guide to surviving and thriving with endometriosis, from triple j presenter and endometriosis advocate Bridget Hustwaite.
After years of dismissive doctors and misinformation, Bridget Hustwaite finally received a diagnosis for her intensely heavy periods, pulsing headaches and the excruciating abdominal pain that makes her ovaries feel like they are on fire. She has endometriosis - hard to pronounce, hard to diagnose and even harder to live with.
Two excision surgeries and one thriving endo Instagram community later, Bridget knows firsthand how much personal research and self-advocating endo sufferers have to do just to have their pain acknowledged. With her trademark enthusiasm, Bridget has blended her own experience with a raft of tips and strategies from health experts and endo warriors to help you thrive whenever you can, and survive on days when you just can't. Covering everything from diet to acupuncture, fertility to mental health, and surgery to sex, How to Endo is the essential guide to navigating this sucker punch of a chronic illness.
Inspiring, vivacious and completely honest, Bridget's book is for everyone on the endo spectrum: the battle-hardened warriors, the newly diagnosed and those still searching for answers.
Bridget Hustwaite is the Melbourne-based host of triple j's flagship new music program, Good Nights. While she remains a trusted and respected voice in the music industry, Bridget also uses her platform to raise awareness for endometriosis, a condition with which she was diagnosed in 2018. Following the outpouring of support she received for sharing her story on triple j, Bridget launched the Instagram account @endogram, which aims to educate and start conversations about endometriosis with its 20K+ followers.
50 Risks to Take With Your Kids - A guide to building resilience and independence in the first 10 years
by Daisy Turnbull
Hardie Grant Books, February 2021: $24.99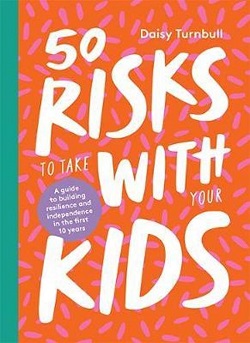 50 Risks to Take With Your Kids
is a guide for parents and carers to nurture resilience and independence in kids as they learn to take their own risks. For anyone who wants to combat helicopter parenting and a bubble-wrapped generation, Daisy Turnbull offers an easy-to-use framework with simple, practical challenges for children aged up to 10 years old.
In 50 Risks to Take With Your Kids, you'll find risks that build physical skills, social confidence and character development before kids enter those 'risky' teenage years. You'll also find some all-important parenting risks that will encourage you to step outside your comfort zone and think a little differently about raising children. It may sound counterintuitive to say that the more opportunities you give children to test boundaries, the better they will 'adult', but it's true. The more they are allowed to play in the mud, create games and find their own solutions to problems, the more they will thrive later in life.
Peppered with Daisy's own experiences in teaching, wellbeing and parenting, this warm and funny book is not about developmental KPIs, and it's certainly not about judgement. It's about teaching kids to recognise and assess risks themselves, and readying them to take on life and all that it brings. And it's about having fun and connecting as a family along the way.
Daisy Turnbull is the director of wellbeing at St Catherine's School, Sydney.
Children's Storytime at Mona Vale Library
Mona Vale Library offers storytime for pre-school children every week during school terms. Children and their carers come and participate in a fun sing-a-long with our story teller as well as listen to several stories in each session, followed by some craft. Storytime is held in the Pelican Room of the library in front of the service desk. Storytime is free and no bookings are required. Storytime Sessions
Tuesdays 10.00am - 11.00am
Wednesdays 10.00am - 11.00am
Thursdays 10.00am - 11.00am
Old Books: Autumn 2021
The Royal Yacht Squadron; Memorials Of Its Members, With An Enquiry Into The History Of Yachting And Its Development In The Solent; And A Complete List Of Members With Their Yachts From The Foundation Of The Club To The Present Time From The Official Records. By Montague Guest and William B. Boulton. Publication date 1902
An Australian Bird Book; A Pocket Book For Field Use by John Albert Leach, 1870-1929. Publication date 1912
An Australian flower painter : A.E. Oakley by Edward A. (Edward Alexander)Vidler, 1863-1942. Publication date 1923
The Complete Field Guide to Dragonflies of Australia
Second Edition
Günther Theischinger, John Hawking, Albert Orr
CSIRO, March 2021: $49.99
A comprehensive guide to the 333 species of dragonflies and damselflies found in Australia.
Dragonflies and damselflies are conspicuous insects: many are large and brightly coloured. They are also valuable indicators of environmental wellbeing. A detailed knowledge of the dragonfly fauna is therefore an important basis for decisions about environmental protection and management.
This comprehensive guide to the Australian dragonfly fauna covers eight families of dragonflies and 10 families of damselflies, comprising the 113 genera and 333 species found in Australia. It has been updated with newly identified species and revised family names to reflect new world consensus systematics. Stunning full-colour images and distribution maps are accompanied by identification keys for adults as well as larvae, which are often used as bait for freshwater fish.
This second edition of The Complete Field Guide to Dragonflies of Australia also includes illustrations by Albert Orr, one of the most renowned dragonfly illustrators. The extraordinary diversity of dragonflies will interest entomologists and amateur naturalists alike.
Environmental Offsets
Edited by:
Shelley Burgin, Tor Hundloe
CSIRO, March 2021: $69.99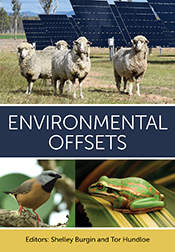 Discusses the strengths and weaknesses of the different forms of environmental offsets.
We are currently facing significant challenges in environmental management that must be addressed to maintain the health of our planet and our population. While carbon offsetting in its various forms is widespread globally, few countries have fully legislated and put into operation other offset policies. This edited collection aims to fill the gap of knowledge on environmental offsets, from theory to practice.
Environmental Offsets addresses four major forms of environmental offsets – biodiversity offsets, carbon offsets, offsetting the depletion of non-renewable resources and offsetting the destruction of built heritage. The authors discuss their research and provide case studies from around Australia and across the developing world. Using examples such as the Sydney Olympics, the Bakossi Forest Reserve in Cameroon and green roof gardens, this book highlights the strengths and weaknesses of environmental offsetting and illustrates how jobs can be created in the offsetting process.
Environmental Offsets is both a historical source in our understanding of environmental offsetting and a guide to the way forward. It illustrates what works, what does not and what can be improved for the future.
The Soul of a Woman
by Isabel Allende
March 2021: $19.99-$22.99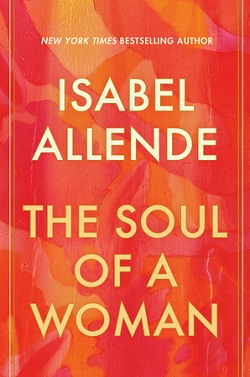 From the New York Times bestselling author of
A Long Petal of the Sea
comes a passionate and inspiring meditation on what it means to be a woman.
"When I say that I was a feminist in kindergarten, I am not exaggerating," begins Isabel Allende. As a child, she watched her mother, abandoned by her husband, provide for her three small children without "resources or voice." Isabel became a fierce and defiant little girl, determined to fight for the life her mother couldn't have.
As a young woman coming of age in the late 1960s, she rode the second wave of feminism. Among a tribe of like-minded female journalists, Allende for the first time felt comfortable in her own skin, as they wrote "with a knife between our teeth" about women's issues. She has seen what the movement has accomplished in the course of her lifetime. And over the course of three passionate marriages, she has learned how to grow as a woman while having a partner, when to step away, and the rewards of embracing one's sexuality.
So what feeds the soul of feminists—and all women—today? To be safe, to be valued, to live in peace, to have their own resources, to be connected, to have control over our bodies and lives, and above all, to be loved. On all these fronts, there is much work yet to be done, and this book, Allende hopes, will "light the torches of our daughters and granddaughters with mine. They will have to live for us, as we lived for our mothers, and carry on with the work still left to be finished."
Lead the Way
How to change the world from a teen activist and school striker
by Jean Hinchliffe
Pantera, March 2021: $24.99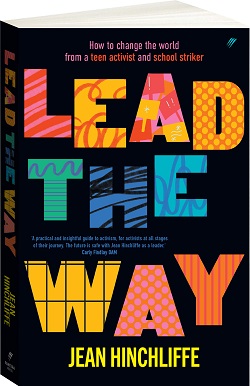 Want to take action and fight for what's right, but don't know where to start?
Lead the Way is the ultimate guide to activism and making systematic change, your way. Jean Hinchliffe is one of the key organisers of School Strikes 4 Climate, and in this book she shares her tools, stories and learnings from the movement with you.
From identifying your cause to finding allies, planning a march, nailing your messaging, public speaking and working with the media, to the importance of self-care when you're on your activist journey, Lead the Way will guide you to start changing the world today.
Teenagers are leading the way towards a better future and you can too.
Jean Hinchliffe is a 16-year-old Australian climate activist and a lead organiser within School Strike 4 Climate.