March 3 - 9, 2013: Issue 100
Avalon Quilters Annual Show 2013 – Antique American Quilts
by Michael Mannington
Avalon Quilters held their annual Quilt Show on Friday and Saturday the 1st and 2nd of March 2013. A large display of rarely seen antique American quilts collected by Annette Gero was on display. Proceeds raised went to the Australian Mitochondrial Disease Foundation. A craft stall of members' work and a Raffle Quilt formed part of this year's show.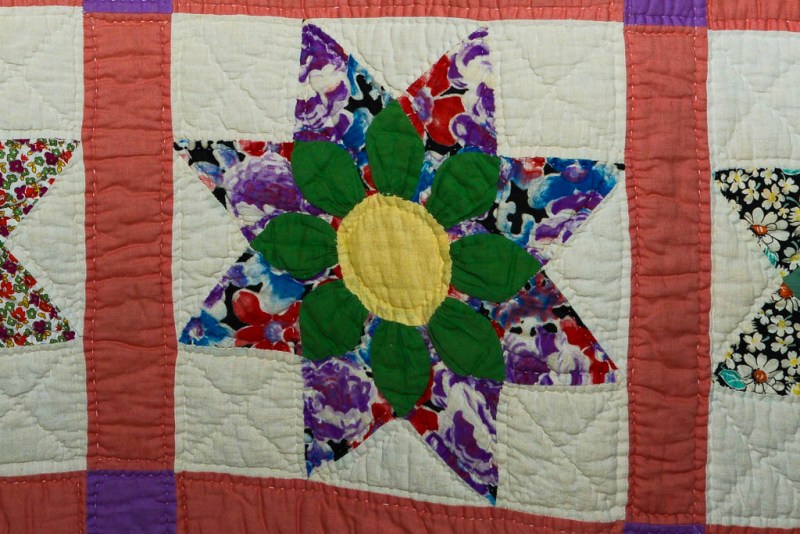 Nadine's Quilt made by Nadine's mother Viola Gearin. Nadine was the first female head coach in 1969 for the basketball team at the University of Tennessee. She retired as the University Director of Athletics.
The following is extracted from handouts at the show
Raffle Prize: Frances Wheeler Quilt
Frances Wheeler of Martin, West Tennessee, the woman who pieced this quilt, was about 96 years old and moving into assisted living in 2009 when Trish Bloomfiled purchased this quilt top.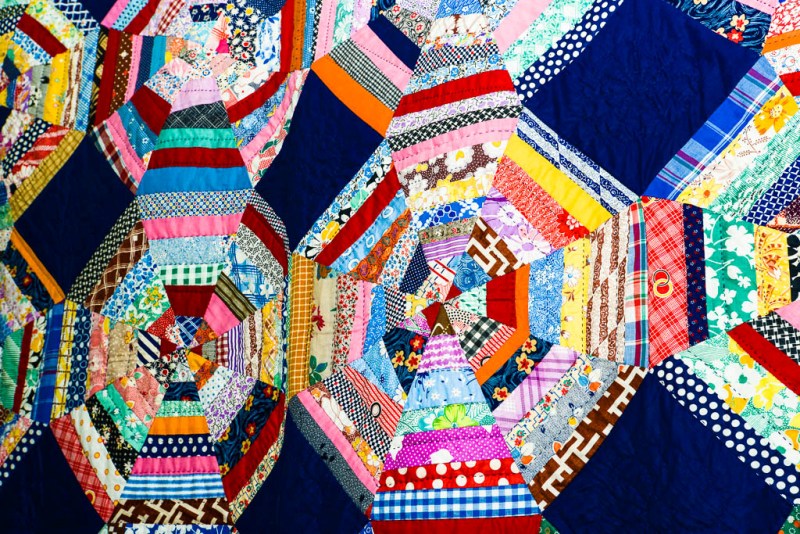 Raffle Quilt for 2013. The Frances Wheeler quilt.
Mrs Wheeler's husband died in his fifties and they had no children. She was considered quite wealthy, was always well dressed and had many antiques in her home. She was a talented needlewoman and spend her time doing needlepoint and quilting.
The quilt was completed by the Avalon Quilters in 2012 to be used as the 2013 raffle prize in conjunction with an antique and vintage quilt show featuring the American quilts of Annette Gero and Trish Bloomfield. The show will raise funds for research into mitrochondrial disease.
The pattern used in the quilt is called Spiderweb made in the 40's or 50's feedsack and dress scraps between 1" and 2" wide. The Spiderweb block is an octagon made up of eight 45 degree angle wedges and a seven inch navy square between each octagon and has been evenly hand-pieced throughout.
More information on the Australian Mitrochondrial Disease Foundation www.amdf.org.au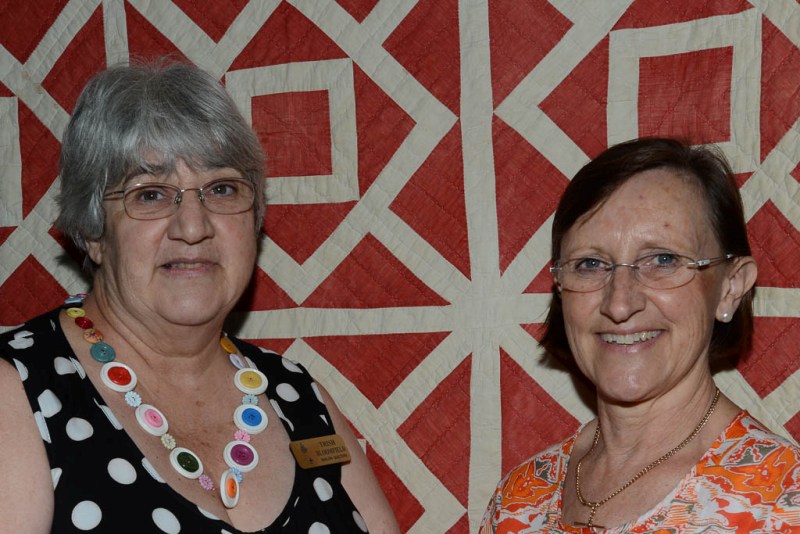 Trish Bloomfield and Anne Perry from Avalon Quilters
Feedsacks
The story of feedsacks began in 1860 with the development of the lock stitch sewing machine. Lock stitch is exceedingly strong and still used with sacks today.
Lock stitch unbleached cotton bags quickly replaced oak barrels and tins in the shipment of many commodities. Cotton bags are the by-product of many household goods - flour, sugar, rice, beans and animal feed to name a few. Ever frugal women began using the bags in the house in any possible way from curtains and quilts to underwear. In WW1 the US government urged women to "make quilts and save blankets for the boys over there".
Barn Raising Log Cabin Silk Quilt top
Barn Raising Log Cabin Silk Quilt top is pre 1900. The foundation is pieced on old cottons and silks and was made by Emma Brownbeck. The family home is now Seven Stars Inn, Phoenix.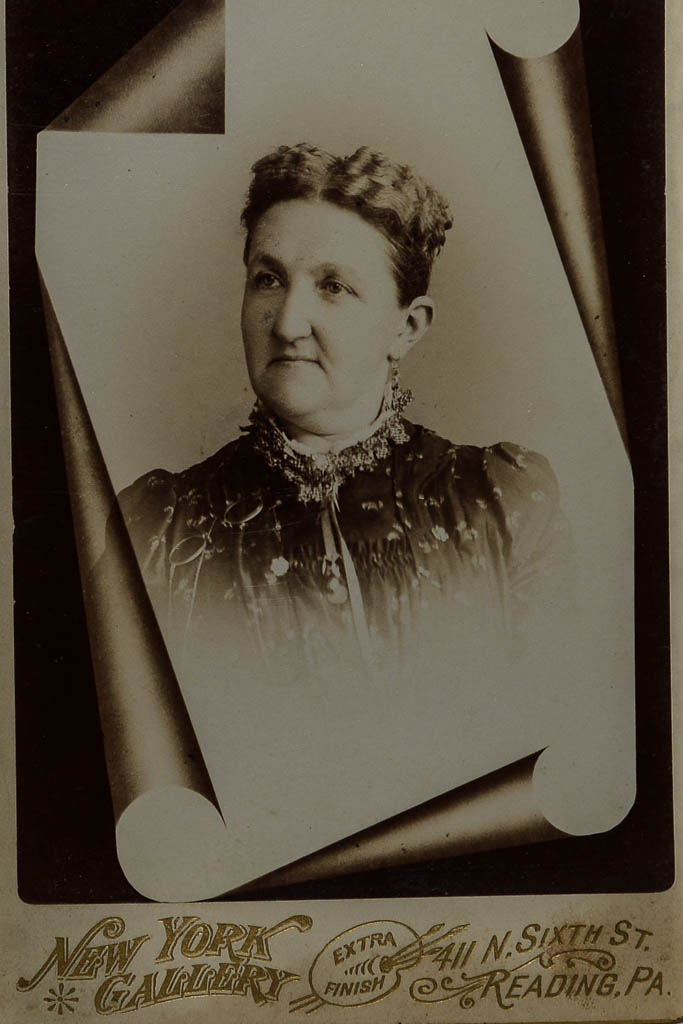 Emma Brownbeck
Quote using Trish Bloomfiled's words
Trish Bloomfield collector of several of the American quilts on display explains that often the story behind the quilt is very interesting. The story behind Nadine's Quilt made by Nadine's mother Voila Gearin tells of a cigarette burn on the quilt demonstrating that the quilt was in use and not just as a collectors item. Nadine herself was successful in what was then a man's world in becoming the Director of Athletics at the University of Tennessee. Quite often really boring quilts have such interesting backgrounds say Trish. The quilt left Nadine's family when her estate was sold and a sports scholarship was founded. I purchased it from a dealer at the estate sale explains Trish and brought it to Australia. Trish would not have purchased the quilt without the story behind it.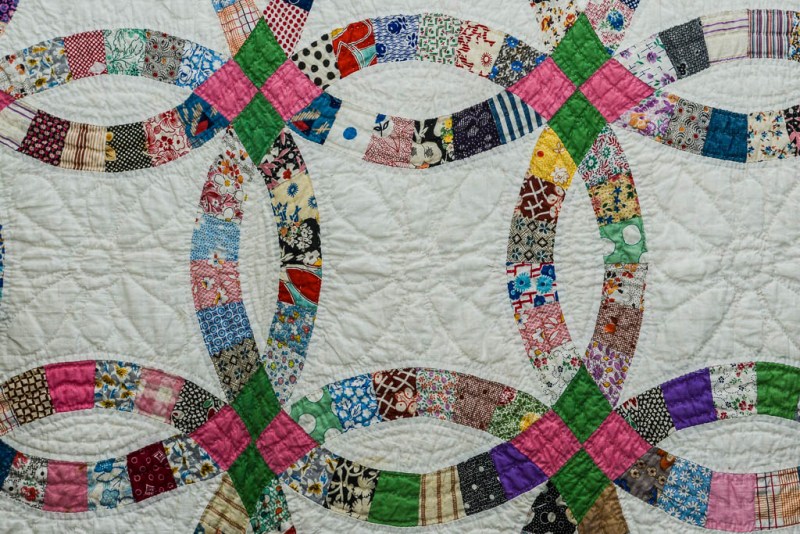 Mary Lou Hassett's Wedding Ring Quilt St. Joseph, Missouri c.1930 Made by Grandma Patrick. Note the attention to detail and near perfect circles.
Another of Trish's quilts is the Wedding Ring Quilt (see photo). Trish explains that quilt made in the 1930's and the lady who owned it was Mary Lou Hassett and she was given the quilt by her mother known as Grandma Partick as a wedding gift. So her mother made it from feedsack. When Mary Lou died, her son was not into quilts and sold it to Trish Bloomfield.
Avalon Quilters is a social quilting group, meeting on Thursdays 10.30am to 2.30pm at the Uniting Church, Bellevue Avenue, Avalon Beach, NSW.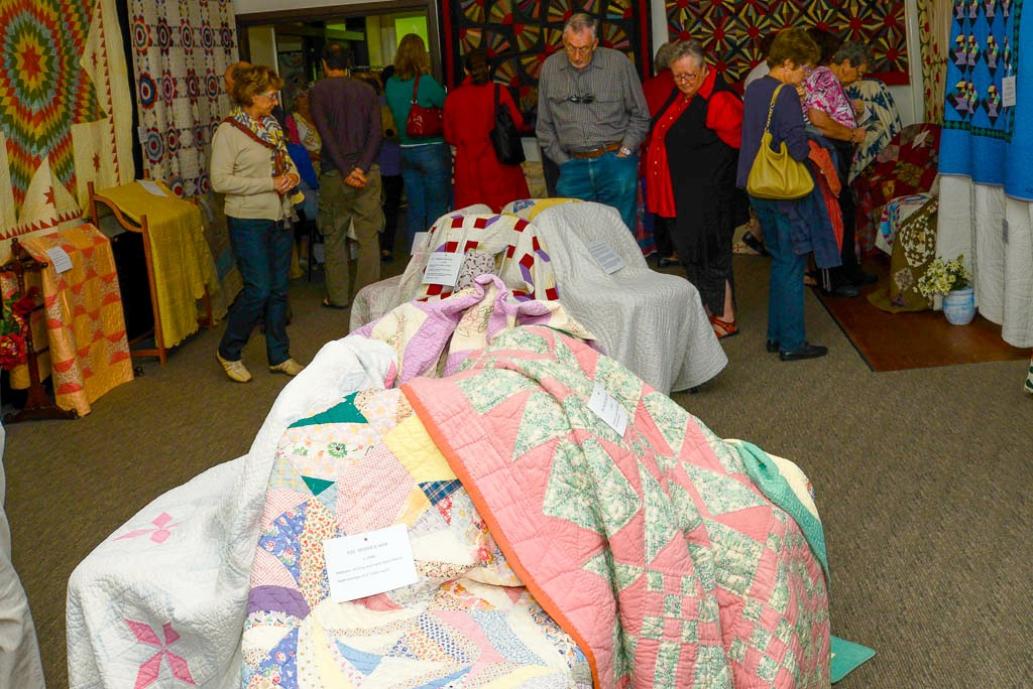 Report and Photos by Michael Mannington, 2013.